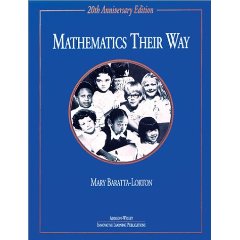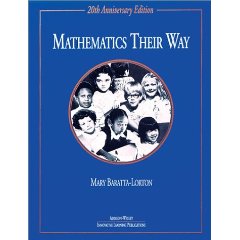 Mathematics Their Way is a textbook written by Mary Baratta-Lorton and published by the Center for Innovation in Education, and later by Addison-Wesley (1995). The text grew out of her desire to mathematically reach all of the children in her inner city classroom, especially those who had not had much experience with math or who did not possess a natural penchant for math. It is intended for use by kindergarten through second grade, and utilizes a hands-on, activity-centered approach to teaching basic math skills for these levels.
Since it relies on hands-on activities, there is only a teacher's book, though a collection of newsletters written by Mary Baratta-Lorton have also been collected and published as Summary Newsletter by Addison-Wesley.  There are several other available resources, including a collection of full-size black-line masters.
The textbook is organized topically.  It opens with a chapter discussing methods for free exploration of the math manipulatives and materials, then continues, covering pattern (three chapters of increasing difficulty and depth), sorting and classifying, counting, comparing, graphing, number at the concept level, number at the connecting level, number at the symbolic level, and place value. While the topics at the beginning of the book are more basic than those in the second half, it is not a book to be approached strictly chronologically.  Rather, it is intended as a buffet of math activities for the young learner.
Structured for use in a classroom of students participating in learning stations and full-class math experiences, multiple chapters may be utilized at the same time.  The author included a loose schedule of chapters by grade, along with a general checklist of activities for the teacher, but the choice of activities is up to the family and situation.
Many activities draw from a variety of collected objects which serve as manipulatives. The items used are listed in a glossary at the back of the book. At first glance, the glossary of materials appears to be extensive, but the author's intent was for the items to be every-day, easy to find objects. In fact, she asked her students to bring in many of them.  So, while the items are not necessarily hard to locate or duplicate, and certainly do not have to be expensive, there is quite a bit of gathering to be done. I suggest that you gather most of them before beginning.
There are a few things to know about the book.  It was produced for classroom use, and at first glance, many of the activities seem contingent upon a room full of students.  I have not found this to be a major problem.  In our home school, we have adapted the activities to accommodate one or two learners, instead of the classroom for which it was initially written.  There are a couple of activities that I have by-passed due to the number of students necessary to complete them, but by and large, the hands-on nature of the text has been a huge plus for my children.  It has enabled them to truly learn math concepts, rather than rote math facts without any real basis.
Additionally, the book has tempered my natural impulse, which would have been to lean heavily on a workbook or more traditional textbook since I am not entirely comfortable teaching math.  The program has encouraged me to let my children develop a more complete understanding of numbers and processes independent of paper math.  My daughter has been allowed to develop an understanding of numbers and numerical processes without the burden of writing.  Now that we are transitioning into paper math, the concepts are cemented enough that my daughter recognizes the processes that she is describing in writing and is comfortable working with them.  This textbook leads to understanding, and only then to recording math.
In our case, I spent the summer before my daughter started Kindergarten gathering materials.  I made it a family affair, so aunts and grandmothers pitched in as well, sending items as they found them.  I decided to collect lids, small cars, small animal figures, erasers, beads, buttons, twist ties, plastic bread ties, and small acorns.  I also worked on putting together the other necessary supplies.  The things that I couldn't find, I either substituted with something else or checked to see if they were really necessary.  Then we got started with the hands-on math experience.  We counted, sorted, classified, compared, and graphed using a variety of activities and methods.  The kids—because they all wanted to play with the new "toys"—didn't even realize that they were doing math.  It seemed more like playing with Mama.  And it was fun.  And it was not high pressure.  And my kids always got to "play" until they understood the math idea.  And this Mama who wasn't extremely comfortable teaching math, did just fine!
For Kindergarten, we used the activities in Mathematics Their Way almost exclusively. (I will mention that though I opted to use this book as the primary text for Kindergarten and first grade, it would be a lovely supplement to any math program.  Its buffet-style, activity-laden nature could easily be gleaned for activities to complement math topics as they were studied.) For first grade, we have continued using Mathematics Their Way, but I have added several living math books every week or so, choosing subjects that build and develop mathematically. We have even written a few things down, as we slowly transition into paper math. Even though I plan to use a textbook for guidance next year, and to include a lot more recording of math concepts, I will continue to use the hands-on approach that I have learned with Mathematics Their Way, because I think that it makes math "real" to little learners.
Unless you have a friend to loan you a copy, the text can be difficult to find in print for a reasonable price.  At the time of this writing there were ten or twelve on ebay, varying in price from $35 to $110. However, the Center for Innovation in Education maintains a website, which includes a PDF version of the text that is intended for previewing, as well as an on-line version of the summary newsletter. They also offer the print version of the book for $57.95, a materials kit, intended for classroom use, for $139, and a variety of other support items.
For young mathematical minds, I highly recommend Mathematics Their Way!
Susan is a homeschooling mom of three—a preschooler, an almost kindergartner, and a first grader.  They spend their days reading on the couch, playing with numbers, and making big, fun messes in a Spirit-led, Well-Trained Mind-inspired classical-Charlotte Mason-traditional model of home education.