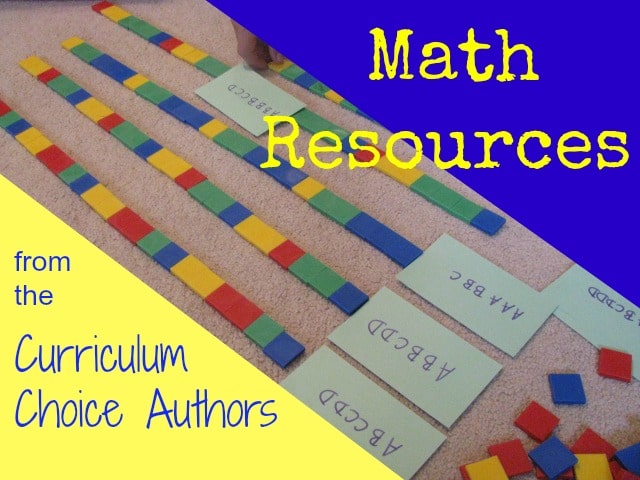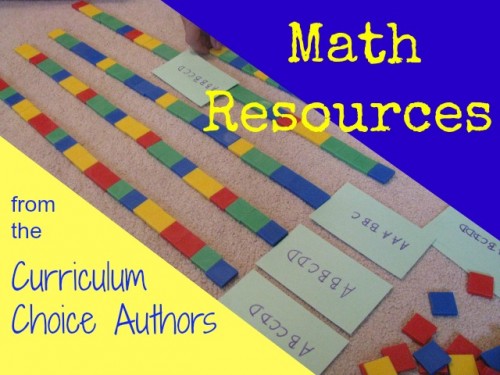 Don't Dread Math
Math seems to be the most popular subject for students and homeschool parents to dread.  It doesn't have to be!  The Curriculum Choice Authors have come together this month to encourage your math time.  You're in for such a treat as each of these moms is a veteran homeschooler with lots of math experience under her belt!
A Giveaway and Discount Code
To make this edition of encouragement from the Curriculum Choice Authors extra-special, Cindy West, author at Shining Dawn Books and long-time Curriculum Choice reviewer, is offering a Loving Living Math giveaway at the bottom of this post!  Be sure to enter.
For ALL Curriculum Choice readers, get ANY one of her e-books for only $5.00 now through April 15th!  Simply use the code CCSpecial upon checkout.
On to the Math Resources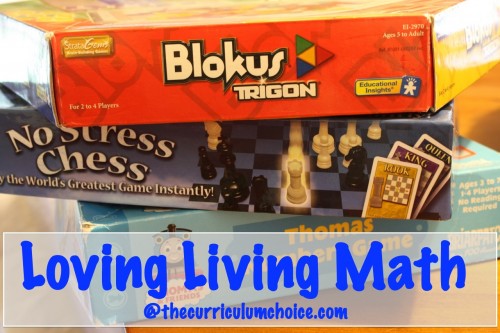 Tricia:
My Loving Living Math review: "Cindy West's Loving Living Math has given my family permission. Permission to learn and enjoy the real life stuff of math. Dear Parent – Loving Living Math is for you! Most often curriculum is for the student. This is for you. To teach you. To encourage you."
Living Math – Still Loving It! "We made a living math day of it. With everyone together, we…enjoyed a popcorn estimation experiment, rated the day and combined math and science in a nutrition study. THIS was a very fun day of math!
Timez Attack Multiplication and More by Big Brainz  "These fun, multiplication games were recommended to us by my friends and fellow homeschool moms. It's one of those resources we turn to when we know we need a little boost in multiplication practice."
Cindy:
Living Math "Check out this category of Living Math Posts for plenty of lesson ideas."
"Graphing can be so much fun!  Here is Cindy's category of Graphing Posts sure to make your math time fun and meaningful."
Economics "Economics is it's own subject, but so many people tend to leave it out of a well-balanced homeschool plan.  Whether it fits in the category of math or not, don't forget this important subject."
Barb:
Our Children Have Not Changed, Math Standards Have: "Algebra, Geometry, and Algebra 2 done with seriousness and the aim to master is a great high school education. After that, whatever higher math course you choose is going to be difficult for most homeschooling parents to offer at home without a great deal of support from an online course or community college course."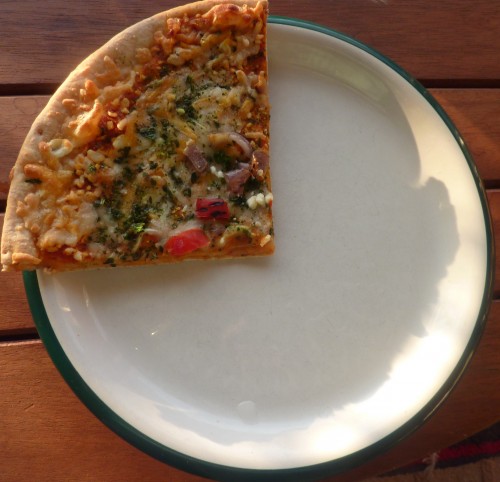 Betsy:
Geometric Shapes and Beginning Fractions "Ordering a pizza became a math lesson, not only in counting the money to pay the bill but also for fractions problems."Which is bigger, ½ or 1/3?"
Numbers and Patterns Kindergarten: Playing and Learning with Manipulatives   "The basic manipulatives needed for early math can be found in your own home. Numbers and Patterns – K can be done using simple supplies easily found, such as small toys, buttons, crayons, etc."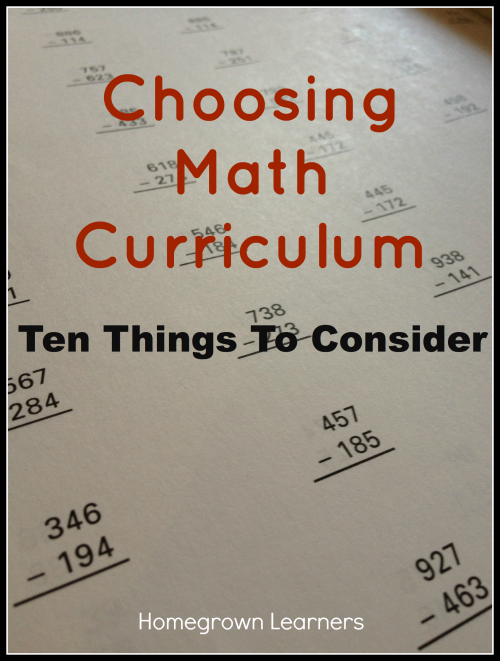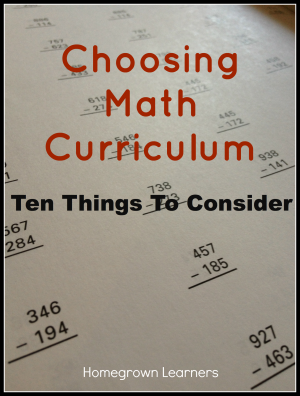 Mary:
10 Things to Consider When Choosing Math Curriculum "Just because your favorite homeschool blogger is using a math program and promoting it DOES NOT mean it will be the right fit for your children."
Amy:
Ray's Arithmetic in Action "Early math using a centuries old method."
A Closer Look: Numbers "Resources and Ideas for teaching preschool math."
Teaching Skip Counting "A simple and fun way to teach your young students the why behind skip counting."
Annie Kate: 
"There's always a lot to learning math.  New ideas.  Funny symbols. Last year's concepts, almost forgotten, but suddenly important again. And, above all, radically new ways of thinking.  Because it takes many exposures to these new ideas to really understand them, your children will benefit from supplementary math resources no matter how good your curriculum is."
Here are some supplementary math resources Annie Kate's family enjoys:
Math on DVD (lectures on dvd, basic arithmetic to university math)
Quarter Mile Math (fun, effective fact drill for K-grade 9, used by Sylvan Learning Centers)
Math Score (no frill, effective drill and teaching from 1+1=2 to quadratic equations)
ALEKS (online math tutor, individualized, from basic arithmetic to university level, 2 free months available in my review)
CalcuLadder (simple, speed-oriented, non-computer fact drill program for K and up)
Stephanie:
Teaching Textbook Review in comparison to several other popular math programs. "Looking for that perfect Math curriculum? Well, I am not sure that it truly exists. However, I wish I had found Teaching Textbooks sooner. I can't say enough good things about it. At first I was reluctant because I had tried so many different math curriculum that I thought this was sure to turn out like all the others- always something not quite right. I simply felt that a Math program that didn't require a ton from me was too good to be true."
10 reasons I use Teaching Textbooks. "Nowadays, it's so nice to have math be an easy subject to fulfill. Just pop the disk in the computer. It's the one subject I know we will never skip even on a light day because it's on the computer AND…it can be done independently. "
Heidi:
Master Math Facts with XtraMath  "My daughter's basic addition and subtraction math facts were not as solid as they should be, but I didn't want to sit with her going through flashcards.  I fell in love with XtraMath and have passed this site on to everyone I know, whether homeschooling or not."
Review: Mathopolis App for Practicing Math Facts  "I wanted a fun way for my children to practice math facts in between XtraMath sessions.  I happened upon Mathopolis, and it may win the prize for the best educational app I've ever purchased."
Hands-On Math: Practice with Tally Marks  "I use Life of Fred  and an old series of books called I Love Math with my son.  As needed I find extra hands-on practice for math concepts like playing store for coin recognition.  A simple game gave him practice with tally marks."
Heather:
A+TutorSoft Review "This is a computer-based math program that our family absolutely loves!"
Horizons Math Review "Our review of a math curriculum that our family has used and loved for a few years."
Homeschooling with Jellybeans "The most fun, yummy math manipulative around. Printable worksheets included."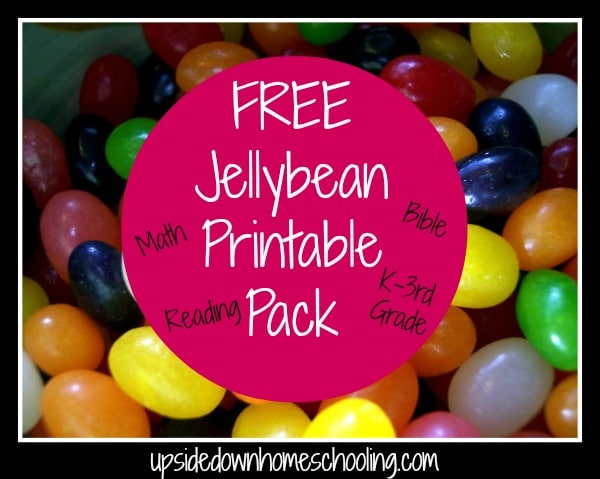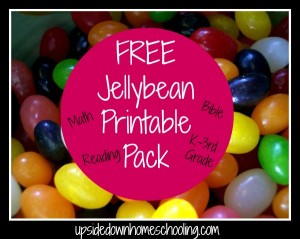 Kendra:
Organizing a Math Lesson "So, how do we pull it all together so we can actually enjoy a fun math lesson? It's not all that hard, to be honest, and I like to use a three stage planning process."
Some Math Freebies – a post packed full of printables for you!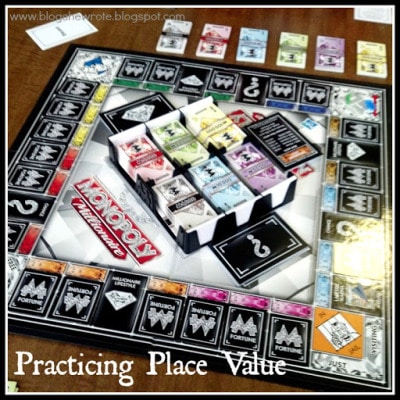 Heather W. has a whole category of living math posts at Blog, She Wrote to inspire you.
More math resources from our team:
Click on the Math tab above to see all of our reviews of math curricula and helps. Plus watch for more more math reviews this month.
And we invite you to browse our Math Pinterest board for even more inspiration!
We're linking up with Ultimate Mom Resources at Moms Mustard Seeds.
The Giveaway!
Now for the giveaway! We have three (3) Loving Living Math e-books to giveaway. Simply follow the instructions in the rafflecopter widget below:
a Rafflecopter giveaway

**The Curriculum Choice review authors share special resources on a topic every month! You can find a few review author posts highlighted in the right hand side bar. We've gathered many monthly Curriculum Choice author review team features for you! Coming up we'll be sharing patriotic resources, our favorite language arts curriculum, planning how tos, our curriculum choices for the new school year and much more!