I have fairly high standards for copywork.  I like for it to be easy to use and cost effective. In addition, while I certainly care about their handwriting, I want my kids' writing practice to consist of more than drill.  I want it to provide food for thought.  Of course, I really like it when the copywork complements our studies.
The Master Writer Quotation Copybooks by Westvon Publishing do all of these things.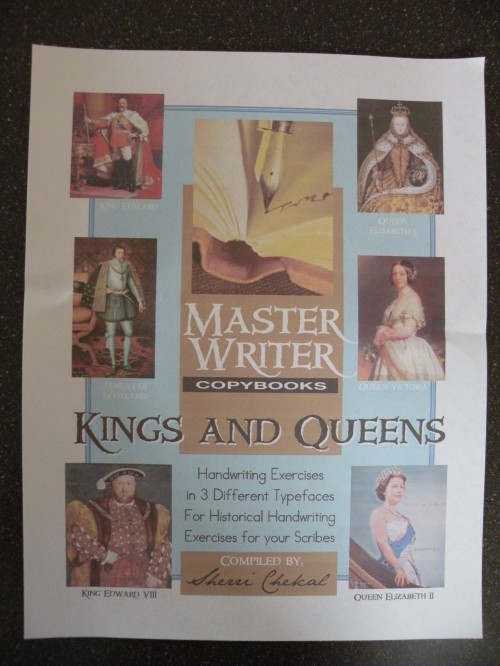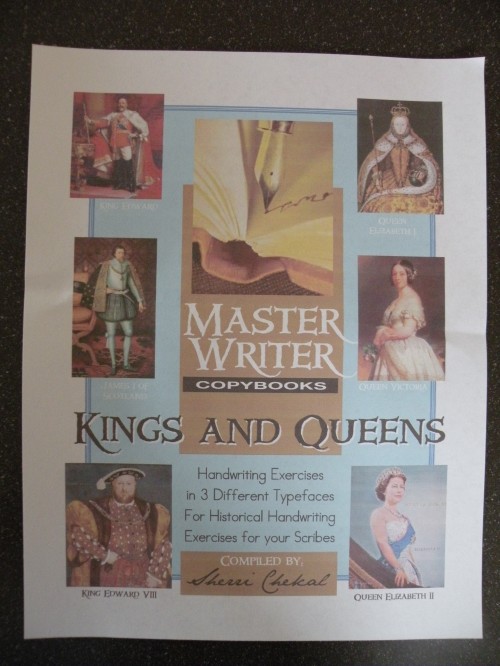 There are nineteen books in the Master Writer Quotation Copybook series.  Individual copybooks contain twenty quotations in three different fonts:  block printing, D'Nealian, and cursive.  Each font is presented in solid and dotted writing with space to write the quote below it.   The copybooks are available in CD form if ordered directly from Westvon, but I opted for the instant download from Currclick.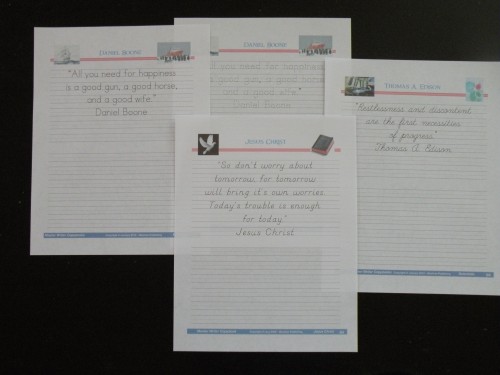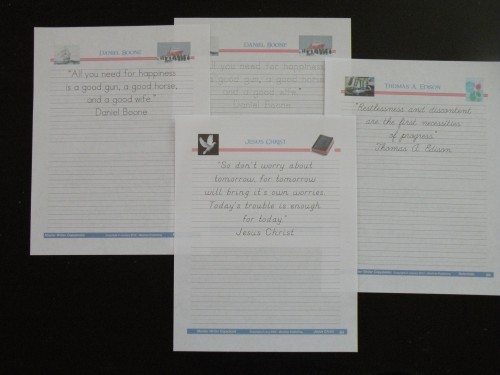 Quotation books are compiled from the following categories:
African Americans
Artists
Athletes
Authors
Entertainers
Explorers
Famous Women
Jesus Christ
Kings and Queens
Musicians
Native Americans
Philosophers
Presidents 1 and 2
First Ladies
Saints
Scientists
Shakespearean Plays
Statesmen
I purchased the Master Writer Combo that contains all of the copybooks.  Because it includes quotations from a variety of categories, the copywork selections are useful in a variety of academic areas.  I have appreciated the ease of printing a historically appropriate quote from Aristotle and a quote by van Gogh at the same time without the need for an internet search.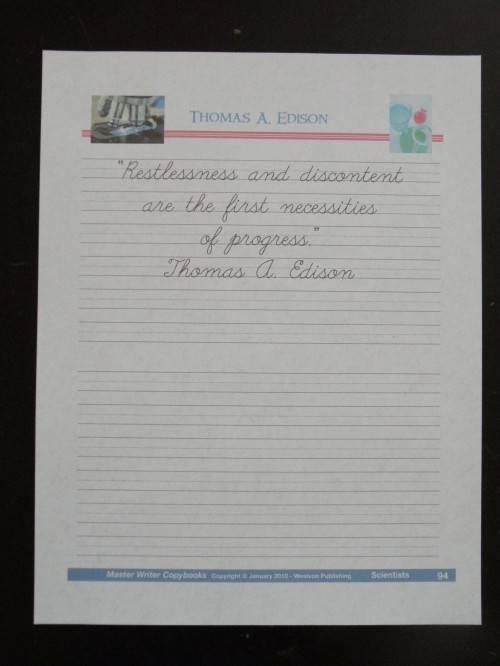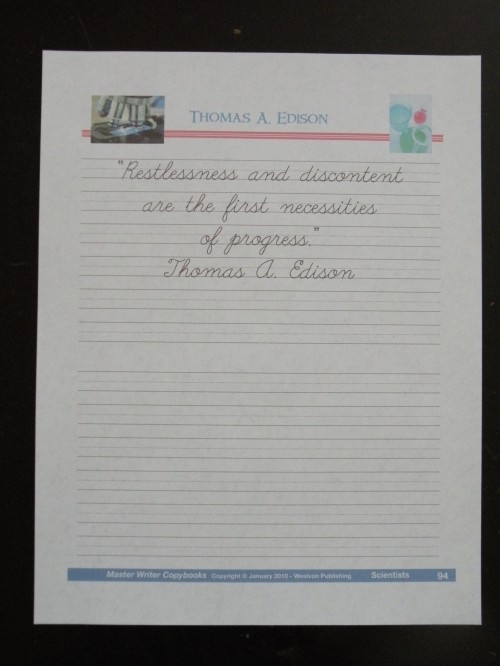 Example Quotes
From the artists copybook:  "Iron rusts from disuse, stagnant water loses its purity, and in cold weather becomes frozen; even so does inaction stop the vigors of the mind." Leonardo da Vinci
From the statesmen copybook:  "Right is right, even if everyone is against it, and wrong is wrong, even if everyone is for it." William Penn
From the Native American copybook:  "I was warmed by the sun, rocked by winds and sheltered by the trees as other Indian babes.  I can go everywhere with a good feeling." Geronimo
From the philosphers copybook:  "I threw my cup away when I saw a child drinking from his hands at the trough." Diogenes
From the entertainers copybook:  "No performer should attempt to bite off red-hot iron unless he has a good set of teeth." Harry Houdini
From the musicians copybook:  "Neither a lofty degree of intelligence nor imagination nor both together go into the making of genius.  Love, love, love, that is the soul of genius." Wolfgang Amadeus Mozart
With such a large number of quotes in relevant topics, I anticipate many years of use from the Master Writer Quotation Copybooks.
Master Writer Quotation Copybooks can be purchased from Currclick or directly from Westvon Publishing.
Susan S. is a homeschooling mama of three little ones who get bigger and livelier every day.  They delight in living books and hands-on math, and are nurturing a love for God and the amazing world that He created.