This summer while preparing for our BIG step into homeschooling high school, I came across a set of vocabulary flashcards that seemed interesting and helpful – Marie's Words.  Purchased without even looking up a review (unusual for me!), I'm so glad we got these little cards. Both my high schooler and I are pleased with them!
Marie's Words is a set of 550 cards, only 2.5″ x 3.5″, created to assist with becoming familiar with words typically found on the SAT or in literature.  Here's a full alphabetical listing of all words.
A Marie's Words Card includes:
on one side: a full-color hand drawn visual of vocabulary word
on the reverse:  phonetic pronunciation, definition, part of speech, words used in a sentence, synonyms and antonyms
The color illustrations we found valuable in highlighting the meaning of the word in a memorable way — and some are quite funny.  When I noticed the cards also included synonyms and antonyms, this was enough motivation to purchase.   Having a working knowledge of similar or opposing words is incredibly helpful for not only SAT prep, but also good writing and communication skills.  We were sold!
Take a peek at the cards (more examples found here):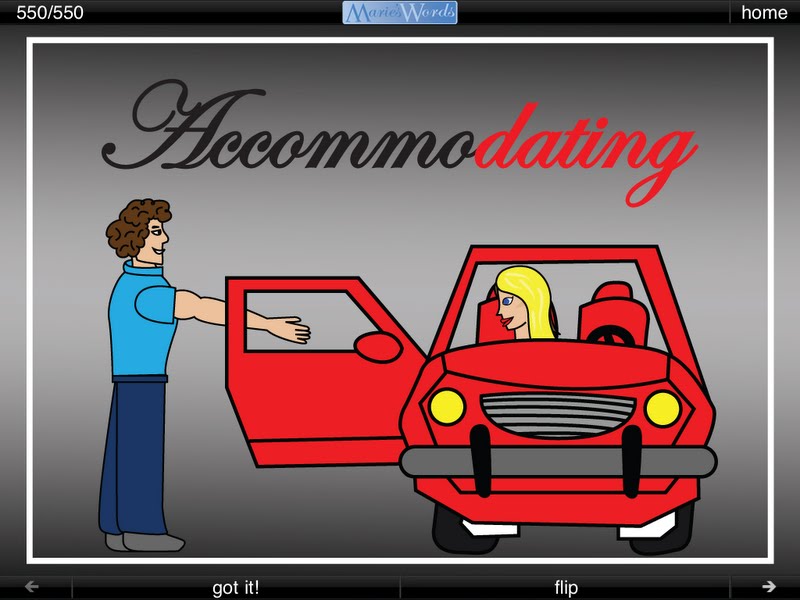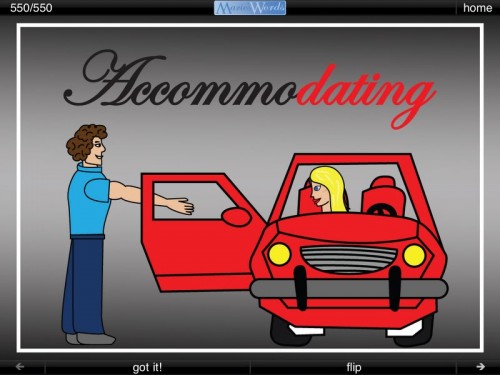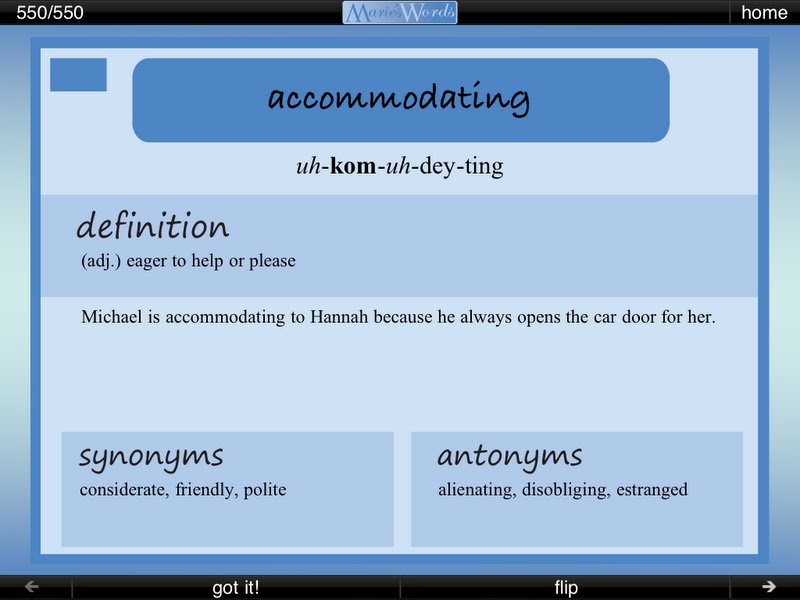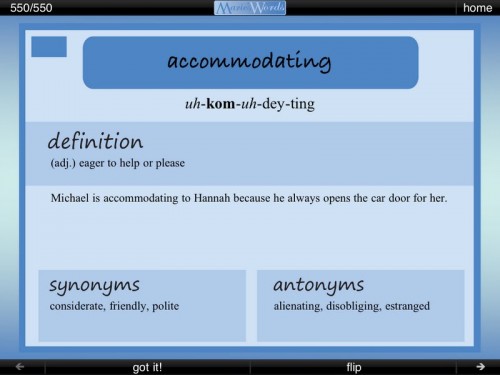 How We Use Marie's Words
Our cards arrived in alphabetical order, hole-punched and also numbered.  They are sturdy, but I've been laminating several at a time and placing them on a key ring for easy carrying around — which is just what we do.
Since these cards are supplemental for us to our main vocabulary curriculum and Latin class, we're fairly casual about learning a certain number on a regular basis.  My 9th grade daughter chips away at about 5-7 words weekly while in the car or wherever we find extra bit of time.  I'm thinking over the summer, we might use them more.
:: ::
Ideal for high school, or even middle school if a child is ready, Marie's Words come both in a set of cards and as an app for Apple and Android products – purchase information here.  Did I mention they were invented by a high schooler as a solution to her vocabulary frustration?  Check out Marie's story!
We've appreciated this resource and look forward to using it these high school years.
{post written by Daniele of Domestic Serenity}