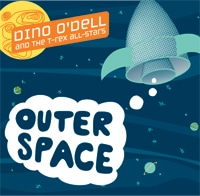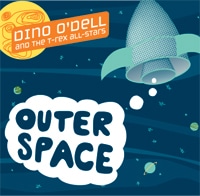 I had the pleasure of reviewing Dino O'Dell and the T-rex All-Stars new CD "Outer Space" and let me tell you IT IS FUN! My four-year-old LOVED it! He kept asking when we were going to meet Dino! There are 12 songs on the CD with the majority being around 3-1/2 minutes long. The tunes are catchy and the words are full of things to learn (for the most part). Some of what you will hear are: Polka, Rap, Reggae, South African Township Jive, Disco and Funk.
The CD starts with a song about waking up and ends with a song about going to sleep…VERY interesting CD – I've never heard anything like it. We really enjoy it. I do have to tell you that one of our FAVORITE songs on this CD is less than a minute long and is called, "Sugar Breakfast Cereal" – it is HILARIOUS! 🙂
A little about Dino O'Dell:
As a musician Dino has worked professionally in rap, polka, ska, and disco bands. His music groups have opened for the legendary Alvin and the Chipmunks, the pop band the Archies, and many others.

For fifteen years Kevin has taught music, drama, language arts and improvisation at preschools, elementary schools, theater, churches and libraries. Kevin appears solo, as Dino O'Dell, or with the band, The Veloci-Rappers.

His hometown is Kansas City, MO.
If you want a little sample of his music, you can click HERE. The CD costs $15.00 which you can purchase by clicking HERE or you can enter for a chance to win one of the TWO copies we have to give away!
Here's praying you have fun learning!
Come visit Dawn over at her blog, Guiding Light Homeschool, on Facebook and on Twitter…new friends are ALWAYS welcome!