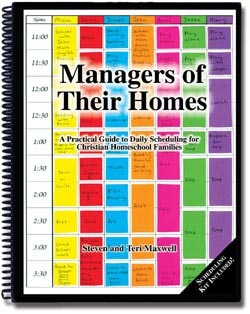 Being a mother of five, I am often asked how I manage our homeschooling day.  Some are just curious and others are hoping to see if there is anything that we do differently that might help them manage their day.  Each family functions differently, and each mother desires a smooth-running home.  But the consistant theme that I have seen with unhappy homeschool mothers is that they cant keep up with their work load.
Managers of Their Homes is a time-proven method that helps homeschooling families schedule their God-given priorities so that they can accomplish all that they set out to.  It is particularly useful for larger families, but works with families of all sizes.
The first chapter tells you why you should have a schedule and it dispels the myth that you cannot gain a victory over your circumstances and time usage.  The next chapter is about how to have a successful schedule by planning a daily devotion and depending on the the Lord, while trying to accomplish the Lord's agenda,  instead of on our own strength.  This chapter is followed by insructions on how to schedule:
children's days
school
babies
chores
kitchen
priorities
After reading through these chapters you will begin to see the light and probably will be ready to get to work setting up a schedule with all the helpful ideas that are provided.
"My initial investment of time making my schedule has paid off with interest."  Lorrie

"When we are on our schedule, there is much more peace; we get more done and I don't feel stressed by making decisions all day."  Pauline
The next chapter, Planning for the School Year, is especially helpful as it instructs you in prayerfully assessing each child's strengths, weaknesses, and goals before you put the pieces of the schedule together.
There are a few chapters next on scheduling the summer, challenges you may face in your schedule and what do you do when you have the inevitable interruption.  The chapter on implementing the schedule helps you get it all together and encourages you to tweak it as necessary until it is comfortable.  Then there is a Question and Answer section where the families that tested this method asked questions and the answers for every question imaginable is provided.
My favorite part of this book is the section of actual schedules that moms have used. I personally used this section immensely when planning our schedule.  Also, another helpful component to this book is the worksheets that you fill out in order to visually see the hours in your day and how you are choosing to spend your time.  You quickly realize that there ARE enough hours in the day to accomplish everything that God has laid on your heart to implement in your family.
"It's so pleasant and easy I find myself thinking, 'What am I doing wrong; this is too easy!"  Robyn

"Making and using a schedule has helped me, and there were people who thought I was hopeless!"  Sherri
The final step is completing and displaying your family's schedule and there is paper provided for you to make a chart with 30 – 60 min. time slots to proudly display on your wall in a central location so each child can see what they are expected to do next.
I look forward to creating my new schedule each year, as we add the next child and need major adjustments, or tweak it a little to add different responsibilities.  It always helps me begin school with a good attitude instead of beginning with the feeling of defeat before we even start.
Please visit the Titus 2  site to purchase Managers of Their Homes, and see the other products that Steve and Terri Maxwell have written.
Written by Brenda, Classically Eclectic mother of 5.  You can find her writing about her homeschooling journey at Tie That Binds Us.