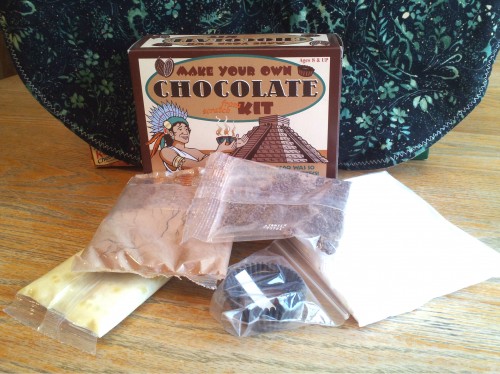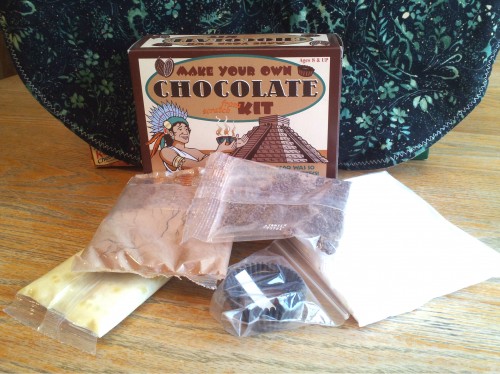 I am a dark chocoholic. For me, milk chocolate is for kids (although I'll admit to savoring delicious milk chocolate in the UK), but dark chocolate is divine. In fact, the Latin name for the cacao tree is Theobroma cacao, which means "food of the gods." This makes sense as the Aztecs believed that the god, Quetzalcoatl, brought the cacao tree to earth. Forget ambrosia. In my imagination, the gods feasted on dark chocolate.
So I was thrilled to spend some time with my daughters and this Make Your Own Chocolate Kit from Verve, Inc. The kit comes with materials you'll need to make 8 ounces of chocolate treats:
Organic ingredients: cocoa butter, cocoa powder, confectioner's sugar, starter crystals for tempering
Temperature indicator
Paper candy liners
Complete instructions for microwave or stove top
Some whole cacao beans to sample
A short story about chocolate and its history
The instructions are super easy to follow, as is the method. We opted to spoon some peanut butter into about half of the paper liners before adding the chocolate for our own peanut butter cups. Other suggestions include nuts, raisins, dried fruit, marshmallows, or chocolate candies.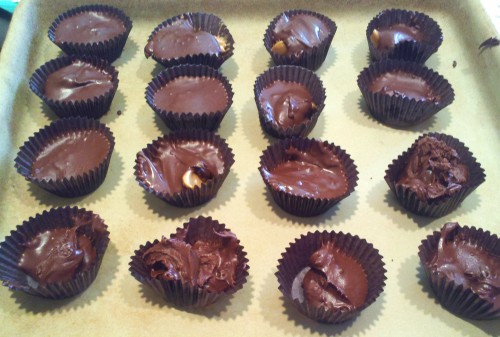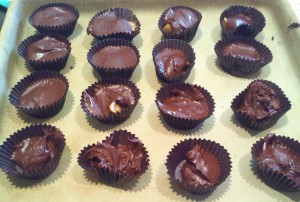 The candies set up quickly and did not require the suggested 15 minutes of refrigeration. By evening, the candies (those few that lasted that long!) had bloomed a bit (a whitish film on the chocolate) but tasted perfectly fine. My guess is that something happened with the tempering process. But this is a very small matter.
Besides high quality, organic ingredients, this product meets Fairtrade Standards, and the company is committed to fair trade and "green" practices. The ingredients are fairly allergy-friendly; they contains dairy and soy but NO egg, seafood, shellfish, tree nuts, wheat, or peanuts (the usual suspects).
Moreover, and a huge plus for homeschooling families, the parent company provide a FREE online lesson plan on the history of chocolate to go along with your chocolate-making activity. So there's food for the brain as well!
We enjoyed this kit very much. It didn't take much time, we learned a lot, and the results were very tasty. What a bonus!
~ written by Ellen, The Bluestocking Belle