I'm a lover of science and have been hodge-podging our science curriculum together for 8 years. I like to use a little bit 'o this and a little bit 'o that. Someday I'll write and reveal my brilliant science curriculum, but not today. ; ) Today I want to talk about Lyrical Learning – that is learning things via song.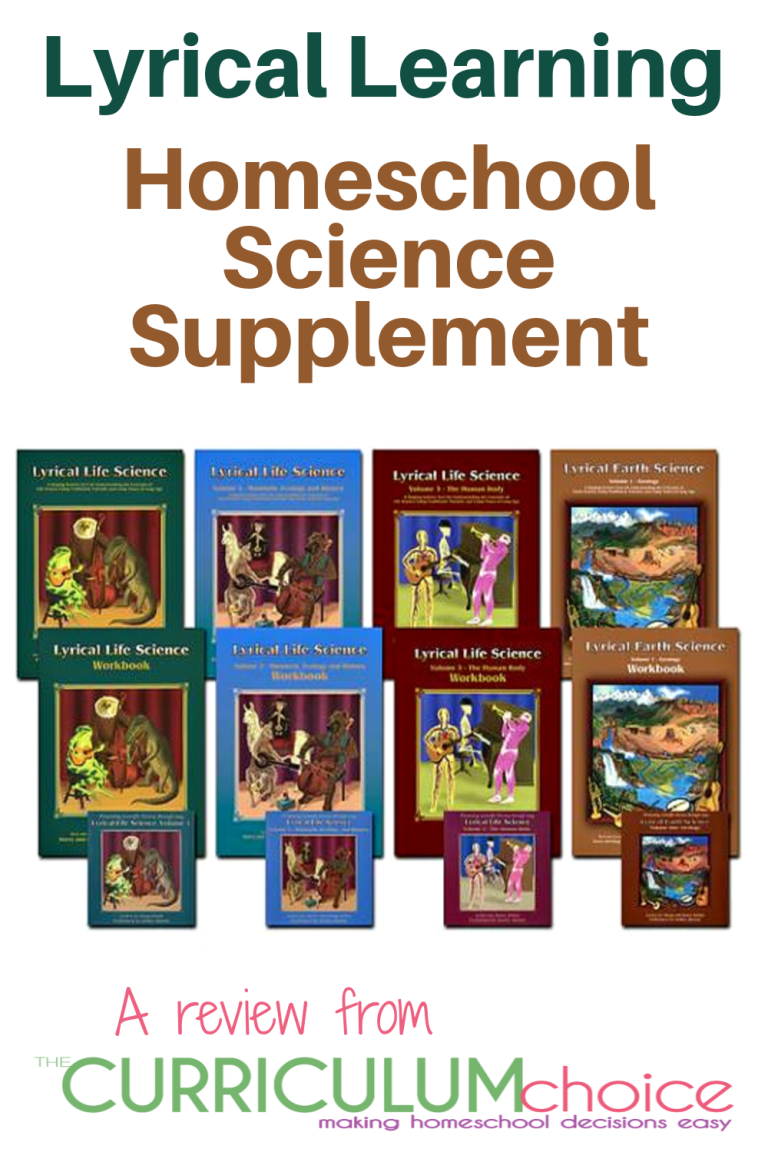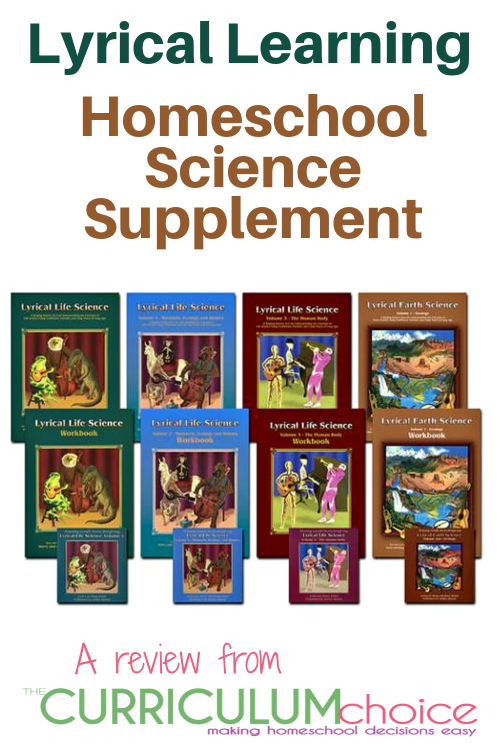 Lyrical Learning is good music, good science, and good-time learning!
Lyrical Learning for Homeschool Science
I want to talk about learning science by singing it. No, I'm not crazy. I'm a firm believer in using all the senses to help remember those science facts that we can't seem to do. So, when I discovered Lyrical Learning, I flipped my lid and bought them all! To read about why singing these camp songs work, read what Doug Eldon wrote about the brain and repetition.
About Lyrical Learning Books
Both Lyrical Life Science and Lyrical Earth Science are based on middle school textbooks and information. That being said, many families use the songs for younger children who enjoy the music and pick up on the lyrics easily, so they become familiar with scientific vocabulary.
Depending on the strengths of the individual child, third and fourth graders can use the textbooks and the workbooks' lyric and objective worksheets, I would just leave out the essays until they are older.

We started with Lyrical Life Science, because that's where our 4 year rotation of science was, studying life science, biology. LLS starts with the scientific method, which, in my opinion, is the key to understanding the scientific thought behind any field of science and it should be taught and revisited at the beginning of each school year.
Lyrical Learning books are packed full of scientific words and information. They do not say this is a full curriculum, it is meant as a supplemental learning tool. We have used volume 1 – volume 3 of the life science books and are planning to use Lyrical Earth Science this year.
Suggestions for Using Lyrical Learning as a Supplement
The first way is if you create your own science unit studies, then you can use these as your spine. They are thorough and provide a nice outline for a unit study.
You can pair up the concepts with whatever you are using for science – a text or off the shelf curriculum or your own. You may have to buy all the volumes in order to do this.
Other Helpful Tips:
Play the songs often.
Definitely have the children fill in the fill-in-the-blank worksheets in the work books to help them remember the science terms and to see them spelled correctly. If you don't want to buy the workbooks, then make your own.
Don't read the text to younger children. It is over their heads and they will tune you out. YOU read it and teach it to them as you explore your scientific studies. Older ones can read it – it is packed full of information and is a true wealth of knowledge.
Hands-On Activities to Accompany Lyrical Learning
You have to do hands-on things so that they will remember the information. Here are some of the things we have done or plan to do this year that go along with these books:
Dissections – pig & frog
Zoo Trips
The Skeletal System – Hands-on learning resource
Plant a garden, you don't need much space, just a few square feet
Color detailed pictures of what you are studying
Read living books or picture books
More Learning with Music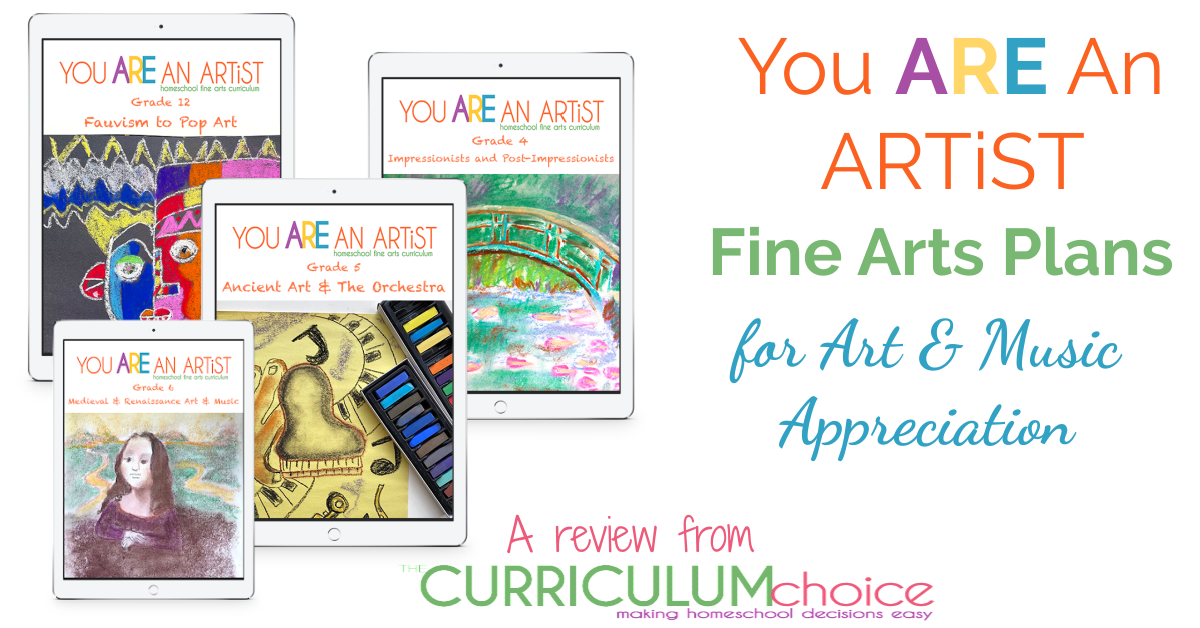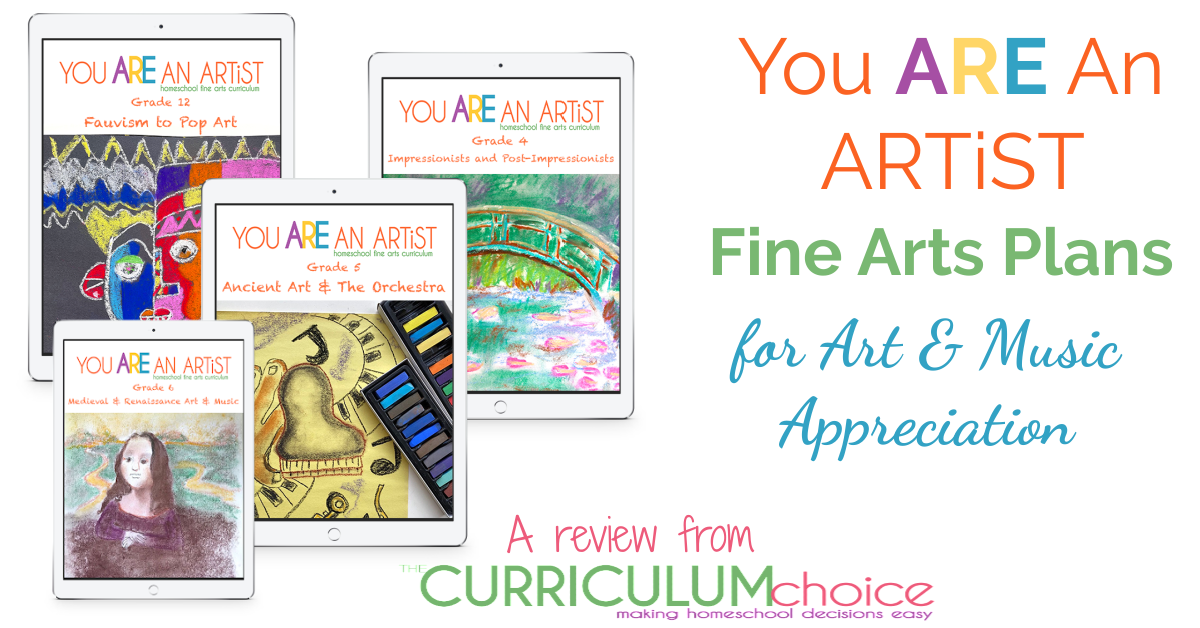 ~ Originally posted May 2009, written by Brenda, classically eclectic mother of 5