Many people today think that memorization is unimportant. They argue that anything that they need to know, they can look up on-line. But can a person be truly educated if he doesn't "know" anything? I think not.
We need knowledge in order to understand new concepts. Critical thinking programs are wasted if there is no foundation of knowledge to build upon. The writer has nothing to write about if they know nothing. Truthfully, anything that we know, we have memorized. We may not have tried to memorize it, but if it is in our memory, we have memorized it.
One of the key components of a classical education is memory work. Unfortunately in our home, it is an area that we have been sadly lacking. When my husband and I had our year-end homeschool evaluation, memory work was one of the major things we decided to work hard at implementing in our homeschool. As I began my search for help in doing memory work, I saw many references to Living Memory by Andrew Campbell on the Well-Trained Mind Forums.  (Andrew Campbell is also the author of The Latin-Centered Curriculum.) When The Curriculum Choice contacted Mr. Campbell, he graciously sent me a copy of Living Memory to review.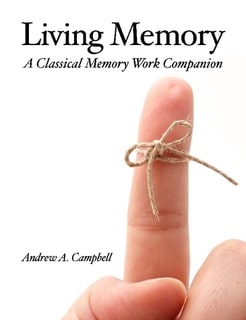 Living Memory is a substantial volume with 452 pages! The first section of the book explains the value of memory work and how to memorize. Mr. Campbell suggests that memorization is most effective when utilizing four basic language skills: listening, speaking, reading, and writing. Included are suggestions for incorporating each of these skills in your memory work program. In addition, there are instructions for preparing a memory work notebook. This information covers only the first 14 pages of the book. The remainder of the book is filled with suggested memory work. The selections are divided into the following categories:
Latin

Grammar and Vocabulary; Proverbs; Poetry and Prose;
Scripture; Prayers; and Hymns and Carols.

Greek

Grammar and Vocabulary; Proverbs; Poetry and Prose; Scripture; and Prayers and Hymns.

Arithmetic and Mathematics

Addition and Subtraction Fact Families; Multiplication Tables; Euclid's Definitions; and Area and Volume Formulas

Grammar and Composition

Grammar Poem, Grammar Catechism, and Common Misspelled words

Literature

Literary Facts and Lists; Sayings, Proverbs, and Famous Quotations; Teaching Rhymes; Poetry; and Dramatic Speeches from Shakespeare's Plays

Religion

Scripture, Prayers, Catechism, Poetry, Hymns, and Carols

Geography

Continents; Oceans; States and Capitals; and Nations and Capitals

World History

Major People and Events from around the world

United States History and Civics

Key dates in American history; Founding Documents; and Patriotic songs, verse, and oratory

Natural Sciences

Lists and mnemonics for natural science

Reference Charts

Charts of Greek and Latin paradigms
Living Memory contains ample material for an entire school career of memory work! There is wonderful variety in the selections. It includes everything from "Twinkle, Twinkle Little Star" for my 2 year old, to the Gettysburg Address for my middle school son, plus more advanced material to use in the future.  I am so excited about setting up notebooks for my kids for next school year. The hard tasks of narrowing down things to memorize and compiling the material has been done for me in Living Memory. Now I can customize our memory work to correspond with our other school subjects. With a list, though long, of suggestions, I feel confident that I will be able to add valuable memory time to our daily schedule. I highly recommend Living Memory to anyone seeking ideas for classical memory work. It is available from Lulu.com.
Written by Kristen, Classical mom of 4