I can't remember how I stumbled upon September West's 4RPress, but I was immediately drawn to her beautiful notebook pages for a few of my favorite books, Hans Brinker, The Apple and the Arrow, and Heidi.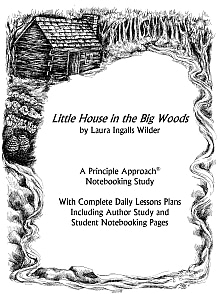 When her Little House in the Big Woods study was published, I added it to my wish list. A few days later, September offered me a free copy in exchange for a review. I was thrilled!
I printed it out, put it in a nice binder, and have been hauling it around to show all of my homeschooling friends. It even has the stamp of approval from a local, Principle Approach, master teacher.
This Little House in the Big Woods study is divided into two parts.
The first part contains 48 detailed lesson plans for the teacher. The second part is the wonderful notebooking pages for the student.
The 52 notebooking pages include:
a timeline
a map
a letter from Laura Ingalls Wilder to children
gorgeous, black and white illustrations
charts and lines for taking notes
spaces for student drawing
48 lessons may seem like a lot, but this is the only book my little ones will really study for a whole semester. (We'll still have numerous read alouds.)
There is so much to be learned by going through one book slowly.
We'll examine the five elements of literature: characterization, plot, setting, theme, and style. We'll have time to be immersed in the story and all the ideas presented. When we are finished, we plan to celebrate a "Little House Day" with friends.
If you are looking for an excellent introduction to notebooking or the Principle Approach, this would be a great, affordable place to start.
This study is geared towards elementary students, but I'm tempted to join in the coloring and simple note taking.
Little House in the Big Woods Notebooking Study by 4RPress can be previewed and purchased at CurrClick.
Written by Renae Deckard, Biblical Principled mother of 3. Find Renae's reflections about homeschool and family life at Life Nurturing Education.
Disclosure: I was given a free copy in exchange for a review, as stated above.