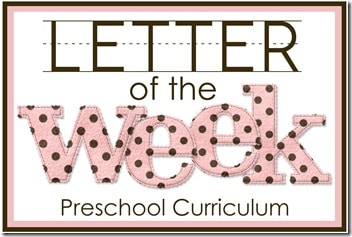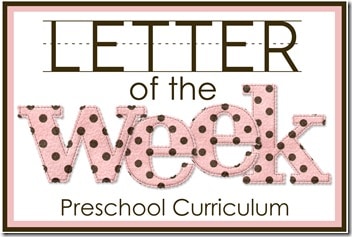 I have to admit that I am not able to be creative every minute of every day.  I just do not have the energy.  When I was preparing for our summer learning adventures I knew I wanted something fun for my younger 4 children, ages 1-5,  to do each day.  The other big requirement was that it was laid out for me.  Enter the Letter of the Week curriculum from Confessions of a Homeschooler.  I am really not sure quite how I found her blog, but boy are my children glad I did!
Let me start out by saying this wonderful homeschool mom offers her entire curriculum for free on her website.  However, with over 1400 printable pages, that is a lot of individual files to download.  I decided it was completely worth $10.00 to receive an instant download that gathered those files into sets for me, and even had a few neat bonuses like weekly lesson plans.  The Letter of the Week curriculum is also available on CD for $15.00 if you prefer that route.

So just what is this curriculum like? Colorful and fun!  Basically, each letter has a theme, such as Dd is for Dinosaur, Kk is for Kite, or Vv is for Valentines.  The activities available for each letter vary, but typically include:
Weekly Bible Verse
Read aloud books list
Phonics practice
Capital/lowercase letter recognition
1-10 Numbers recognition
Counting practice
Colors
Shapes
Fine Motor skills: Lacing cards, cutting, coloring & pre-writing
Logic skills: Puzzles, size sorting, matching games
Large Muscle Movement: Large Floor Numbers/Letters Hopscotch
Singing: Leapfrog A-Z letter sound songs, Bible Verse Songs
Arts & Crafts for each letter
Daily Calendar and Weather Activities
Click Here to see a typical week's materials.  There are also review materials to use at the end of your 26 letter adventure.
How do I use it? I go each month to my local office supply store to print 4 weeks of materials.  There are some pages I simply print at home in black and white, but many are printed in color at the office supply store.  I never print all the activities for a letter, there is simply too much to do in one week for me.  That is a great thing, though, because it gives us variety.  When I get home I begin a laminating and cutting party.  I laminate most of the activities to make them durable.  In three years I can use them again with the newest preschoolers, while right now they are also safe to hand to the 1 year old who likes to taste his letters.  Once all the activities for a letter are laminated and cut out I store them in a file folder labeled with the letter.  Each week I grab out a file and hand out a few activities each day.  It's that simple.
Here is the way I have found works best for us with 4 children using the materials, we call it stations: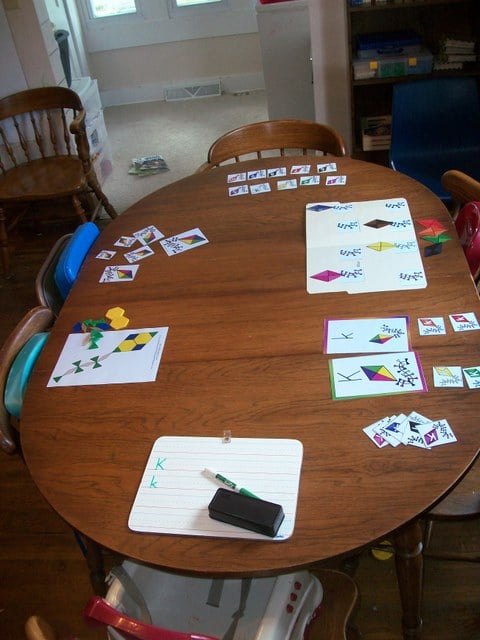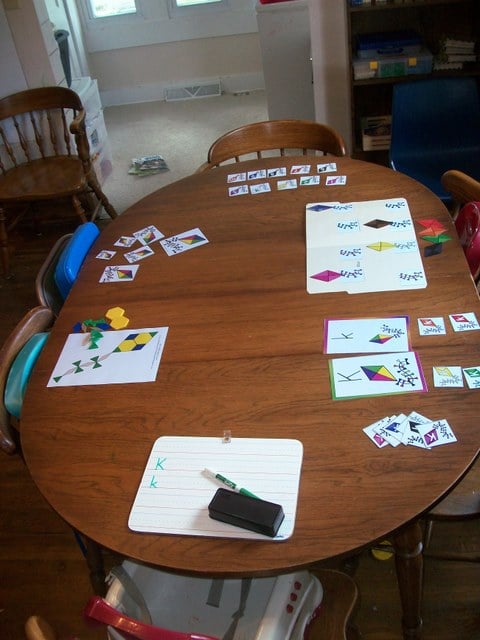 Instead of passing the materials around the table and mixing up pieces in the process (yep, tried it – trust me, not a good idea) the children move from chair to chair.  Of course, with energetic little ones any movement is a great thing to help get those wiggles out.  In the photo above the stations are making a kite out of pattern blocks, sorting kites by size, putting numbered kites in order from 1-10, a kite color matching file folder game, uppercase/lowercase letter k sort, and a dry erase board to practice writing the letter k.  Everything but the dry erase board came from files in the Letter of the Week curriculum, and on subsequent days that week I was able to replace all those stations with the other letter K activities.  You can see the letter Kk printables here to see just how many options we had that week.
So if you are looking for something fun to do with your preschoolers, or maybe you need some independent review materials for a kindergartener's workboxes, I highly recommend checking out the Letter of the Week curriculum!
Written by Tristan, mom to 5 going on 6 children, homeschooling through unit studies with a side of lapbooks.  You can visit her at her blog, Our Busy Homeschool.