When we first started homeschooling eight years ago, the Little House series was number one on our list for our read aloud time. After the first few chapters of the first book we were all hooked! Nothing could tear us away from Laura Ingalls and discovering all her adventures. Looking back to those early years when Laura Ingalls and her family journeyed with us through our first two years of homeschooling, I am flooded with many happy memories as I think of our time spent cuddled up on the couch, of watching my girls dress up like Laura, play at 'Little House' in their play time, make some of the things mentioned in the books. Even as recently as last winter, we had to make 'snow candy' like Laura did 🙂
Summer is the perfect time to spend some quality time together, reading, creating, exploring, bonding – without the pressure of daily lessons. So I thought that I would share a delightful study we did a few years ago where we delved a bit deeper into one of our closest childhood friends life with the help and guidance of a lapbook.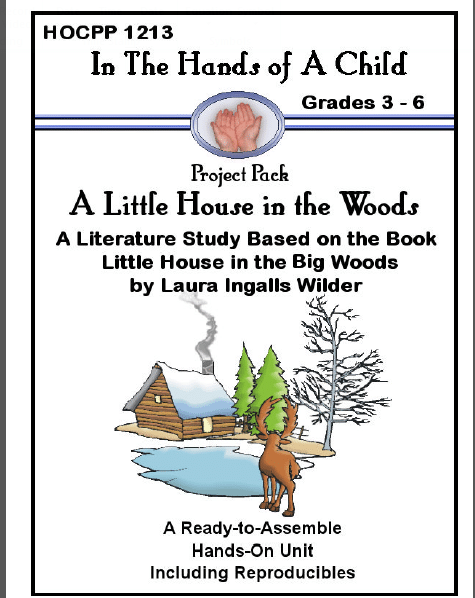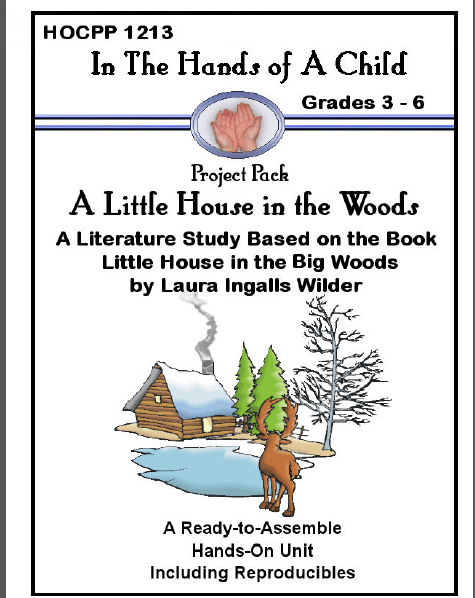 Title: Little House in the Woods: A Literature Study Based on the Book Little House in the Big Woods by Laura Ingalls Wilder
Publisher: In The Hands of a Child
Available: CurrClick
Format: PDF download (I love this, click to buy and then download and print. Not having to go any further than your desk!)
Cost: £4.10
Ages: 5 -10 years
Before you start on your adventure into the Big Woods, make sure you have a copy of Laura Ingalls Wilder's book, 'Little House in the Big Woods.' You won't want to miss a single thing once you get going, remember, the lapbook enriches your reading experience, it is not in my opinion, a stand on its own resource.
One of the things I was very pleased to see when I purchased this lapbook, was the discussion elements such as character, setting,  and imagery. It's not something I automatically do, not being a trained English teacher, so this 'help' was greatly appreciated!
Here's what you can expect when you open up your PDF download.
Concise and clear instructions on how to create a lapbook.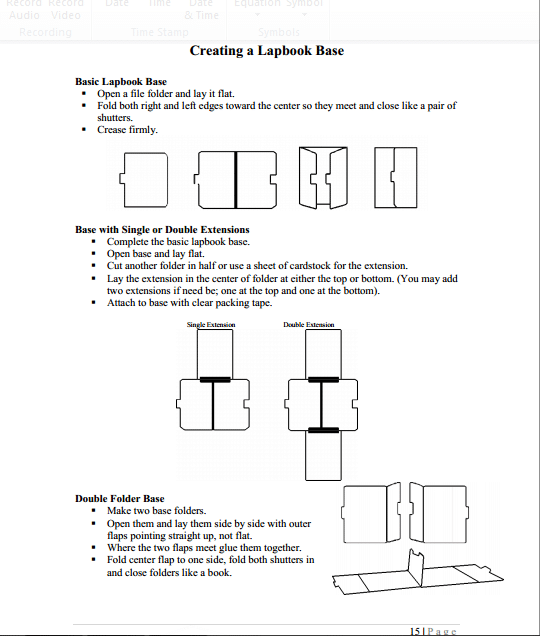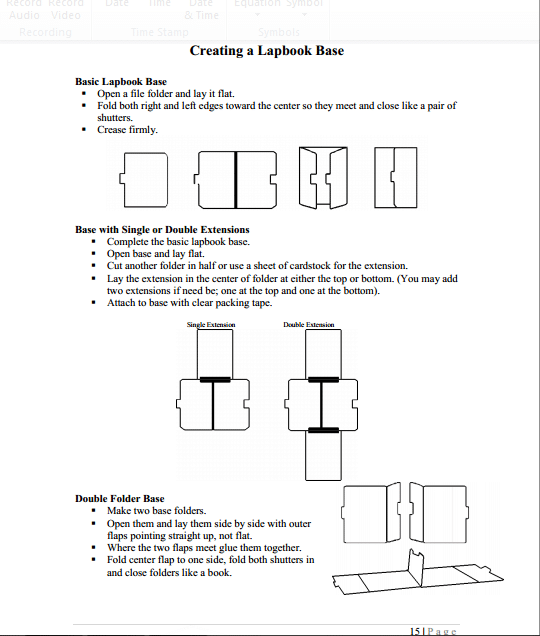 If you have never constructed a lapbook before, each In The Hands of a Child product comes with clear instructions on how to tape together your folders to create and interesting, fold-away 'book' in which to paste your lapbook pieces.
A photograph of your project all made up: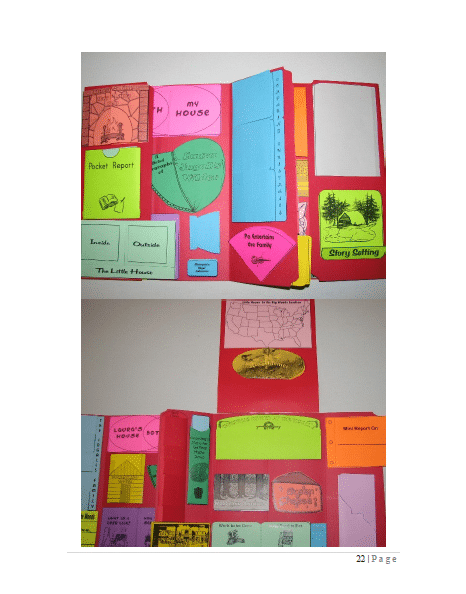 I'm quite a visual person so I quite enjoy seeing how our project could look once we have finished with it.
Each lapbook comes with instructions to the teacher on how you can adapt the product to suit different ages and needs within your family – which is handy 😉
Next comes the Table of Contents: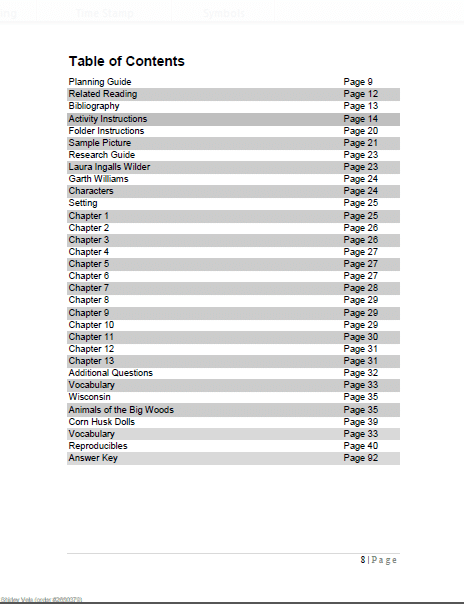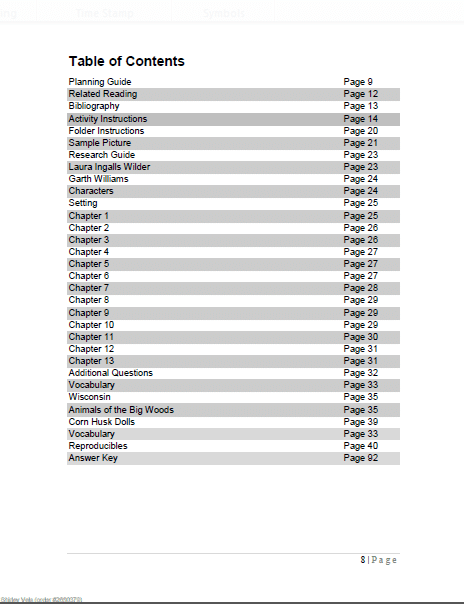 This gives you a great overview of what you will be looking at and where to find everything. I usually only print out everything except the reproducibles at the outset. I print the reproducibles out the day before or once a week in my planning time. It just becomes to bulky to store otherwise.
Now I love this next feature, the schedule: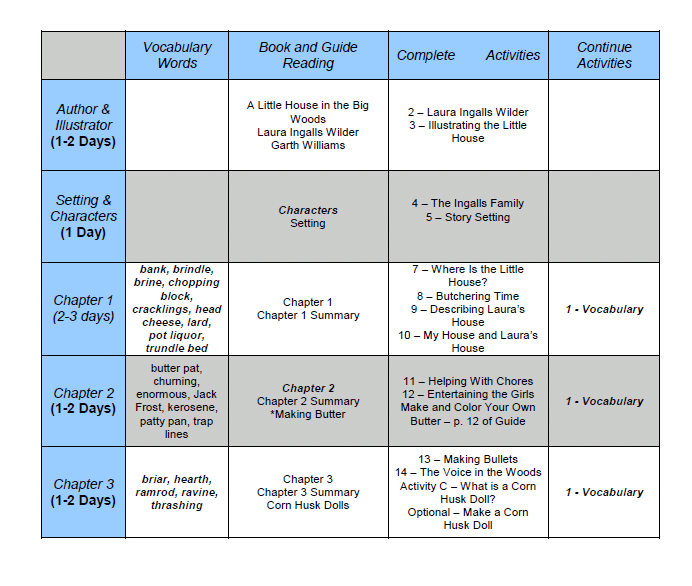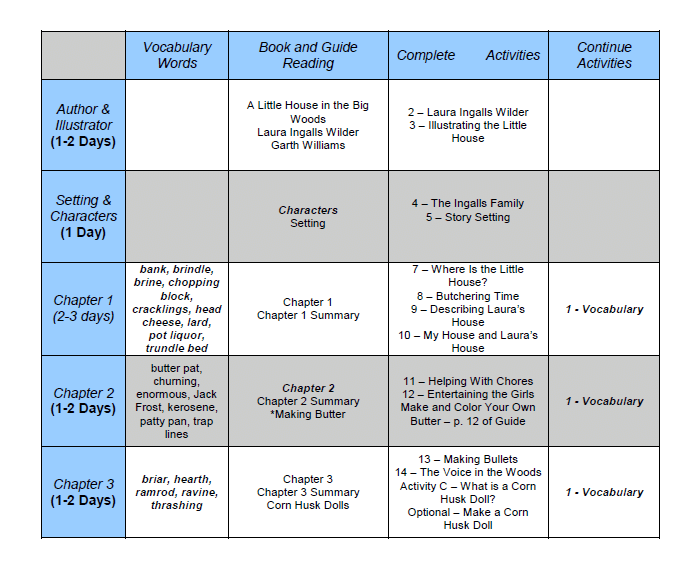 It's all laid out for you, not need to allocate activities or discussion questions yourself. You might find as I did that I would take slightly longer than they recommended as my children were much smaller than they are now. I would just gauge their concentration levels etc and determine what worked best for us on any given day.
The Research Guide:
Each of the Hands of a Child lapbooks come with a research guide to help you navigate your way through the lapbook. It is here that you will find historical background info that you would not get from the books. The research guide has all the notes and guides for your discussions on setting, characters, etc. All the recipes and instructions for the crafts and baking/cooking activities are in here too.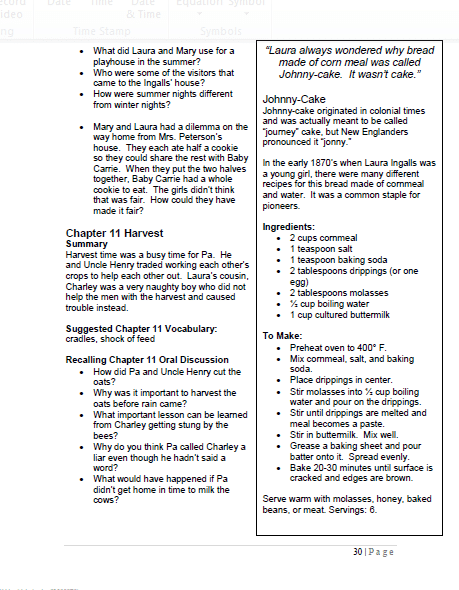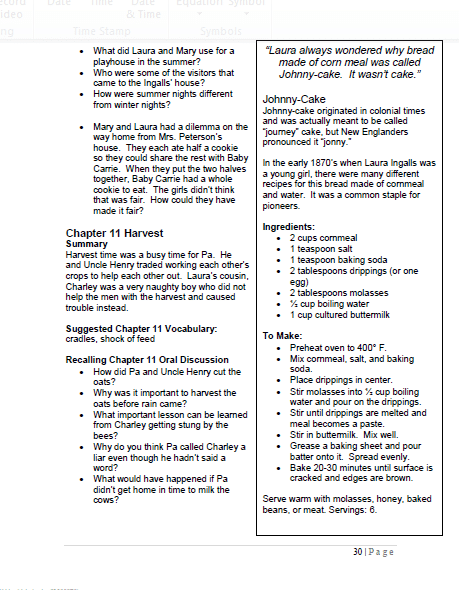 Oh we had so much fun making and cooking things that Laura did! Another tip – we took photographs of some of the things we made and pasted them into our lapbooks. Years later it makes a lovely keepsake and you get to remember your time together which fondness 🙂
Lastly, you will find all the reproducibles: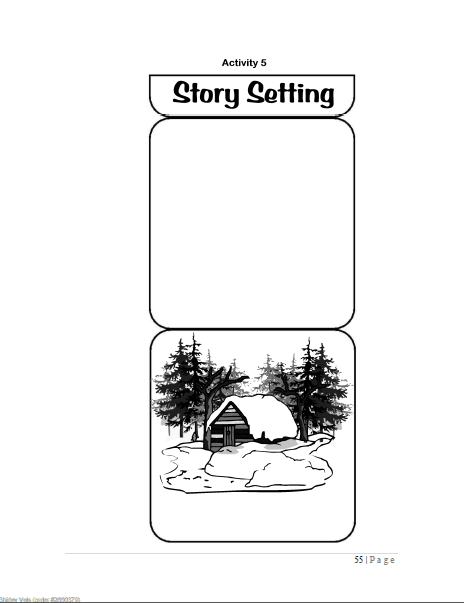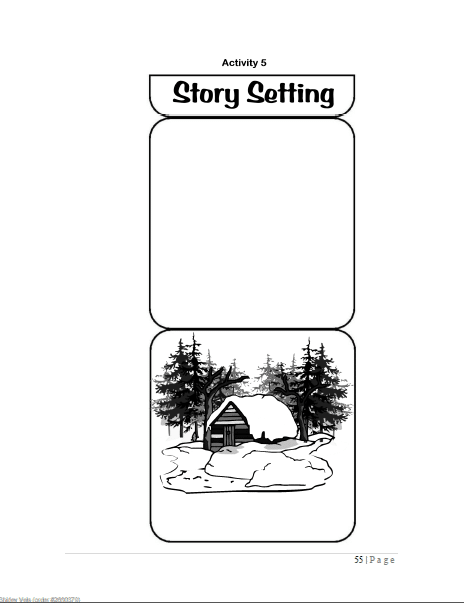 To add a bit of interest to our lapbook, I printed the little matchbooks on different colored paper. Some which could be colored in I printed on white paper, it just added a bit more of a fun factor to our learning.
If you would like to download a sample of this lapbook you can do so here.
Enjoy the rest of your summer all 🙂
Please note that this post does contain affiliate links.