"Learning isn't just about WHAT our kids know, but HOW they learn."
Have you ever felt like you weren't "getting through" to your student?
Wondered why they were able to recall certain lessons more than others?
Do you ever wish that there was a more effective way to teach? A way that really spoke to your student?
Wish no more! Kidzmet is a tool that is all about helping parents and teachers determine their childrens' learning style(s) and  learn to speak their students' preferred learning language.
Having gone to school to be a teacher (in my previous life) I was already familiar with Howard Gardner's theory of Multiple Intelligences.  This theory, which posited that "book smart" isn't the only kind of smart, was introduced to us so that we could construct lessons with multiple approaches in an effort to reach as many different types of learners in our classroom as possible.
Kidzmet is an easy way for EVERY parent and teacher to determine how their children learn. This empowers you  – parent or teacher – to work with your child's strengths and make learning FUN.
You may never have thought about how you learn – or maybe you have. Perphaps you have simply figured out the best way for you to remember things (if I don't __________ I'll never remember/it'll never get done). Your kids may learn the same way that you do, or they may learn in a completely different way.
That is where Kidzmet comes in. You start by completing a personality profile for each student (appropriate for ages 4-12, approx.). It takes about 20 minutes. However there is a shorter test for younger children and children with shorter attention spans. I decided to try it both ways. I answered the longer questionnaire based on my observations of and knowing Billy. Later, I had him take the shorter version with me.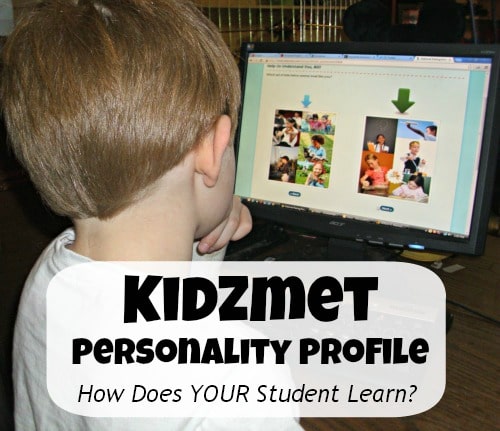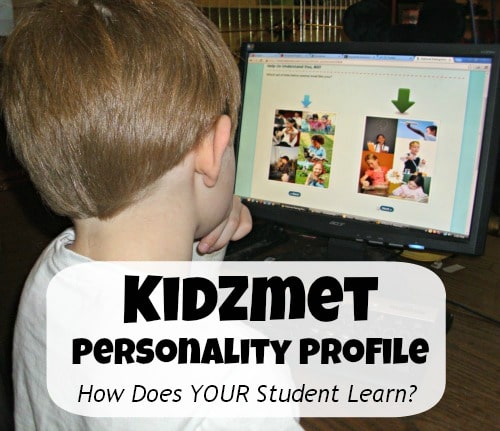 Since I was already familiar with these different learning types and felt I knew what type of learner Billy was,  I was curious to see how closely Kidzmet would agree with my findings.
Kidzmet lined up perfectly.
The two quizzes did come back with ever so slightly different results, but I feel even the variations represent the combination of learning styles that best describe Billy. The results of the personality profile not only give a label, but also list helpful learning tips to use during lessons – all for FREE!
You can choose to have a snapshot of these results sent to a teacher or to yourself and keep it as a reference for your lesson preparation!
On top of that Kidzmet's blog "Recipes for Success" publishes even MORE helpful ideas and tips specifically for your type of learner!
If you want to dig even deeper, grab a copy of Kizmet's Parent's Playbook for Learning.  It is a detailed, practical guide that outlines exactly how each of your kids learn best. It includes:
How to create a learning environment that allows each of your kids to excel and develop confidence in their unique abilities.
How to support and encourage your kids' educations in ways that are best for them.
How to teach each of your kids the most effective learning strategies for them, as well as how and when to use them.
If schooling has been a struggle or you're just looking to gain more insight into your child's learning style you need to try Kidzmet. It's free, informative, quick, and as private as you desire (results sent to you only or can be shared with as many teachers, tutors, coaches, mentors, etc. as desired).
It will help you get more learning and JOY out of your homeschool!
Want to find out what YOUR child's style is? Head on over to www.kidzmet.com and create a FREE Personality Profile!
Disclosure: I am an affiliate of Kidzmet and links are affiliate links. This post is my honest review of Kidzmet's Personality Profile.
~written by Heather, Homeschooling on Faith and Coffee