Do you have any budding meteorologists in your home? Have you been taking extra notice of the weather lately due to unusual storms or frigid temperatures? Are you trying to find ideas for nature study when it's too cold to be outside, or maybe looking for a fun science unit study? Well, The Kids' Book of Weather Forecasting might be just the thing!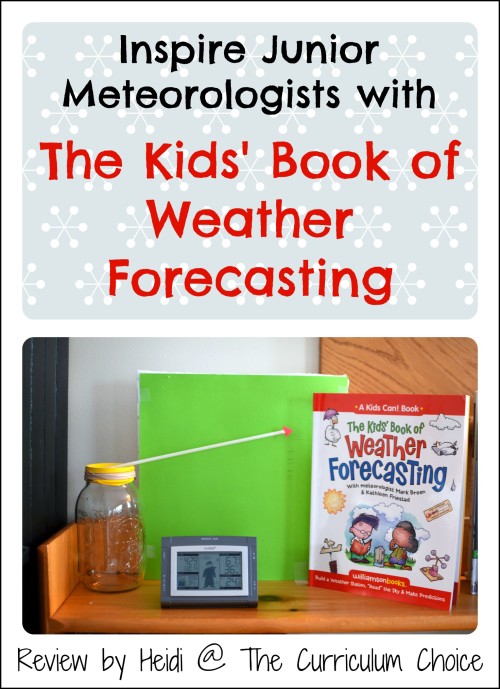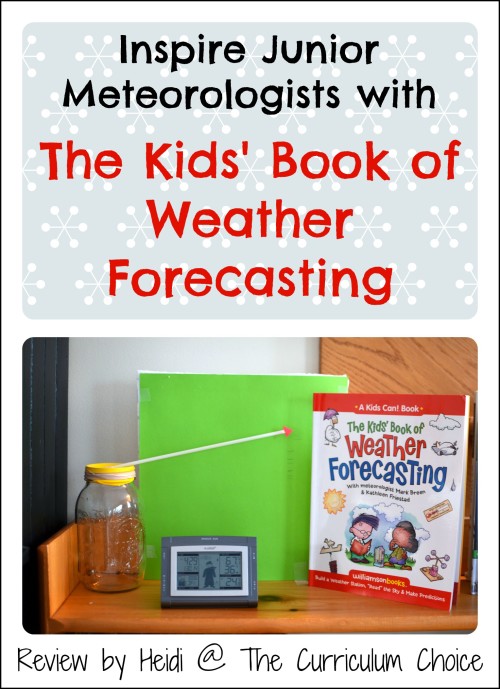 Any affiliate links included are for resources we absolutely love. Please see our disclosure policy. Thank you for supporting The Curriculum Choice! 
The Kids' Book of Weather Forecasting Review
I purchased The Kids' Book of Weather Forecasting for my kids for Christmas.  (Leave it to homeschool parents to give their kids educational gifts and use it as part of their schoolwork.)  It contains over 100 pages packed with information designed for kids ages 7-13.
What do I like about The Kids' Book of Weather Forecasting?
It incorporates many of the skills of the scientific method: observation, data collection, and making predictions based on trends in your data.
It encourages hands-on learning as you build homemade versions of weather equipment.  You can see our homemade barometer in the photo at the beginning of this post.  My children understand the concept behind the barometer much better because we made it.
I would easily call this a living book.  The author is a meteorologist and his excitement for the topic comes through in his writing.  The writing style is so enjoyable that it even works as a read aloud.
I especially love the sections called Weather Lore where the author discusses common weather sayings ("Red Sky at Night, Sailor's Delight") or ideas (the stripes on Wooly Bear caterpillars predict winter weather) and examines any truth involved.
The illustrations in the book help clarify concepts.  For instance, this graphic shows the causes of the colors we sometimes see at sunrise and sunset: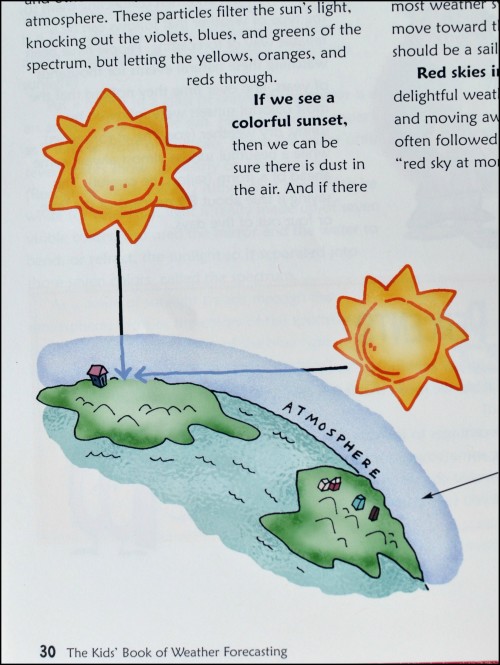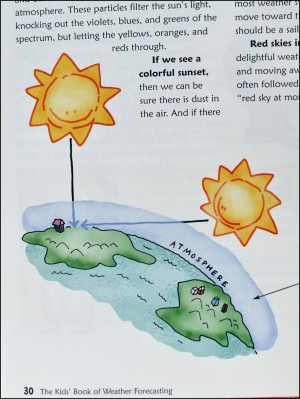 With this book you'll learn about the atmosphere and the factors that come together to cause our weather.  Then with your new understanding you'll observe the sky, build working equipment, and keep a weather log so you can try your hand at weather predicting.  You'll even learn interesting facts about how real meteorologists work, extreme weather and even weather history.
This is a fun book that kids could definitely work through on their own or you can do together as a family.  We've been working through it and learning a lot about weather, and now we're actually looking forward to the next big storm to see if we can predict it!
Find The Kids' Book of Weather Forecasting (referral link) on Amazon.
Heidi homeschools her two children in Maine using an eclectic mix including Charlotte Mason's ideas, quality literature and hands-on learning. She strives to show her children that learning is an exciting, life long adventure. She shares their experiences on her blog, Home Schoolroom.

-originally published February 2014