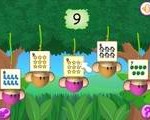 JumpStart has been a trusted name in developing quality educational computer games for many years.  Moving one step forward they have now developed a 3D virtual world full of games which promote fun and education.  The program, targeted for ages 3-10, offers a wide variety of levels to keep all children learning while having fun.  While a three-year old may need some help navigating the site, older children can independently navigate with ease.   There are games which focus on fun but many more focus on math, reading and critical thinking. 
There are many themed worlds in the game such as StoryLand (ages 3-5), AdventureLand (grades K-2nd), MarineLand (ages 5-8) and the newly added FutureLand (ages 8-10).  This is a variety of age ranges which makes it perfect for families to enjoy.   Within these worlds you will find leveled games for your children to play.  Each land is easy to get to through the map provided on your screen.  With ease, your child just points and clicks to go to any of these lands or the Arcade, Main Street, Down Town or the Hall of Fame. 
One of the fun things about starting off in this 3D world is creating your avatar or as it's called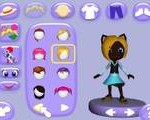 in this world a Jumpeez.  You can choose so many fun options from making your Jumpeez look like you to making it look like an alien.  My daughter loved trying on all the different clothing.  She was even more thrilled to learn that she could "buy" more clothes in the Down Town section once she earned coins from the games.  Once you create your Jumpeez you can pick a name.  This is another fun feature but also increases online safety.  A child cannot use his or her own name.  There is a pre-generated list of names that a child can mix and match to come up with a very unique name.  Such as:  Lilly Silver Flower or William Grey Sword. 
My son loved to spend time in FutureLand.  When you enter this land you become part of the Secret Society of Dr. Brain.  My son enjoyed the games in this section because they were challenging and fun.  I enjoyed knowing his computer time was well spent learning.   I was surprised to see how many topics were covered in the games such as math, grammar, language, critical thinking, government and history.  The games are divided by grades 3&4 and 4&5. 
My 4-year-old daughter loved StoryLand.  Now I will say she loved this virtual world more than my son.  She asked to play daily while my son used this as break from school or for 20 minutes of independent time.   My daughter was fully able to navigate the site on her own.  I was truly surprised when she quickly went from a coloring game to a counting game and then to a letter game.  She was thrilled when she won games!  I found a wonderful solution to allowing her a fun learning activity to play while I taught my older children during school.  The games also reinforced the lessons she was already learning.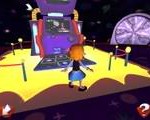 Not unlike many virtual worlds online for children, there is a section that kids may nor may not have interaction with other members.  The first thing that comes to mind for any parent is the question of online safety.  I was thrilled to learn that all conversations a child may have are "canned" messages.  This means that a child picks and chooses what to say from a preset list of common expressions.  A child cannot accidently give out information nor be exposed to inappropriate content from another user.  Interacting with other members is not required nor is it a large portion of the site.  However, if your child has a cousin or a friend that also has JumpStart 3D Virtual World, they can have limited interaction and play some of the multi-player games together.
From talking story books to jet packing around answering math questions this world is an entertaining ride for kids and reinforces valuable lessons.  For a parent, you can be assured your chid is safe and learning sound.  My kids enjoyed playing and I enjoyed watching them play.  I will also admit that I enjoyed playing around myself. 
In my homeschool, I surround my kids with living books, and learning tools that encourage a love and curiosity for knowledge.  I do not rely on technology or online games to teach my children.  However, I do use technology as a tool in my children's education.  The internet has so much to offer in the way of education and yet so much to offer that is harmful to children.  I have found that JumpStart is a reliable and trusted tool in my kids' education and fits into my homeschool.  When my 10-year-old son is on a break or finished with an assignment he can further reinforce lessons and have some fun playing on JumpStart.  My four-year old, feels being on the computer is such a priviledge.  She enjoys being independent and showing off what she learned or how what she has already learned helped her win a game.  I am thankful to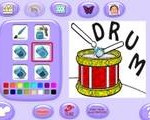 JumpStart for introducing my kids to this virtual world. 
For more information please visit JumpStart or the JumpStart Blog to see what other parents are saying about this program. 
*Jumpstart provided my children an opportunity to play in the 3D world at no cost in exchange for a review in which they encouraged my full honesty.