Do you sometimes read homeschool blogs and feel discouraged about your own homeschool?
Does a homeschool book fair leave you feeling overwhelmed with all the possibilities?
Do you sometimes think that you aren't organized enough, creative enough, smart enough, or anything enough to homeschool?
If so, you are not alone.
I think that all homeschoolers sometimes feel incapable of meeting the challenges of homeschooling. And unfortunately we all play the comparison game at one time or another. But we need to keep in mind that we are unique, our children are unique, and our homeschools are unique.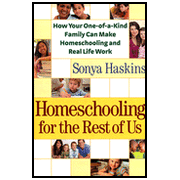 I just finished reading Homeschooling for the Rest of Us by Sonya Haskins. The easy-to-read book is written to provide encouragment to homeschoolers who are feeling like they aren't measuring up to those perfect homeschools. Written by an imperfect homeschool mom of five and homeschool consultant, the book offers sound advice on a wide variety of homeschool topics including developing positive relationships, socialization, establishing routines (or not), budgeting, and special needs children. Sonya Haskins calls herself a relaxed homeschooler, and while that is evident in some of the advice, this is not a book about different homeschool methods.  I think the book would be useful for homeschoolers of any style. It is an especially good book for both new homeschoolers and those who are needing encouragement to continue homeschooling.
I received a free copy of this book in order to provide my honest review.
Written by Kristen – Classical Homeschool Mom of 4, Kristen blogs about her own imperfect homeschool at A Day in the Life.