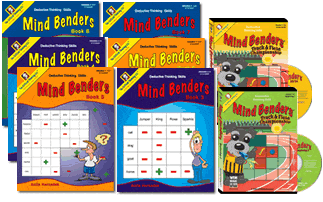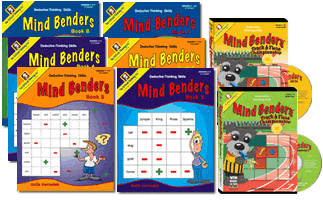 We did a product review some time back and part of the suggested items for doing that review was Mind Benders. I had never heard of them but the curriculum said they were "highly recommended" and that they had actually tried removing them from the curriculum but received so many complaints that they put them back in! With that information I immediately had to get them, of course. *grin*
There are three sets of books: A (1-4) for Grades 3 – 6, B (1-4) for Grades 7 – 12+ and C (1-3) also for Grades 7 – 12+. Each book normally costs $9.99 but they are currently (as of the time of this writing) on sale for $6.99 each! (Or you can get lucky, like me, and find them for sale on a used curriculum site for a bit less as a bundle.) The set I found consisted of ALL the sets of books including the Instructions and Detailed Solutions book and the Warm Up book. In the introduction of the book the levels are considered "Easy", "Medium" and "Hard". Each "A" book consists of 15 mind benders while the "B" & "C" books each have 14. (There are books available for younger students as well, but that is not covered in this review.)
From their website:
Mind Benders®, our best-selling deductive thinking puzzles, develop the logic, reading comprehension, and mental organization skills vital to achieving high grades and top test scores in all subjects. They're also great for developing real-life, problem solving skills.

Your student will carefully analyze each Mind Benders® story and its clues, identifying logical associations between people, places, and things. The key is to start with the most obvious associations, then deduce less obvious associations until everything finally fits together.
Apparently a large part of the reason one would use Mind Benders is to help increase thinking skills for standardized tests but quite honestly, we just simply enjoyed them because they were so much fun! We too, like the others mentioned in the very beginning of this post, LOOKED FORWARD to when it was time to work on more Mind Benders. I can't explain why they are so much fun, but they are! When we first started doing them we were totally clueless (thank goodness the answers are provided!) but once we started seeing how it worked, we started figuring out the answers on our own. And then, my son and I started having competitions to see who could get the answers first!
Here are a couple pictures of our books. The first one shows A1 at the top, B1 in the middle and C1 at the bottom – this shows you a little bit of the difference of complexity from A to C.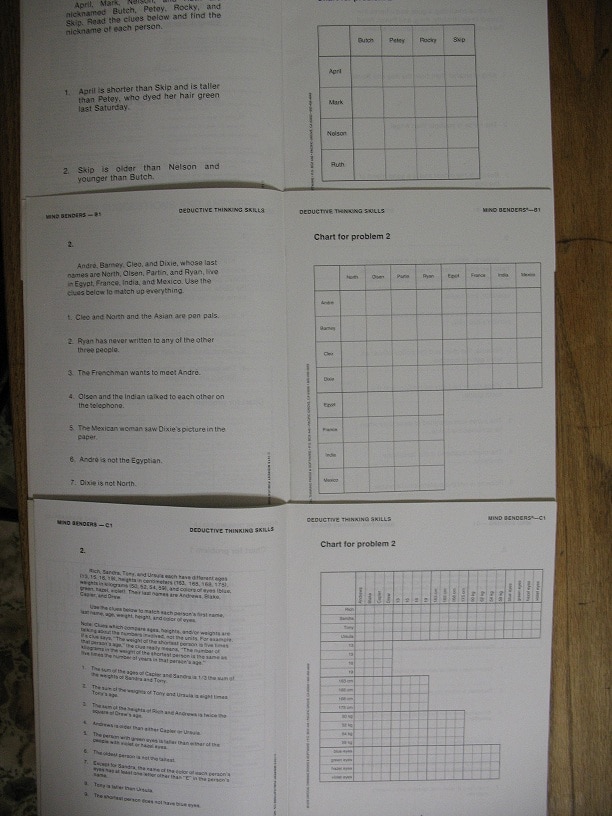 So, you read the information on the left and use the chart on the right to help figure out the answer to each problem. Click HERE to see an up close example (then click "Click to Look Inside").
The following picture is of the covers of our current editions (as I understand it, they are older editions):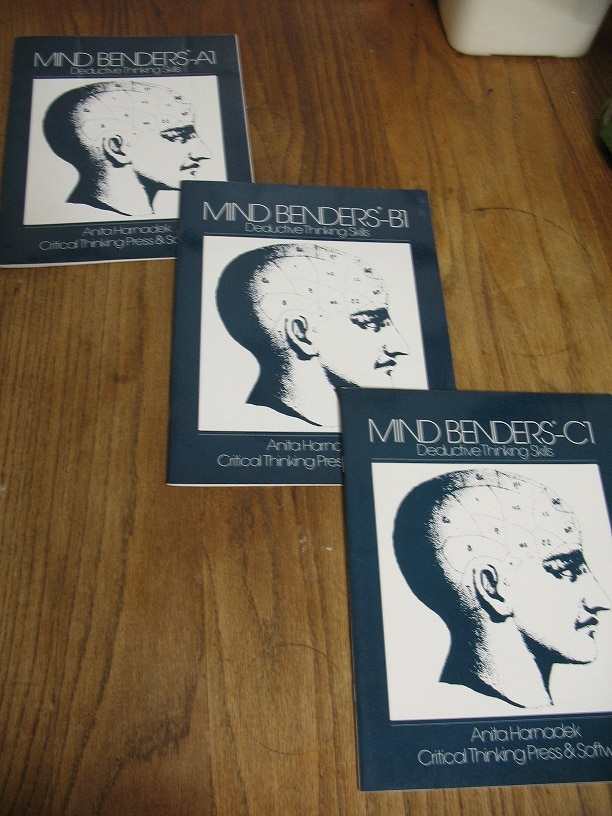 Something the person we bought our used set from included with our set were laminated blank charts – EXCELLENT IDEA! We use an erasable marker so we can wipe it off and then we can use them over and over and over (and can change something in the middle of a problem, if necessary). You can tell from the picture below that they have been well used! *grin*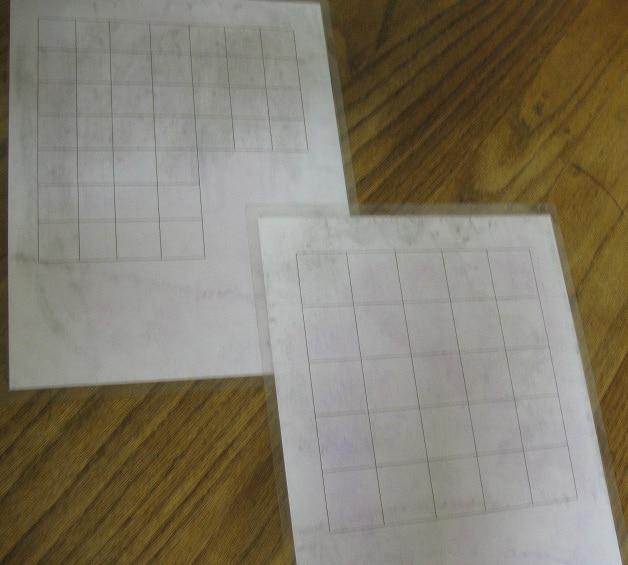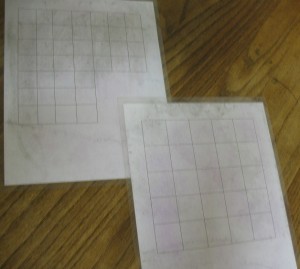 We have GREATLY enjoyed working with Mind Benders, and have been very satisfied with the change in our thinking skills! We would HIGHLY RECOMMEND these to everyone ~ as we all need to increase our logic, reading comprehension, and mental organization skills.
Here's praying you have fun learning!
Come visit Dawn over at her blog, Guiding Light Homeschool, on Facebook and on Twitter…friends are ALWAYS welcome!