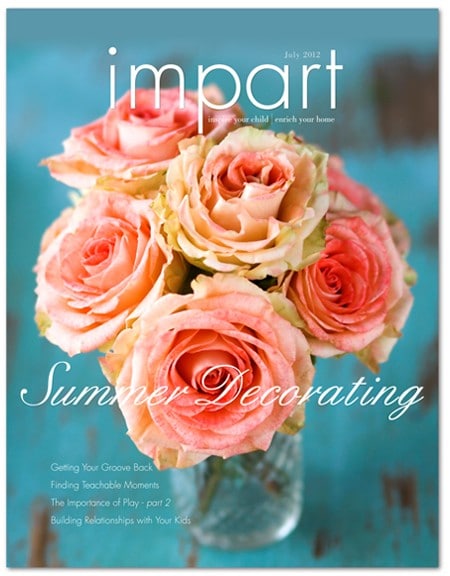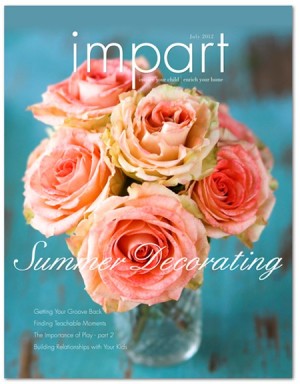 Anytime we discover something extraordinary, we can't wait to share it with our friends. That's how I feel about a new digital publication, Impart Magazine.
I've had the opportunity to read both the June and July issues, and I am very impressed. Publishers Michael and Carrie Bozeman have taken great care with this magazine, and it shows in every aspect. The tagline, "Inspire Your Child / Enrich Your Home," is a perfect description of this publication, and the website goes into more detail:
 "Impart Magazine is an exciting resource for bringing new ideas and encouragement to modern women and mothers looking for resources to inspire their children's education and introduce fresh and beautiful ideas to enrich their homes."
Impart skillfully blends elegance, relevance, and authenticity. The magazine has a lot to offer, not the least of which is its stunning eye appeal. Rich in gorgeous photography, Impart's inspired graphics approach artwork in their composition.
It would be easy just to let your eyes simply gaze on the images, but don't miss the articles! The content is well written, thoughtful, and engaging. Intriguing pull quotes work just as they should, drawing readers into the articles.
The thread of faith is quietly but inextricably woven into the very texture of the magazine. For example, in "Reclaim Your Space," the author writes, "We were created by a God of order. Therefore, it makes sense that we function better when there is order in our homes." Ecumenical and in no way didactic,  Impart invites and encourages us to join in a joyful celebration of God's goodness.
Don't let the digital-publication aspect deter you; at first, I was not a fan. But I quickly came to appreciate features that digital publishing offers. With a quick click of your mouse, you can bookmark articles, make quick notes with the Sticky Notes feature, and save a PDF version on your computer. You can also print from the online digital version or print the saved PDF. The digital format also allows for quick links in the articles themselves, which link to resources, audio clips, and more information.
The June issue of Impart Magazine is FREE on the website. Monthly digital issues are $2.99, and archived issues are available as well. You can also join the free mailing list, which lets you know when new issues are published and gives you free previews, including the cover, table of contents, and one free article. Impart will soon be available for mobile devices.
To whet your appetite, here are the article titles for the June issue:
"The Importance of Play," Part One
"The Call of the Sea"
"Epicurious Perspectives: Teaching in the Kitchen"
"Reclaim Your Space"
"A Love of Reading"
Give yourself a little gift of some quiet time, a glass of iced coffee (or tea!), and the FREE June issue of Impart Magazine. You'll be refreshed, encouraged, and inspired!
Written by Ellen, The Bluestocking Belle