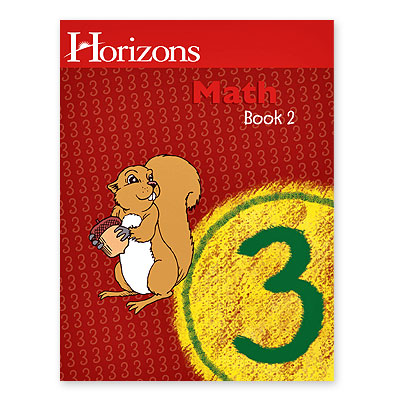 One of the few curriculum choices that we haven't changed in our two years of homeschooling is our math program.  Although we came very close to trying out Math U See, we realized that Horizons Math is working for us, and if something is working for us, we need to keep it!
What I Like About Horizons Math:
Spiral Approach – Because of having some children who has difficulty with new concepts, it is nice to have new ideas given just a bit at a time.  Concepts are introduced in a more basic way first, and then details are added in more as time goes on.  In addition to this, as concepts are learned, they are reviewed many times.
Repetition – As mentioned above, I like that there is a lot of repetition in Horizons Math.  My kids (just like most kids) will forget concepts if they don't practice them regularly.
Easy to Use – Directions are generally pretty straight forward and can be easily understood by the children.  I rarely have times when I say, "What do they want you to do here?"  If I do, the teacher's guide is well organized.  (Here's my confession – I only use the teacher's guide for the answer key, though they do have a guide to follow for each lesson, as well as extra practice sheets.)
New Material at Beginning of Lesson – When new concepts are introduced, they tend to be at the very top of the first page of the lesson (lessons tend to be two pages long, until higher levels).  The reason I list this as a plus is because the children tend to be able to work more independently after working with a parent in the first section.
Built in Testing – Every ten lessons, there is a test.  I grade only the tests, and just glance through lessons.  This means that we have a nice way to see how the kids are doing without making up our own tests.  In addition to this, though we don't give keep grades currently, we could easily come up with a math grade if we needed it.
What I Would Change:
Not Quite as Much Repetition – I love the repetition for review, but sometimes it's just too much.  The nice part about this is that it is easy to just cross out some of the review problems.  It is not uncommon for me to have the kids do only one or two problems when there is a whole row of something that they have done many times, while my best friend lets her kids totally skip those rows of problems that they have down pat.
Graphics Sometimes in the Way – I really enjoy that there are color graphics in the Horizons Math books, but sometimes they don't have anything to do with the page and we would prefer to have a little extra room for figuring out problems.
Hard to Finish in 180 Days – With 160 lessons and 16 tests, there is very little wiggle room for finishing a year's worth of lessons in one school year.  This sometimes causes me stress, so I would love it if there were only 150 lessons and 15 tests.  This would free us up for field trips and other math projects on 15 days of the school year without falling behind in our math books.  (In two years, I have yet to finish a level with the kids in one school year.)
Roman Numerals – If you have a great love of Roman numerals, you would love that Horizons Math uses them not infrequently.  Personally, I want the kids to know the very basics of Roman numerals and then to not worry about them.  We just cross them out when we see them.
Other Information:
Pricing – Pricing varies on different levels.  Books can also be purchased individually or as a set.  A set includes a teacher's edition (some levels include two books for this) as well as two workbooks for the school year.
Grades Available – Horizons Math is available for Kindergarten through 6th grade.
Lessons – As mentioned above, each level includes 160 lessons and 16 tests (one test every ten lessons).
Book Availability – Books can be purchased separately or as part of a set.  This is great if you are using this program with multiple children, as you can use the same teacher's guide over and over, and just buy new workbooks – two are needed for each school year.  (Though workbooks are sold online for $14 per book, I was able to find some last year at a homeschooling convention for $10 per book last year.  For three kids, that is a savings of $24!)
We plan to continue using Horizons Math again for next school year, which will make it one of the programs that we stuck with this longest, along with our grammar program.  I have also recommended it to several friends and new homeschoolers as an easy to understand and implement math program.
Angie can be found writing about faith, family, and household management topics at Many Little Blessings.  She is also the founder of The Homeschool Classroom and Catholic Mothers Online, as well as the co-founder of Homeschool Lifestyle Media.