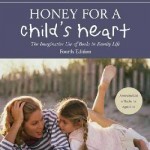 If I were stranded on a desert island with my family, destined to homeschool my children there until the next boat arrived, and I could only have one educational resource there with me, I would have to choose my library card. Of course, there would need to be a local library on that island, but that's beside the point.
All joking aside, reading with my children is the one thing I have done almost everyday without fail since their babyhood. Whether we're learning about the Middle Ages, celebrating a special holiday, or just cuddling up with a bedtime story, good children's books are at the heart of our family life. I'll venture to guess that the same holds true for many homeschooling families out there.
Because of my affinity for good children's books, one of the first resources I purchased as a new homeschool Mom was Honey for a Child's Heart: The Imaginative Use of Books in Family Life by Gladys Hunt. This book is a treasure trove of wisdom regarding the use and impact of books on a child's life, and it contains excellent lists of book recommendations that I find myself referring to over and over again.
Some of the topics the author covers include:
the importance of words and using them to nurture your child
how good books can broaden a child's creativity and enhance their own writing skills
the importance of reading aloud together to strengthen the family bond and create a lifetime of memories
the enrichment of a child's imagination through reading
using books to nourish your child's spiritual life
using books to communicate with your children
reading together as a necessary ingredient for influencing your child's life
what makes a good children's book
This is just a sampling of the nuggets of wisdom Mrs. Hunt shares with her reader. The last half of the book is a compilation of book lists containing the best of the best children's literature, culled from works both old and new. The lists are categorized by age (beginning at birth and continuing into young adulthood) and genre, including categories such as…
picture book classics
first books for beginning readers
classic children's novels
stories for animal lovers
historical novels
fantasy novels
poetry
and more
 In one of my favorite quotes Mrs. Hunt says,
"Young children, fresh uncluttered minds, the world before them – to what treasures will you lead them? With what will you furnish their spirit?"
Honey for A Child's Heart has helped me in answering this question on many occasions. It has aided me in choosing  some of the best and most beloved stories to share with my children. I hope that you might find it a useful tool as well.
Written by Shannon, who blogs about her family's homeschooling and reading adventures at Song of My Heart.