I have to admit that Valentine's Day is a favorite holiday of mine, even though my husband says it was created by greeting card companies! Red is my favorite color, and I live by chocolate! Even though we homeschool (most people think you can't celebrate if you don't have a whole class of Valentines to give out), I have a ton of fun Homeschool Valentine's Day Ideas to share with you! Crafts, snacks, DIY Valentines and more!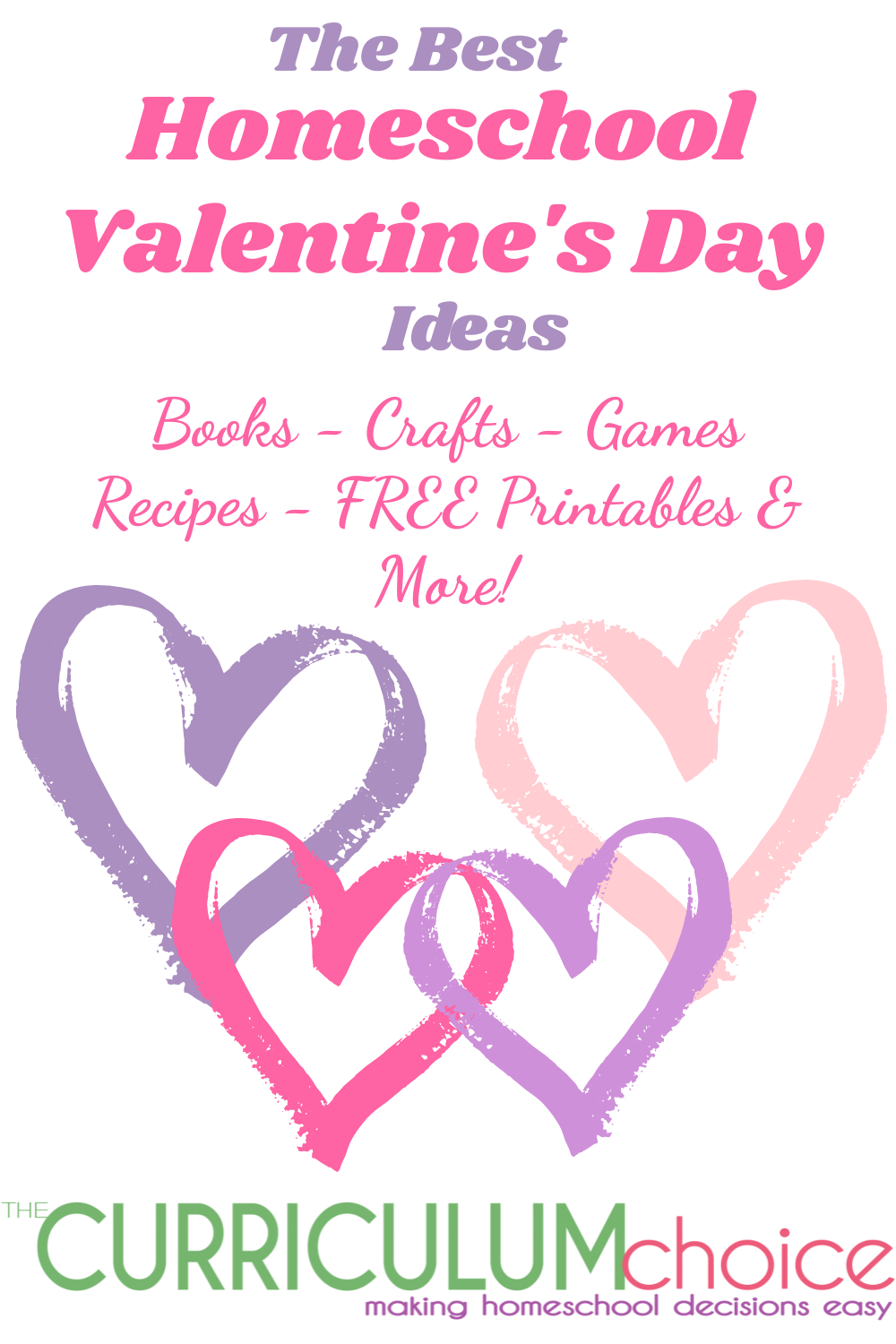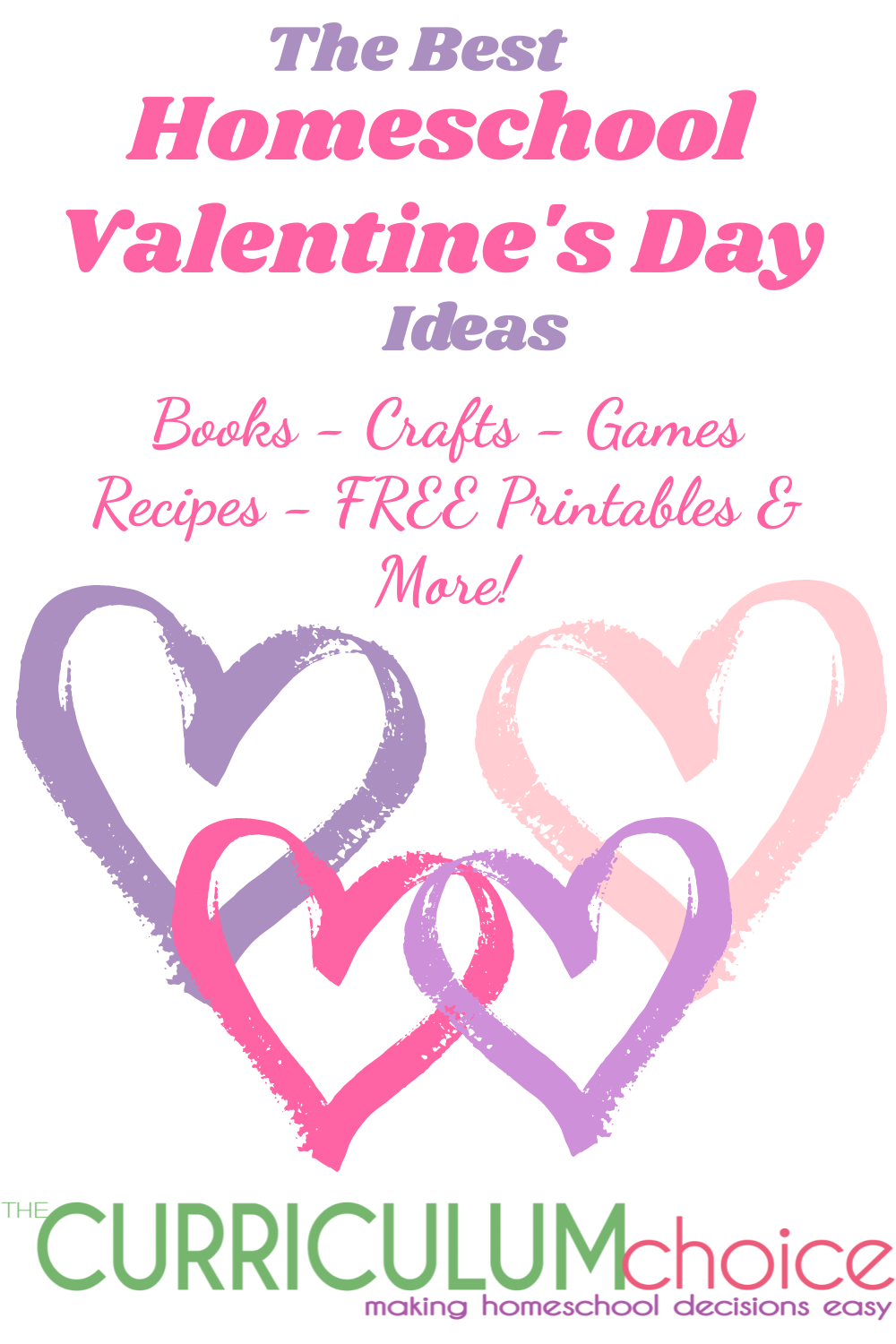 Affiliate links are used on this website. Please see our disclosure policy for more details.
The Best Homeschool Valentine's Day Ideas
The possibilities are endless when it comes to Homeschool Valentine's Day ideas. So of course this is not an extensive list, instead I tried to compile a combination of activities to get you started. Everything from freebies, to crafts, varied recipes, fun games, and more!
Printable Freebies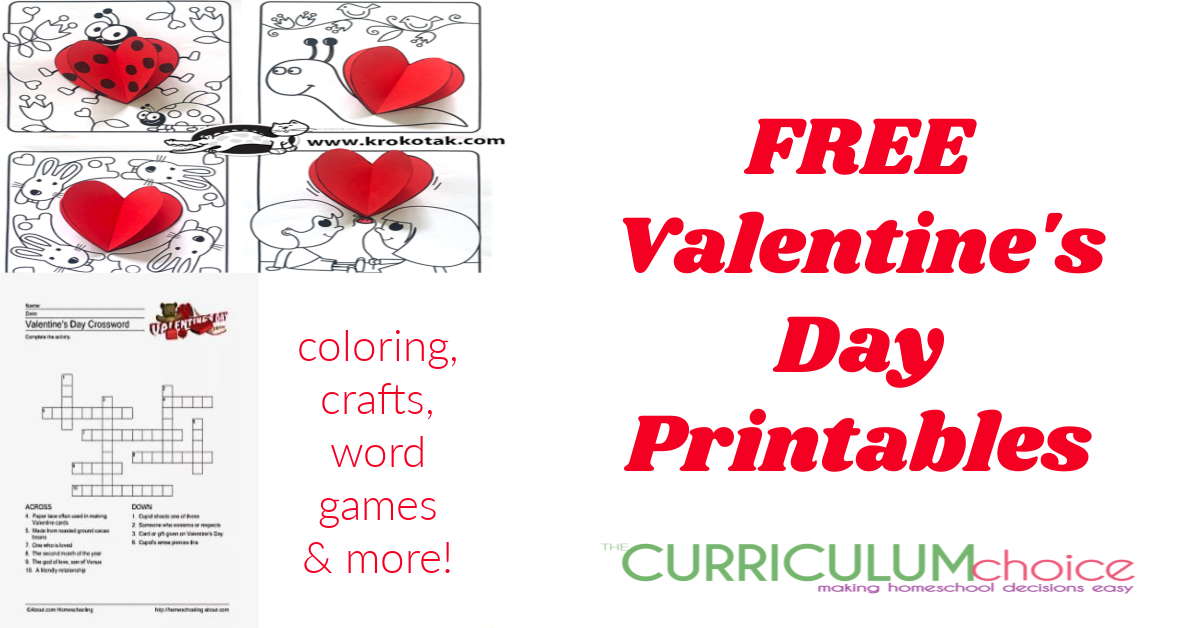 DIY Valentines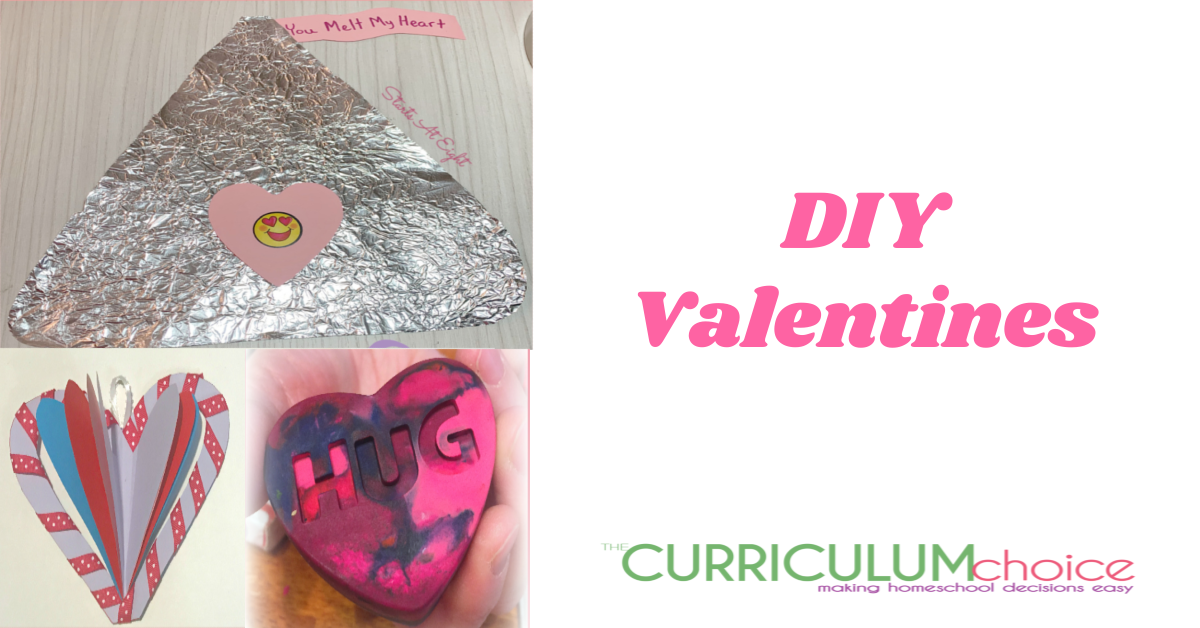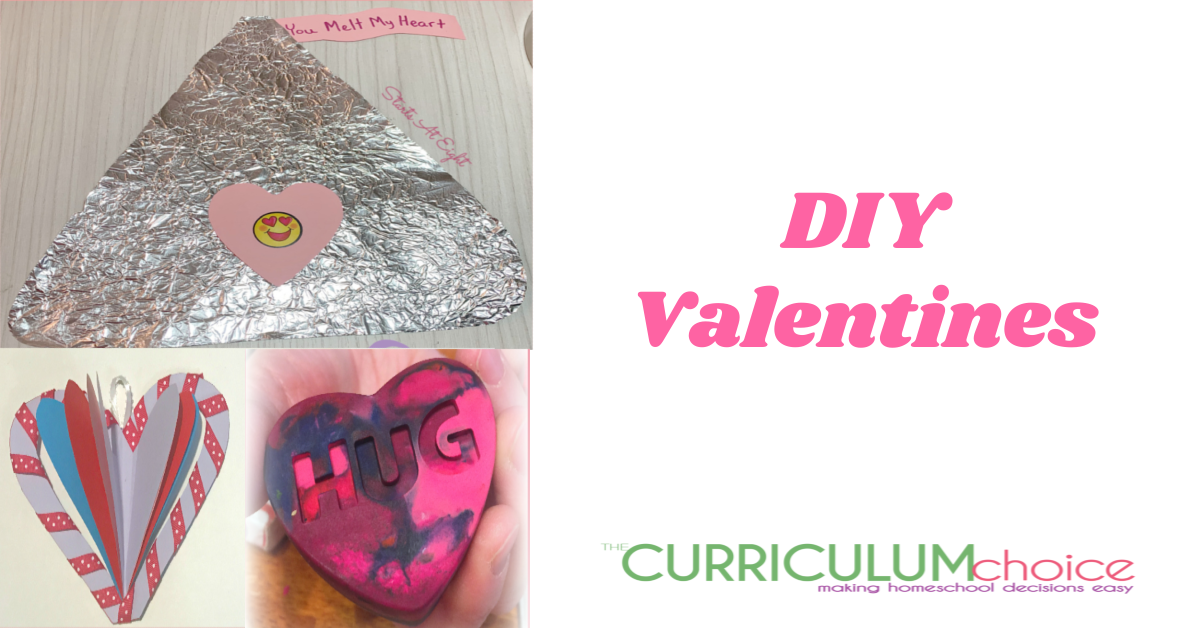 Heart Shaped Melted Crayon Valentine – Turn your old tattered and broken crayons into a fun Valentine!
Hershey Kiss DIY Valentine – This Hershey Kiss DIY Valentine is super easy to do! But it also leaves room for some variation and creativity. It's basically crumpled tin foil in the shape of a Hershey Kiss.
Paper Heart Books – These DIY Valentine Paper Heart Books make great personalized Valentines. You can decorate them, and write special messages for each person you give them to.
Pop Up Card – Learn how to make an I Love You Pop Up Card with tutorial and template.
Paper Roll Valentines – Make adorable pink/white/red owls and bugs out of toilet paper rolls scrapbook paper, and foam shapes.
DIY Valentine Candy Jars – Grab some candy of your choice, small empty jars and fabric scraps (preferably Valentine colors) and get crafting! These make great gifts for friends and family!
Valentine's Day Card Craft: Cupid's Arrows – Easy to make candy cards with "Cupid's Arrows" on them.
Recipes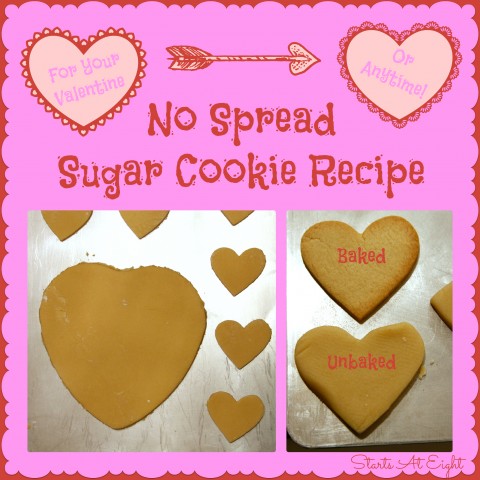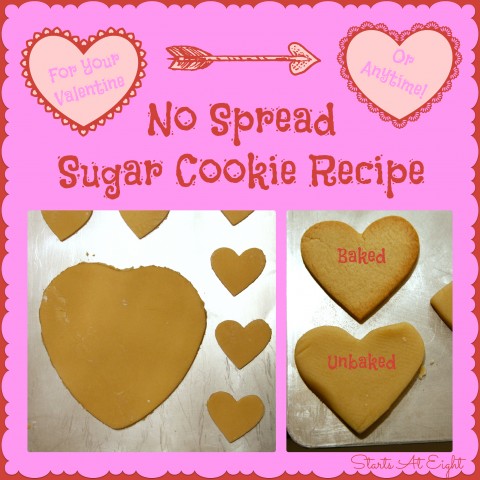 No Spread Sugar Cookie Recipe – Make heart shaped cookies this Valentine's Day! These cookies taste amazing, and DON'T LOSE THEIR SHAPE!
Valentine's Day Oreos – Valentine's Day Oreos are fun to gift to teachers, friends, and neighbors! Simply slide them into a cute box or bag and attach a Valentine gift tag! These homemade Valentine's Day treats are quick to make–they only take about 30 minutes from start to finish.
Sweetheart Valentine's Buddies are a delicious and addicting snack of Chex covered in white chocolate and coated in a strawberry flavored cake mix powdered sugar. The perfect treat for Valentine's Day!
Peanut Butter and Jelly Valentine Sandwiches – an easy and fun way to dress up a lunch for your little ones. They would be a perfect surprise in a packed school lunch. They would also be fun to make for a Valentine party in your home!
Conversation Heart Rice Krispie Treats – a fun twist on Rice Krispie Treats!
Heart Kabobs – Heart shaped fruit kabobs with a yogurt based dipped.
Valentine's Day Flower Bouquet – This is a cute craft that can be use as a decoration or for gifting. This colorful bouquet will be admired by all. Easy to do, just paint a vase and stems and add paper flowers.
Valentine Themed Games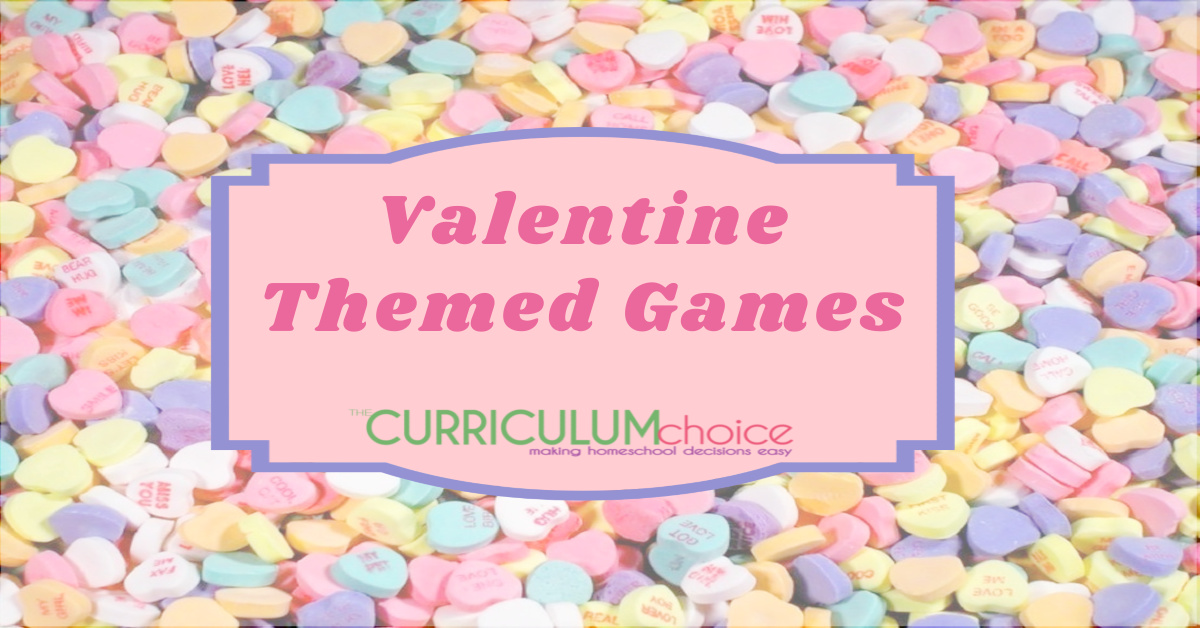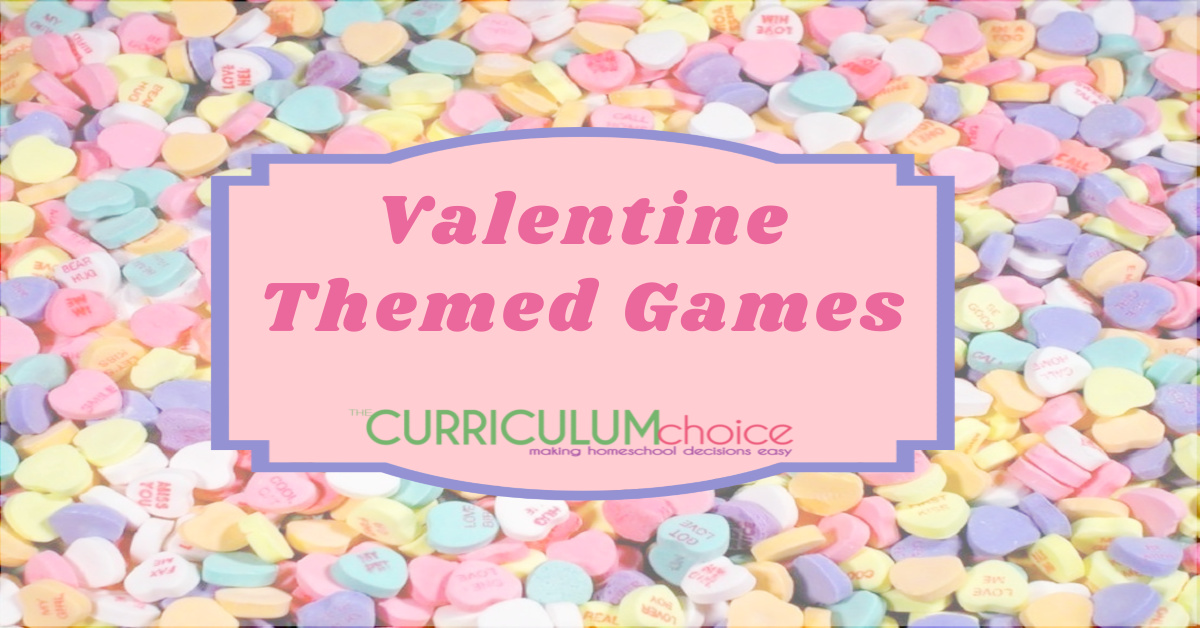 Chocolate Tic Tac Toe – Grab some chocolate candy and play! 12 Pieces of Chocolate Candy (2 different colors/kinds; 5 of each color); extra candy for winners!
Family Games using Conversation Hearts – Enjoy games like Conversation Heart Stack Game (with FREE Printable), The Great Candy Race and more!
Candy Heart Addition Cards – work on addition to 10 with these candy heart addition cards!
Musical Hearts: Reading, Moving, & Crazy-fun kid game – Create hearts with Musical Hearts Actions such as Hula dancing, do 5 jumping jacks, spin on one foot five times then spin on the other, do 5 pushups, hop on one foot 10 times, and more!
Conversation Heart BINGO – This is a fun game that can be played by kids of all ages and puts those Conversation Heart Candies to good use, before you eat them of course.
Hands-On Fun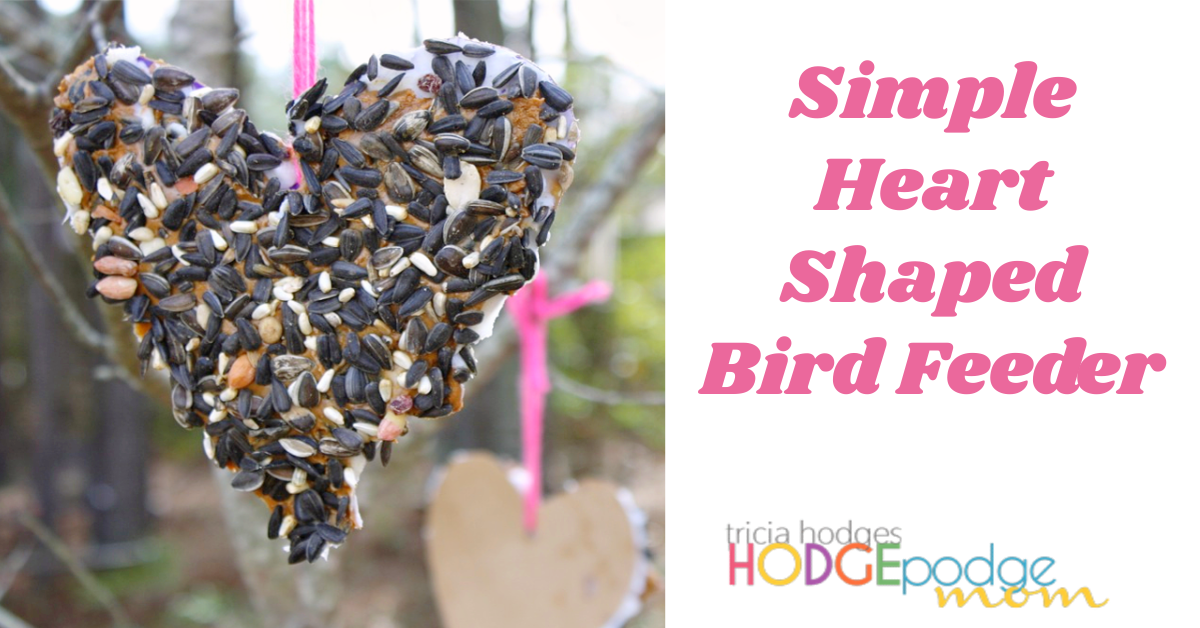 Simple Heart Shaped Bird Feeder – a simple, cute project (which also is sort of Nature Study too!)
Felt Heart Garland – make simple hand stitched garland to decorate your home for Valentine's Day
Valentine's Day Coloring Books for Kids – 10 Kids Coloring and Activity Books Including Over 100 Valentines Day Stickers and 8 Jumbo Crayons (No Duplicates). Deluxe Valentines Day activity book set featuring: Disney Mickey Mouse and Minnie Mouse, Sesame Street, and many more.
A Fun, Hands-on Homeschool Unit Study for Valentine's Day – Learn the history of Valentines day while enjoying some fun activities and art with this hands-on homeschool unit study for Valentines day!
FREE Valentine Lessons: A Lovely Afternoon of Art and Music – a SQUILT lesson of Tchaikovsky's Romeo and Juliet Overture with a chalk pastel art tutorial from You ARE An ARTiST!
Valentine's Day Books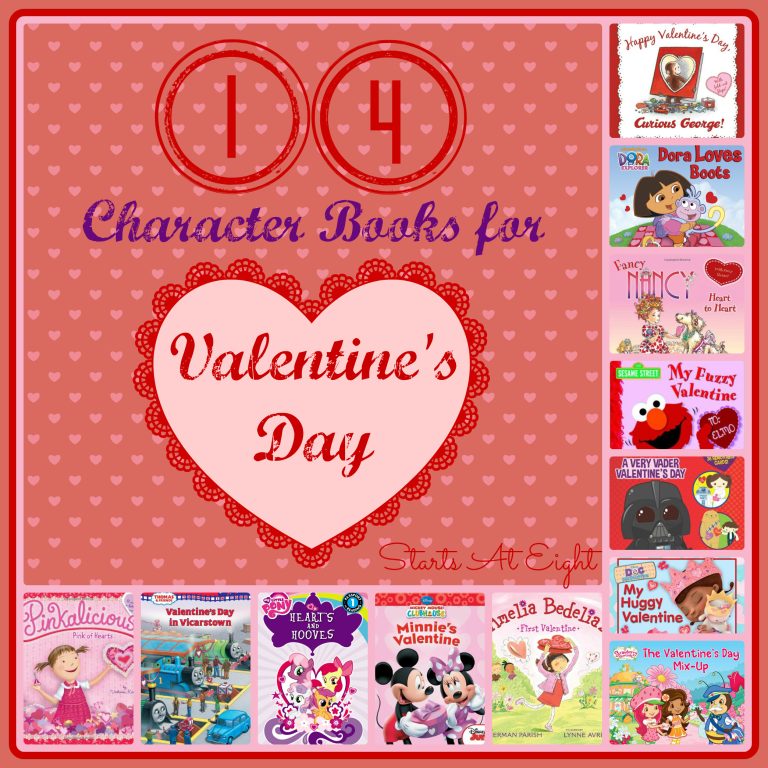 14 Character Books for Valentine's Day – includes much loved character like Elmo, Dora, Fancy Nancy and more!
The Biggest Valentine Ever – Clayton and Desmond are back in this companion to the bestselling book THE BIGGEST PUMPKIN EVER! When Mrs. Mousely asks her class to make valentines, Clayton and Desmond decide to make one together and give it to their teacher as a surprise. But things don't go as planned.
Valentine's Day Jokes – Includes 160+ hilarious, exciting and stimulating questions that are guaranteed to make you stop, think, act silly and giggle! Whether it's a conversation starter, challenge, contest, ice-breaker, or party game… this book is guaranteed hours of screen-free FUN for children!
I Spy with My Little Eye Valentine's Day – a perfect activity book for children aged 2-5, this Valentine's-themed coloring book will quickly become a family favorite! Kids will love coloring all the cute illustrations inside – and the eye spy puzzles will provide them with hours upon hours of fun and enjoyment
If You Were My Valentine – This Valentine-themed follow-up to If I Could Give You Christmas is an adorable celebration of love and the special relationship between parents and children.
The Day it Rained Hearts – One day it rains hearts, and Cornelia Augusta catches them. She realizes that the hearts are perfect for making valentines. Each heart is special in its own way, and Cornelia Augusta knows exactly who to send them to: her animal friends.
Love Is My Favorite Thing – The star of this book is an enthusiastic pooch whose joy, optimism and love know no bounds! Plum has lots of favorite things—catching sticks, her bear, her bed—but really, LOVE is her absolute favorite thing. She loves her family and all the things they do together. Sometimes, however, Plum's exuberance causes trouble, and she just can't help being naughty. But fortunately, love is such a great thing that even when she makes mistakes, Plum's family still adores her.
Would You Rather? Valentine's Day Edition – Take turns reading the Would You Rather Questions aloud, then voice your pick and in the goofiest way possible, explain 'why' you chose that one! If your answer and explanation get a laugh, then mark down that laugh point! At the end of the game, the person with the most laugh points is crowned the LAUGH MASTER!
Dr. Seuss's Lovey Things – Written in super-simple rhyme, this sweet, sturdy board book starring Thing One and Thing Two is about the things Things love–among them sharing, caring, smiling, hugging, and blowing kisses!
More February Fun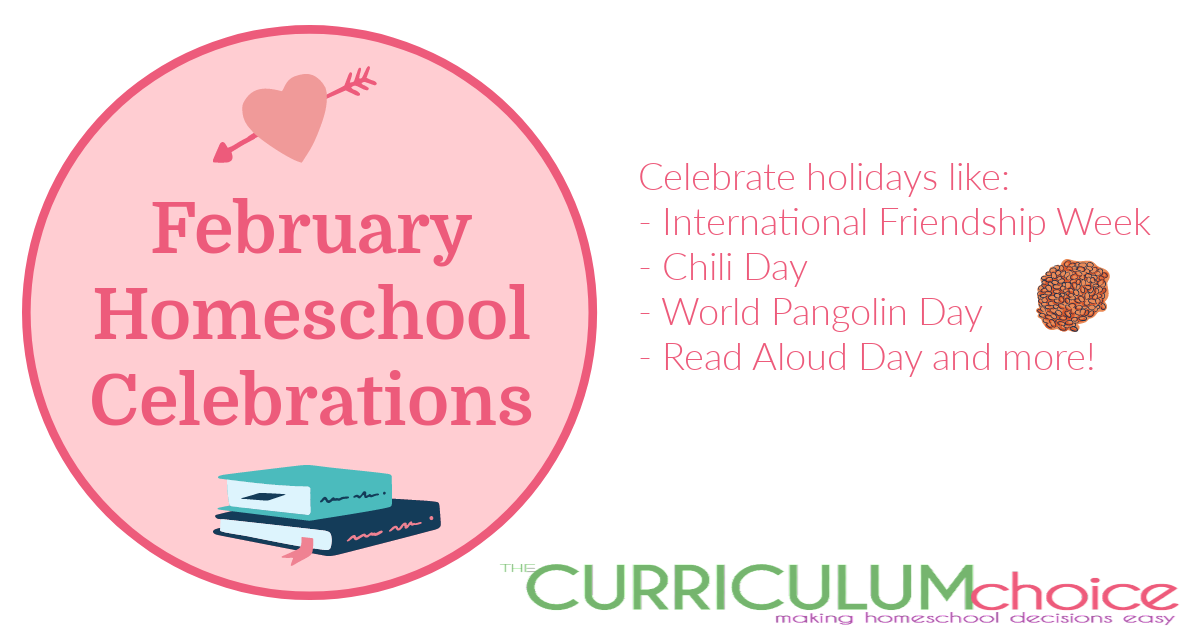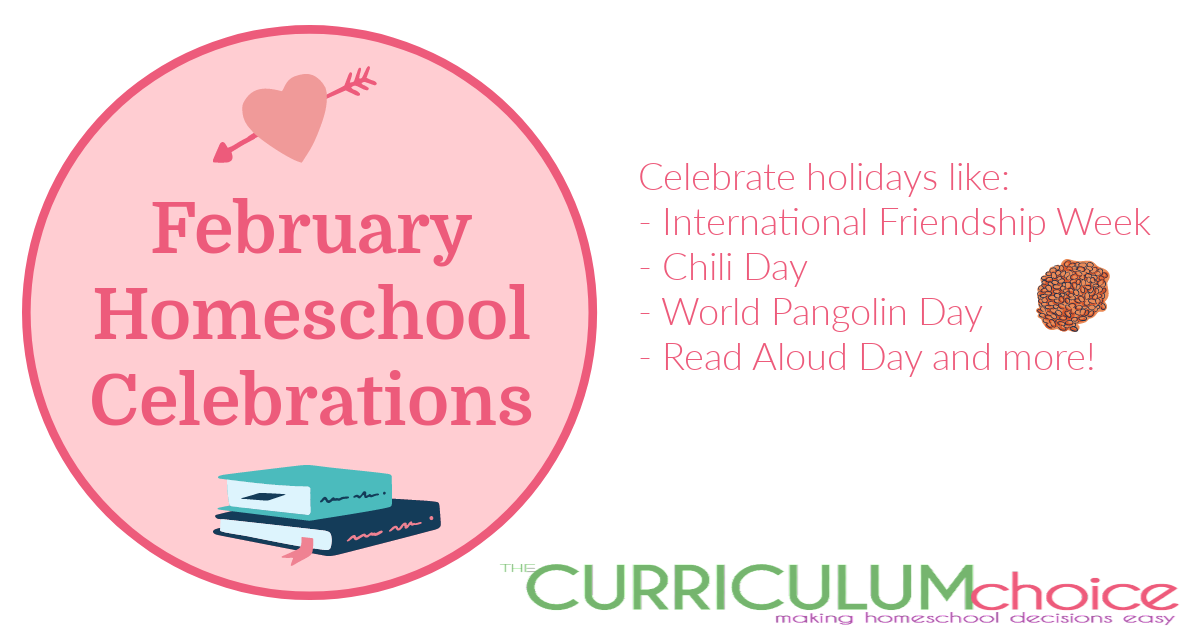 February Homeschool Celebrations – Celebrate lesser know holidays like International Friendship Week, Chili Day and more!
February Homeschool Fun – Celebrate Great American Pie Month, National Bird Feeding Month, Library Lovers' Month and More!
5 February Homeschool Family Fun Ideas – National Hot Breakfast Month, Umbrella Day, and Love Your Pet Day are a few of the great things celebrated in this one!
Homeschool Activities for Every Month of the Year!!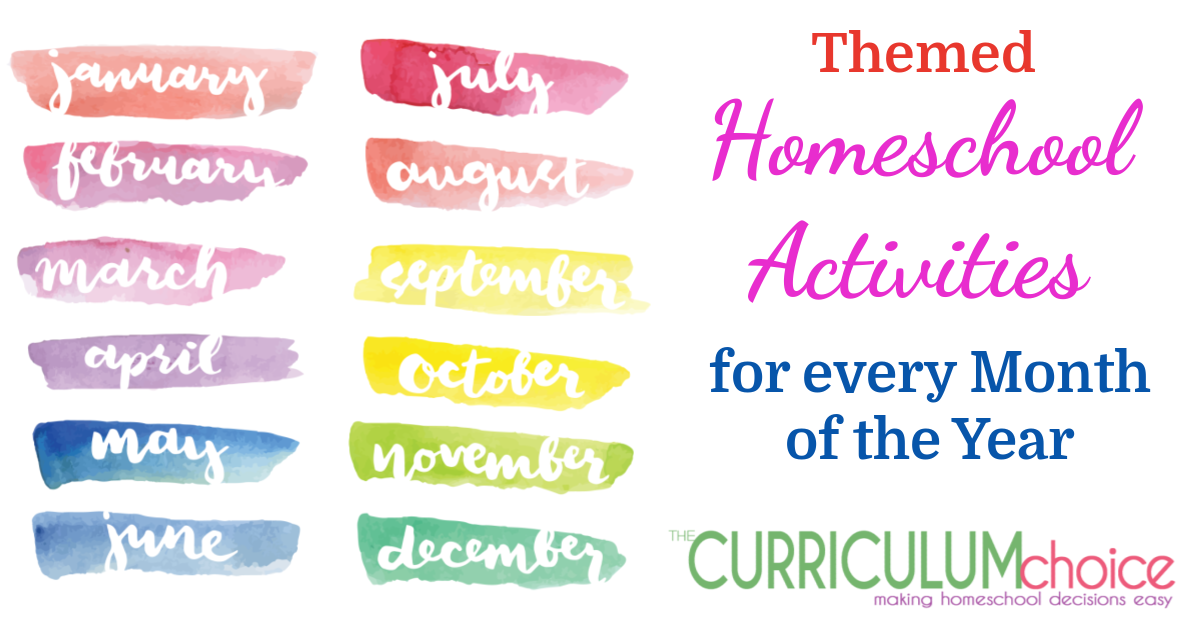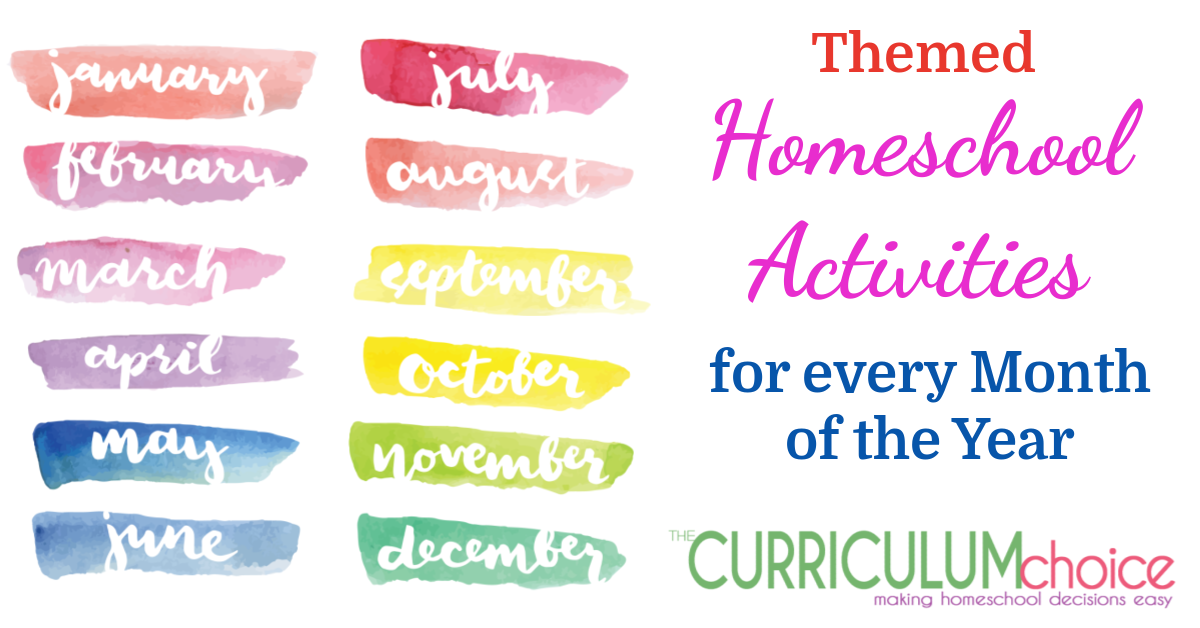 You wouldn't believe all the themed homeschool activities that can be explored based on the month of the year! You can cover history with topics like MLK Jr. Day and Patriot Day. You can explore the seasons with year round nature studies! Learn about obscure holidays each month like Measure Your Feet Day and National Sewing Month!
Spice up your homeschool studies this year with some fun themed homeschool activities! Take a look at the extensive list we have compiled for each month! Themed Homeschool Activities for every Month of the Year!