Homeschoolers love stacks of books. Library books. New school books. Books for simply reading for pleasure. But sometimes purchasing and collecting the books for that curriculum list can be a bit overwhelming. I have a frugal answer for you. A homeschool library start up from Dover Publications.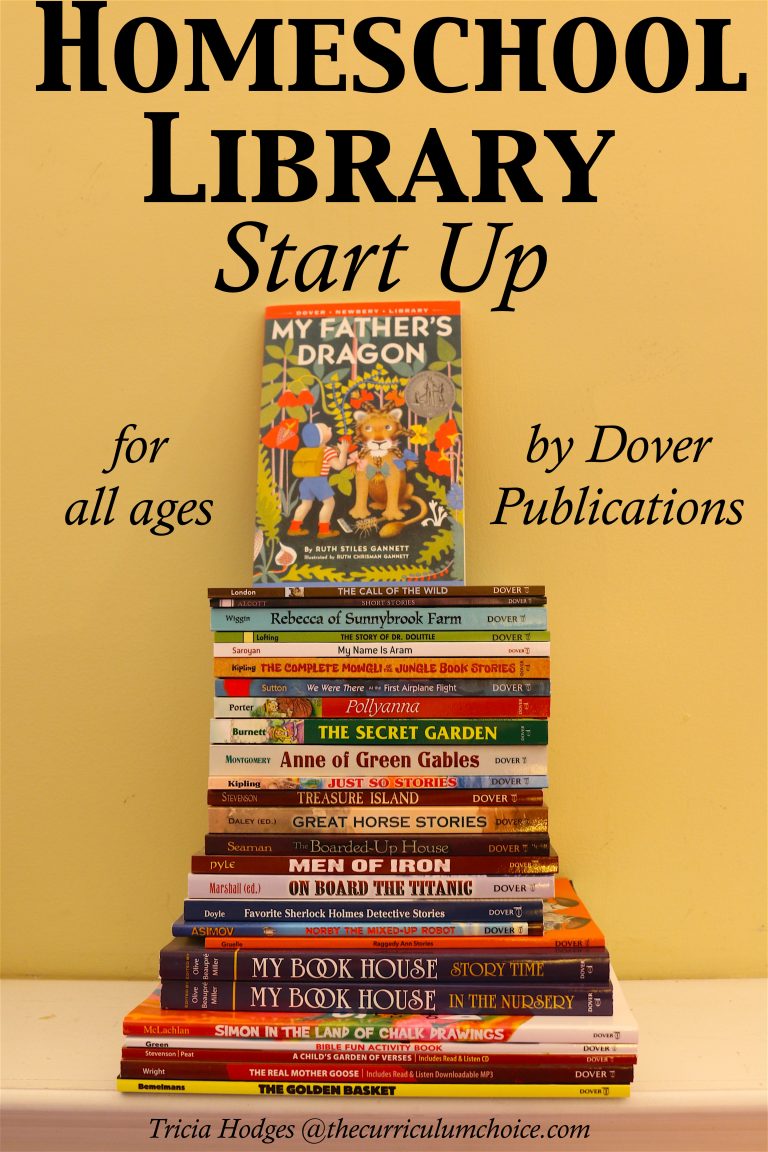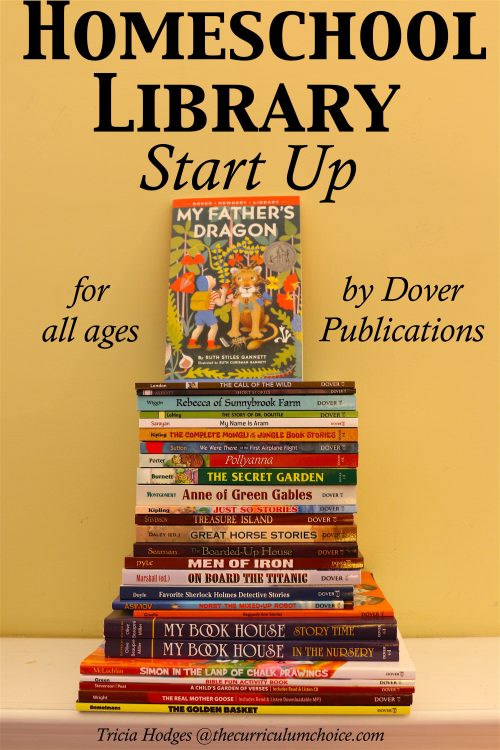 ~Don't miss the discount code plus the giveaways for each age group at the end!! We received this amazing Homeschool Library Start Up For All Ages from Dover Publications in exchange for an honest review. All opinions are our own and we are so excited about the books for all our ages! Please see our disclosure policy.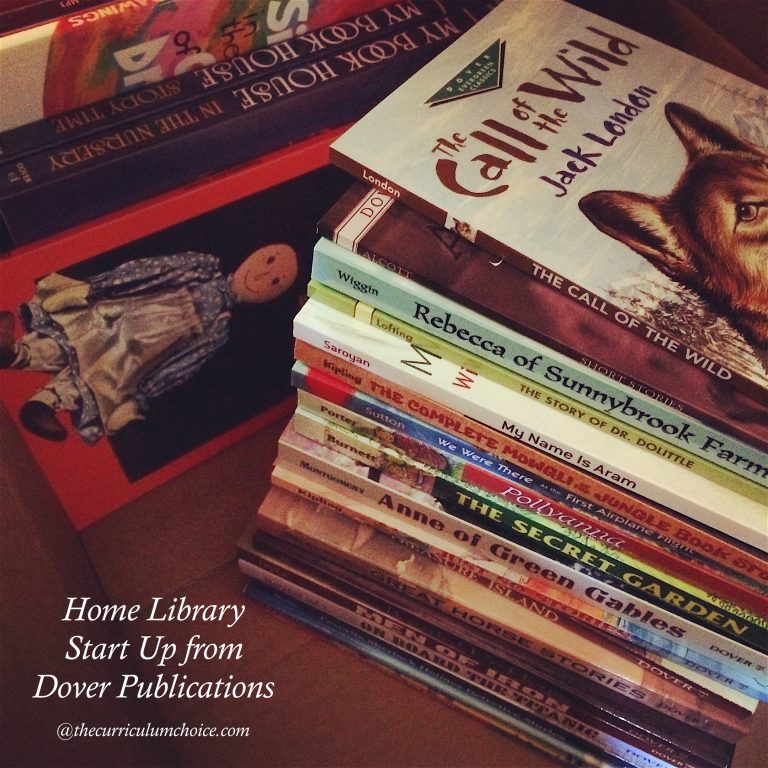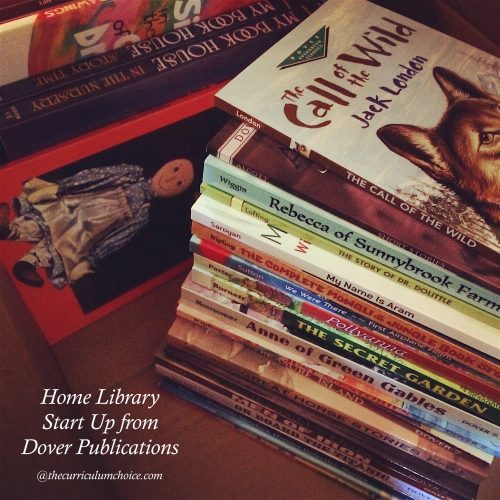 Did you know that Dover Publications has many, many classic titles? And they are frugal for the homeschool budget! We are filling out our homeschool library with Book House books, My Father's Dragon, Call of the Wild and many others that match the reading outlined in our curriculum.
There are several titles I did not realize that Dover Publications had available. Like the Book House books I grew up on! So many classics available at thrift prices. I bet you can pick out some of your favorites below…
Homeschool Library – Ages 4-7
Raggedy Ann
The Real Mother Goose
My Father's Dragon
My Book House – Story Time
My Book House – In the Nursery
Bible Fun Activity Book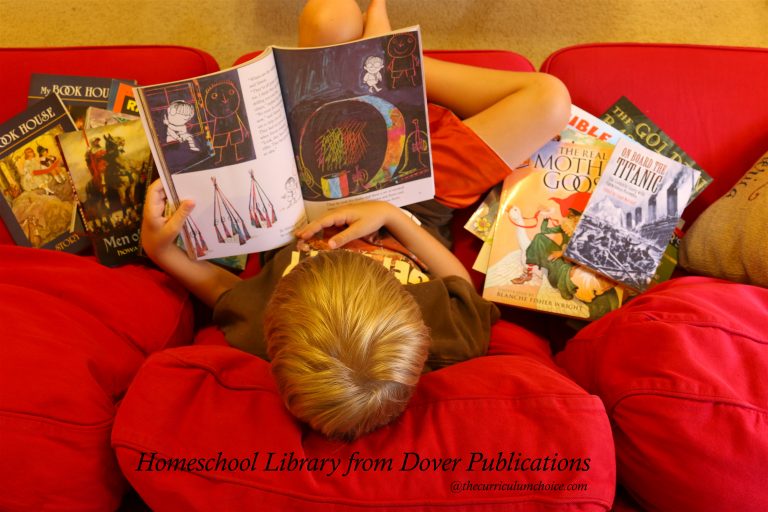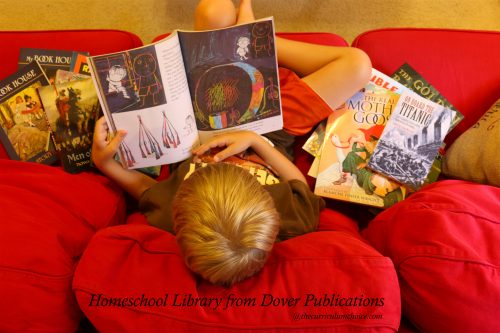 This wonderful stack of books holds a special place in my mama heart. See, the My Book House books are ones that my grandmother would read to me. The wonderful stories of my childhood. I can still hear her voice when we were at her house in the afternoon at nap time. Or if we had a memory-making sleepover. Plus the wonderful Real Mother Goose and Raggedy Ann. Classics! My Father's Dragon is on the suggested reading of many homeschool curriculum lists. Top it off with a Bible Fun Activity book and you have a wonderful collection fro the younger age group.

Homeschool Library – Ages 8-11
I just happen to have children that fall into each of these age groups. What a joy these books are! Do you see some of your favorite, classic books too?
Simon Land Chalk Drawings
We Were There at the First Airplane Flight
The Golden Basket
Norby the Mixed-Up Robot
The Story of Dr. DoLittle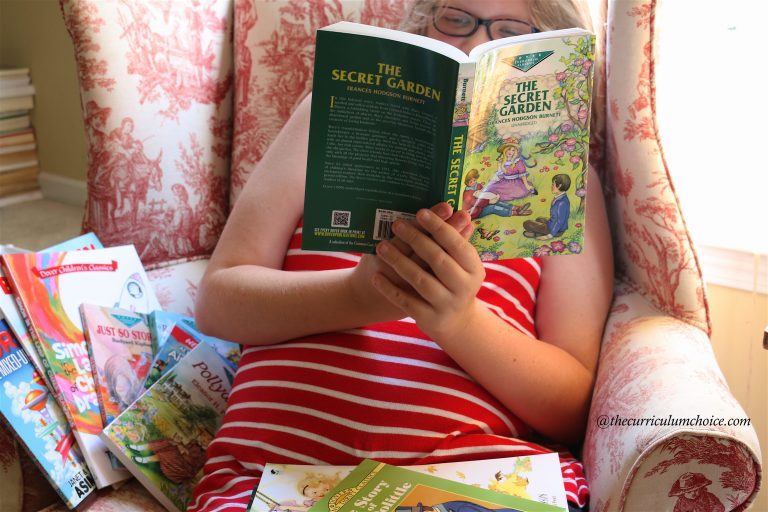 Pollyanna
A Child's Garden of Verses (with an accompanying listening CD!)
Rebecca of Sunnybrook Farm
Just So Stories
The Secret Garden
Homeschool Library, Ages 12 and Up
One of the best parts of a home library start up from Dover Publications is that since they are so frugal, it is easy to say yes to a whole stack of favorites!
The Complete Mowgli Stories
My Name is Aram
The Boarded-Up House
Great Horse Stories
Men of Iron
Treasure Island
The Call of the Wild
Anne of Green Gables
Favorite Sherlock Holmes Detective Stories
On Board the Titanic
Louisa May Alcott Short Stories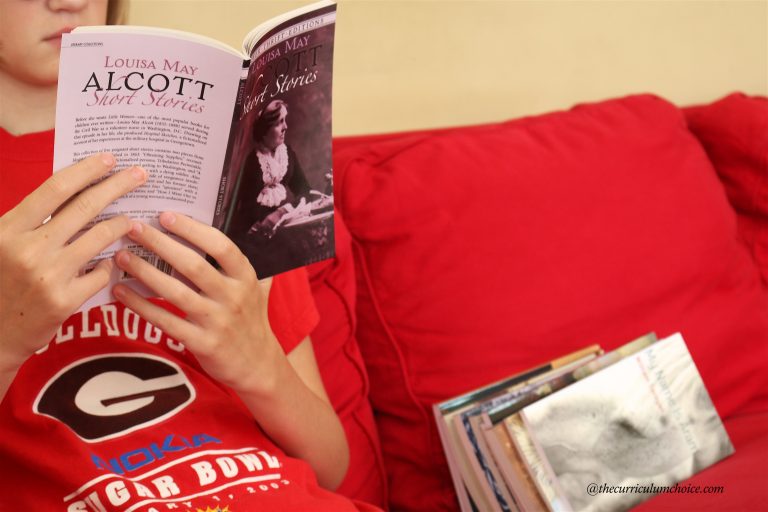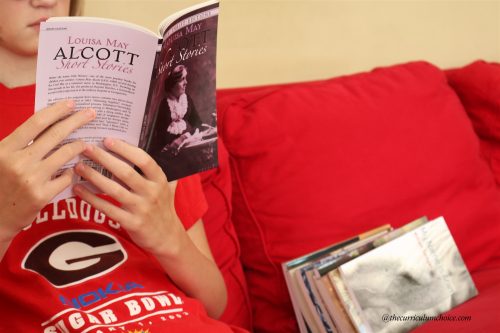 I spy a high school child of mine reading from one of the 12 and up selections!
Thrifty Homeschool Library
With Dover Publications you can get 25% off by using code WHBA at checkout and stock up too! Simply use the special code for The Curriculum Choice readers before October 31, 2016.


With the discount code, below, you can save even more! Be sure to browse the Dover Publications store and pick out your favorites for your homeschool library!
Three Giveaways – $75 for 75 years!
Now this is amazing. It is Dover Publications 75th anniversary! In celebration, they are giving away a Home Start Up Library for each age group – each package worth $75!! We have three giveaways!

Simply follow the instructions in the individual rafflecopter widgets below…
Homeschool Library Ages 4-7
Homeschool Library Ages 8-11
Homeschool Library Ages 12 and Up
a Rafflecopter giveaway

My children and I LOVE stacks of books. How about you?
Save
Save
Save
Save
Save
Save
Save
Save
Save
Save
Save
Save
Save