Are you looking ahead to high school with fear and trembling?  I know I did about 15 years ago when my oldest was approaching those important years.
There are so many unknowns. How will high school work in your home?  Will you be able to manage academically?  How will the teen years turn out for your family?  A decade and a half ago, there was also the question whether or not our children would have access to university, but nowadays universities and colleges are more open. Now parents wonder which university their teens will get into and whether or not they will get scholarships.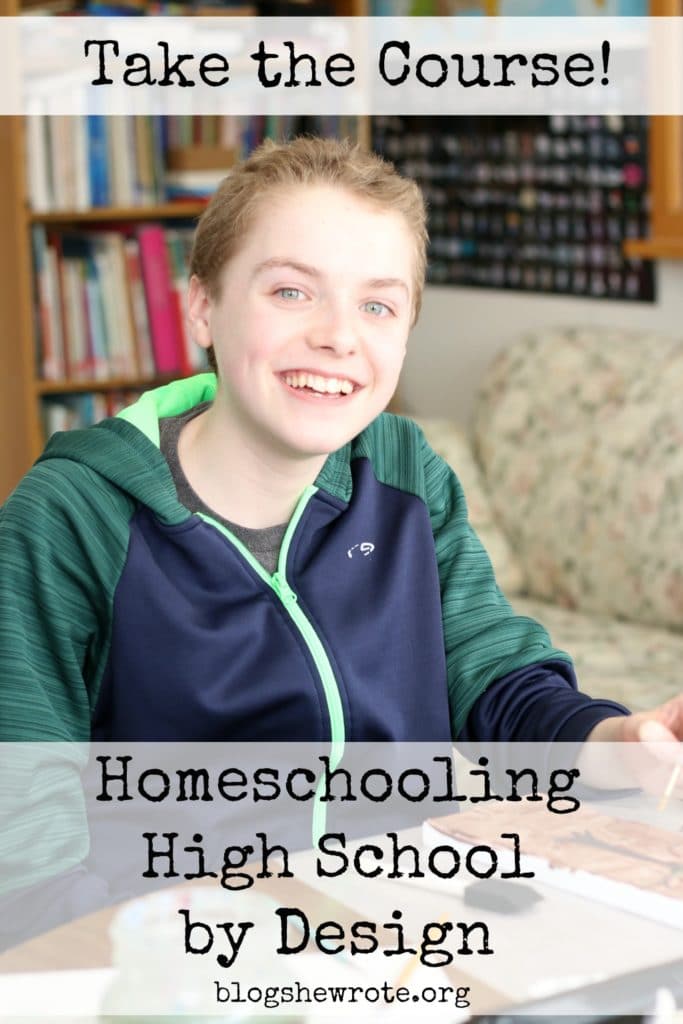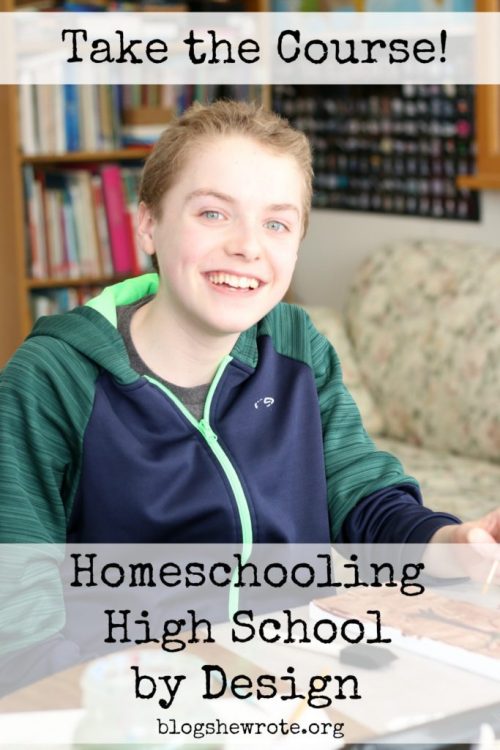 But whether in the past or now, often parents of high schoolers are tempted to become increasingly academic and to allow less and less time for their teens' personal interests as they pursuit of the 'right' university and a good scholarship.
"Homeschool High School by Design" by Heather Woodie counters this approach.  Heather, a veteran homeschooling mom with children accepted to the universities of their choice, says,
"So many families believe they must leave behind the unconventional in order to achieve competitive admission goals and these courses show you how it's possible to do both." *
In "Homeschool High School by Design" Heather explains how this can be done by anyone and shows how her family does it.  She looks at various aspects of the 16 important topics below, giving action items for each one and presenting helpful links.  The course also includes printable forms to help you plan your high school and to organize your teen's projects.  I found the entire course to be well-designed, practical, and encouraging. 
This is what Heather covers:
·      Creating a four year plan
·      Choosing high school curriculum
·      Building your high schooler's schedule
·      Planning custom designed courses
·      Creating electives for high school
·      Record keeping and transcript worksheets
·      Parent teacher roles in high school
·      Making time for creative pursuits
·      Creating opportunities for homeschooled teens
·      What to do when things get hard
·      Teaching smart and unmotivated students
·      Homeschooling teens with chronic illness
·      Teaching struggling learners
·      Teaching gifted teens
·      Summary
Some of these topics are rarely discussed elsewhere but they should be.  Heather has done the homeschooling community a great service by addressing them. What's more, she not only discusses them but gives both wise advice and personal stories.  There are various illnesses that can cause huge difficulties in homeschooling, and because Heather focused mainly on only one of them I also recommend the more general "When Your Teen Can No Longer Focus," one of my own most important articles for parents.
Even though I have homeschooled high school for over a decade and three of my children have successfully moved on to university and beyond, I was encouraged by Heather's course and inspired to be even more organized and mindful about the last few years of high school than I was about the first.   
It seems that Heather's family needs to submit homeschooling records every year.  Our family does not need to do so and therefore we have some multi-year courses which are never really planned and neither fully finished nor documented until the final year of high school. (Of course, they end up being the best courses of all.)  So, in that sense, how homeschoolers do things can be influenced by the laws in their areas, and our family's approach to project courses is different from Heather's.  However, it was still helpful for me to look at things from Heather's point of view.   
Of course, the bottom line for you is simple:  Is 'Homeschool High School by Design' worth the cost for your family?  If you want a quick yet thorough and practical discussion of homeschooling high school that covers all the bases and provides helpful handouts, you will benefit from this course.  In that case it is easily worth the cost.  However, if you have already read half a dozen books on high school at home, enjoy making your own forms, and feel confident about the high school years, you will not need this except perhaps for the inspiration.
—
* Note that Heather's opinion expressed in the quotation above is not a crazy idea.  Cal Newport argues a similar thing in How to Be a High School Superstar (see my review), and he points out that it is the 'interestingness' of academically-qualified students that leads to acceptance.  Homeschoolers are, by the very nature of homeschooling, better positioned to be interesting in this sense.  Heather Woodie shows how to combine such 'interestingness' with a solid academic high school education.
Disclosure:  I received free access to this course in order to review it.