I am a big fan of Susan Kilbride's Our America series of historical fiction for middle graders (and up!). In my review of the first three books, The Pilgrim Adventure, The King Philip's War Adventure, and The Salem Adventure, I said I was looking forward to more from this author. I'm pleased to say the next two books, The Revolutionary War Adventure and The Pioneer Adventure, are every bit as well-researched, engaging, and riveting.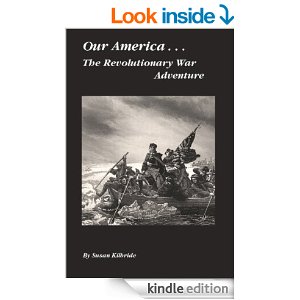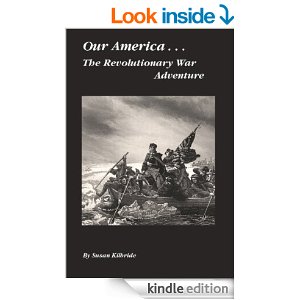 In case you're new to the series, here's a bit of background information to set the stage. Twins Finn and Ginny live with their aunt and uncle since their parents' disappearance. By chance, the twins learn about Uncle Peter's secret time machine prototype. They then discover that their parents accidentally turned it on and were whisked away to another time. The kids decide to secretly search for their parents themselves, opening the door to a variety of adventures back in time.
In The Revolutionary War Adventure, Finn and Ginny find themselves plunked right in the middle of an America on the brink of war. In this story, the time machine remote is more active, so the twins move throughout the period. Finn and Ginny experience first-hand several major events of the times, such as the Boston Tea Party, Paul Revere's ride, the battle of Lexington, the reading of the Declaration of Independence, the Delaware River crossing, and the British surrender. They also get to interact with key figures in the cause, like George Washington, Paul Revere, and John Hancock, as well as ordinary folk facing extreme circumstances, uncertainties, and hardship, all in the name of liberty.
I also enjoy Susan Kilbride's notes and resources in the back matter. She always includes her own ancestors as characters in her books (a very neat touch!), and she explains who they are and details about their lives in the Historical Notes section. There's also a timeline of the Revolutionary War, a reprint of the Declaration of Independence, and a bibliography for further reference.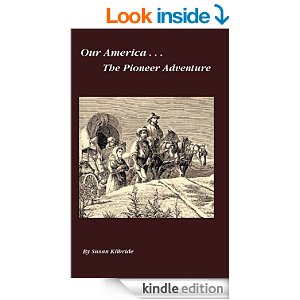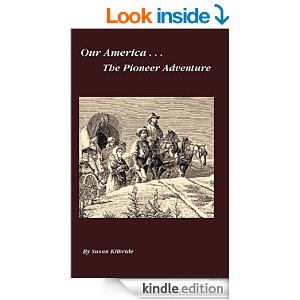 In The Pioneer Adventure, Finn and Ginny join a wagon train on the Oregon Trail. Their experiences are based on first-hand accounts of real events, which Susan Kilbride thoroughly researched. Again, several of Susan's own ancestors are part of the story. These courageous pioneers faced Indian attacks, river floods, a cholera epidemic, and other disasters, yet they soldiered on, determined to make a new life out west. The twins face their own trials when Finn takes a fall from his horse and loses his memory. How can Ginny help him remember that they are from the future?
These are not candy-coated versions of history. Although younger children could certainly manage the reading and enjoy the stories, I think this series is best suited to older students, middle grades and up. There are harsh and difficult circumstances, which some younger ones may find disturbing. I find that as the series continues and Finn and Ginny grow a bit older, the stories, too, gain a depth and richness I really appreciate.
Far better than any textbook ever could do, Susan Kilbride's Our America series brings to life the people, events, and circumstances in several important episodes of American history. Moreover, they provide a wealth of ideas for discussion and contemplation. With candor and authority, Susan Kilbride relates the difficulties these people faced: harsh living conditions, fear for their lives, their courage, commitment, and dedication to something far larger than themselves. This series will open the eyes of readers who are ready to learn about the realities our forebears confronted and how they persevered.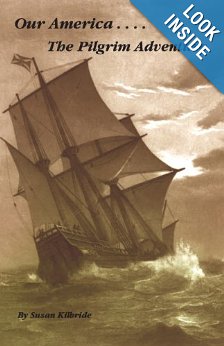 ~written by Ellen, The Bluestocking Belle