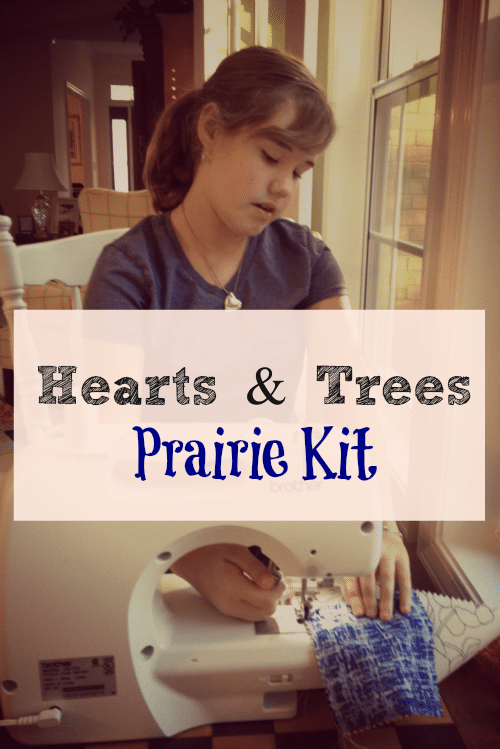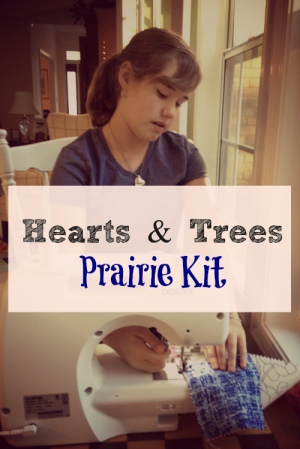 I have an eleven-year-old who loves to sew.  She also has read all of the Little House on the Prairie books.  This time period in American history interests her greatly. I believe she probably would have been happy living the life of Laura Ingalls Wilder.
Our family just returned from a trip to see parts of the Oregon Trail.  We saw the wagon ruts, visited an Army fort, and also toured a Bison ranch.  It was an experience of a lifetime, that's for sure. When we arrived home I wondered how I would extend our learning, for both of my children. (My son took a great interest in the Bison and my daughter very interested in the life and times of the people on the prairie.)
Waiting in my mail pile after a long trip was a package from Amanda (you may also know her mom, Harmony Art Mom). In the package was the PERFECT answer to my question of how to further our learning:  The Hearts & Trees Prairie Kit.
What The Kit Includes
A Bison woodworking project – complete with sandpaper and directions for painting
Notebooking page for artist Albert Bierstadt, including a print of his painting "Buffalo Country"
Art element worksheet – using Bierstadt's element of atmospheric perspective your child will learn how other artists do this, too
9 inch square pathwork potholder – complete with EASY TO FOLLOW instructions and all supplies.  *Note:  Directions are for hand sewing, but you can easily machine sew, too — but you don't need sewing experience for this project! 
A paper quilt activity to help your child plan their potholder
A full nature study lapbook, helping your child explore prairie animals and plants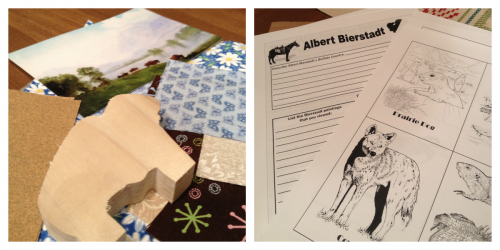 Advantages of The Kit
Everything you need is included (with the exception of needles and paint for the Bison).  You can complete several fun activities without having to do any extra planning.
There is something for all learners!   My daughter appreciated every element of the kit (especially the sewing), but the woodworking spoke to my son. It is also good for varied ages (I would recommend this for upper elementary and middle school.).
The activities are simple, achievable, and meaningful.  A lot of time and care has been but into the quality of the materials and activities, and it SHOWS.
It is only $11.95 plus shipping!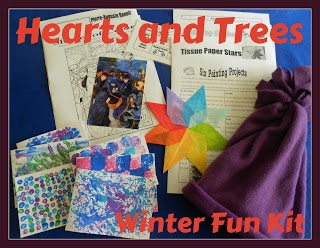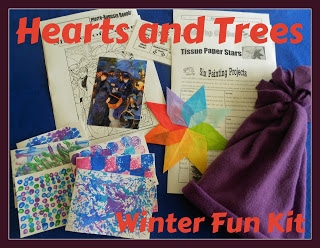 Amanda is a talented young lady who has put together a great resource for homeschoolers.  You might want to see what else she has for sale: (newest! pictured above) Winter Fun Fleece Hat, Prairie, Lavender and Bubbles and the Spring 2012 kits.
The Hearts & Trees Prairie Kit has been a beautiful addition to our studies this year. And I have the pleasure of giving away one kit (of your choice) to a Curriculum Choice reader.
Now for the giveaway!
a Rafflecopter giveaway

~ Written by Mary, of Homegrown Learners