Educational games and tools can be a fun and engaging way to help your children learn and grow. Eeboo creates toys, games, and gifts that help children learn and explore.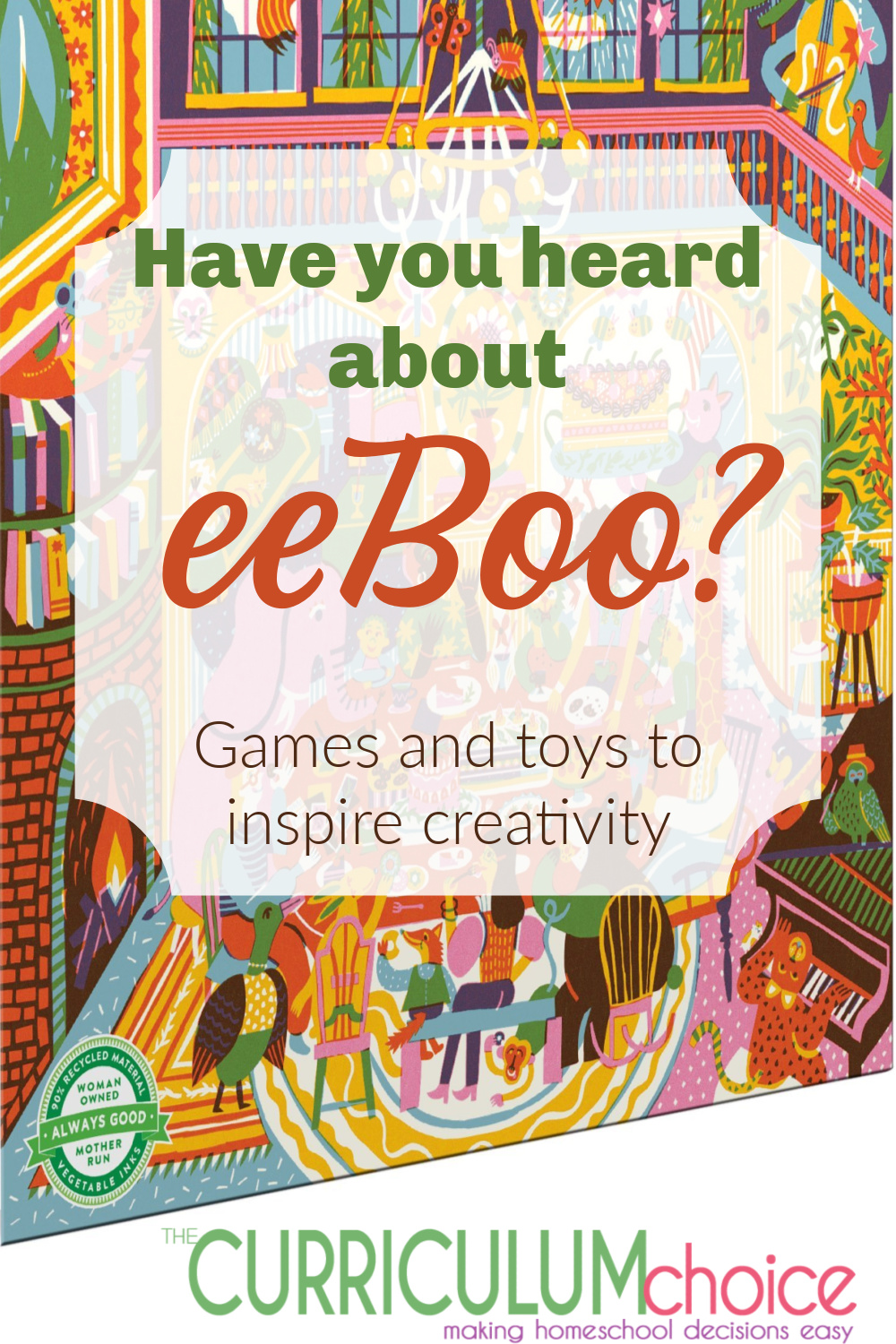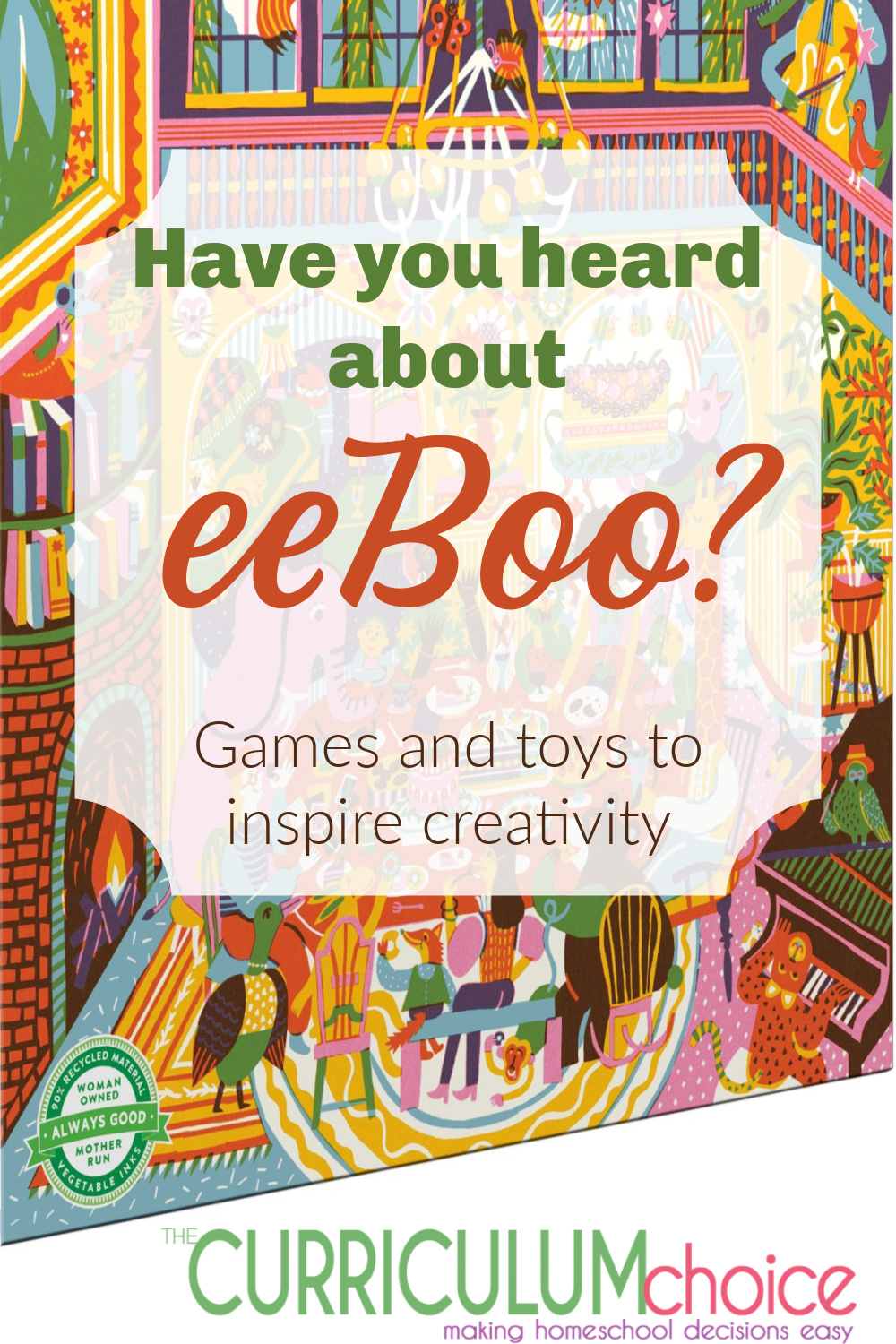 Eeboo is a self-made home business, a true family owned business, that began in the basement of Mia's basement. She and her husband wanted to encourage creative thinking, open-ended play, and meaningful communication in the products they developed. Telling stories with their children, finding interesting objects in nature, and working on crafty projects together informed and inspired what is now the eeBoo line.
Over the years, eeBoo has been awarded 201 Oppenheim Toy Awards: 45 of them Platinum, 156 Gold, as well as 16 SNAP awards (Special Needs Adaptable).
For growing hands and growing minds, An eeboo parent always finds

Safe and simple gifts and toys to play and share with girls and boys.

With fine design and inspired art, we always have your child at heart.

So get down on the floor and play! Families need to every day!

from the eeboo website
Brenda and I had the privilege to review products from a new-to-us company with a funny but memorable name, eeBoo. We decided to combine our reviews into one entry so you can see a variety of their items and get two different perspectives about a line of products that is sure to become one of your favorites too.
Brenda's Review of eeBoo
I'm always on the hunt for new companies to add to my list of favorites to buy high quality games and toys from. It makes it easier to go into a toy store or shop online when I have a pre-approved list of companies, and it helps me narrow down my searches. Eeboo has been added to my list.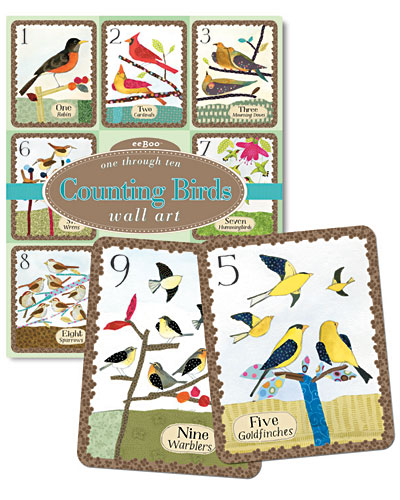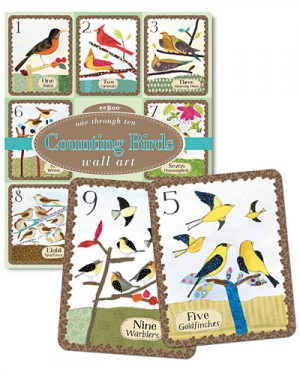 Eeboo has an amazing assortment of products for young minds. I was fortunate to be able to review some wall cards and a story game, provided by this excellent company. The wall cards are perfect for my budding bird-lovers. They are beautifully illustrated number cards that have birds from 1-10. These cards are durable and look lovely displayed on a wall.
Now, if your tot doesn't have an interest in birds, how about trains? Eeboo has counting trains too. Their wall cards don't end with counting numbers, they also have a wide assortment of alphabet cards like animals, tools and flowers. There are several ways that I have thought about using these cards since I can't display them all and I also happened to buy the tool alphabet set at a toy store while on vacation this summer. I thought about sliding the cards into page protectors in a binder to make a book, and displaying just a few at a time while we are learning that letter or number on an IKEA curtain wire including clips for 4.95, in the school room.
I'm definitely going to use these cards with the my little girl when we begin bird watching for our nature studies. I have collected a hand full of field guides to help us discover which birds we are watching and these particular cards will give us a head start because they have the names of the birds on them. The illustrations are also perfect for having young ones draw a bird in their nature study book, cause we all know birds don't usually stick around and pose for a picture for too long.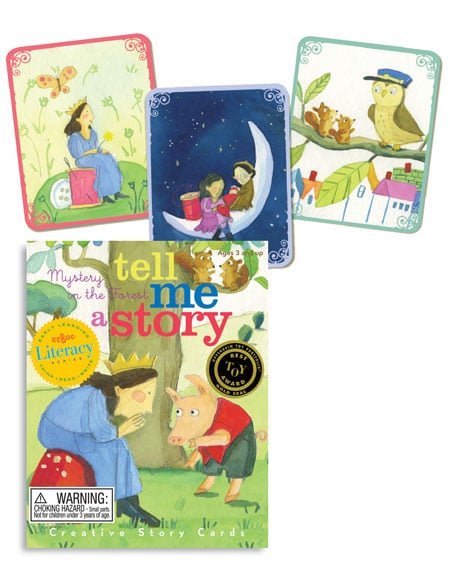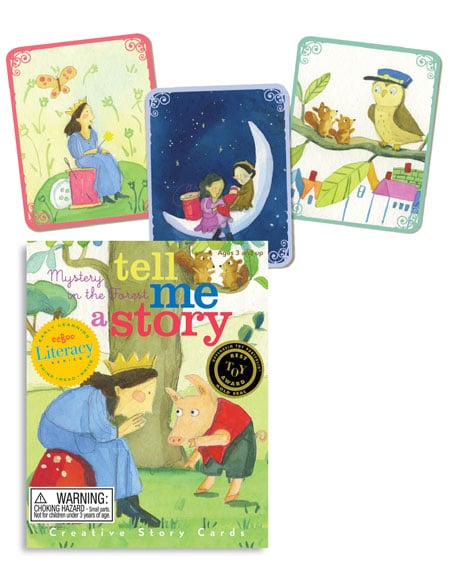 Eeboo also has the perfect tool for budding writers. Create a Story cards have brought hours of fun and laughter for my 5 year old daughter and I. The first time I opened this game, she devoured the box. We had to go through every card! The directions come with several games to play but her favorite is when we both take turns choosing a random card from the pile and add on to our silly story…and add…and add…and giggle.
We have the Mystery in the Forest edition, and I'm so happy to discover that there are 3 more editions. I've secretly bought her another one for her next birthday.
My "school" plan for using this pre-writing tool is choosing a few cards for her to dictate (or tell me a story about), while I write it down for her. Then I would read it back to her and have her draw a picture to go with her story. This would also work well with my seven year old son. I have also found that if I leave these cards in the dining room that my other children find them and start coming up with their own games to play with them. I can see why Tell Me a Story cards have won the Best Toy Award, because they are very versatile.
Barb's Review of eeBoo
Now it is my turn! Our family decided to test these products out together…including our teen boys and my daughter Amanda! Thumbs up from everyone!
Screech Owl at Dusk. Robin Cheer Up. September Serenade.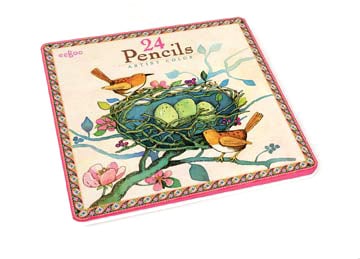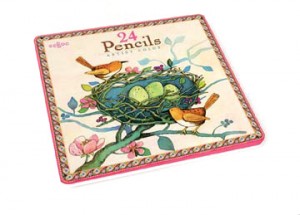 Don't those color names make you want to go grab your nature journal and start sketching? Even before we opened the pencil box, we all noticed the beautifully illustrated tin they were packaged in. The watercolor style painting of birds on this eeBoo pencil set is attractive and so inspiring that you will want to open them up and get started. The sturdy tin box will be a great way to transport the pencils in a backpack on our hiking adventures. We all appreciated among the twenty-four pencils in the set that there are three shades of yellow, three shades of green, and four shades of brown. When you work in your nature journal it is wonderful to have a variety of natural shades to choose from when you need just the right color for a wildflower you find or to sketch a tree seen in a meadow. We will be adding these colored pencils to our list of items to take on our nature rambles, using them when we are inspired out of doors.
Speaking of nature journals, our family was also asked to review their Nature and Observations Notebook. We loved the size and feel of this journal. It is spiral bound and has a variety of features that give this special journal a little something extra.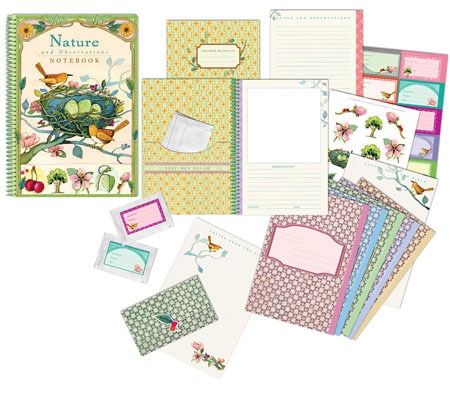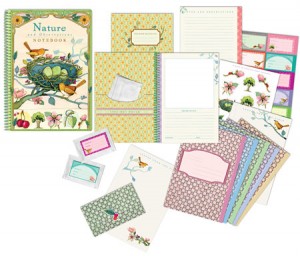 12 glassine envelopes for field specimens and pocket to store them.
128 Pages including: Sketch Pages and Note Pages
10 fold-up sheets for stationery
2 sheets of stickers for specimens envelopes and stationery
The envelopes are perfect for holding pressed flowers and you can store them in the pocket on the inside of the front cover. The journal also includes beautiful specimen labels to attach to each envelope. Very handy! The journal has pages that are both lined and pages with sketch boxes to encourage you to illustrate this memory book. At the back of the journal there are 10 removable pages to be used as stationery and they come complete with stickers to seal the stationery closed. This is one complete nature journal! eeBoo also offers a travel journal and a summer journal .
Summing it all up, our family decided that the beauty of the eeBoo products is what attracted us at first but after using the pencils and their nature notebook we love the quality and versatility of the products as well. We look forward to filling our nature journal with colorful sketches. Thanks eeBoo!
Originally posted August 2009, written by Brenda and Barb-Harmony Art mom.