Years ago, when we first started homeschooling, another veteran homeschooler recommended that I take a look at "the Greenleaf history guides" from Greenleaf Press, and I am so glad that she did, and I did! I ended up buying a few of them and have had no regrets whatsoever! They have turned out to be a perfect fit for us in many regards, at different seasons in our homeschool journey, but today I'd like share with you specifically regarding The Greenleaf Guide to Old Testament History by Rob and Cyndy Shearer, "History for the thoughtful child.".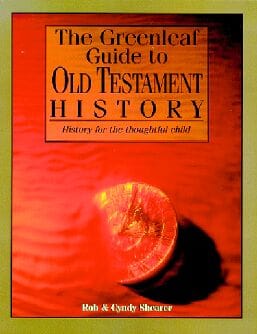 When our older kiddoes were younger we had a few favorite Bible and devotional-type story books that we read aloud from to them regularly for the majority of our "Bible time". However, once we started reading aloud straight from the Scriptures, this guide offered us a helpful tool for making that transition easier and more thoughtful.
Therefore, let the minds of young children be well stored with the beautiful narratives of the Old Testament and of the gospels; but, in order that these stories may be always fresh and delightful to them, care must be taken lest Bible teaching stale upon their minds.
(Charlotte Mason, Vol. 1, Home Education, Part V– Lessons As Instruments Of Education, p. 251)
The Shearers have basically taken the Scriptures, from Genesis through Nehemiah (though they left out Leviticus- which we cover with different resources anyways, and may be a bit laborious for younger students), and broken them down into 196 readings, each from a chapter to two chapters long.
To see a complete listing of how the Bible chapters are broken down, as well as a few examples of what each reading/lesson looks like, click here on this link to see it over at cbd.com and you'll see some links there to view pdf samples.
One of our favorite aspects of this guide has been the open-ended discussion questions included with each reading. A few years ago, as we used it along-side of our family's Bible read-aloud time, we used these questions as oral narration prompts. However, as our children are now cycling back through these Old Testament readings again, our son has been using these discussion questions as writing prompts for his own private Bible journal time.
There is some brief commentary and helpful "background information" included where necessary, a graphical timeline of Ancient History, along with references to Bible maps, as well as some brief teaching suggestions mentioned here and there. Overall, this guide provides a wonderfully simple to use, comprehensive study of Ancient Israel's history, using the best historical document we have, the Bible itself.
There are a few recommended books to go along with this study of Ancient Israel, which though they are not necessary, we have found helpful. This book is just what it claims to be, a simple guide to take you and your children through the Old Testament at a nice, comfortable pace. However, we've often broken a lesson into two separate readings. The Shearers recommend that you use their Guide to Ancient Egypt (which we've also used and appreciate) alongside of this guide for a more involved, complete ancient Bible history program.
Note: The two primary aspects of this guide that I most appreciated, those being its simplicity to use (as in no projects nor preparation necessary) and open-ended (as in no "answers" provided) discussion questions, are the very aspects that caused a friend of mine to not like it, nor use it.
I am reminded of the wise words of Charlotte Mason in this regard, with which I do concur:
We are probably quite incapable of measuring the religious receptivity of children. Nevertheless, their fitness to apprehend the deep things of God is a fact with which we are called to 'deal prudently,' and to deal reverently.
(Charlotte Mason, Vol. 1, Home Education, Part V– Lessons As Instruments Of Education, p. 248)
I have found that our children do a good job of thinking through the Scriptures' ramifications and implications as they read them for themselves, and have personally appreciated their not being told what to think as they read the Word for themselves, especially during their private devotional reading times in the mornings. When they do have questions beyond me (and as they're getting older, they DO!) we now find ourselves turning to meatier commentaries and texts together anyways, so this guide has been perfectly adequate for our usage!
The price is nice too, especially for all of the use we've gotten out of it over the years!
Written by Beth Brewer, a Charlotte Mason inspired, Spirit-led, relaxed-eclectic homeschooling Mama of 3. She's also an author at The Homeschool Post and blogs her photos, musings, hopes, fears, faith and falterings as she lives, loves and learns with her family at the brew*crew adventure.