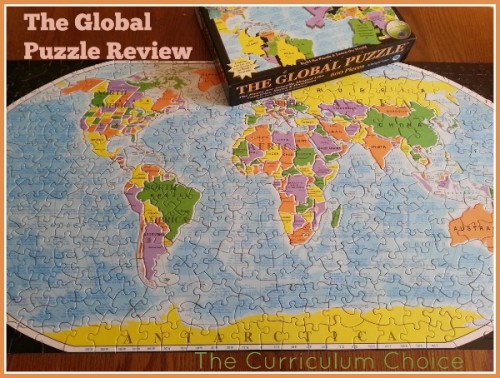 Memorizing random geography facts is never fun, at least it was never fun for me. So when I think of geography I like to add hands on activities to our homeschool. Puzzles and games are extra fitting for learning geography. It's not that there isn't a time for simply memorizing, there is. But I prefer to do something a bit more fun.
I loved the  The Global Puzzle  the moment I saw it. It looks like a challenge, doesn't it? And there's nothing better than a challenge for games and puzzles. I happen to love puzzles and so does my child so it was a great fit for us.
This amazing puzzle sat on the homeschool shelf a bit before we actually got to it, and that's totally okay. It's one of those types of things I like to have around because I know my child will one day pick it up off the shelf when it's the right time. And that's exactly what happened. It was his idea when the time came. This good timing, combined with an awesome puzzle, made for a week full of relaxed time working on a fun geography project together.
Benefits of The Global Puzzle
It took us about a week to put this puzzle together last spring. We need the diversion in our homeschool that I felt great about because I knew it was going to teach some geography I hadn't yet covered.  it offered us some quality time together while learning geography. I learned a lot too! The neat thing about the Global Puzzle is that most of the countries are  cut by their shapes. So at the same time you are putting this puzzle together you are also learning the borders and locations of each.
In addition to the countries being their actual shape this puzzle features :
600 total pieces

All the latitude and longitude lines – it's an actual world map

All 193 countries and their capitals
All 50 states of the U.S. and their capitals
All 13 territories and provinces of Canada and their capitals
Numerous geography facts printed onto the ocean pieces
Recommendations for Solving The Global Puzzle
The absolute best way to "solve" the Global Puzzle is by first placing the pieces around the outside.  The main reason for this is because the pieces which are cut as the countries shapes do not interlock in the same way puzzle pieces normally do. Therefore, the surrounding water areas hold the pieces together.  I have to warn you that's it much easier to put the continent pieces together first but it's hard to keep them together since they "float".
Do's and Don'ts for the Global Puzzle
Don't expect your child 9-12 to be able to complete this puzzle on their own. Do be prepared to work with them. Even my 11-year-old needed plenty of help. It was plenty hard for me as well so it could certainly be enjoyed in the upper middle school years and even for high school if time allows.
Do expect to have a large table set up so you can leave the puzzle to work on over a period of time.

Puzzle size is 36″ x 18″ but it requires extra space for organizing pieces. 

 Don't expect to finish this on one day.
Don't expect your child to do this puzzle if they aren't into that sort of thing. Do offer it as an open invitation to work on for fun when they have free time or just to rest your mind from other types of activities.
Do consider this a supplement to your homeschool. Y

ou simply can't do this puzzle without figuring out where every country is located. We discovered so many of the countries we'd never heard of.  It truly is a geography lesson!
Where to buy The Global Puzzle:
You can buy the Global Puzzle from A Broader view for $14.95. It's also available at several other retail suppliers.
Do you think this looks like a fun way to learn geography? What other games and activities make geography a hands on subject in your homeschool?