Our very favourite homeschool resource for Art Appreciation for the elementary years is Mike Venezia's Getting to know the World's Greatest Artists book series.
I've never considered myself to be an art lover. In fact, before I started homeschooling, it's not something I thought about very much at all. Sure, the names of a few famous artists may have sounded a bit familiar to me, but I'm not sure I could identify very many of their famous works or match artist to masterpiece.
Lucky for me (and my children!) I stumbled across some wonderful art appreciation resources early on in our homeschool years. I'm happy to say that I have now become familiar with most of the major artists and am developing an appreciation for the various art movements. And one of my children has become a real art lover.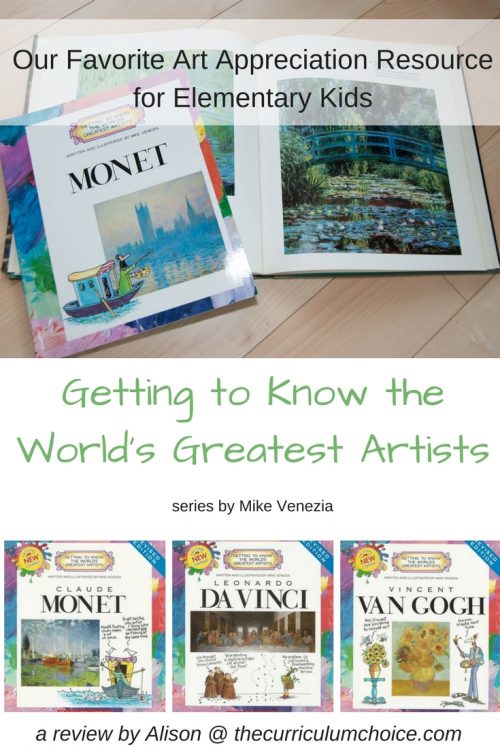 Getting To Know the World's Greatest Artists for Homeschool
Our very favorite resource for Art Appreciation during the elementary years is Mike Venezia's Getting to Know the World's Greatest Artists book series. They are such a fun way to introduce young children to the masters!
These books present the artists to children in a relatable way and make them seem more like real people. Venezia wants his books to open up the world of art to children for their whole lives — and we are certainly seeing that come to fruition in our own home!
Getting to Know the World's Greatest Artists Books We Have Used and Loved
We've used others from our library, but these are the ones we own. Most of these we've used specifically in our homeschool, but my kids also enjoy just reading them for fun.
Michelangelo

Pablo Picasso

Claude Monet

Vincent Van Gogh

Salvador Dali

Leonardo Da Vinci

Rembrandt

Diego Rivera

Sandro Botticelli

Edgar Degas

Renoir

Henri Rousseau
As always, I want to mention that you do need to evaluate all materials you use with your children according to your own personal standards, convictions, and preferences. There are currently over 40 books in this series, and I have not read them all!
These are art books, after all, so don't be surprised if you get the Michelangelo book and find nudity in the art. Yes, it's there! Only you know what is suitable for your family.
Why We Love the Getting to Know the World's Greatest Artists Series
The visual presentation
The books are colourful and image heavy. Each book features art from the artist as well as a few others of the same movement. It is interesting to view the artists work in comparison to their contemporaries or mentors.
The books also usually contain a picture or portrait of the artist. Kids always like to put faces to names!
Kid-friendly
The Getting to Know the World's Greatest Artists series is perfect for young kids.The books are just the right length to satisfy curiosity without losing the child's interest. And the print is on the large side, so many kids will be able to read it themselves. Throughout the book are humorous comics about the artists' lives that are sure to make your kids giggle.
Your children will also be entertained by Venezia's unique "about the author" boxes on each book, which are written with the artists in mind. For example, in the Van Gogh book, this little addition is added, "Rushing to meet the deadline for this book, Mike cut his finger while sharpening a pencil. This incident inspired the emotional self-portrait at the left".
Practical
There are a few practical reasons that also make the Getting to Know the World's Greatest Artists books a great choice for homeschoolers. The first is that many of these books tend to be available in local libraries. That's always a consideration for me when choosing resources! It also helps that the books are affordably priced and available as paperbacks — I've also often seen them for sale second hand for a couple of dollars apiece!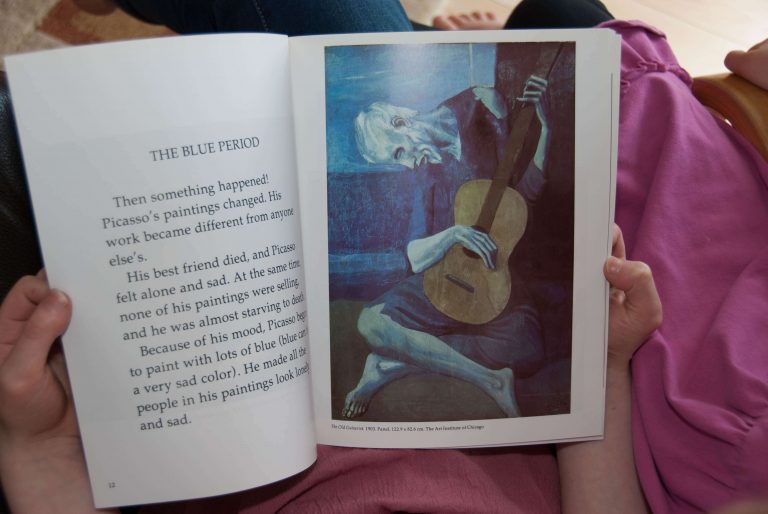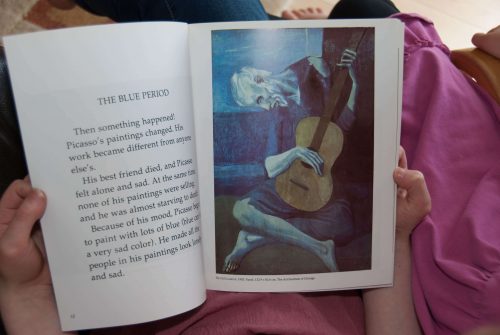 How We Use Getting to Know the World's Greatest Artists in Our Homeschool
A few years ago we added Charlotte Mason style picture study to our Morning Time, and my children really enjoy the books as an additional read aloud to go along with whichever artist's work we are currently enjoying.
We take turns looking at an art card and then I cover it up. Then we take turns giving a narration of the picture starting with the youngest. Afterwards, we look at the card again and talk about what each noticed or didn't notice. On a different day or at another time we look at more works of the artist and read one of Venezia's books.

Other Getting to Know books by Mike Venezia:
Our sister website, You ARE an ARTiST, uses the Getting to Know the World's Greatest Artists series in the Homeschool Fine Arts plans. The Venezia books are an excellent resource for the hands-on art lessons on famous artists, presidents and composers too!
Besides the Artists series, we also use and love Venezia's Composers series. We haven't had the opportunity to check out the Inventors and Scientists or U.S. Presidents ones yet though.