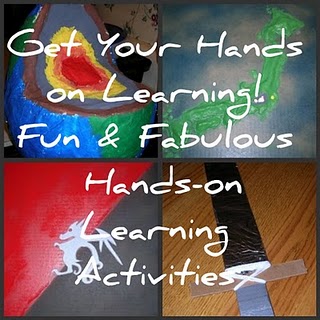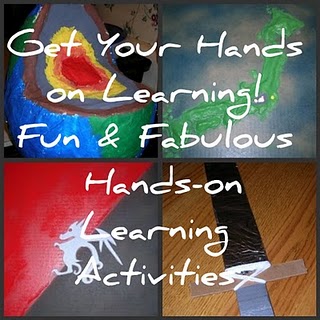 I have recently had the pleasure to read the first e-book by Kris, the widely read author of the blog Weird, Unsocialized Homeschoolers.  The book, in true WUSH fashion, features games, projects, learning centers, and presentations all with a focus on hands on learning.
Get Your Hands on Learning! has four main sections, as well as an appendix full of even more information.  The sections include:
Projects: Papier-mache Model, Salt Dough Map, Cookie Dough Map, Ongoing Studies
Games: Bingo, Memory/Matching, Go Fish, Board Games
Learning Centers: Writing Center, Preschool Learning Centers, Mini-Offices
Presentations: Around the World Day, Night at the Museum Party, The Castle Presentation Board, Knights Shields and Swords
Appendix: Helpful Websites, Basic Papier-mache Paste Recipe, Basic Salt Dough Recipe, Fifty State Friday Resources, Blank Bingo Card, Reading Bingo Card, Learning Center Resources, Hands-on Activities to Enhance Any Study, Narration, Paper Bag Report
What I Liked:
Great Variety – There is a great variety of activities in this e-book, which can appeal to both the families that don't mind mess, as well as the families that avoid it like the plague.  It's a nice reminder that hand-on doesn't have to mean messy, but it can.
Step-by-Step Directions – Things like the word "papier-mache" give me hives.  However, with Kris' easy to understand, step-by-step instructions, it makes me a little less nervous.  The layout, in general, makes it easy to read and follow.
Lots of Full Color Photographs – Because I am a visual learning, the combination of photographs with the step-by-step directions are exactly what I would need to execute these projects.  It's also always nice to see what a finished project should look like.
Length of Book – At 50 pages, this is a book that I felt comfortable sitting down and reading in one sitting.  Not that I can't read a book that will take me many sessions over several days (because of other commitments), but it's nice when I can sit down and just finish a book.
Well Organized – I enjoyed that the activities are each in their own section, so that when I want to implement an idea, I don't have to skim back through the whole book to find what I was looking for.
Reasonably Priced – At only $7.95 for an immediate download, this e-book is competitively priced compared to other e-books that I have purchased.
What I Would Change:
It's Just What I Was Looking For – This e-book was exactly what I anticipated it would be, so I couldn't really think of anything that I would have changed.
Get Your Hands on Learning! is available for immediate download for $7.95 at Weird, Unsocialized Homeschoolers.

Disclosures: I received this e-book for free in order to review it, although I had planned to buy it before receiving it for free.  Although I have been a fan of Kris' blog for several years, in interest of full disclosure — I am the founder/editor of The Homeschool Classroom where Kris is a writer.
Angie is a university trained elementary and special ed teacher turned eclectic homeschooler.  She can be found working at Many Little Blessings, The Homeschool Classroom, and Catholic Mothers Online.  It is also very likely that if you find her, she will be tired.