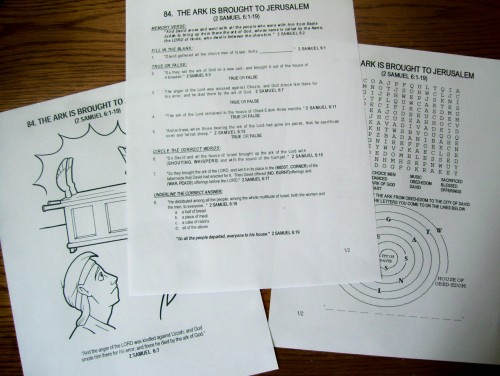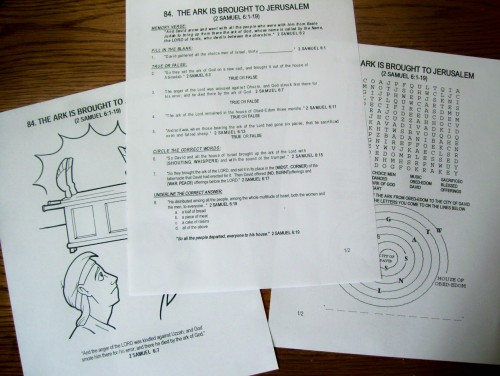 As a follower of the Charlotte Mason method, we learn a lot from living books.  Even though the Bible is the most living book there is, it isn't very realistic to read it straight through with young children.  I wanted my children to directly study the Bible in a chronological and comprehensive way, but I didn't want to overburden them by tackling passages that were way over their heads.
Then I came across the Bible curriculum from Calvary Chapel that is free and available online.  It consists of 325 lessons from both the Old and New Testament.  I love having the Bible readings mapped out for me to use as a road map and the questions to guide narration.
Pros:
It is extensive.  There are 325 lessons on both the Old and New Testament.  If used daily, this curriculum will last almost two school years.
It is accessible for young students.  It covers much more than just the well-known stories such as Noah and David and Goliath but doesn't dwell on difficult passages of law, prophecies, and genealogies.
The Bible readings generally follow the order they are found in the Bible, so children become familiar with the chronology of Biblical history.
There is not a lot of commentary or interpretation. Children can learn to go directly to God's Word without being told what it means.  As Charlotte Mason wrote:  "A word about the reading of the Bible. I think we make a mistake in burying the text under our endless comments and applications."
It can be used with a broad age range of students.  My daughter is in first grade, and we do the readings together, but much older children could do this as independent work.
Each lesson includes a memory verse, two levels of question pages, coloring page, and two levels of word puzzle pages.
You can't beat the price!
Cons:
The lessons use the New King James Version, so filling in the blanks can sometimes be tricky if you're using a different version.
The lessons covering the four gospels follow Jesus' life chronologically, so there is quite a bit of jumping around from one gospel to another.
Some of the lessons have fairly long Bible readings (up to 3 chapters long) which are difficult for younger students to finish in one sitting.
There's not a huge difference in the levels of question pages.
This curriculum is very flexible and can be used with all kinds of styles.  If you're looking for a budget-friendly, straight-forward Bible curriculum, you might consider this resource for your family.
Come visit Beth, our newest writer, at her blog Apples and Jammies.