During school time Mr. 16 was sitting at the computer, chuckling. Having that much fun doing 'schoolwork' suggests to me that it's not really schoolwork on the computer….
So I sternly asked, "What are you doing?"
Sweetly he answered, "Dave Ramsey," and continued chortling.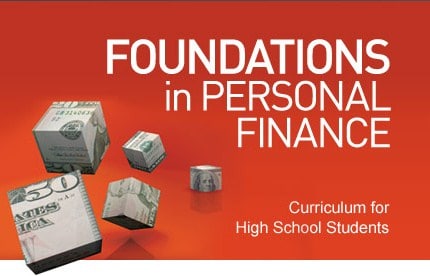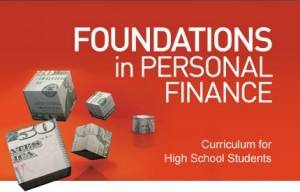 After listening to a few more minutes of this laughter, I pulled up a chair beside him to watch "Bargain Shopping," Chapter 8 of the Foundations in Personal Finance Curriculum, Homeschool Edition, a wonderful curriculum by Dave Ramsey. Soon the Little Misses joined us and we finished the chapter…and then started again at the beginning, laughing and learning all the way.
Sure, not all of the lessons are this funny, but we love this curriculum. It's fun and relevant and practical. Dave's mission is "empowering students to make sound financial decisions for life," and he does it in such an appealing way!
He covers a lot of topics too, and, besides being excellent training for life, this course also meets state standards. In his 4 teaching DVD's, Dave covers the following topics in great detail:
Unit 1: Saving and Investing
Unit 2: Credit and Debt
Unit 3: Financial Responsibility and Money Management
Unit 4: Insurance/Risk Management and Income/Careers
There's also a Teacher's Guide CD-ROM with lesson plans, tests, answer keys, activities, case studies, and more, as well as a Student Workbook containing worksheets, reviews, and many interesting tidbits of information. (For more information, please see the very detailed review on my blog.)
We are extremely pleased with the Foundations in Personal Finance Curriculum. While studying other subjects is very important, learning Personal Finance may well have the most practical impact on your teen's future life. This curriculum is not inexpensive, but I believe it is an investment that will pay back many times over, both in your teen's life and your own.
–Written by Annie Kate, a Christian homeschooling mom of five, who reviews and blogs at Tea Time with Annie Kate.  You can read her other Curriculum Choice reviews here.
Disclosure I received a complimentary copy of Foundations in Personal Finance, Homeschool Edition, in order to give you my honest opinion of it.