When I first began looking into homeschool curriculum a few years ago, one of the first things I came across was Five in a Row, a collection of literature-based unit studies by Jane Claire Lambert.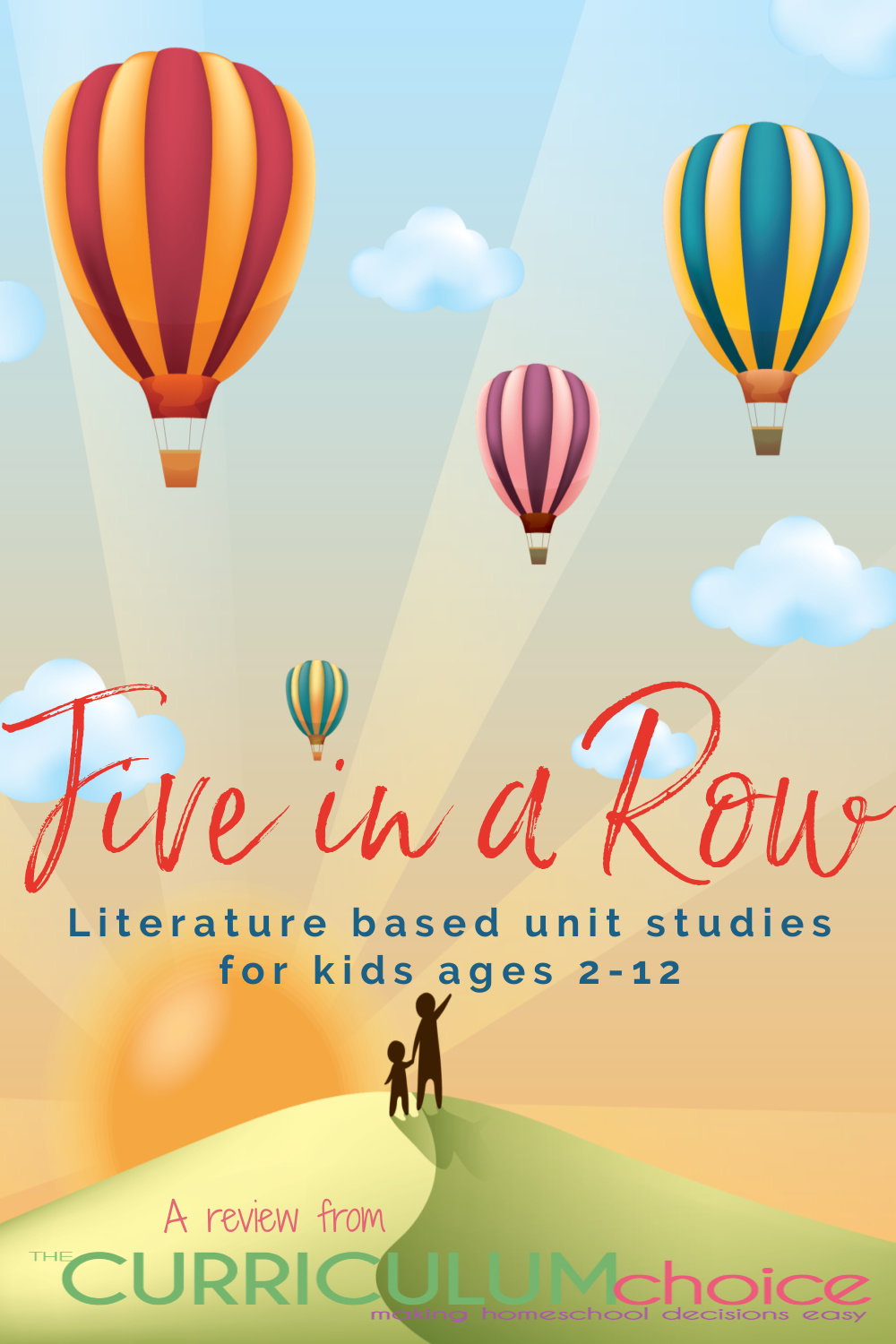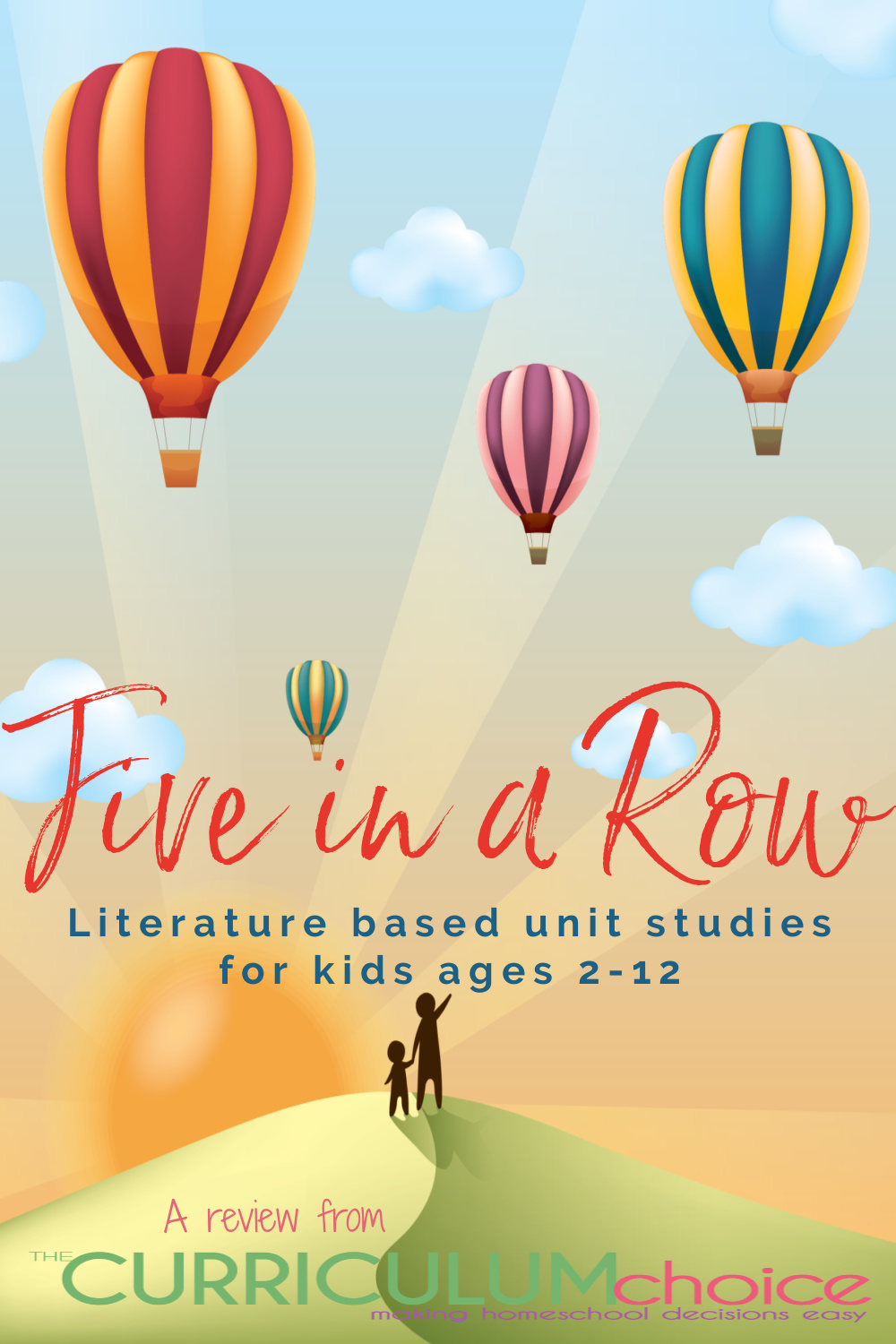 What is Five in a Row?
Five in a Row is a collection of literature-based unit studies. These units are geared towards children ages 4-8, but I have known families who have used this curriculum with younger and older students.
There are four separate volumes of Five in a Row.
Before Five in a Row (ages 2-4)
More Before Five in a Row (ages 3-5)
Five in a Row (ages 5-10)
Beyond Five in a Row (ages 9-12)


Every volume contains between fifteen and twenty units, each one based on a classic work of children's literature. Mrs. Lambert, a veteran homeschooling Mom, has chosen timeless stories such as Make Way for Ducklings, The Story About Ping, and Mike Mulligan and His Steam Shovel, to name a few, on which to base these unit studies.
The guiding principle behind this curriculum is the reading of the story to your children for five days in a row. After each reading, you cover topics of your choosing from the lesson manual.
Subjects such as language arts, history, geography, science, applied math, and art are covered. (Five in a Row is not a reading and math curriculum. You would need to add those.)
There are always more than a week's worth of lessons to choose from for each story. Most of the titles are easily obtained at the library or from Amazon. We enjoy purchasing as many of these wonderful stories as possible for our home library because we come to treasure most of them.
What I Like About Five in a Row
Here are a few of my favorite things about Five in a Row:
Story Repetition – The repetition of reading the story each day facilitates learning and retention, and by the end of the week, the story seems more like an old friend than a simple book.
Charlotte Mason Style – Because these unit studies are based on living books and the lessons are fairly short and gentle in nature, it is a good fit for the Charlotte Mason approach.
Flexibility – The lessons allow you much flexibility. You can decide which topics you wish to cover when, and how deeply you want to delve into each one. (Some of our Five in a Row studies have lasted for several weeks, simply because we hit upon a topic that we really got excited about!)
Use with Multiple Ages – Even though the lessons were written for children ages four through eight*, you can "beef up" or tone down the lessons for your older and younger children, making it easy to use when teaching multiple ages or levels. (*Since the original post the age range has been expanded to ages 2-12)
Casual Quality Time – Since many of the lessons are conversational, Five in a Row studies can often be done snuggled up with your child on the couch. It's a great way to make memories and to enjoy learning together at the same time!
Another FIAR Review
Want to see how one mom is using Five in a Row in her homeschool? Check out this FIAR Review from Kendra
Purchasing Five in a Row
For more information about Five in a Row and to see book lists for each volume, visit Five in a Row on their website.
You can purchase full book bundles from Rainbow Resource.
And if you are an Amazon shopper you can get the Five in a Row guides and literature books there!
Originally published May 2009, Written by Shannon