Have you seen these Julia Rothman books? Farm, Food, and Nature Anatomy are three books you want to have on your homeschool bookshelf!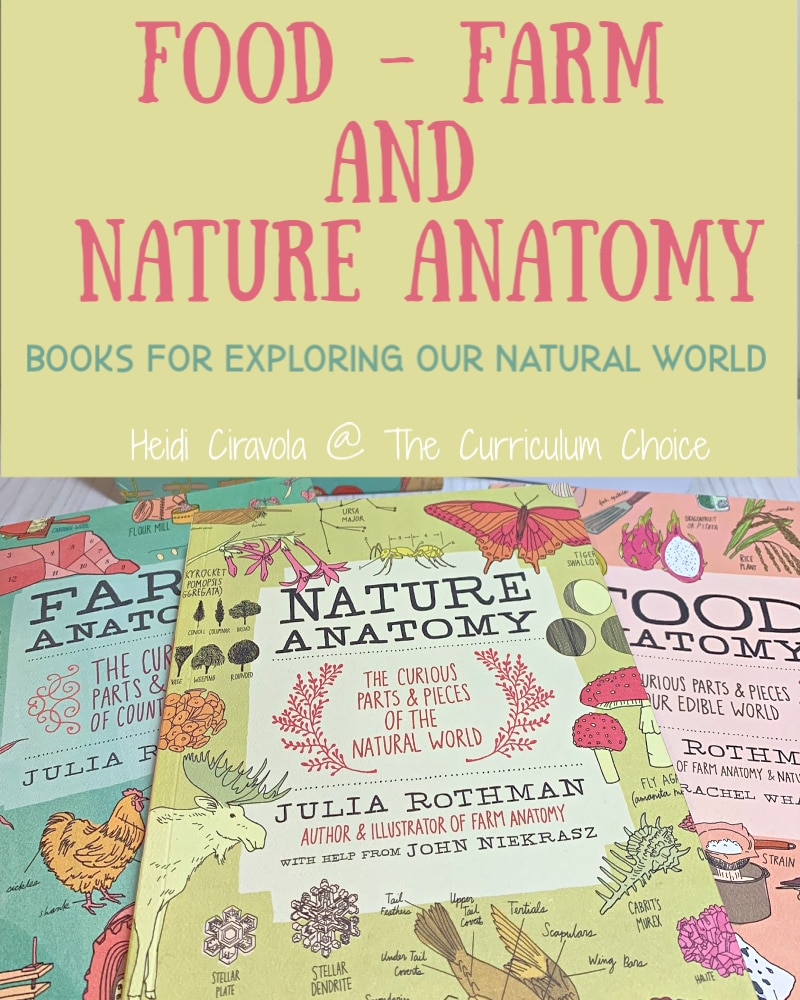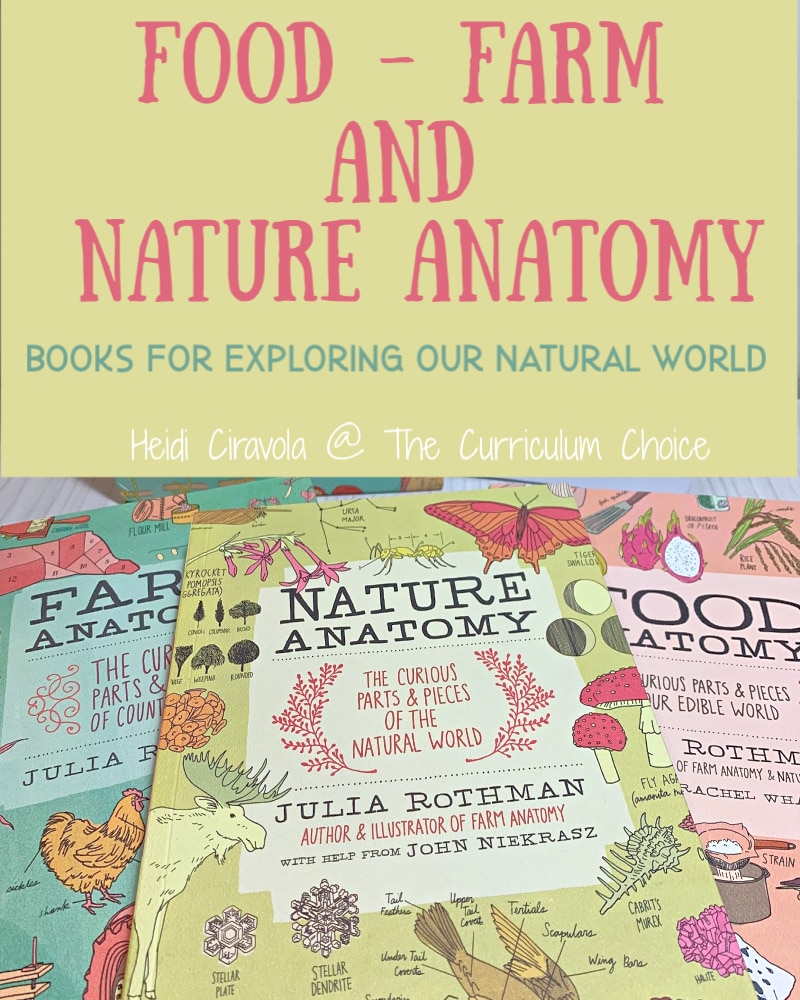 Whether you are currently engaging in nature study, plan to include nature study in your homeschool, or simply have curious kids, these books are sure to hit the mark! I stumbled upon Nature Anatomy a little over a year ago. It quickly became a favorite nature study resource of mine.
Farm Food and Nature Anatomy: Books for Exploring our Natural World
I absolutely love the illustrations and the easy on the eyes make up of the page layouts in the Farm, Food, and Nature Anatomy Books. When I first bought the set my 12 year old daughter couldn't put the Farm Anatomy Book down! They are so easy to pick up and browse, read for intent, and just enjoy soaking up both the fun and educational contain they contain.
Farm Anatomy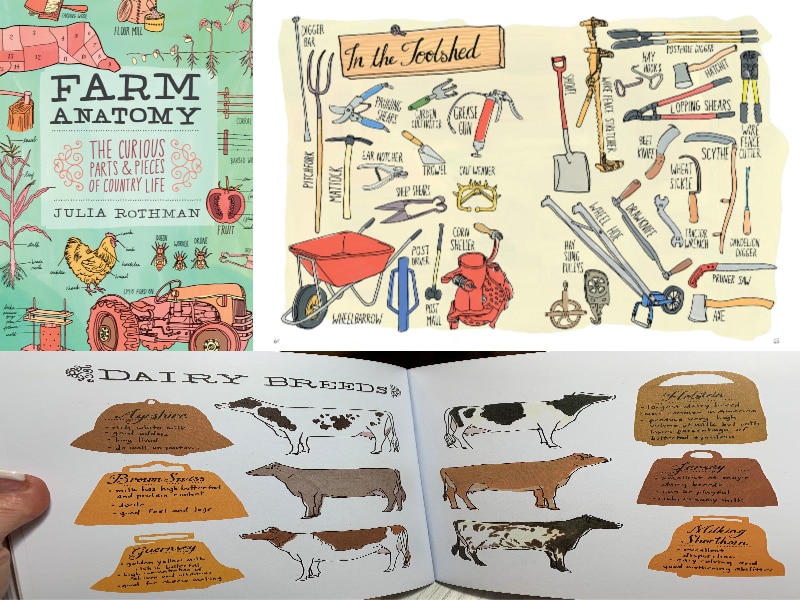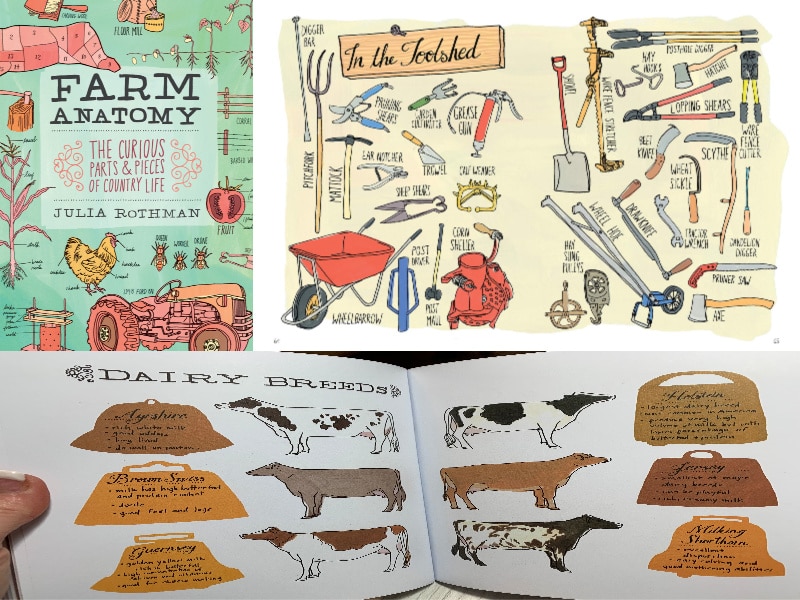 Farm Anatomy is 223 pages of goodness about everything farm related. There is even a list of other books you can check out to learn more.
What's Inside?
These are just a few of the topics found in each of the 7 chapters in Farm Anatomy:
Breaking Ground: layer of soil, topsoil, crop rotation, composting
Raised in a Barn: barn styles, trusses, doors, farm buildings, feeders
Tools of the Trade: tractors, how to plow a field, other farm machines, in the toolshed (pictured above)
Plant a Seed: average frost dates, vegetable anatomy, how to can tomatoes, herb chart, good and bad bugs
Separating the Sheep from the Goats: animal terms, parts of a rooster, how a cows stomach works, parts of a horse, sheep shearing, anatomy of a beehive
Country Wining and Dining: wine making equipment, edible flowers, the basics of breadmaking, how to cut up a chicken
Spinning a Yarn: natural dyes, how to make a flower press, making rag rugs, making candles, quilt patterns
Food Anatomy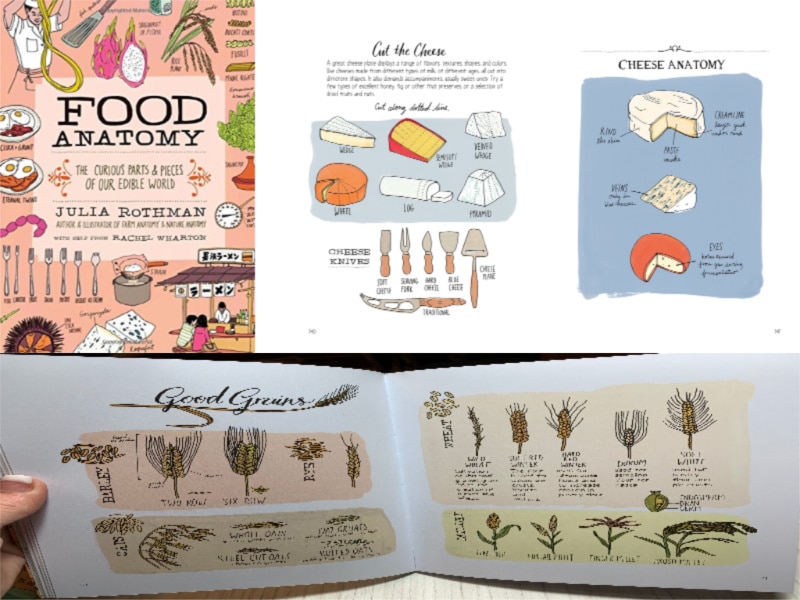 Food Anatomy is 221 pages of the curious parts and pieces of our edible world. In the "Thank You" located at the end of this book, Julia tells us how these books take longer than a year to finish.
What's Inside?
These are just a few of the topics found in each of the 9 chapters in Food Anatomy:
Food for Thought: a brief history of food, place settings, kinds of forks and spoons
Eat Your Fruits and Veggies: fruit facts, how a flower becomes a fruit, little know terms for the common tree fruit, citrus, yam vs. sweet potato
A Grain of Truth: good grains (pictured above), kinds of rice, baking traditional Finnish rye bread, Asian noodle dishes, pancakes
The Meat of the Matter: prime cuts, how meat cooks, butchery tools, five fabulous food fish, other edible sea creatures, eating the whole chicken
Dairy Queens: terms of the trade, how to make butter, cheese anatomy(pictured above), types of cheese
Street Food: serious snacks with funny names, five styles of meat on a stick, anatomy of a food truck,
Season to Taste: 6 superb spice blends, that's hot, in the sugar house, how to make vinegar
Drink Up!: coffee, when life gives you lemons, the equations of fermented beverages, distillation
Sweet Tooth: common cakes, cake-making terms, how chocolate is made, in an old-fashioned candy shop, American pie, the fortune cookie
Nature Anatomy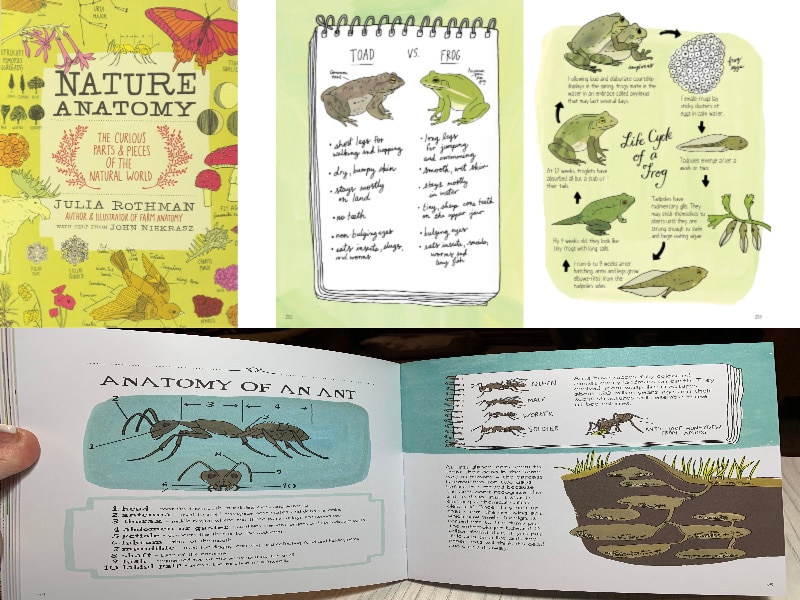 Nature Anatomy is 221 pages of the curious parts and pieces of our natural world. The bibliography at the end contains tons of fabulous nature study resources that you might want to check out to go further in depth on a given topic.
What's Inside?
These are just a few of the topics found in each of the 7 chapters in Nature Anatomy:
Common Ground: layers of the earth, minerals, rock cycle, fossils, landforms, loose landscape painting
What's Up?: predicting weather, the water cycle, rainbows, phases of the moon, constellations
Come Close: anatomy of a flower, metamorphosis, beautiful butterflies, grazing edibles, anatomy of the ant (pictured above)
Take a Hike: anatomy of a deciduous tree, leaf identification, beautiful bark, anatomy of a fern, foraging in the forest
Creature Feature: animals in the neighborhood, anatomy of a bat, the lyme bacteria cycle, grizzly bear vs. black bear, the animal underground, outstanding adaptations
A Little Bird Told Me: anatomy of a bird, a bevy of birds, bird calls, a variety of nests, extraordinary eggs, birds of prey, water birds
Head Above Water: water bodies, ecosystem of a pond, toad vs. frog (pictured above), fantastic saltwater fish, harvesting, processing, and eating seaweed
Nature Notebook Options
Along with the Farm, Food, and Nature Anatomy Books you may want to have a nature journal for your kids. Here are two options we really love:
Nature Anatomy Notebook – This is the companion notebook to the Farm, Food, and Nature Anatomy Books.
Spiral Bound Nature Notebook – This is a general nature notebook that we have used and love. Two things I love are the hard front and back covers and that it is spiral bound making it easy to fold flat to work in!
Now there are Nature Notebooks just for this Julia Rothman Series!
This series is perfect for the creative student who gets bored with science textbooks and would prefer to draw, label, and answer open-ended questions rather than take tests and write papers.
There is no prep-work involved – you simply grab your copy of the book and your notebooking journal and work at your own pace.
Other Nature Study Resources
Homeschooling for 13 years now, Heidi has graduated one and is currently homeschooling middle and high school. At Starts At Eight you can find her writing and offering resources for middle school, high school, and many unit studies to span the ages.