Nature studies. Outside time. Looking. Investigating. These are the things we love! I ran across something called Exploring Nature with Children and was really curious about it – it looked like something we would really enjoy – and I was right!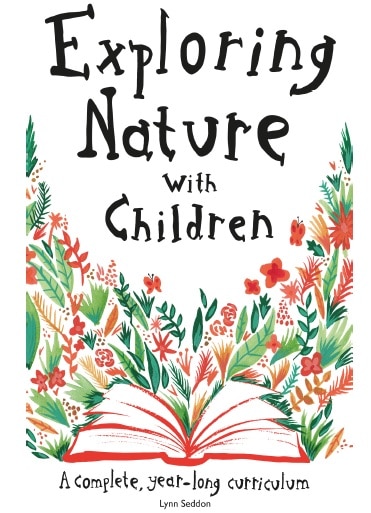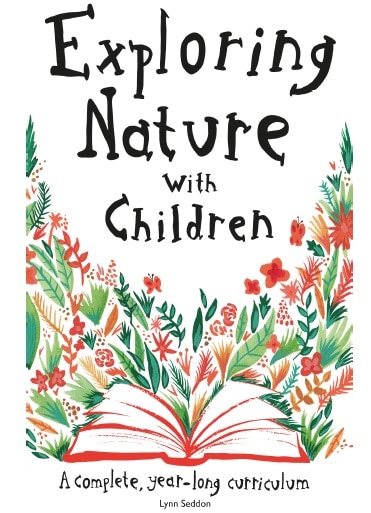 Exploring Nature with Children, a Charlotte Mason Method
This Charlotte Mason type study consists of a 240 page pdf file by Lynn Seddon of Raising Little Shoots providing pages and pages of amazing fun and hands-on learning! This study incorporates MANY different things: nature walks, books to read, poems to recite and art to review. Everything you need is easily at your fingertips!
First, it is laid out in a way I haven't seen before but that I truly appreciated! It is done BY SEASON, then by MONTH and finally by WEEK! SO easy! (I really like easy…) There is a list of supplies needed at the beginning of each season (of which most are items you will already have at home):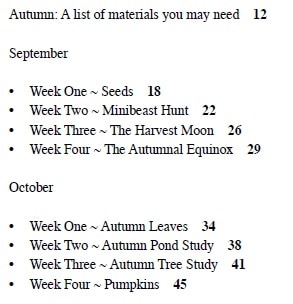 In case you are wondering, for months with five weeks, she even gives suggestions of how to handle that! Lynn really thought of everything!
Each week study contains:
Nature walk activity
Handbook of Nature Study reference (this book is NOT a requirement – we do not have it and didn't use it)
A book list (fiction, non-fiction and biography with name, author and ISBN provided!!)
A poem to study
A piece of artwork to enjoy
Extension activities
A nature study journal is recommended for BOTH student(s) and parent(s)! We did not choose to do this because my son doesn't really like to draw or write so we just enjoyed doing the things within the curriculum without messing with this part – and it worked just fine for us!
Here are some samples of what the curriculum looks like: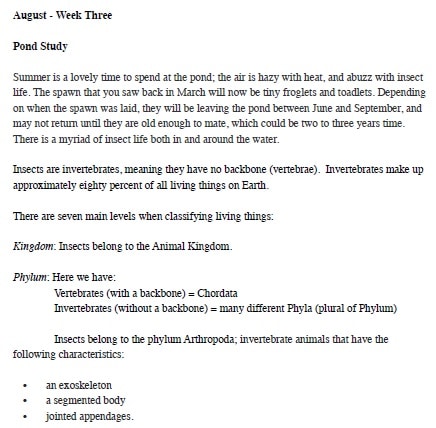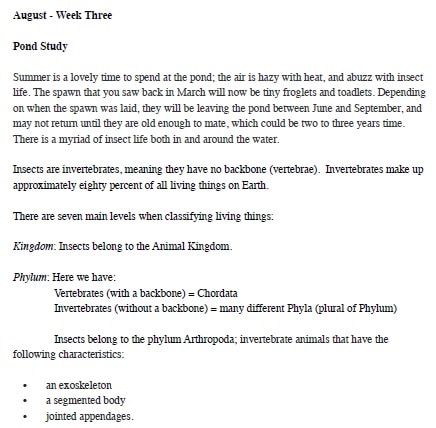 I really appreciated all the information provided about the study that was going to be done. (Shown above, there was more, I just wanted to show a snippet.)
I also really appreciated all the information provided on the book lists. As I'm searching the library listings it really makes it easy to know when I have the correct book.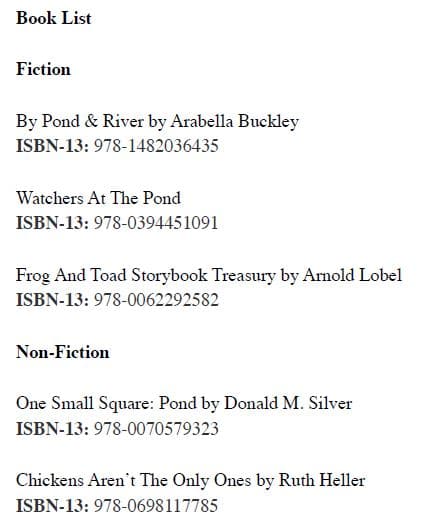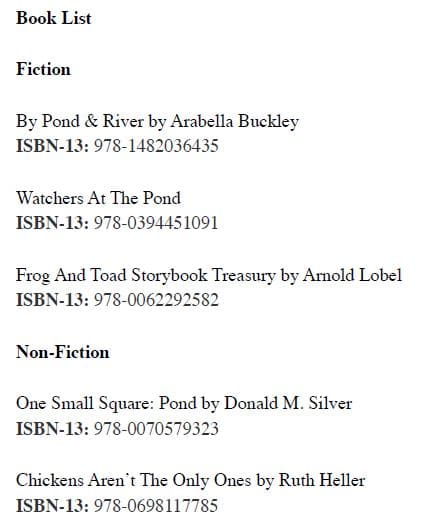 The poems are listed in their completion so there isn't anything to look up!
The suggested artwork – we simply looked up online using the information provided. (You could easily turn this in to a much larger study, we just chose to keep it simple.)
This curriculum is very easily adaptable — we also changed where a pond or lake was wanted, to a river — sometimes thinking out of the box is necessary for your learning — so know that this curriculum will work very well with the changes. This is an important curriculum quality, in my opinion!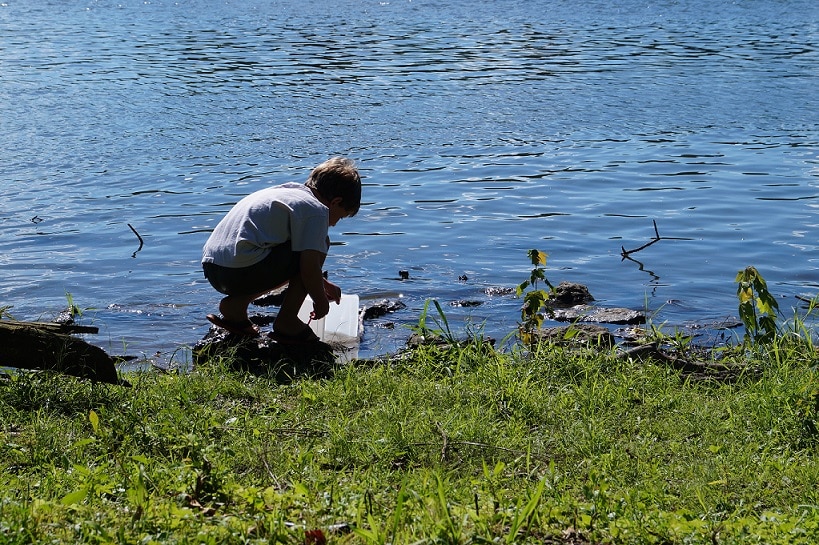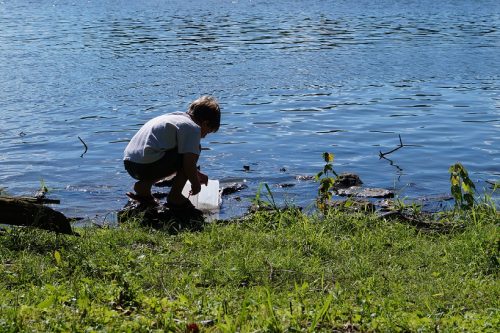 Above: Looking for specimens in the river.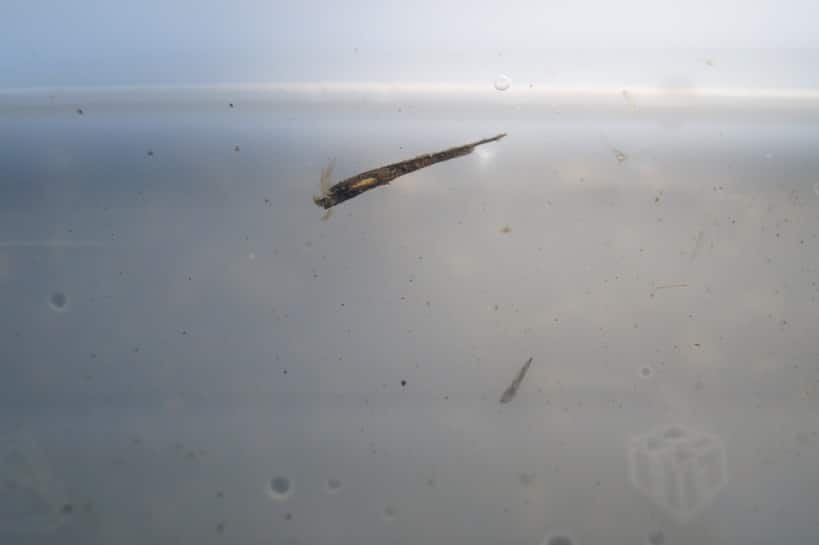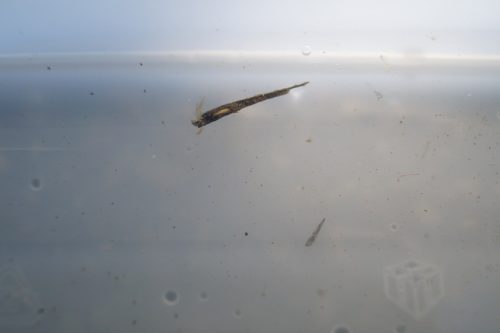 It is suggested to take a magnifying glass to look at the water to see things. WOW – I never realized all the stuff that is in the water! LOTS of dead skins of things (ewww) but we also caught this "cute" guy above.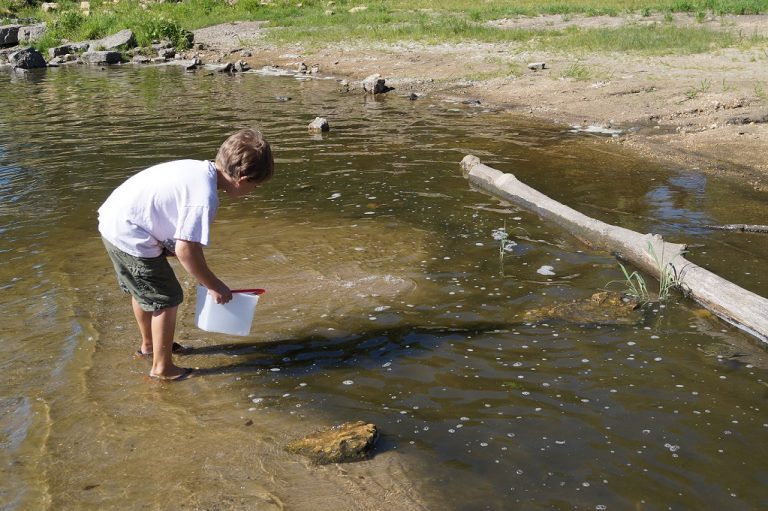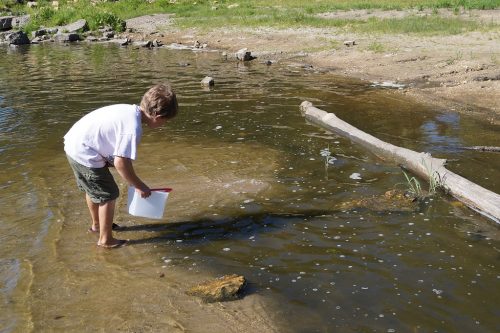 We then went down below the spillway to search some more … imagine the excitement when we found this little guy!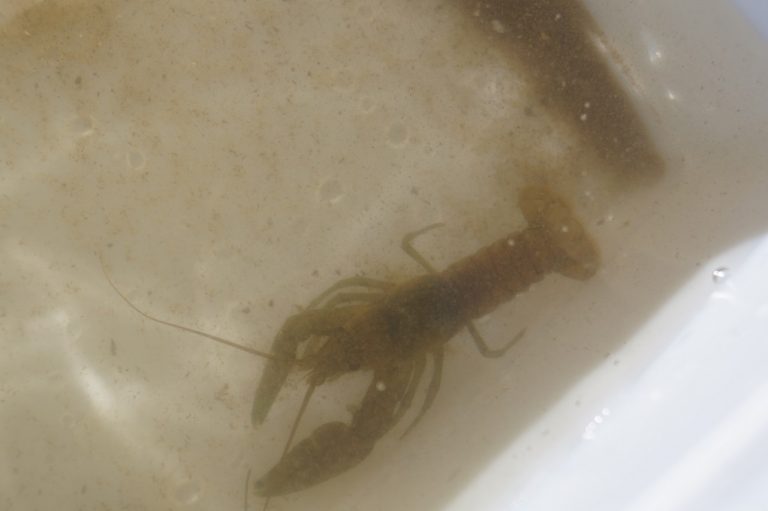 So, if you are looking for a fun way to get outside with your kids that covers many different areas of studies, I would enthusiastically recommend this study for your family! Which is another thing – even though I used it with just my son, this is EASILY ADAPTABLE for many ages!
You might also like:
Here's praying you have fun learning!
-first published November 2016
Save