As children move into high school level coursework they are often required to use critical thinking skills to make objective observations and clearly share their opinions with others. Being able to gather their ideas and express them verbally may not be too difficult for most teens, but some find it to be quite a challenge when asked to put those thoughts on paper!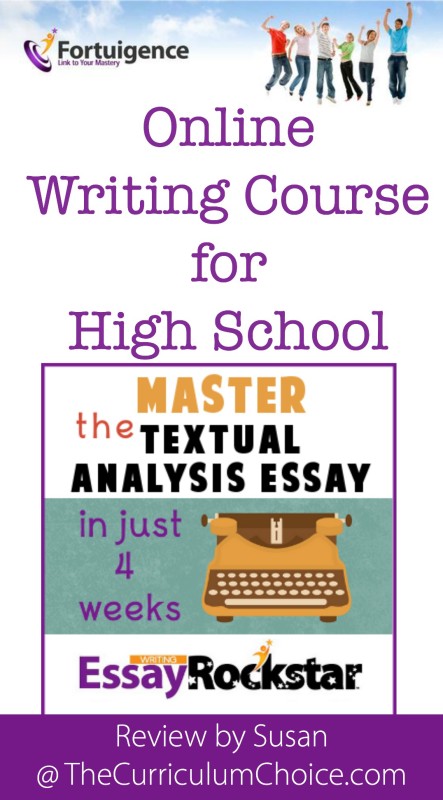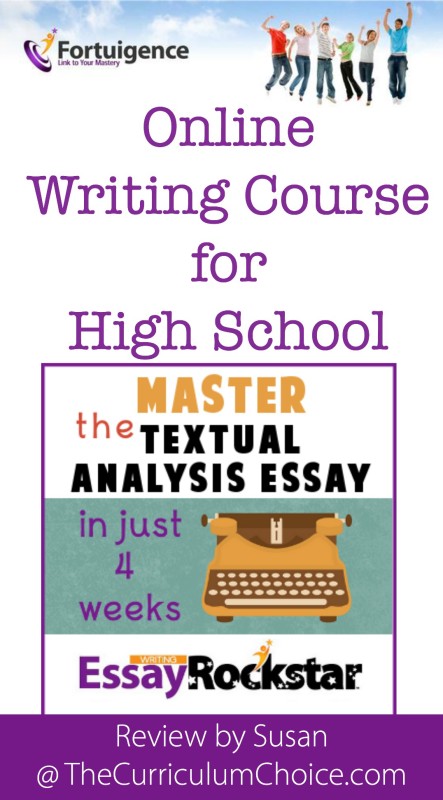 The post contains affiliate links.
Over the past year, my high school-age children have been working hard to fine-tune their critical thinking, speech, and writing skills. Earlier in the school year, they successfully completed Essay Rockstar: The Expository Essay online writing course by Writing Rockstars, formerly Fortuigence (see my review here at The Curriculum Choice). The next Essay Rockstar writing course on their agenda was The Textual Analysis Essay.
Essay Rockstar: The Textual Analysis
A textual analysis essay is a written review of someone else's work. In a textual analysis, you're required to analyze another author's work and determine two things: 1) the purpose of that author's work and 2) if that author achieved that purpose.
Assignments requiring students to write a textual analysis essay would include writing a book review, movie review, product review, etc.
In the textual analysis short course students are taught to practice their critical thinking skills and share their thoughts in an organized, multi-paragraph written format. The course encourages students to construct well thought out and well-supported arguments.
As with all Essay Rockstar courses, students learn and practice a 5-step writing process that can be applied to any future writing projects.
The course includes 7 self-paced lessons:
Course Introduction, Rubrics, and Pre-Assessment – Students will find an introduction to the course, submit a writing sample, and view samples of textual analysis essays.
Purpose and Description, Brainstorming – Learn the importance of mastering this type of essay and find tools to help brainstorm topic ideas.
Organizing Ideas – Choose an approach to organizing your essay – either thematically or part-by-part.
Free Writing – Begin the first draft of your essay.
Revision – Make structural revisions to your essay.
Editing – The instructor guides you through the final steps of editing your essay.
Wrap Up – Review what you have learned and add a certificate of completion to your official school records.
Why We Recommend Essay Rockstar
My children, although not usually fond of writing, have actually enjoyed this course by Writing Rockstars tremendously! Here are some of the reasons why:
5 – Step Writing Process
Even though my kids do not naturally enjoy writing, the format and feedback of the Writing Rockstars courses provided my students with the skills and confidence they need to complete their high school writing assignments.
The Essay Rockstar writing process includes 5 steps students can use regardless of the writing style. When starting a new writing assignment students are encouraged to spend a lot of time brainstorming and organizing their ideas. The details of correcting grammar, mechanics, sentence structure, etc. are saved for the final step in the process.
Flexible Schedule
My students enjoy the independent nature and flexible schedule the course offers. As they move into high school level work we are looking for opportunities to build independent study skills and this course fits that need perfectly.
Students read or watch a video of each lesson, complete the assignment, and then send their work to the instructor for feedback. If edits or further work is necessary their instructor will send a personal email to the student, explaining what is expected to complete the lesson. The work must be re-submitted before the student can move on to the next lesson.
The pace of completing the course is up to the student and parent to determine. Each Essay Rockstar course could probably be completed in about 3-4 weeks. We have been comfortable with a schedule of 1 lesson per week, therefore, it takes about 2 months to complete each short course.
Additional FREE Resources
Fortuigence is an online school that trains students to be self-sufficient, independent thinkers and decision-makers by arming them with the skill to go out into the world and find success.
Lily Iatridis, the founder of Fortuigence, offers several FREE resources for students and parents to help build strong writing skills. Two of our favorite resources include:
Don't Be an Idea Thief – This FREE eBook explains how to identify and avoid plagiarism.
End Blank Page Terror Forever – This eBook is filled with 24 pre-writing tools.
Where can you find Essay Rockstar?
The Fortuigence writing courses are perfect for students in grades 7-12.
The Essay Rockstar program includes 4 writing short courses:
The Expository Essay
The Textual Analysis Essay
The Persuasive Essay
The Personal Statement
Courses can be purchased separately or together at the Writing Rockstars website.