Writing essays has never been my children's favorite school activity. They love to talk and share ideas, but trying to get those ideas down on paper has been a bit of a challenge.
Since we are wrapping up our middle school studies and looking forward to high school level work I knew it was important to help my children address their writing concerns head-on and fine-tune their skills. We decided to get a little outside coaching to assist with this effort and we found exactly what we needed through the Writing Rockstars, formerly Fortuigence, Essay Rock Star Courses.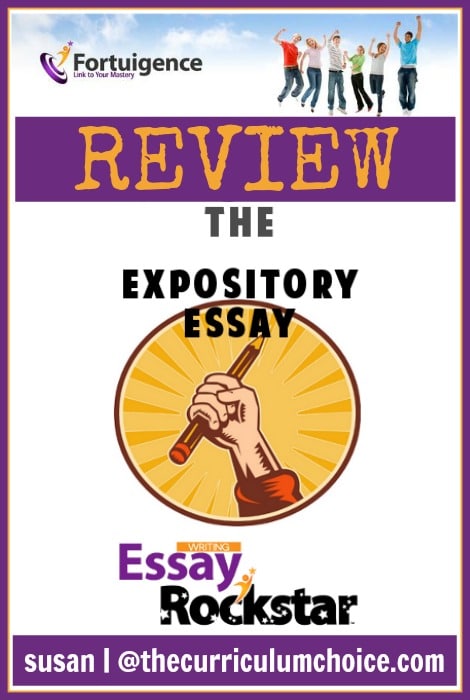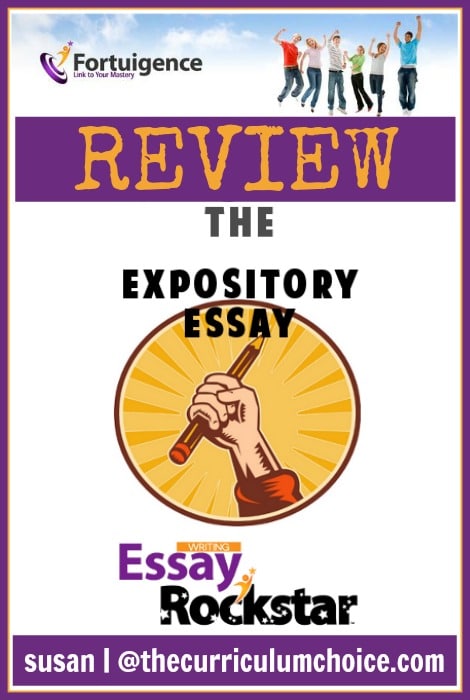 This post contains affiliate links.
Writing Rockstars
Writing Rockstars is an online program to teach writing to middle and high school students. Students work through the course lessons and submit their work to a teacher for feedback.
The founder of Writing Rockstars is Lily Iatridis, a certified teacher who has spent more than a dozen years teaching writing to students in the United States and Japan.
Lily understands the writing skills students need to be successful in college and beyond and in 2010 decided to offer her teaching and coaching services to homeschool students through online courses.
I have to say that one of my favorite parts of this program is Lily's personal involvement with her students. Before we began using the program I emailed her and shared my son's writing challenges due to his dysgraphia. Lily understood our concerns and offered suggestions for helping him work through the material at a pace that was most effective for him.
Essay Rock Star: The Expository Essay
This is a short course (it can usually be completed in about 4 weeks) to teach students how to write an expository essay in 5 steps. This is the most common type of essay students will be assigned in high school, college, and the workplace. The purpose of an expository essay is to explain or inform an audience about a specific subject.
The course includes 7 lessons:
Introduction and pre-assessment – Students submit a writing sample so the instructor is familiar with the student's skills before the course begins.
Brainstorming – Several resources are offered to help students begin the brainstorming and mind mapping process.
Organizing ideas – Students learn the difference between main ideas and supporting details and create an outline.
Free Writing – This is where students get their ideas on paper without focusing on grammar, spelling, or mechanics.
Revision – During this step, students build solid paragraphs and smooth transitions between paragraphs.
Editing – This is the longest and most detailed step in the writing process. Students learn to make corrections focusing on sentence structure, vocabulary, word choice, and more.
Wrap Up – This lesson reviews everything learned in the course and provides a certificate of completion for the student's transcript.
Each lesson includes:
Information about an aspect of the writing process delivered via text and video
Samples of other students' work to demonstrate the step in the writing process
Additional resources for support
An assignment to be submitted to the instructor for feedback
Reason We Enjoy Essay Rock Star
Resources – One of the reasons my son dislikes the writing process so much is because he hates looking at a blank piece of paper! He says he either has too many ideas and feels overwhelmed, or he can't think of anything to write about. On the Fortuigence website, Lily has a helpful ebook: "End Blank Page Terror Forever!" filled with 24 pre-writing tools. This, along with online brainstorming tools recommended in Lesson 2, gave my son all of the structure he needed to comfortably come up with writing ideas.
Independent learning – The course is written directly to the students. We have been encouraging our middle school students to become more independent learners and this course succeeds in meeting that goal! The information is clear and students are encouraged to ask questions of the instructor when they need help or clarification.
Instructor Feedback – Once my children submit an assignment they wait about an hour and then begin checking their email to see if they have a return email from Lily. They really enjoy receiving help and feedback on their school work from someone other than mom for a change. There are no "canned" responses here (we have received that kind of "feedback" from other online programs), the feedback is always personal and constructive, providing direction to help the student move forward.
Course Details
The writing courses are perfect for students in grades 7-12.
Writing Rockstars has 4 writing short courses:
The Expository Essay
The Textual Analysis Essay
The Persuasive Essay
The Personal Statement
Courses can be purchased separately or all 4 can be purchased together (this offers a discount over purchasing the courses separately).
My kids improved their writing skills in 3 months, and yours can too!
Where can you find Essay Rock Star? Directly from the Writing Rockstars site.