Did you know that Dover Publications has joined together with Education.com to offer a brand new set of elementary workbooks for K-5th?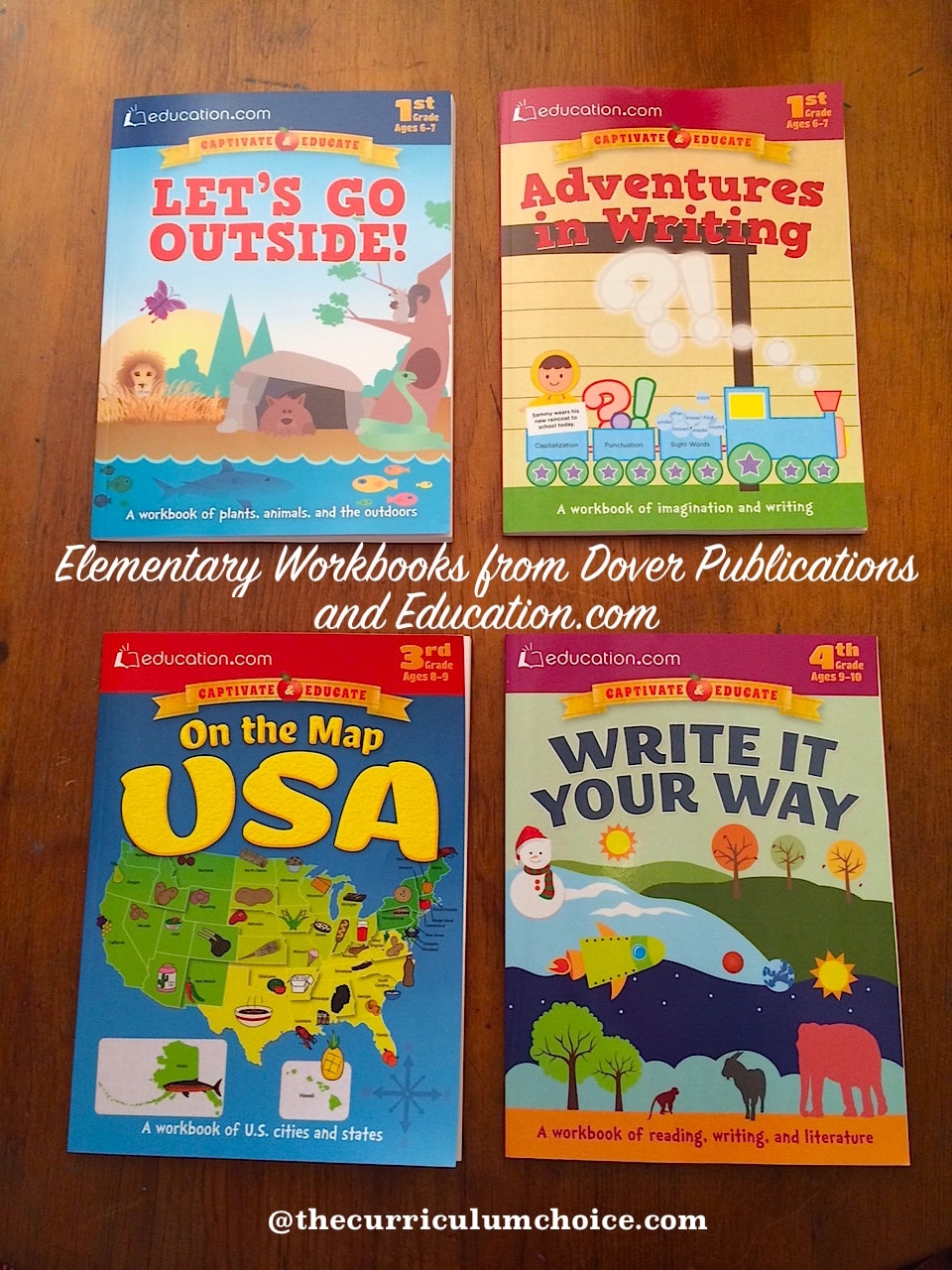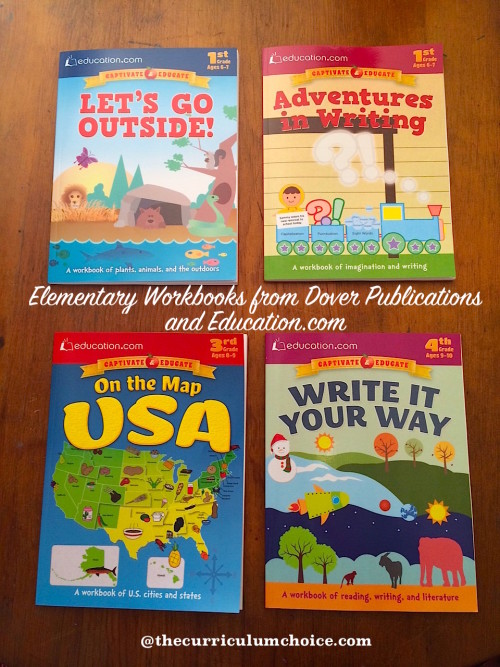 ~Don't miss the discount code plus the giveaway at the end!! We received these Dover Publications resources in exchange for an honest review. All opinions are our own and we love the benefits and blessings we are continuing to see! Please see our disclosure policy.


These would be a fantastic way to mix up the regular homeschool day! Ok. First of all I have never considered us to be a workbook type of homeschool. But these workbooks have truly impressed us all! Plus, these workbooks arrived at the perfect time – summer! We are a bit more unstructured and learning can just 'happen' when you open one of these fun workbooks. I can also see each of them being a wonderful complement regular studies.
Elementary Workbooks for Homeschool
We have enjoyed the following books from Dover Publications and Education.com with our elementary students. A lovely mix of nature study, writing and geography! We also like that each workbook appeals to both boys and girls with their topics.
"It has a train on the cover!" said my seven-year-old son.
Let's Go Outside!  for 1st grade (ages 6-7)
Adventures in Writing for 1st grade (ages 6-7)
On the Map USA for 3rd grade (ages 8-9)
Write it Your Way for 4th grade (ages 9-10)
For Lower Elementary
More About Let's Go Outside – Answers all these questions – How do plants use chlorophyll? What is the water cycle? Where is Yellowstone National Park? and more: clouds, germination, simple science experiments, journals, matching games.
Contents include: All About Animals, Explore the Outdoors, Plant Parts, Weather Watchers and an Answers section.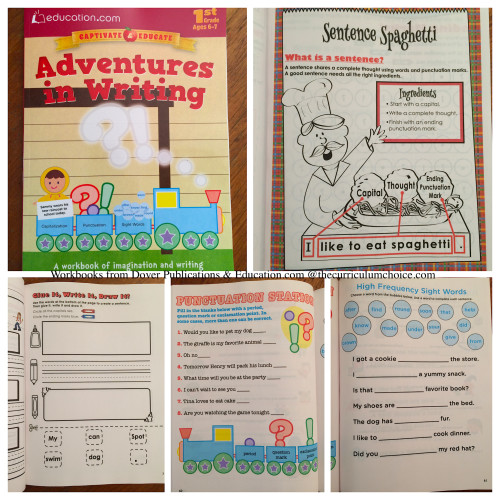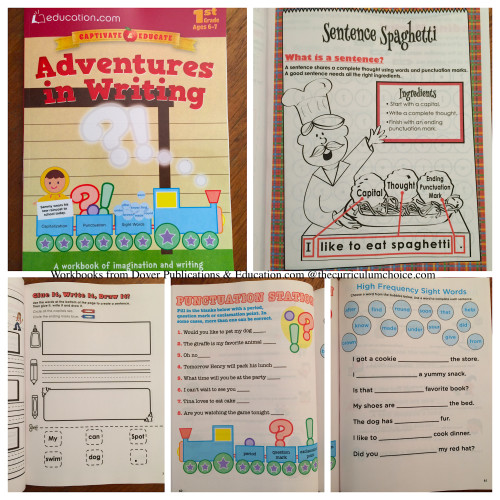 More About Adventures in Writing – shows young writers how to succeed with the parts that go into good writing. The activities teach capitalization, punctuation, building sentences and includes fill-in-the-blanks, matching games, story telling and paper crafts (easy and fun!)
Contents include: rules for writing, writing skills, sentences (start to finish), Good Knight, Time to Write: Dinosaurs and Pirates.
For Upper Elementary
More About On the Map USA – a workbook of U.S. cities and states. Buckle up and take an exciting trip across the United States to learn the basics of geography. Promotes: U.S. geography and history, reading for information, spelling and grammar, narrative writing, memorization. Discover national landmarks and learn fun facts. Includes trivia, trading cards and latitude and longitude games.
Contents: Reading for Information – U.S. Cities, Reading for Information – U.S. Cities #2, Learn the 50 States, U.S. Capitals and Answers.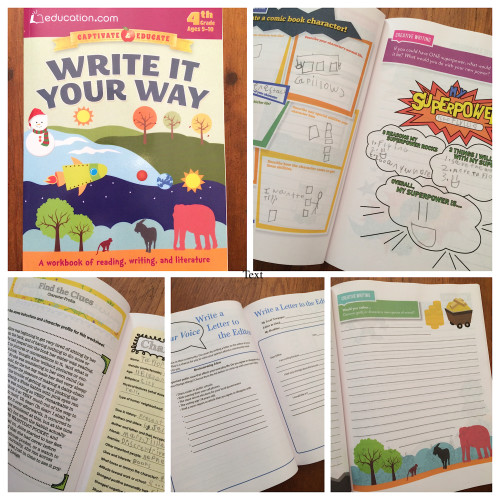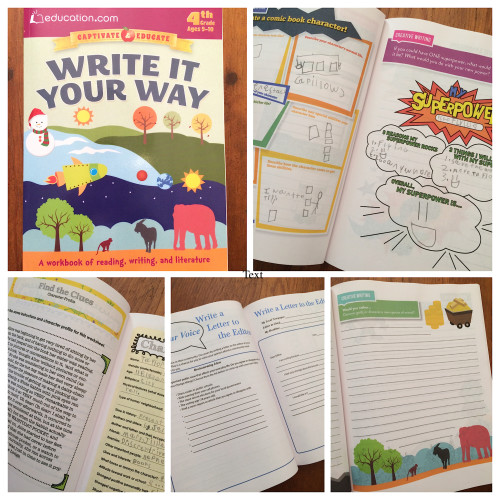 More About Write it Your Way – "Oh, Mama! You get to add the words in the fill in the blanks for stories!" ~ nine-year-old. A workbook of reading, writing and literature that promotes: composition, creative writing, literary analysis, narrative writing, opinion writing.
The workbook includes:
writing organizers
prompts which focus on brainstorming
textual details
how to build and support opinions
Children learn how to create characters, support statements, make haikus and more. Contents: Reading Like a Writer, Writing Like a Reader, Journal Prompts for Kids, Opinion Writing, Heroes and Villians: Story Telling plus Answers.

Having our workbooks within sight is always a big help! This magazine rack is above our family room couch and so the workbooks are easy to grab and go.
How We Use These Workbooks in Our Homeschool
As I mentioned above, we are currently using these workbooks for summer practice. When the, "I'm bored!" strikes, we pull them out. These workbooks offer a fresh approach to our usual way of learning. And mixing things up in homeschool now and then is always a good thing.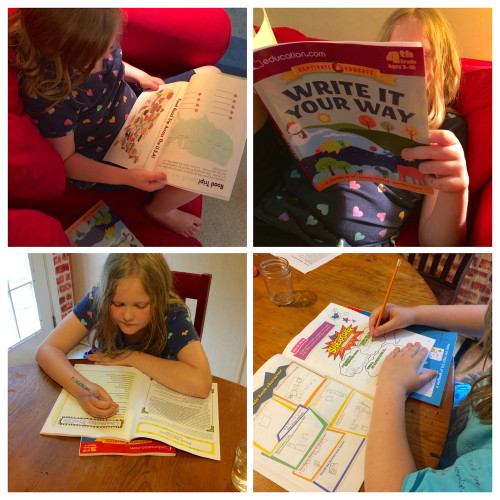 The writing practice offers fun ideas and prompts that have our younger children practicing – and actually not even realizing that it is language arts learning.
A question from an Instagram friend when I first shared about these workbooks: "Is it common core based?" Answer: "Education.com workbooks offer thematic content to actively engage children and provide them with fun-filled, memorable learning experiences. Written by teachers and based on subjects educators consider important, these workbooks have been tested by millions of educators and countless hours of classroom use." No where in any of the workbooks or on the pages explaining the materials, do it say that any of the materials are common core based.
Bonus! perforated pages for easy removal plus a certificate of completion at the end of each section.
Where can you find these Workbooks for Elementary Students? Special Discount!
Find each of the titles at the Dover Publications website. Plus for a limited time, you can get 25% off your order. Just use code WHBA through 9/01/15. There are just SO many resources for your homeschool. Be sure to visit Dover Publications and browse their teacher resources section.
Now for the giveaway!
Dover Publications
is offering the winner's choice of resources to one Curriculum Choice reader. The set includes four (4) workbooks.
Simply follow the instructions in the rafflecopter widget below…
a Rafflecopter giveaway