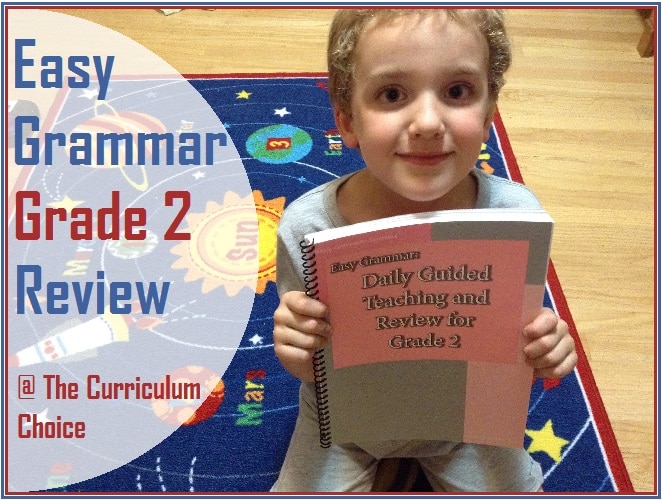 I was given this product to review.  No other compensation was awarded.  All opinions are my own!
Last year I wrote a review of Primary Language Lessons.  I love its gentle, Charlotte Mason type approach to language arts, but the one thing that it doesn't have is lots of practice for the different topics that are introduced.  Most of the time when I want something a little different than what I have, I create my own.  Sure, I could write lots of practice sentences, and in fact I was copying sentences from his McGuffey Reader for him to edit, but sometimes the effort is just more that I'm willing to make.  Then I stumbled upon another blogger talking about Easy Grammar.  I looked at the website and realized that it was exactly what I needed!
I was not looking to change the curriculum I was using, and I surely wasn't looking to add a whole new curriculum to what we were already doing just for the sake of reinforcement, and that is why Easy Grammar (Grade 2) was the perfect fit.  Really, it is just a book filled with 180 pages of practice (plus answers and teacher tips)!  It takes no more than 10 minutes per day, and is a perfect supplement to Primary Language Lessons (or any other language arts program that could use some extra practice).
Before I go any further, let me point out that Easy Grammar has full curricula for grades 3 and up.  The grade two book is more like a great intro.  I believe that it is similar to the Daily Grams of the older grade's curriculum.  So just remember that if you are reading this and have older children.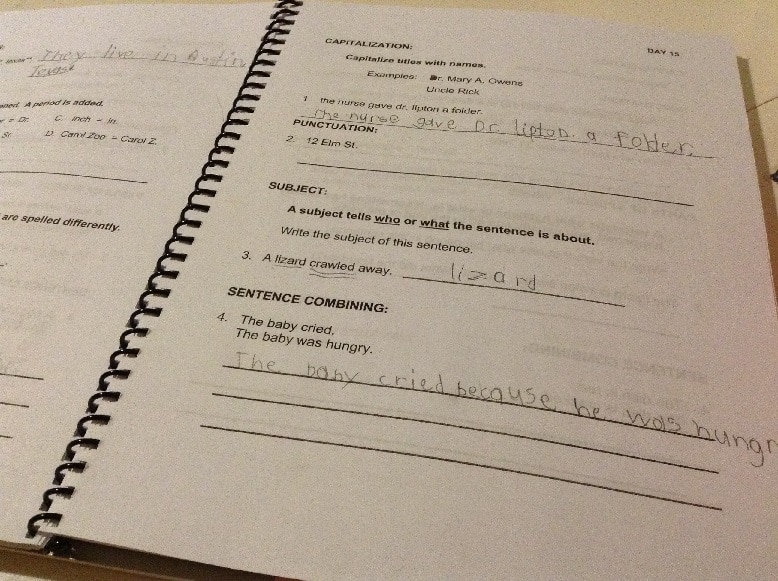 Above you can see an example of what a page looks like.  Each page follows the same format.  My son has been learning and getting lots of practice at capitalization, punctuation, parts of speech, and writing sentences.  It is so simple that it does not feel like drudgery for him, but by doing just a few minutes each day he is really gaining a great understanding of all the information.  Some days the page will teach a new concept and other days it will simply review something that was taught previously.
Nothing in the book is groundbreaking, but it is covers absolutely everything and that is why I love it.  Sure, I talk to my son about capitalization, but have I thought to tell him about every kind of thing you capitalize (names of schools, holidays, etc.)?  No.  I love it because it's all there and it is given in such a simple format that the information is learned so easily and gently.
The last part of each page is called sentence combining.  I didn't know what to think about this part at first, but I am really enjoying it.  The first few lessons had very simple sentences to combine, for example "John had a ball.  John had a bat."  As the lessons go on, the sentences get more complex.  They have really gotten my son to think about what a good sentence looks like.
All in all, I would highly recommend checking out Easy Grammar.  It has taken a load off of my plate, and provided just the right kind and amount of practice in an area that needed it.  I am very happy to have found this book and will gladly continue using this for the coming school year!
Learn more about Easy Grammar – Grade 2 and see sample pages.
Written by Amy Maze from Living and Learning at Home