As homeschoolers, we have much more freedom in designing and choosing our studies and the routes of learning we take. Things are always changing in our homeschool based on the needs and learning habits of each of our children. This year, we started a new journey in our homeschool by exploring Dual Credit at Home. I have been intrigued by all I have seen these fellow homeschoolers share on social media and in their email newsletter.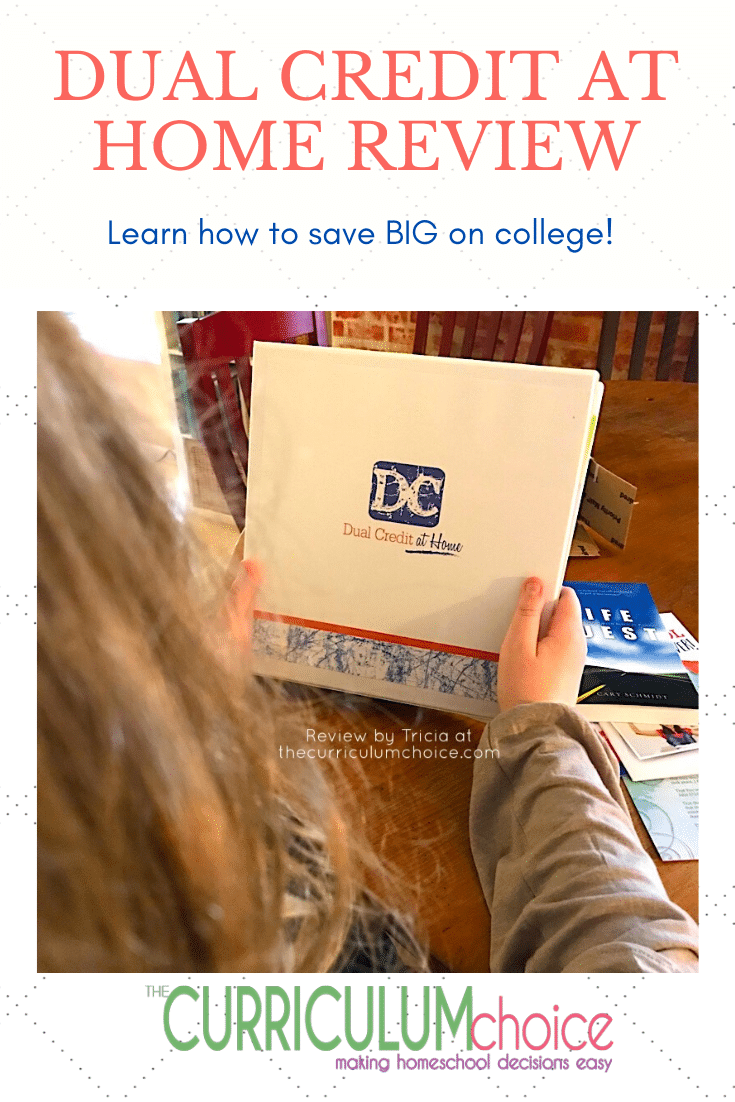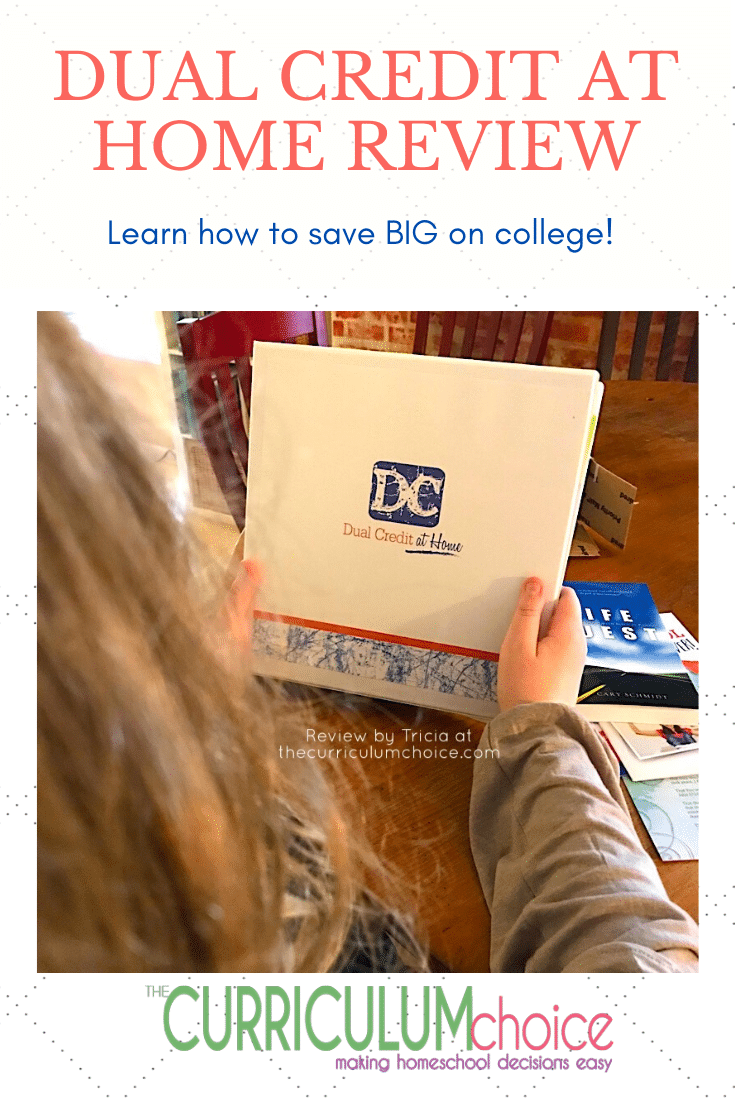 See, in our homeschool we like to make our own schedule, tailor resources to learning styles and go at our own pace. With the Dual Credit at Home intro course we have taken and all we have learned so far, we are loving this new addition. We started delving into this wonderful notebook of resources at the start of the semester.
~ Don't miss the discount code at the end! We received these Dual Credit at Home resources in exchange for sharing an overview. All opinions are our own and we love this resource for our high schoolers. Please see our disclosure policy. The affiliate links included are for resources we absolutely love. If you purchase through our affiliate link, we will receive a small portion of the sale with no extra cost to you. Thank you for supporting The Curriculum Choice! ~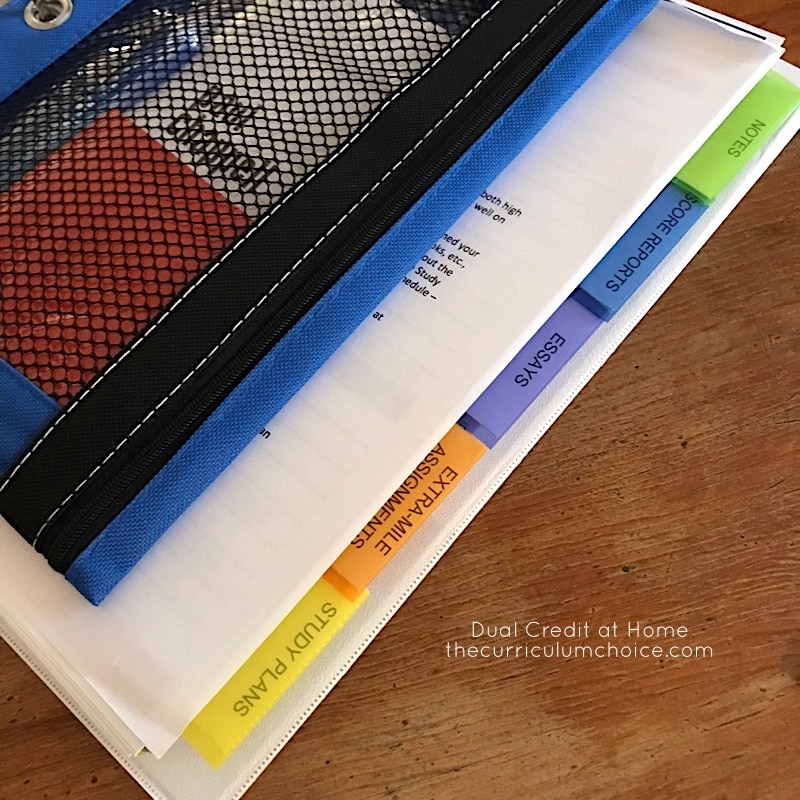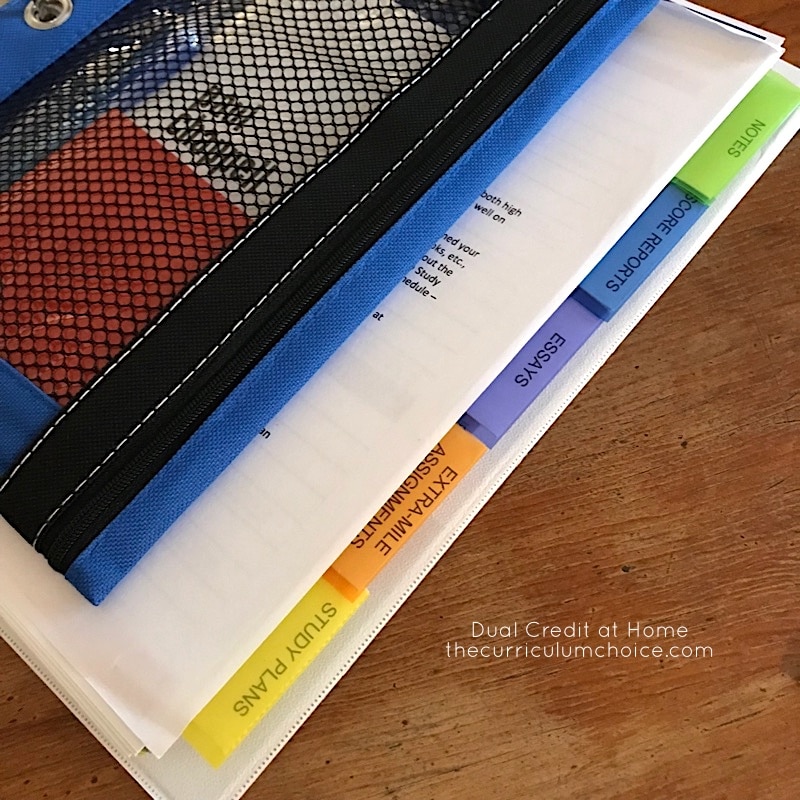 (Notebooks with tabs and stacks of books speak well to my middle schooler. Did you know you can start this program at age 13?)
What is Dual Credit at Home?
With the Dual Credit at Home Study Plans package, your child can earn both high school and college credits at the same time. Your student:
Receives a suggested study plan
Studies a subject  + earns high school credit
Takes an exam to earn college credit in that same subject
"Our Study Plans will guide your student through 13 college-level exams to satisfy both high school and college core requirements. These exams give students the opportunity to earn up to 51 college credits!" – Dual Credit at Home

Talk about freedom! Not only is there financial savings but time savings as well.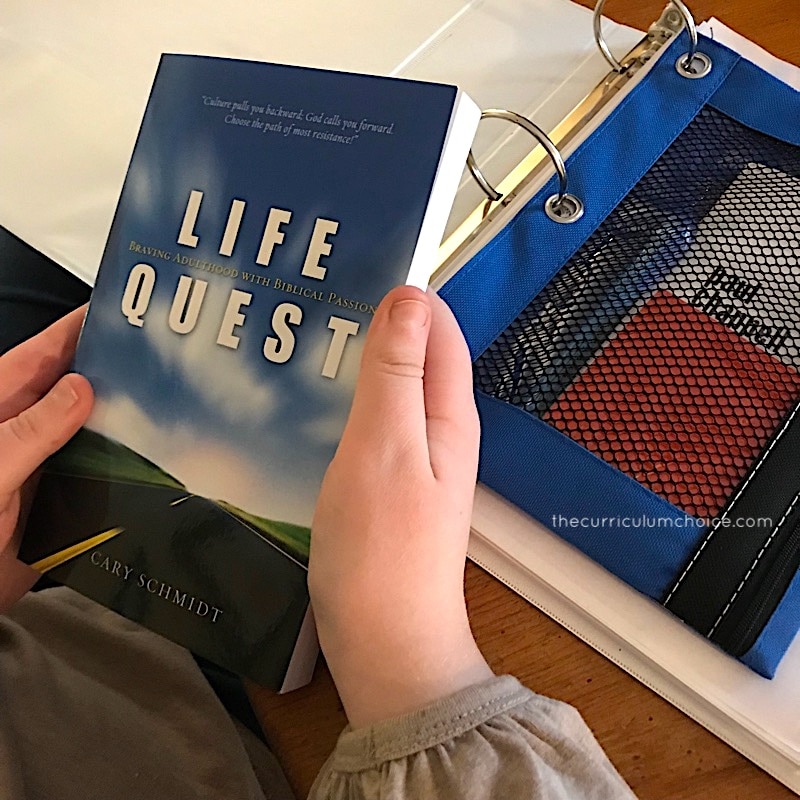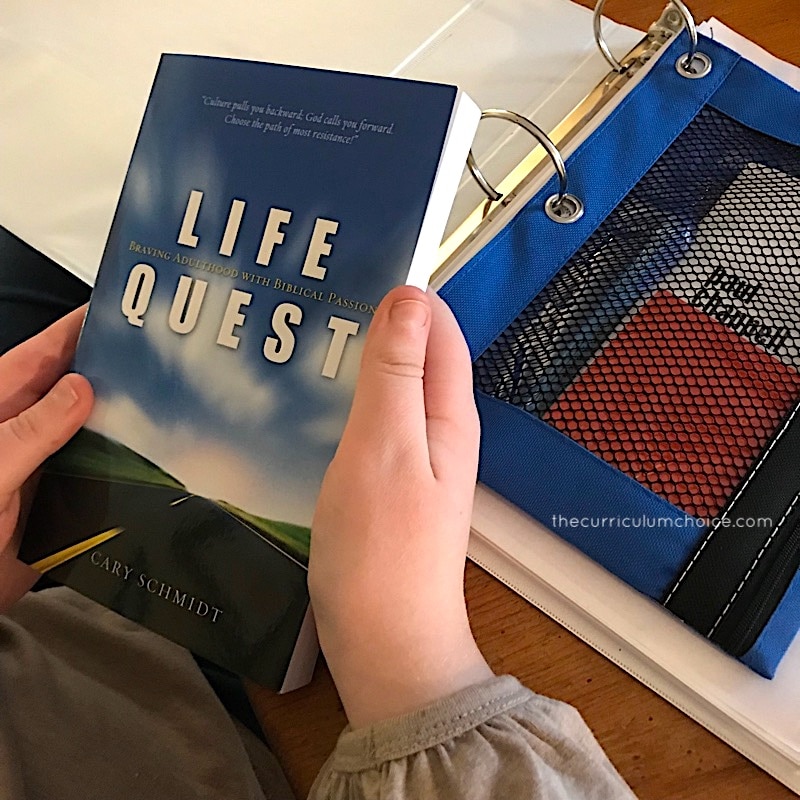 What We Love about Dual Credit at Home Study Plans
This program was designed by a fellow homeschool family with a proven record of dual credit success – at home.
We look forward to the weekly emails! Study plans delivered to your inbox. Helpful tips for homeschooling high school. Simple encouragement.
Dual Credit at Home is ready to answer any questions. Responsive through email, chat box on their website and a private Facebook group for those on the Dual Credit at Home journey.
That notebook! (Did I say that?)
You can design the journey specifically for each of your students. Take the exams on your schedule.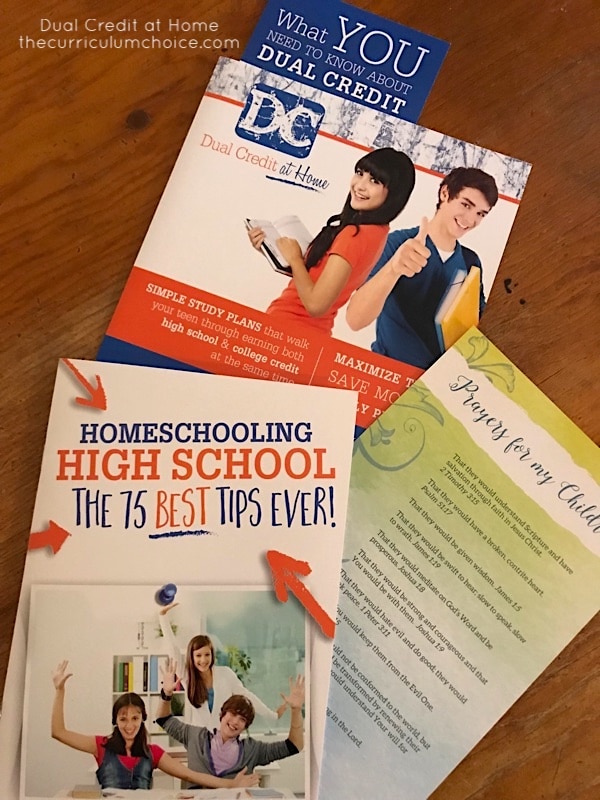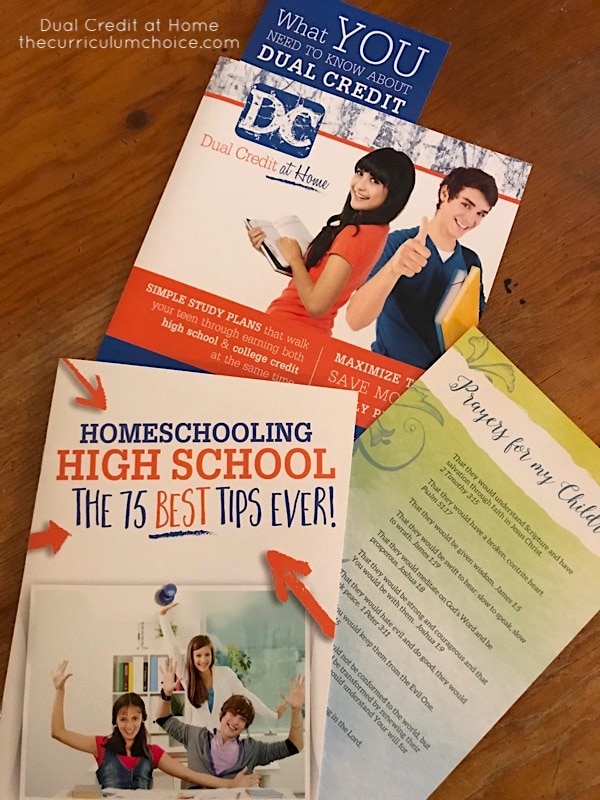 Take a look at ALL that is included in the Dual Credit at Home Study Plans package:
Study Plans for 13 CLEP & DSST Exams
U.S. History I and II CLEP
Analyzing & Interpreting Literature CLEP
American Government CLEP
Social Sciences & History CLEP
Humanities CLEP
College Composition CLEP
College Mathematics CLEP
Natural Sciences CLEP
Human/Cultural Geography DSST
Introduction to World Religions DSST
Public Speaking DSST
Business Ethics & Society DSST
Plus:
49 weeks of study plans
49 weeks of extra mile assignments
Getting Started package (pictured in the photos I've shared)
Facebook group and email support too
The College Degree Road Map Course (included with full package or available separately)
*These plans may also be used with the whole family. So, my other children will benefit as well.
Both my daughter and I have been reading the emails, plans, the wonderful binder full of info, and having 'light bulb moments'. She and I have decided together – at least to start with – to take a slower approach and get our feet wet. In fact, in the How To Adapt Dual Credit at Home for Your Family email, that was suggested. Also, we just happen to be studying American History this year. So the first test in the Dual Credit schedule will match up well. We are homeschoolers – we can choose the pace and step out in confidence when we are ready.
We are still soaking this all in, figuring out our long range plans and getting excited about the future! Just like designing the learning in our homeschool, you can design your journey with Dual Credit at Home to meet the needs of your student.

Sign Up For a Free Webinar
If you want to find out more about Dual Credit at Home, you can head over and sign up for their free webinar to learn and check out all they have to offer. Watch Dual Credit at Home's free online workshop and learn how teens can earn accredited college credit with CLEP & DSST exams. Use code HODGES for $100.00 discount at Dual Credit at Home!
Special $100 Discount Code Just for The Curriculum Choice
Dual Credit at Home has offered a generous discount on any purchase of Dual Credit at Home! Simply use the code, below, at checkout and the discount will be applied.
Use code HODGES for $100.00 discount at Dual Credit at Home!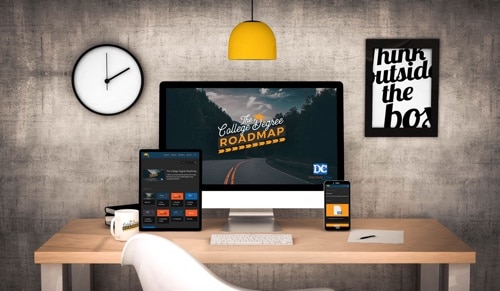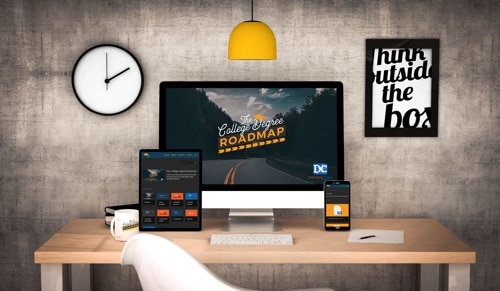 We are so impressed with Dual Credit at Home and the support they offer. I'll continue to share our journey along the way.
How about you – do you take some time to study and wrap your brain around how a resource would best serve your family or do you simply dive right in? Or does it vary according to the subject?
Have you considered Dual Credit at Home?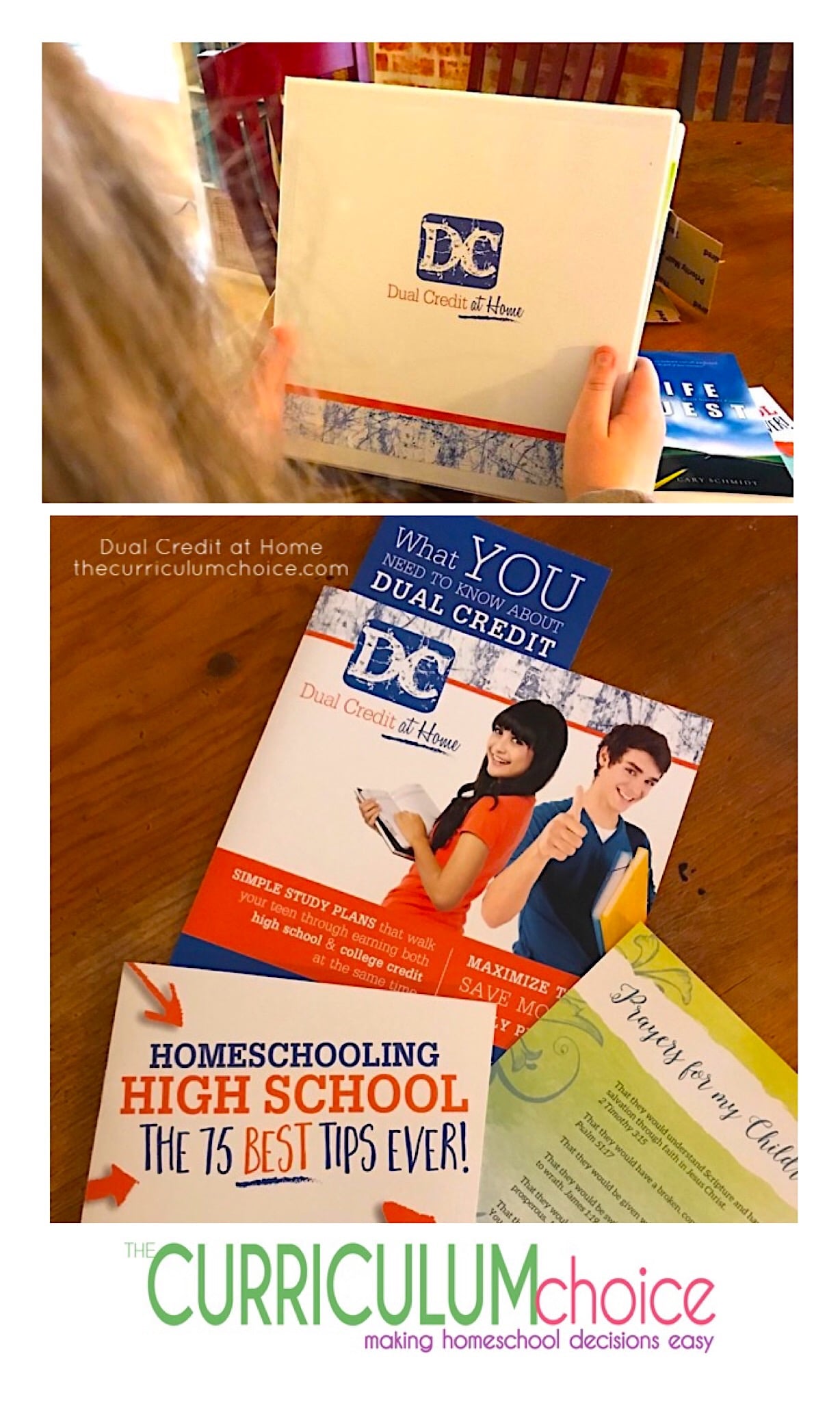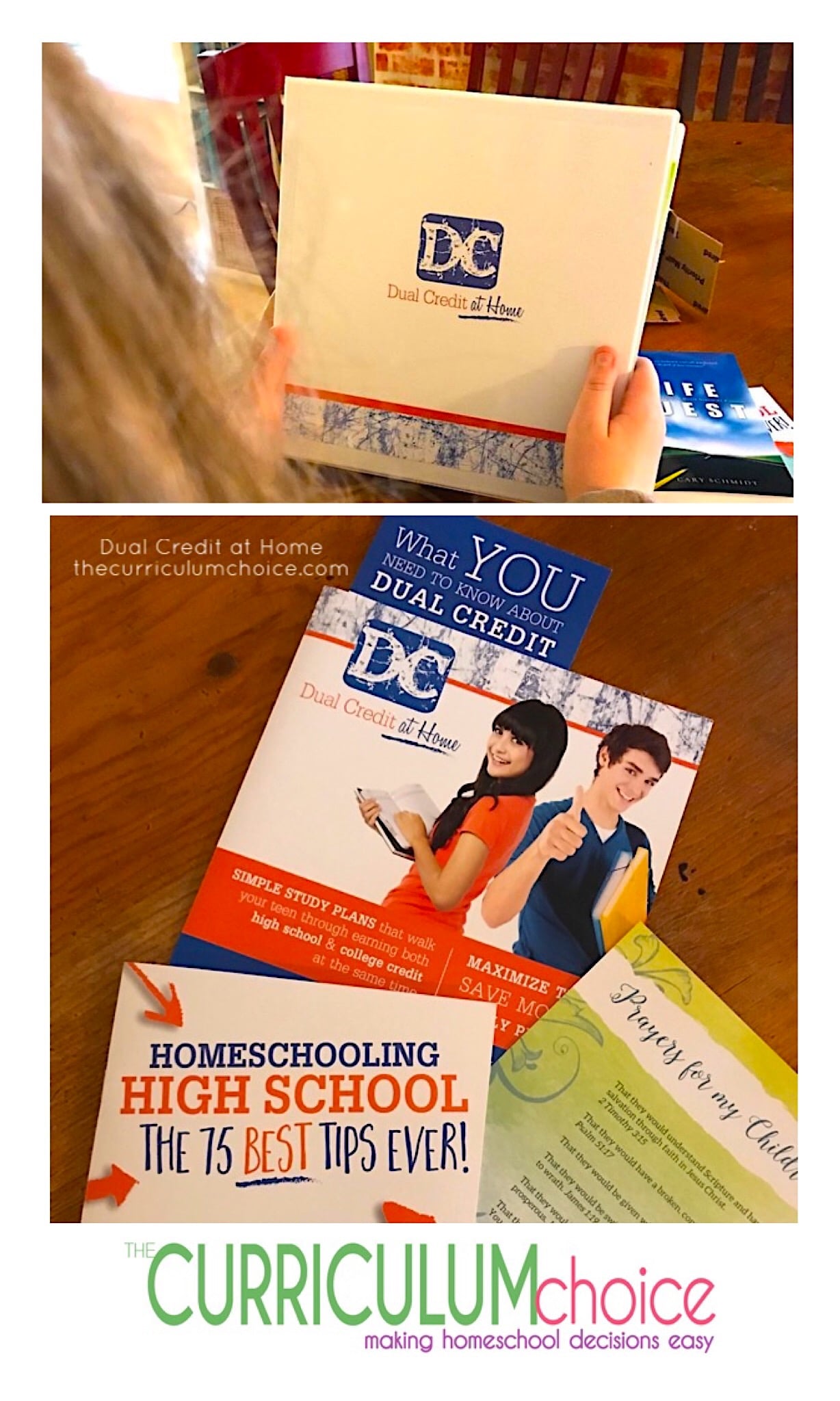 Homeschooling since 2000, Tricia faces a daily dose of chaos with five children. She has seen the fruits of home education with three grads so far! With their You ARE an artist art curriculum she and her family are passionate about growing a love of art. She also shares helpful homeschool habits at Hodgepodge. She and her husband, Steve, are owners of The Curriculum Choice.