We LOVE Discovery Toys! Ever heard of them? They've been around for many, many years and they have a bunch of fun, educational toys for infants to adults. One of our most favorite is Busy Bugs! They make learning so much fun!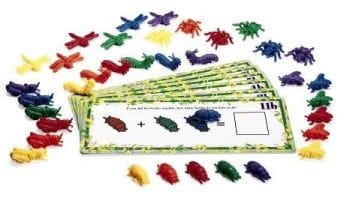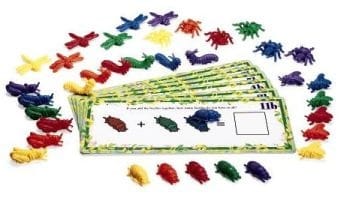 The set consists of 35 bugs and 23 cards. There are several ways you can use it. You can have your little one match colors: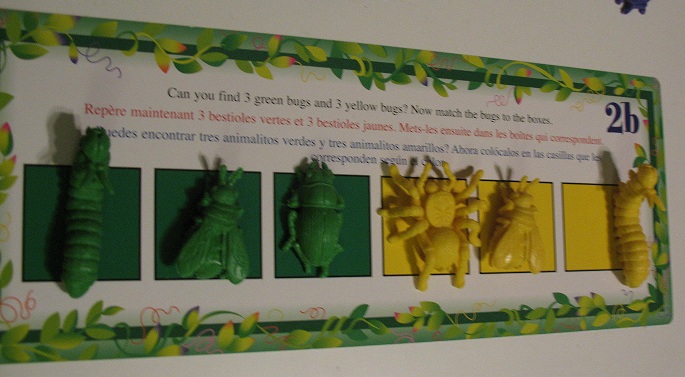 Match color and type of bug: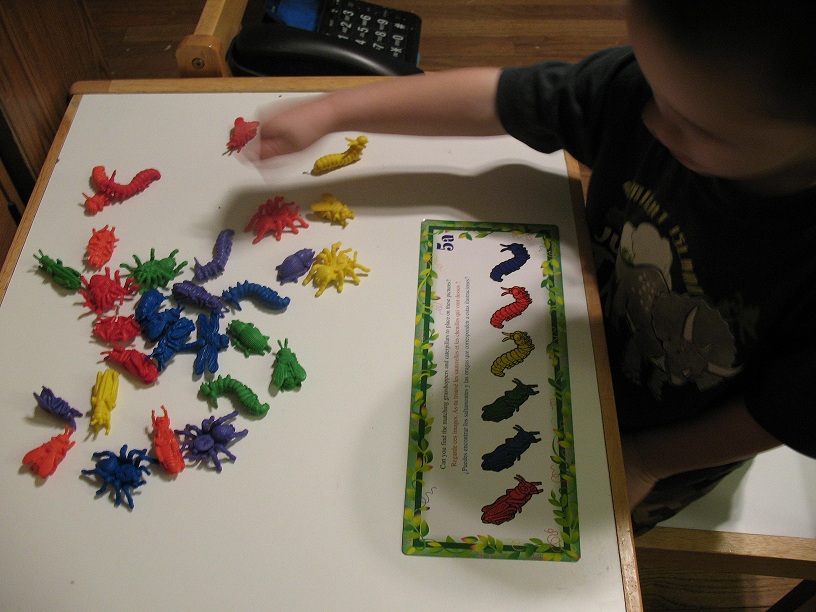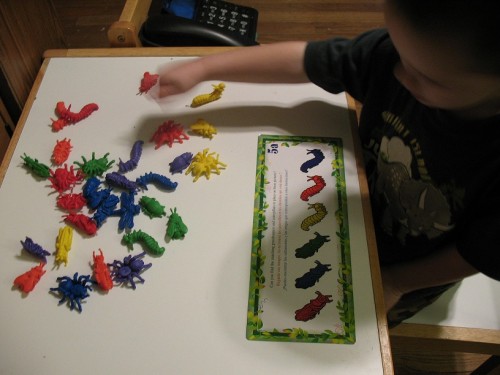 There is also sequencing and practice in addition.
The bugs are made of soft rubber so they are fun to hold and manipulate while the cards are made of durable stock that is laminated – both perfect for little hands and little people!
Since I have a boy (not to say girls can't or won't like it!) bugs are right up his alley! So, not only is he learning but he is having a ton of fun doing so! Another thing I personally like about Busy Bugs is that it is quick and easy – not a lot of mess. My son's attention span for any particular item is about three minutes (if I'm lucky) so when I spend a lot of time preparing something and he's done with it in about one minute, it can get frustrating for me. However with this I simply open the box, dump out the stuff and he has fun! Then we just pick it up and put it away. LOVE IT!
The set sells for $22.50 plus shipping and handling and is recommended for age 3 to primary school.
If these look good but you don't think your little one would like the bugs, they also offer "Busy Farm" which basically the same thing but with farm animals instead of bugs (although the set is a small step more advanced than this set ~ it has children do things like: pick which animal would go on the pond, or in the stable along with picking which animal is different).
Here's praying you have fun learning!
Come visit Dawn over at her blog, Guiding Light Homeschool, on Facebook and on Twitter…friends are ALWAYS welcome!