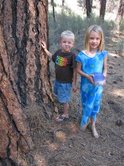 Shortly after I started homeschooling, I came across a wonderful activity that we now incorporate into our curriculum regularly.  With the popularity of new technological gadgets, many people are familiar (to varying degrees) with Geocaching.  Fewer, however, are familiar with Letterboxing.
      Letterboxing is an intriguing pastime that combines navigational skills and rubber stamp artistry in a fun outdoor quest. Letterboxers hide small, weatherproof boxes in publicly-accessible places and post clues to finding the box online. There are over 20,000 letterboxes hidden in North America alone. Individual letterboxes usually contain a log book, an often hand-carved rubber stamp and may contain an ink pad. Finders make an imprint of the letterbox's stamp on their personal log book or nature journal, and leave an imprint of their personal stamp which they carry with them in the letterbox's logbook .
      As explained on the website Letterboxing North America, "Letterboxing is said to have started in England in 1854 when a Dartmoor National Park guide, James Perrott of Chagford, left a bottle by Cranmere Pool with his calling card in it as an invitation to those who found the bottle to add theirs. Eventually, visitors began leaving a self-addressed post card or note in the jar, hoping for them to be returned by mail by the next visitor (thus the origin of the term letterboxing; letterbox is a British term for a mailbox). This practice ended in time, however, and the current custom of using rubber stamps and visitor's log books came into use. It caught on in the US in 1998 after an article in Smithsonian magazine."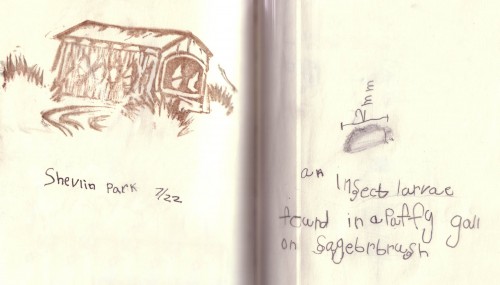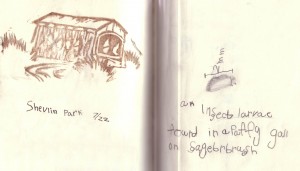 Letterboxing is intended to be an environmentally friendly activity, with as little impact as possible on the environment involved in hunting for letterboxes.  As we hunt for letterboxes, we always pick up any litter or debris that was left behind by people who care less for the land than we do.  The most important things to remember when letterboxing are respect and safety. Respect for the environment and for the letterbox that someone has created and your personal safety.  
      Sometimes we've searched for the letterbox and have not been able to find it. This could be because it was simply too difficult or because the box is in fact missing. Although this can sometimes be frustrating, we always remember the great time we had with the hike and the hunt, even if we are not successful.  After all, it provides us with an opportunity to observe nature and occasionally catch glimpses of wildlife (elk, ground squirrels, birds of prey, etc.). 
      Several of the letterbox quests require the use of a traditional compass.  This provides a great opportunity to introduce orienteering to children.  Most, however, rely upon simple written instructions.  In Ashland, Oregon, home of the renowned Ashland Shakespeare Festival, many of the hidden boxes are inspired by William Shakespeare and the clues incorporate passages from his many theatre plays.
      In spite of often rainy, inclement weather, Charlotte Mason insisted on going out once-a-week for an official Nature Walk, allowing the children to experience and observe the natural environment firsthand. These excursions should be nature walks, not nature talks, explains.  Letterboxing has always provided us with the incentive to get out there when we may otherwise feel inclined to stay indoors.
      Not only can a wide variety of adventures be found to suit all ages and experience levels, but letterboxing can also be done year-round in most areas.  Only those boxes that may be concealed beneath the snowfall would be unobtainable.  One of the unexpected challenges that can arise during the winter months, however, is that many of the clues relate to plants and trees in full foliage. This provides the perfect opportunity to learn about plant identification in the winter.
      On of our most memorable quests was in February.  Though it was chilly at the start, we didn't expect the surprise that nature provided us…snow!  Charlotte Mason would have been proud of our enthusiasm and commitment to learning about nature in all its glory. She believed that bad weather was no excuse for not having the daily outing and the weekly nature study. As long as the children are dressed adequately to protect them from the cold or rain, the nature study can still proceed in the same way as on clear, lovely days. Winter or wet days will each offer their own variety of nature to experience.
      Frequently, upon our return home following a letterbox quest, the children will illustrate their favorite discovery (a new wildflower or an interesting cloud they observed).  They are beginning to also include questions and to occasionally include poetry.  As interest develops, creating a letterbox of their own would provide children with additional opportunities for writing, orienteering or navigating practice, and expressing themselves (carving the stamps). 

Written by Makita, an eclectic homeschool mother of two.
 
 
 
For more information: 
Letterboxing North America.  http://www.letterboxing.org/   
The Letterboxer's Companion
by Randy Hall 
It's a Treasure Hunt! Geocaching & Letterboxing
by G & R Publishing