Today I share with you the extensive, high school level resource from Apologia and HSLDA's Michael Farris. Constitutional Literacy is something we are passionate about as a family. We are raising future voters! A course by the same name – designed to fit this passion – is simply an answer to prayer for my two high schoolers! We love that Constitutional Literacy is led by an authority in this area of history and government. And the course presents with the tools needed – a student workbook and a DVD series on the history, theory and application of the Constitution of the United States.
Let me tell you more…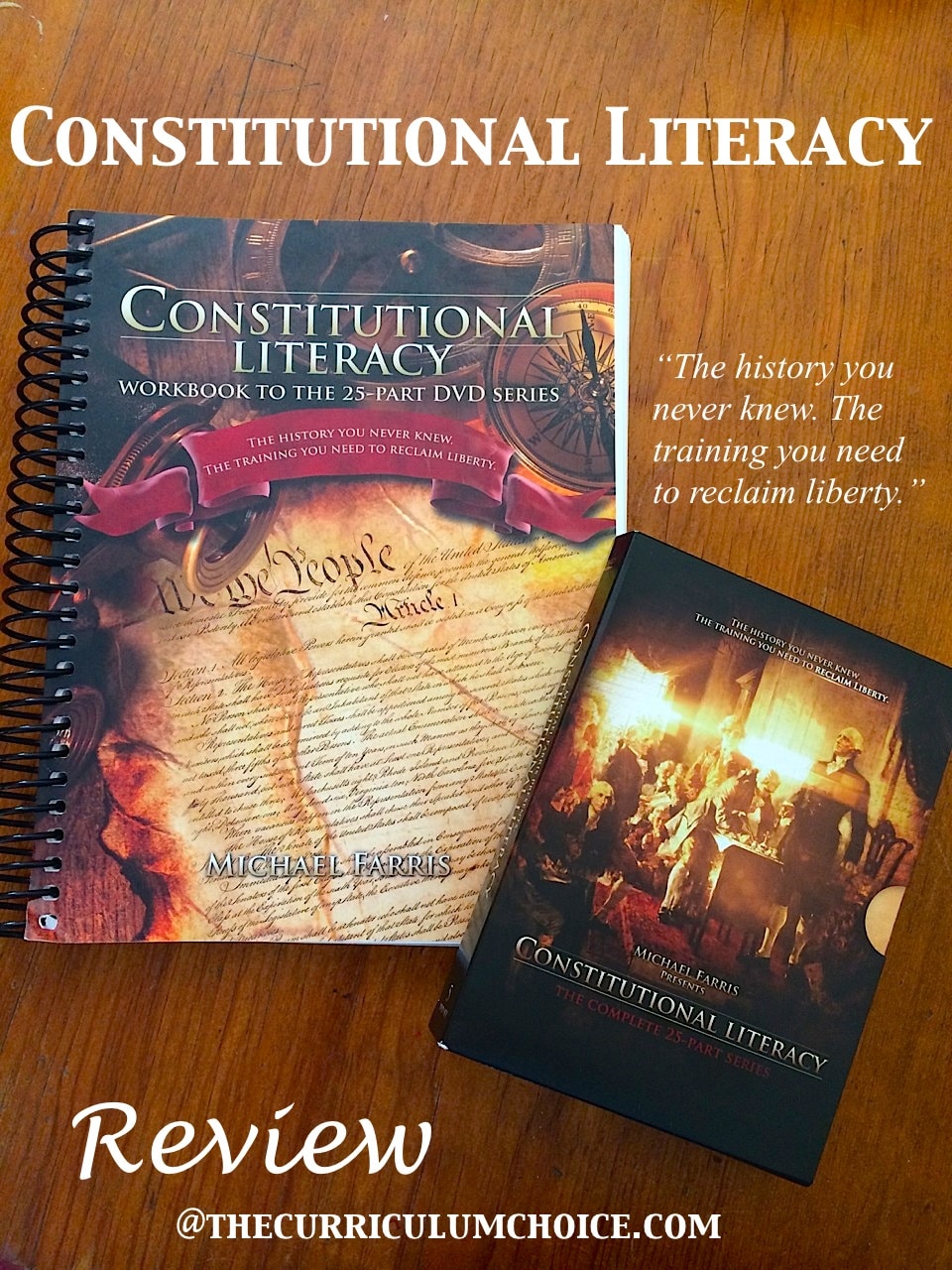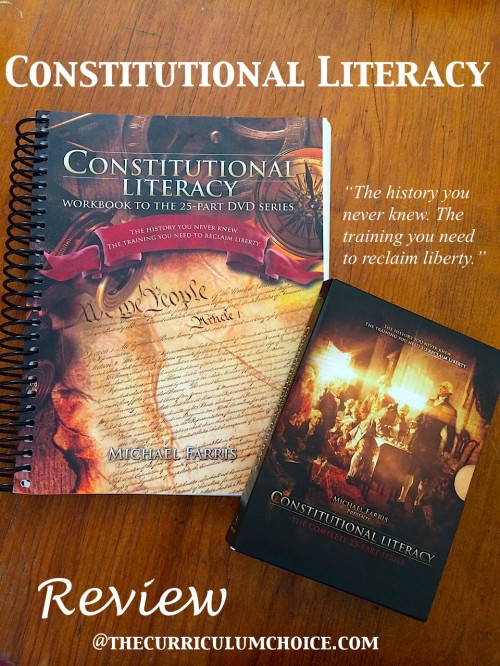 "This course will give you the opportunity to become truly constitutionally literate thereby become the kind of citizen that is enlightened and effective and is capable of stopping the advances of tyranny and restoring the freedoms and liberties that our f0unding fathers intended for all of us to have." ~ Michael Farris of HSLDA

We received these Constitutional Literacy resources in exchange for an honest review. All opinions are our own and we love the benefits and blessings we are continuing to see from this high school level study. Please see our disclosure policy.
Why Constitutional Literacy?
We are learning from a constitutional authority. What a privilege to be learning directly from Michael Farris! As homeschoolers we are confident that Michael Farris of HSLDA is an authority on Constitutional Literacy. "Dr. Michael P. Farris is Chancellor of Patrick Henry College and Chairman and Counsel for the Home School Legal Defense Association. As a constitutional attorney, Dr. Farris has argued before the United States Supreme Court, seven U.S. Circuit Courts of Appeal and ten state supreme courts."
"Has our nation preserved, protected and defended the Constitution of the United States?" ~ Michael Farris

Everything you need is in the course – each module has the information to study and the questions to complete.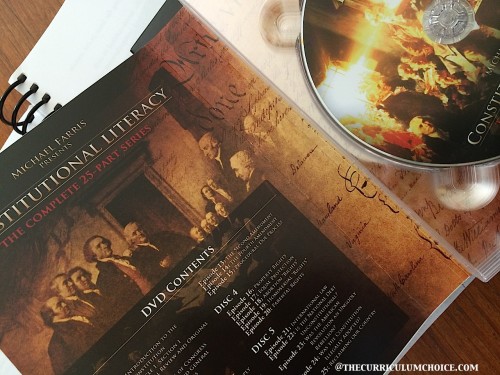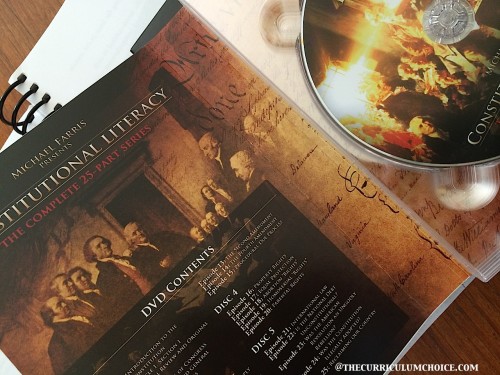 What Are the Contents of Constitutional Literacy?
The Complete 25-Part Series with a run time of 8 hours and 2o minutes – DVD Contents:
Episode 1: Introduction to the Constitution
Episode 2: Article 1. Section 1
Episode 3: Judicial Review and Original Intent
Episode 4: The Powers of Congress
Episode 5: Commerce and General Welfare Clauses
Episode 6: Powers of the President
Episode 7: Does the Bill of Rights Apply to the States?
Episode 8: The Establishment of Religion
Episode 9: The Free Exercise of Religion (Part 1)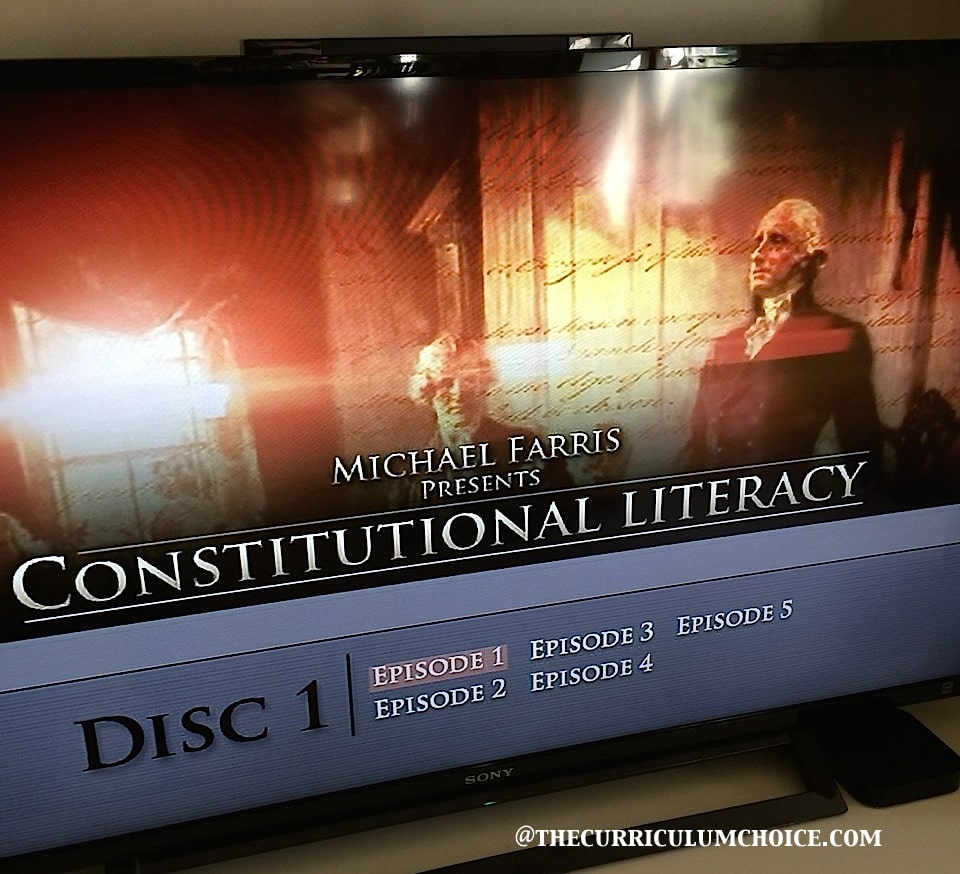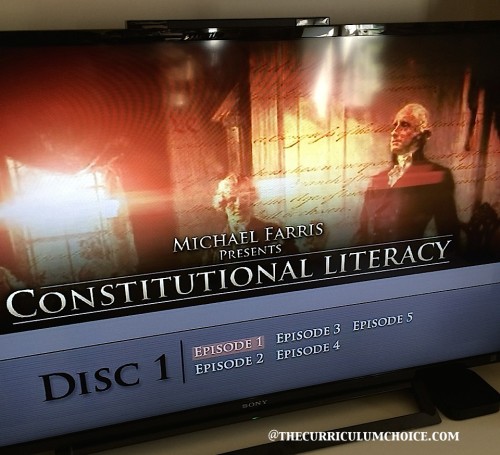 Episode 10: The Free Exercise of Religion (Part 2)
Episode 11: Freedom of Speech and Press
Episode 12: Freedom of Association
Episode 13: The Second Amendment
Episode 14: The Fourth Amendment
Episode 15: Procedural Due Process
Episode 16: Property Rights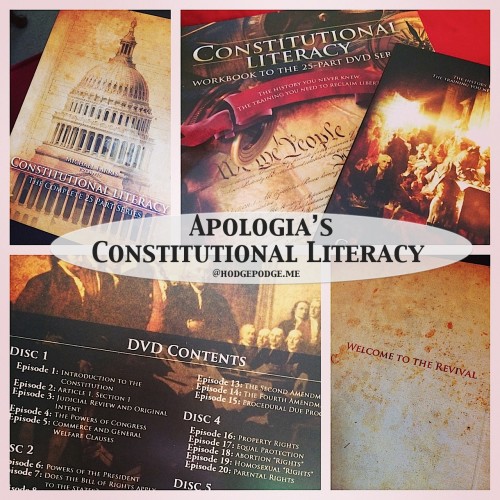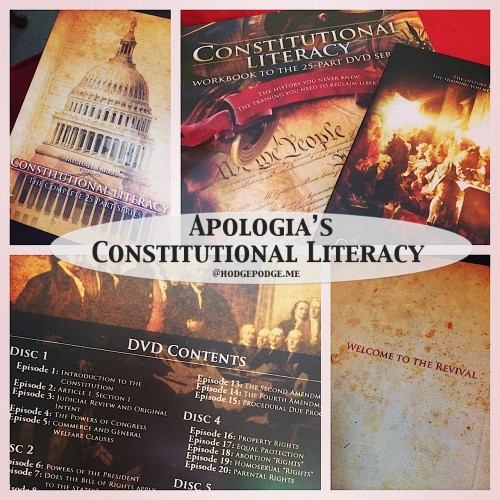 "Note to parents and teachers: You may find that the issues discussed in episodes 18 and 19 in regard to abortion and homosexual rights are inappropriate for younger students. Please read and watch these episodes in advance of your students and exercise discretion in determining whether to include these episodes in your course of study."
Episode 17: Equal Protection
Episode 18: Abortion "Rights"
Episode 19: Homosexual "Rights"
Episode 20: Parental Rights
Episode 21: International Law
Episode 22: Is the National Debt Unconstitutional?
Episode 23: Was the American Revolution an UnGodly Rebellion?
Episode 24: Was the Constitution Illegally Adopted?
Episode 25: Reclaiming Our Country
Companion Constitutional Literacy Workbook
The accompanying Constitutional Literacy Workbook (purchase both the DVD set and workbook as a set – or separately) is designed for use with the DVD series. We read through the workbook first then have it handy as we watch the episode. We use the pause button to answer questions and the glossary to define the vocabulary terms.
Every lesson is made up of these components:
Purpose – an overview of what you will learn in that chapter
Parlance – the language used by a particular group
Preamble – introduces the topic discussed
Ponder – takes you deeper into issues covered – testing comprehension with study questions
Payoff – summarizes the issues and arguments
Probe – suggested for further research and discovery on your own (going beyond what the author presents and discovering on your own)
What Age is Constitutional Literacy Designed For?
Constitutional Literacy is designed for high school level students – grades 9th-12th. (But honestly, all our ages benefit from what the high schoolers are studying!)
What is required?
25 part DVD series
Workbook
How We Use Constitutional Literacy in Our Homeschool
Because our three older children took a civics and government course last year and then traveled to Washington D.C. with Hodgepodgedad, we all gather together once a week and watch an episode.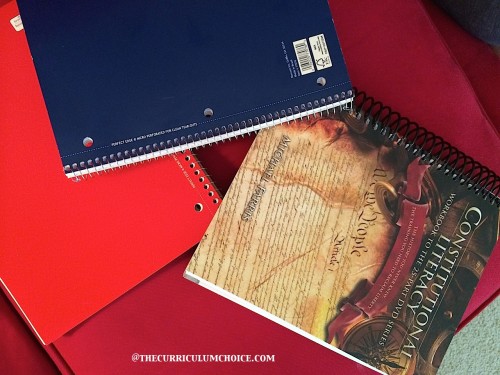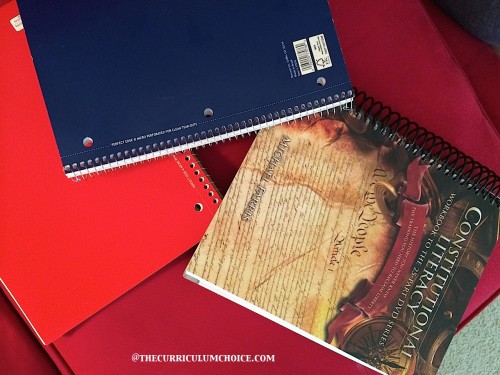 We added spiral notebooks for each of our high schoolers. We plan to use this course again with our younger three children, so we wanted to save the workbook rather than write in it. Our middle schooler is watching the episodes with us but we are not requiring her to write down the answers or complete the vocabulary.
My high school junior gives this course two thumbs up. "It makes me want to go back to Washington, D.C."
My high school sophomore is "looking forward to learning much more from Michael Farris on defending the Constitution."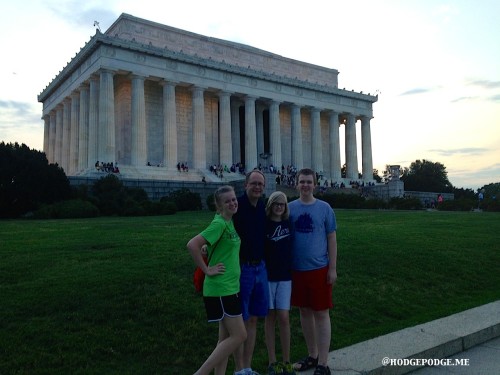 Our civics and government students in Washington D.C.!!

How We Have Expanded and Prepared for Our Constitutional Literacy Course
You might remember that last school year our eldest three children took a Civics and Government course. They went on some fantastic field trips locally. Of course these aren't required for the Constitutional Literacy course but this experience was such a wonderful precursor to Michael Farris' course.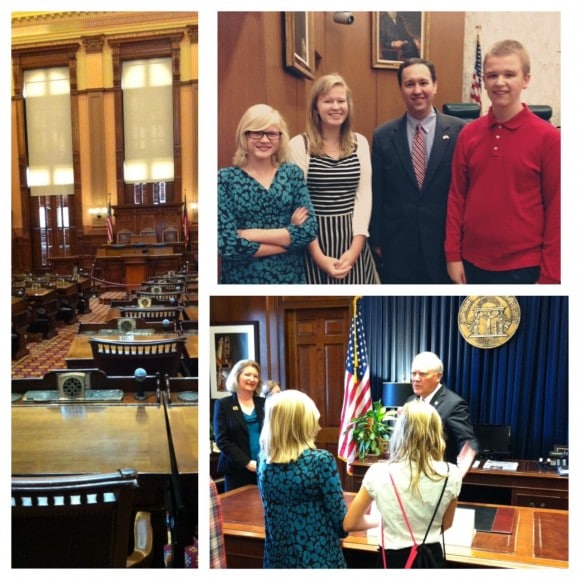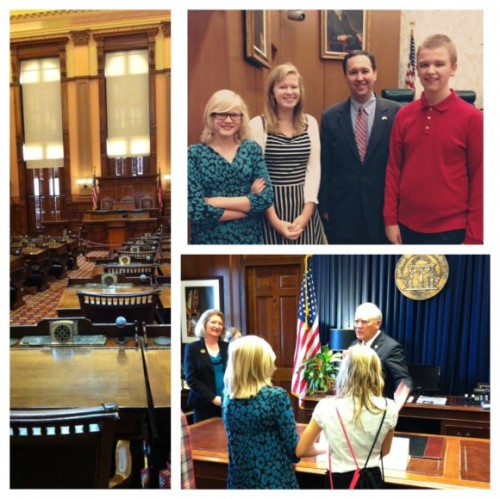 Our high schoolers and middle schooler at the Georgia Supreme Court and State Capitol.

Our eldest three Hodgepodge children completed these type assignments: report on a political party sharing whether you agree or disagree with its stance; create a political campaign ad in print, video or audio form for a fellow student; research and compare another country with the United States – including studying economic factors, average life expectancy and more, choose one US or GA supreme court case and tell how it has changed the course of the nation.  More detail in my Homeschool Electives for Multiple Ages.

"If we want to preserve our liberty, it is up to us to know what is going on, to know the Constitution, to know these limitation on the power of Congress and to insist that our leaders obey." ~ Michael Farris
Where Can You Find Constitutional Literacy?
Find Constitutional Literacy on the Apologia website. There you can view a sample chapter, take a quiz to determine your constitutional literacy, sign up to stay informed about this curriculum and more.

Linking up with Finishing Strong: Homeschooling the Middle & High School Years
Homeschooling for over seventeen years now, Tricia faces a daily dose of chaos with five children. She is author of art curriculum for all ages and a series of cookbooks at Hodgepodge. She and her husband, Steve, are owners of Curriculum Choice.
-originally published 2014