This post includes affiliate links.
When I am looking for fabulous extras to round out our homeschool year, I always check out the offerings at Home School in the Woods. They have wonderful timeline materials, history studies, lapbooks, and more! Today I'd love to share how we're using Home School in the Woods Composers Activity-Pak.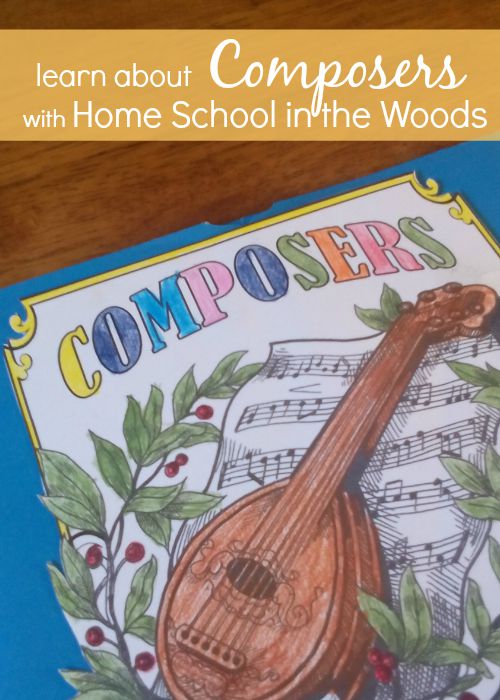 Learning about composers
Teaching music study does not come easily to me, so when I find helpful resources that make my job easier, I am one happy mamma! The Composers Activity Pak is one of those resources that is easy to use but is such a perfect way to learn about many famous composers and the music they created.
The Activity-Pak series from Home School in the Woods is a great way to round out studies for your third-eighth grade students. Each one includes the printables needed to create a beautiful lapbook as well as a few other fun additions, depending on which Activity-Pak you choose.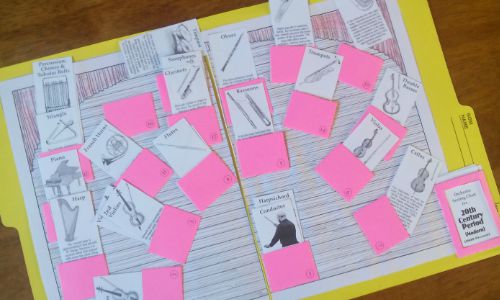 A look at the Composers Activity Pak
The Composers Activity Pak includes everything you need to make your own lapbook – all the directions, printables, and detailed instructions for creating a finished lapbook and learn so much about a variety of composers.
What's included:
Lapbook materials (directions & printables)
MP3 music files
Orchestra file folder display
20 Composer cards
The lapbook is just beautiful, like all the materials from Home School in the Woods. Their lapbook products are some of my favorites. The attention to detail is obvious – the different lapbook pieces are easy for kids to do on their own and they will be so happy with their finished work.
Lapbook includes:
Cover
Pieces with Purpose
Keyboard Vocabulary
Composers Collection
Periods of Music
Composers through History
Music Appreciation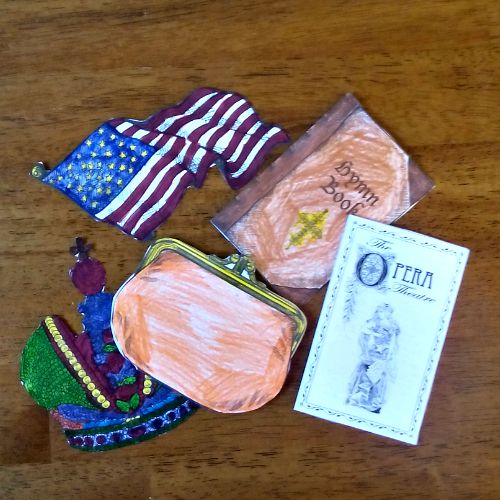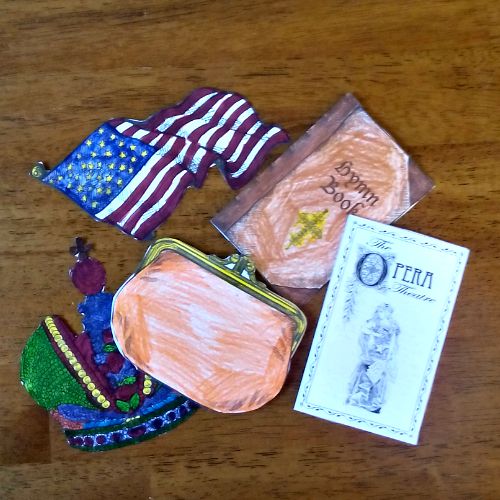 How we use the Composers Activity-Pak
The Composers Activity-Pak is the basis for music study in our homeschool. During our weekly fine arts time my daughter would work on a piece or two from the lapbook while we listened to music. I set aside the timeline and composer booklets and we put the rest of the lapbook together.
After we had completed most of the lapbook, each term we would focus on a different composer, listening to their music and reading a few biographies. My daughter would add the composer to the timeline in the lapbook and fill out the booklet before including that as well. Once per term she would also complete a music appreciation page (included!) while she listened to an MP3 or other classical piece. There's a handy pocket right in the lapbook to hold the completed pages as well.
We only study 5-6 composers each year, so completely filling the lapbook is going to take us a few years! But this simple schedule is such an easy way to include music appreciation without much fuss or hard work. My daughter is proud of her work and loves to show off all the pieces. It's definitely a precious reminder of our homeschooling journey.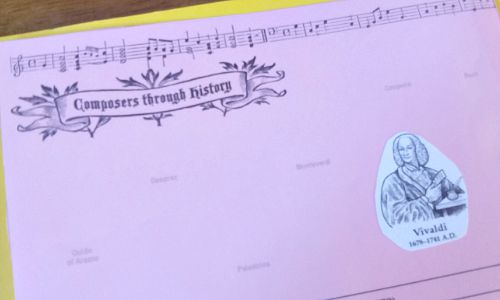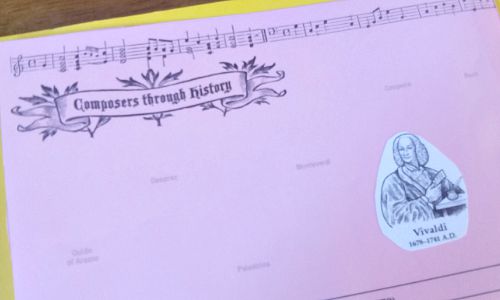 I would recommend this product to the busy mom who wants hands-on projects that are memorable and well-done. With a little bit of preparation, the Activity-Paks are a great choice. Best of all, the files are downloadable or available on CD, which makes creating lapbooks for each child a breeze.
I love the products from Home School in the Woods – everything we've used (and I've used plenty!) has been a perfect addition to our homeschool studies.
The Composers Activity-Pak from Home School in the Woods is available as a download ($18.95) or on CD ($19.95).
Interested in reading more reviews about products from Home School in the Woods? Check out these reviews:
~ Written by Tonia L, who blogs about the life and adventures of a homeschooling family at Happy Homeschool Nest.