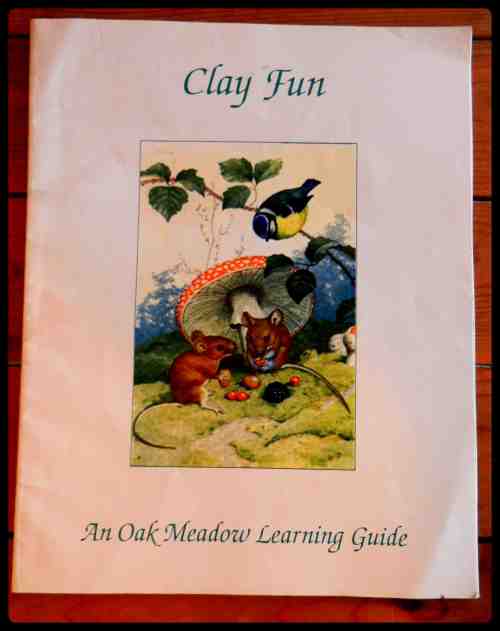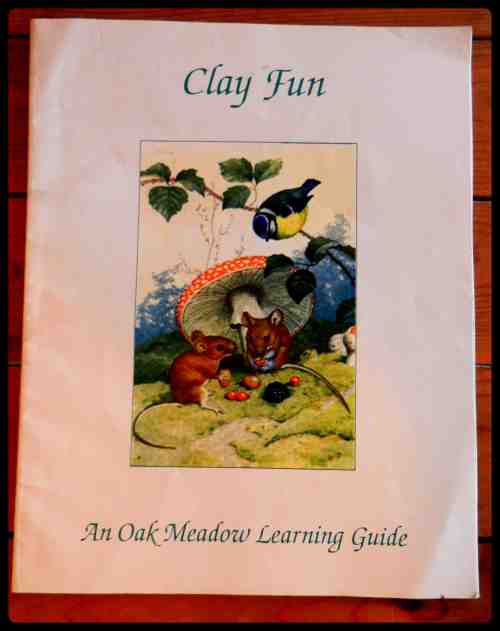 Do your little ones struggle with handwriting? Is it hard for them to hold their pencil, to form their letters? We all know that arts and crafts are a great way to develop the small muscles of the hand for handwriting. Drawing, cutting, working with pastels, painting, and even finger painting in pudding can really help. But have you ever thought of having your little ones work with clay?
Making things with clay (or play dough) is a great way to strengthen the wrist and the small muscles of the hand. And Oak Meadow, one of our favorite educational publishers, has just the thing for that. It's called Clay Fun, and it is full of creative, easy to do projects – to make out of clay or even play dough.
~ Don't miss the fun giveaway from Oak Meadow at the end! ~
Clay Fun includes the following:
1.  Suggested Basic Tools List
2.  A brief history of Clay
3.  Kneading Clay instructions
4.  Scratch and Glue instructions
5.  21 easy to do, fun clay projects
There is a brief definition of clay, with a short history of clay as well, in the introduction to Clay Fun.  It is written to the student, in a sweet, gentle tone, just for them, including:
"Clay is found in the skin of the earth.  All over the world there are pockets of clay. The finest particles of earth make up these pockets. Mountains are ground into rocks, rocks are ground into sand, and sand is ground into clay. Clay is washed down rivers and formed clay pockets..etc."
This makes Clay Fun into a simple unit study for your family!
I love how each project comes with easy to follow, step by step instructions.  Here's one for making Animals: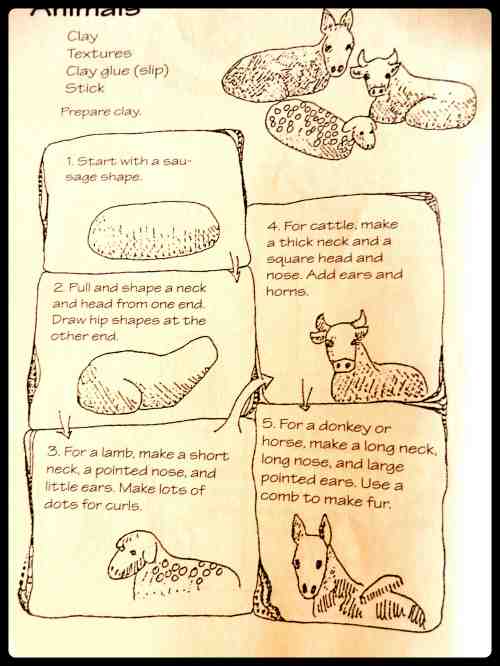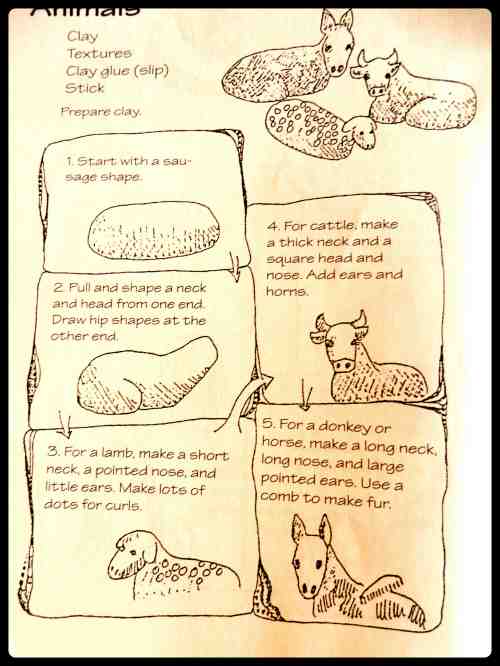 Here's the suggested tools list, all stuff that you can find around your home:
1.  A thick dowel or rolling pin
2.  A large needle
3.  A paintbrush
4.  Newspaper for drying
Here's another Clay project, making a Cornucopia, and it comes with easy to follow instructions, too: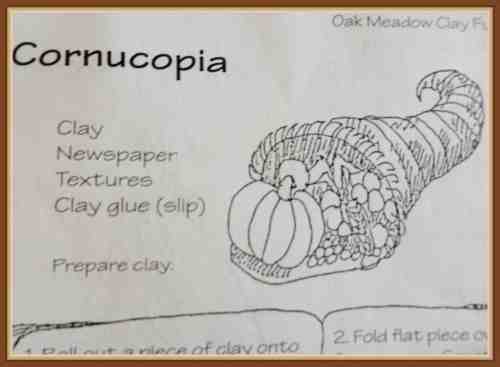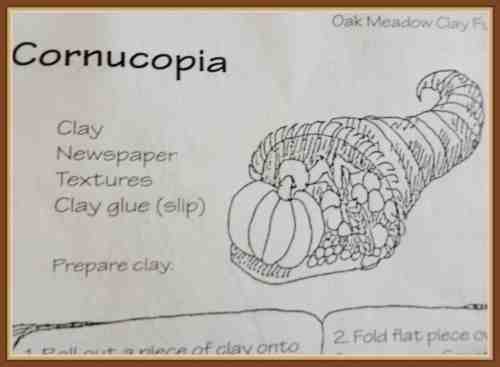 Wouldn't your children be proud to show their Clay Cornucopia off, to holiday visitors?
Each of these Clay Fun projects can be enjoyed by kids of all ages.  It could become a family project!  Your whole homeschool could take a Clay Fun break, in the afternoons!
Each of the 21 projects can just be air dried, for keeping.
If you are looking for a fun way to strengthen the small muscles of the hand and a fun art program for the whole family to do, my family recommends Clay Fun by Oak Meadow. For more information, or how to order this book,  just go to Oak Meadow. Oak Meadow also produces lovely, gentle, child-oriented, hands-on curriculum for all ages (preschool to high school)  For more information, go to www.oakmeadow.com.
Now for the Giveaway!
Oak Meadow is giving away three (3) Clay Fun Art to three Curriculum Choice readers! Simply follow the instructions in the rafflecopter widget below…
a Rafflecopter giveaway
Betsy blogs at BJ's Homeschool about high school and college and all the fun of homeschooling the early years too.  As a veteran homeschooler and the mom of a college student and homeschool grad, Betsy also offers free help to homeschool families,   She is the author of Homeschooling High School with College in Mind.