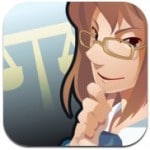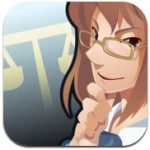 The first thing to note is this iPad app is FREE! — so it's a low risk, delete-if-you-don't-like-it investment.
Created by iCivics, Pocket Law Firm app turns the user into the owner of a law firm determined to defend the US Constitution.  As the one in charge, you handle clients, helping to match their cases to just the right lawyer.  Not so fast though — first, you need to have set up your firm correctly or to do so along the way.
Lawyers specialize in various amendments and it's important for your law firm to have a variety.
While there are tips and a 'cheat sheet' for each amendment…it's beneficial to learn which one is for freedom of expression, illegal search, double jeopardy, cruel and unusual punishment, and so on.
You don't want to keep those clients waiting too long, or they'll get upset and leave!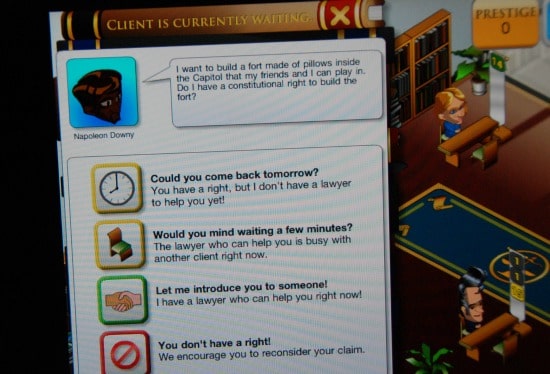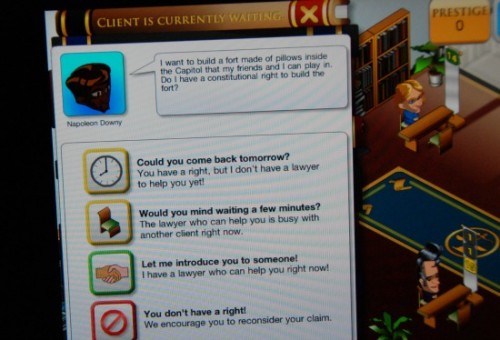 Pocket Law Firm includes gaming features such as earning points to make your waiting room more comfortable. Points are also used to hire extra lawyers and to give them the best working environment with new lamps and desks.
The cases range from serious to hilarious – here are a few examples:
"My friend auditioned for a show and made it in!  I auditioned for the same show and didn't get a part – I'm so upset and want to do something about it.  Don't I have a right to be a star?"
Um, no…you don't.  Send that client home.
"I want to be on a jury.  Yesterday, my state governor announced that Asians can no longer serve on a jury.  I am a US citizen and am 18 years old.  Do I have a right be on a jury?"
Yes, you do!  But now what?
Do I have a lawyer to match this client? Should they come back tomorrow or wait for a few minutes (because the lawyer is busy with another client)?  By the way, which amendment is being violated here?  
Do YOU know?*
Pocket Law Firm in Action:
With clients, lawyers, cases won and lost
(if you don't match them correctly)
– it's a full day at the office with
Pocket Law Firm!
 Great for parents who need to sharpen their knowledge and
middle school or high schoolers
being introduced to the ins and outs of the US Constitution.
A fun, engaging, educational and FREE iPad app.  Highly recommended!
*Psst…it's the 14th – Equality Under the Law. 🙂
{post written by Daniele of Domestic Serenity}