We are on our 9th year of homeschooling. We've used A LOT of different curriculum. We've liked A LOT of different curriculum. And we haven't liked a lot of different curriculum. This year we are using Heart of Dakota's Bigger Hearts For His Glory. It is recommended for ages 7 – 9 but the biggest determining factor (for the higher age) is if your student is reading independently, or not. In our case, when it comes to actual schoolwork, he is not. (He does love to read but not schoolwork. *grin*) [I actually called Heart of Dakota and spoke to them myself to find out if our son (9 years old / third grade) should be in Bigger or Preparing, and the reading part is the big difference is what he explained to me.]
We also chose Heart of Dakota because the price is affordable for our family and we are currently only homeschooling one child. (Something else helpful is there are many people interested in buying used copies of all the different items. I am actually one of them. *grin*) Here is a picture of the used teacher edition I bought – the previous owner had it spiral bound, which has been WONDERFUL!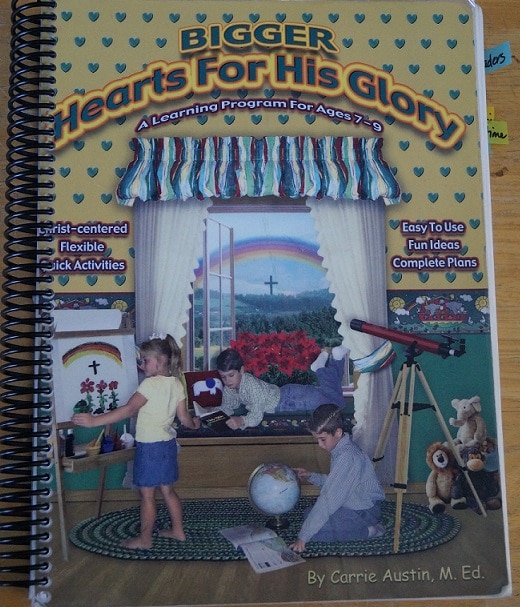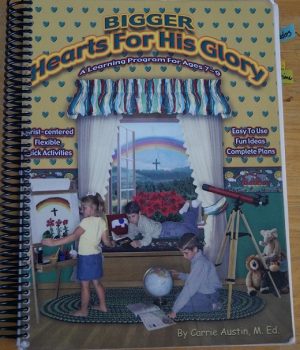 Why Heart of Dakota?
I chose Heart of Dakota (HOD) because I wanted something Christian based (always!) but also wanted something with a lot of guidance and something that used many other books as the main learning method. HOD provides just that! The teacher book has every day laid out for you! It covers: History, Poetry, Bible Study, Music, Language Arts, Reading, Math and Science. Yes, yes it does! Each day is spread over two pages with each subject in it's own box – this makes is SUPER EASY to read and keep track of subjects – as well as allowing changes, if you so choose [which we have for several subjects].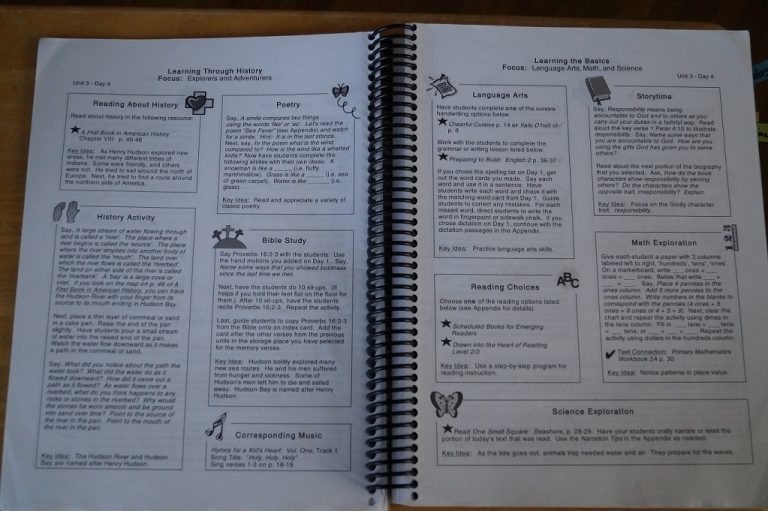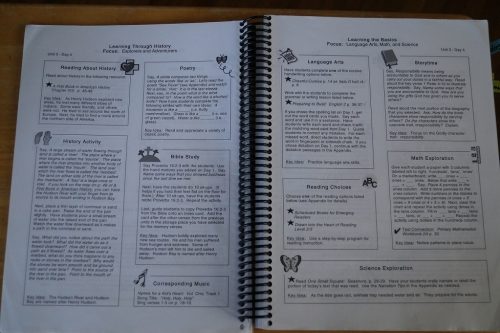 If interested, there are Facebook groups for each curriculum level of Heart of Dakota – you will find some very helpful information (and people) in those groups. In the Bigger Hearts For His Glory group, someone provided a printout of the entire year curriculum by week in pdf format – AMAZING! I print it and use it as a guide for where we are each day – as the way we school – we may not cover every subject every day as scheduled. (This weekly yearly schedule is NOT guaranteed in each group and isn't actually "HOD approved" but it is a WONDERFUL resource someone shared in the Bigger group.)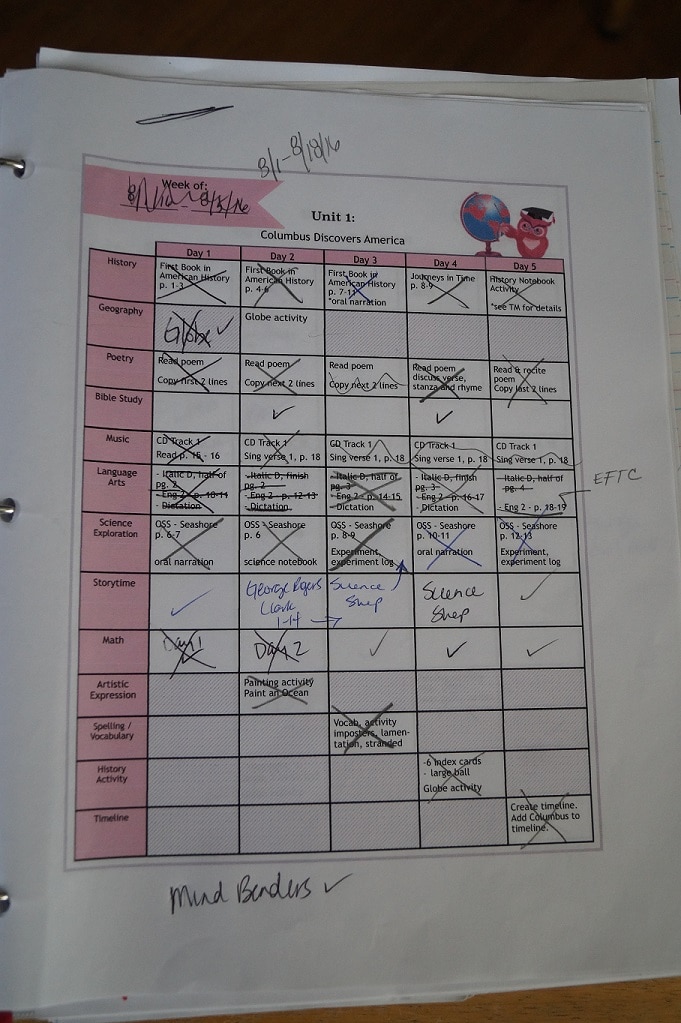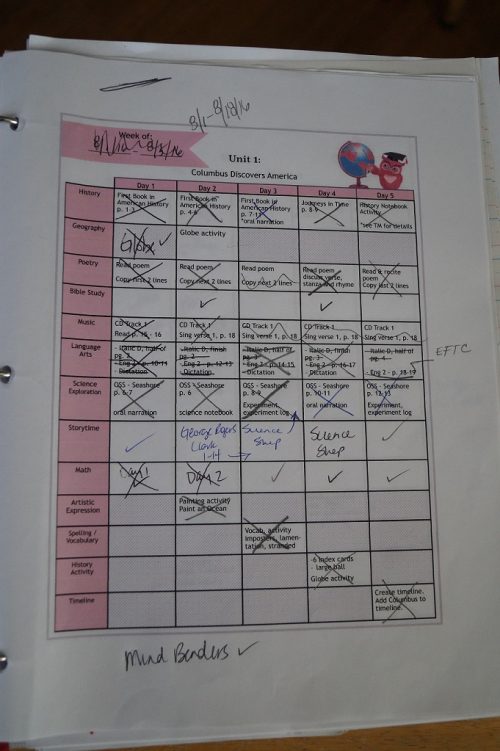 Another thing I LOVE about this curriculum is that EVERYTHING is provided – no research required! (Even though I still did my own research on a couple things – which I'll share about as we continue.) Here are the different sections in the back of the teacher edition that are provided:
Emerging Readers – I ** LOVE ** how the ISBN number is included! Makes it super easy to research different places to find the exact books (to make sure getting the best price). [Keep in mind I get a lot of the necessary books from the library.]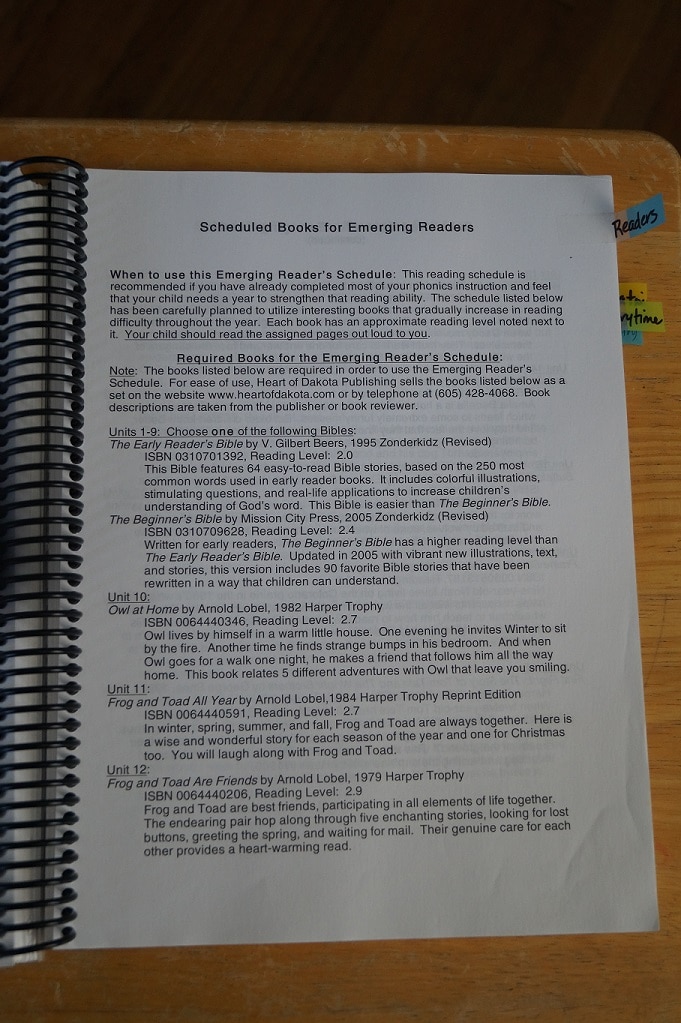 Bibliography / Storytime – again love all the information provided: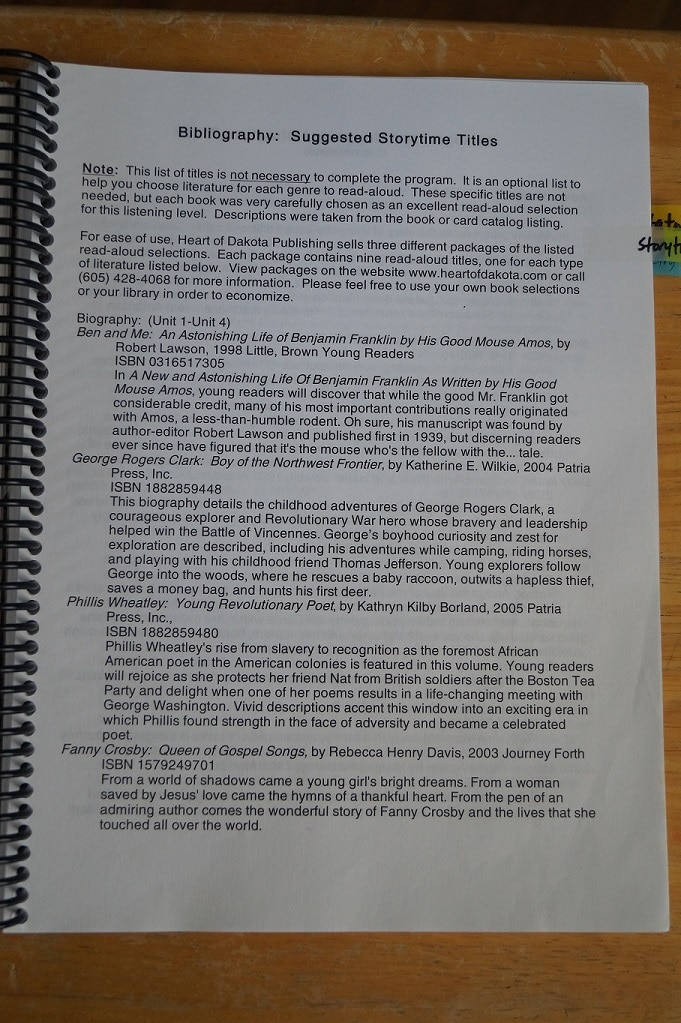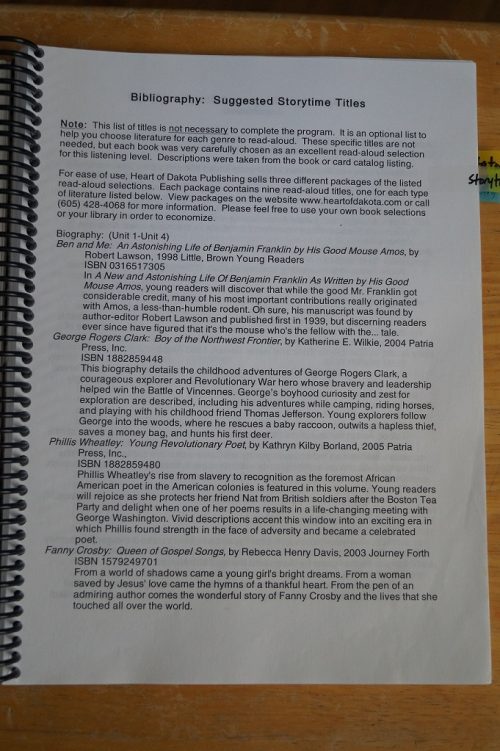 Dictation – this is provided for the older / advanced students in place of spelling. The additional words under each sentence are also for EVEN MORE advanced students.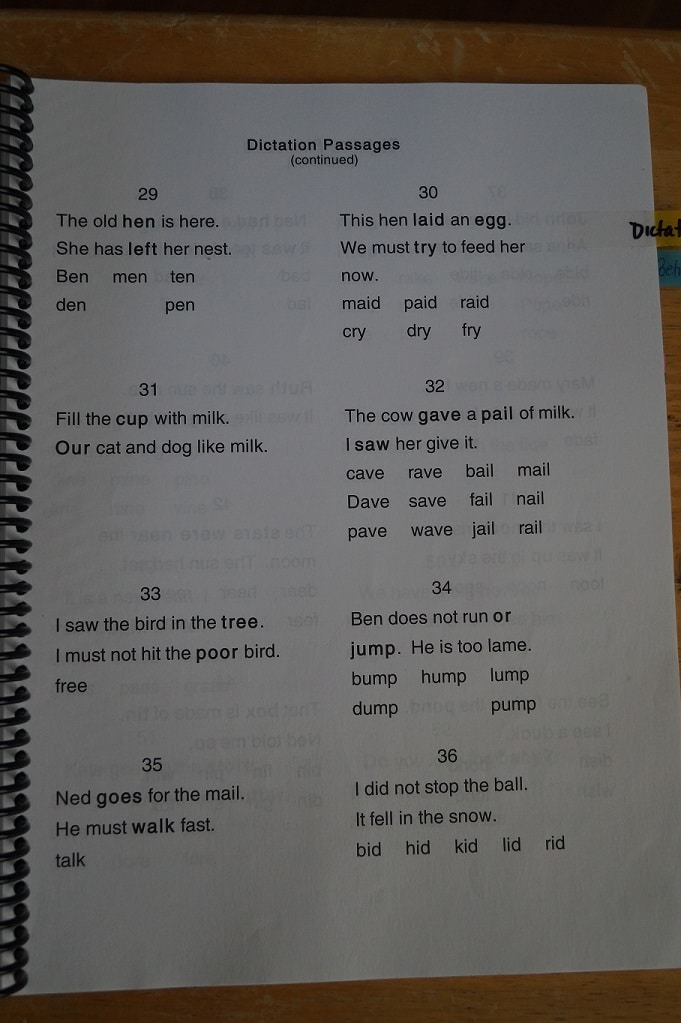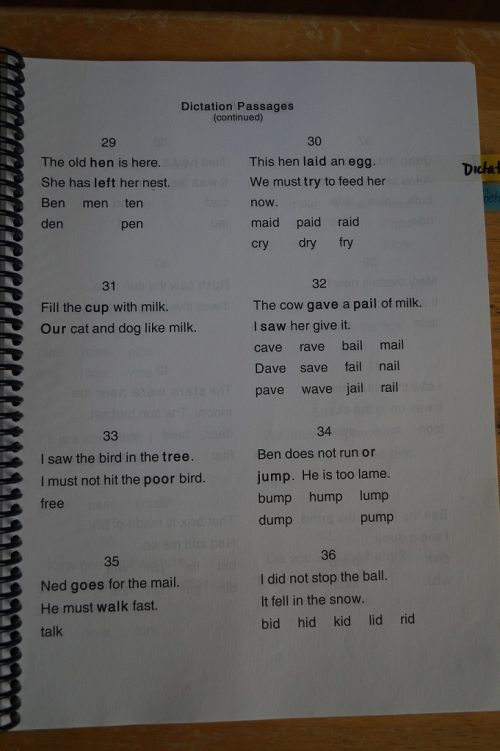 Spelling Lists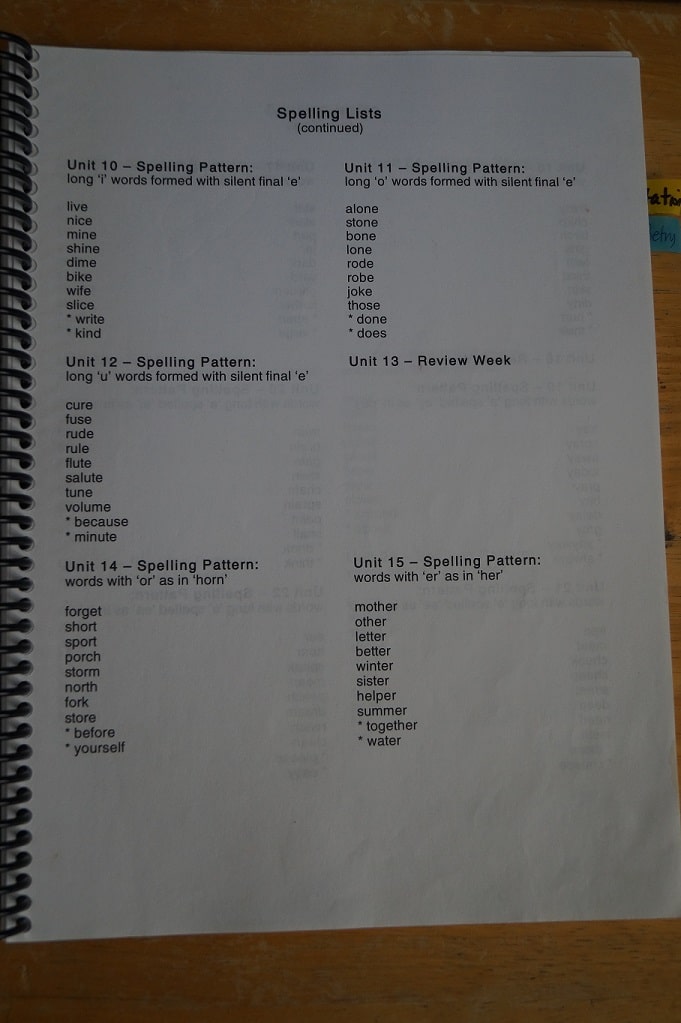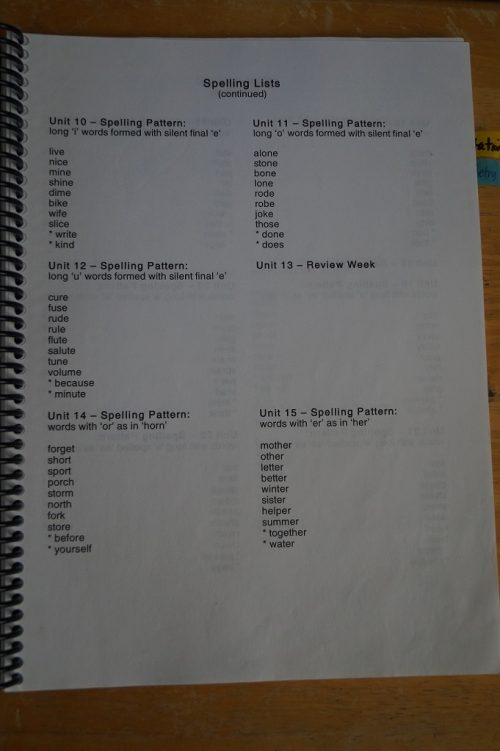 Alternate Math – for students in the higher math (Singapore) books for this level. (We are using this.)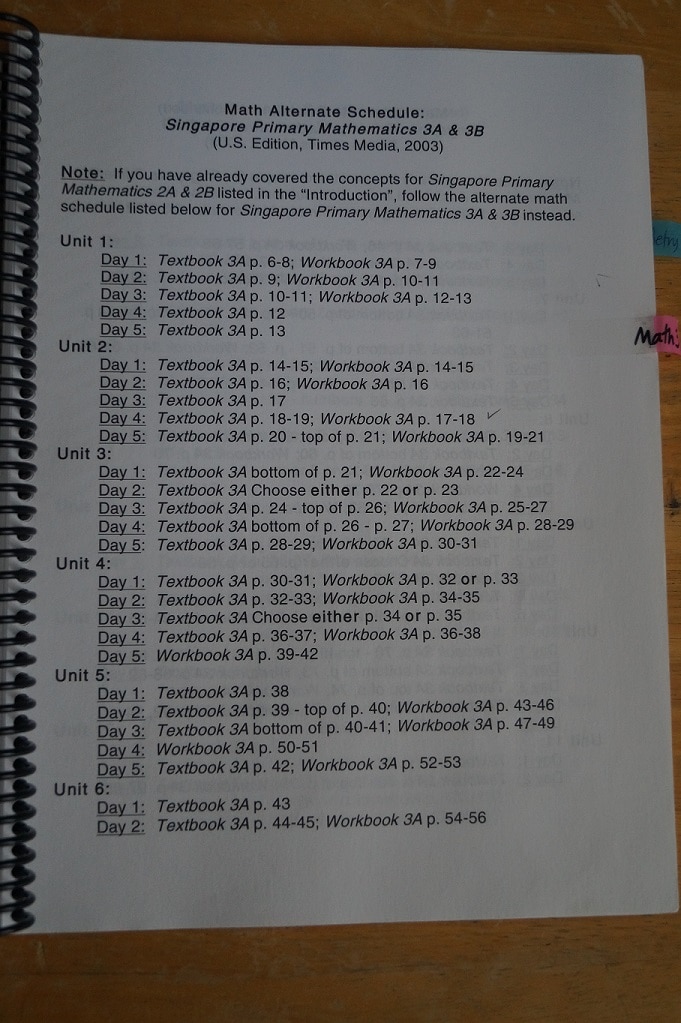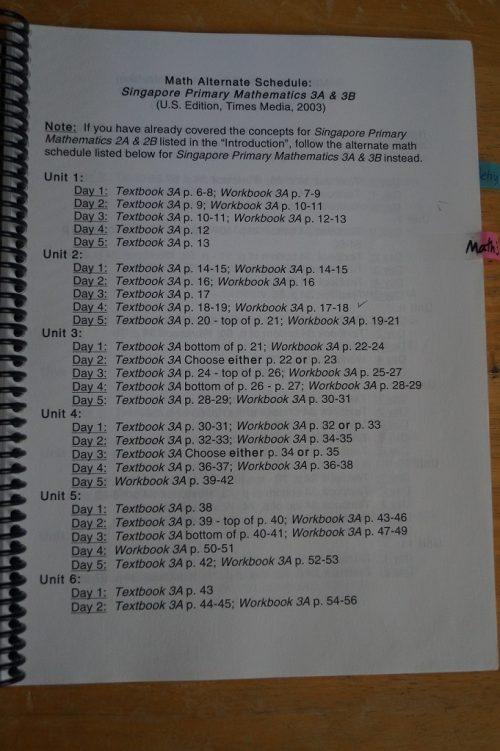 Poetry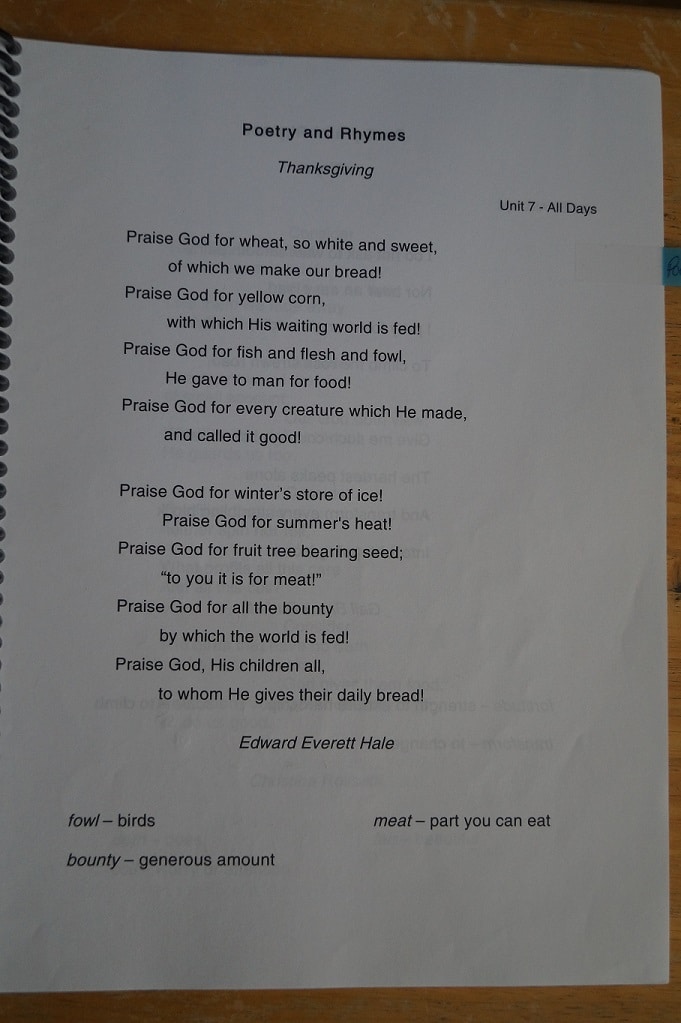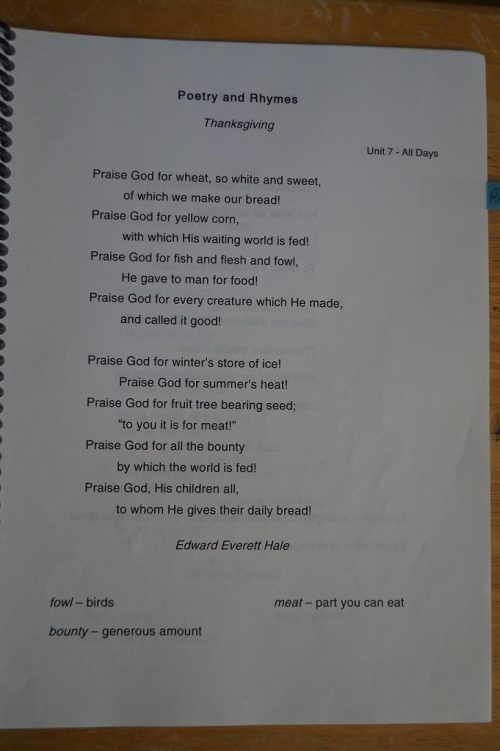 Here are samples of the geography / mapping done as well as the timeline covered: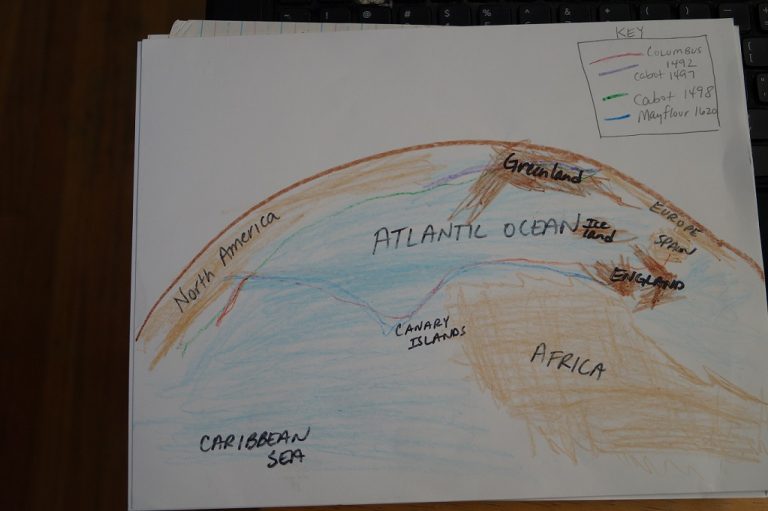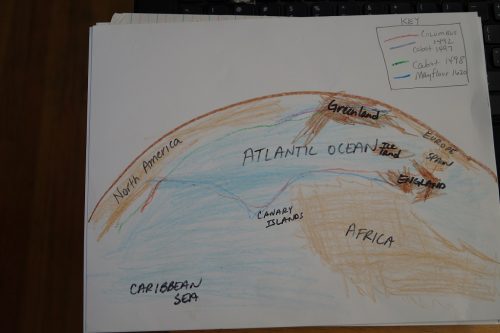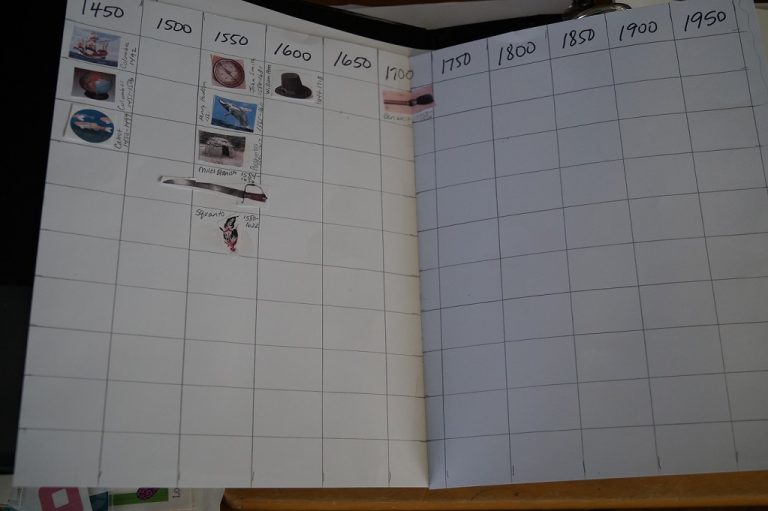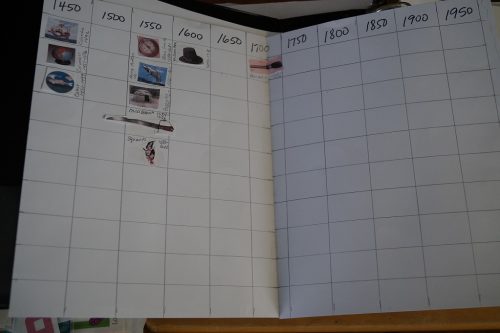 One of the things I truly appreciate about this curriculum is that it easily allows for changes in items used. For us, we have chosen a different Bible and Science curriculum. Doing so has caused NO confusion with still using HOD as our main curriculum.
Another thing that is important to our schooling is SHORT LESSONS. My son has an excessive amount of energy so sitting still for long periods of time just doesn't happen. This curriculum works PERFECTLY for this type of homeschool scenario – but it would work with many other kinds of homeschooling situations as well.
As a quick side note – HOD has all the different necessary reading books in different groups on their website where you can buy them for EXCELLENT prices. Some of these I chose to purchase – some I chose to get from the library. The website provides EXTENSIVE information for you should you choose to do your own research (as I did).
In closing, I hope this has been helpful for you and your family – I hope it has provided some useful information about this curriculum. We love it – you might too!
Here's praying you have fun learning!
Save