Art Lab for Kids offers 52 projects in drawing, painting, printmaking, paper and mixed media. It is the perfect book for your own homeschool or in a co-op setting.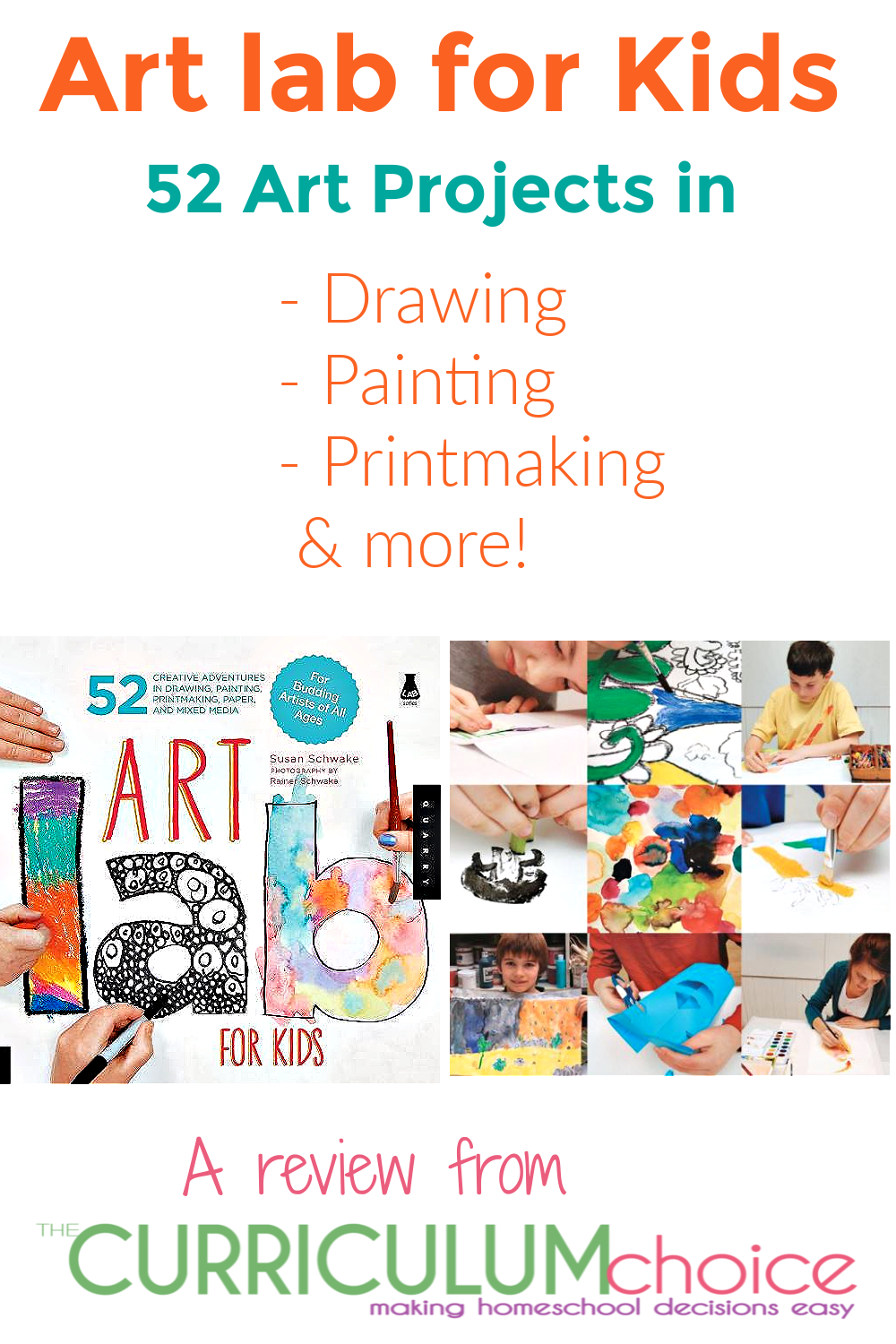 Art Lab for Kids by Susan Schwake is the book that many of you have been searching for. It is a book of easy to implement art projects that use common art supplies and can be adapted to children of all ages. It is perfect for families with multiple age groups who are looking to add in a little bit of artwork without a lot of preparation.
The projects are grouped by medium into units: drawing, painting, printmaking, paper, mixed media. I appreciate that after many years of teaching art that I still found lots of projects that we have never tried before.
What's Inside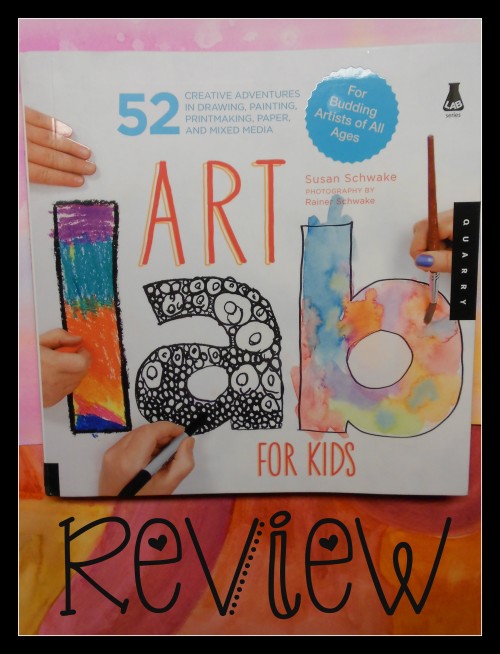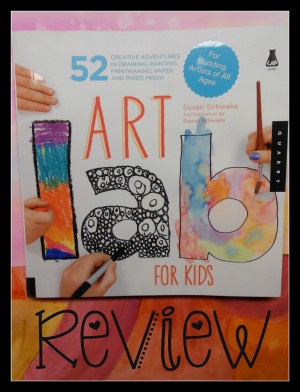 Each lesson features and relates to the work and style of a contemporary artist and their unique style. The labs can be used as singular projects or to build up to a year of hands-on fine art experiences. Grouped by medium, the labs are set up loosely to build skills upon the previous ones; however, you can begin anywhere.
Have fun exploring:
drawing by creating a whimsical scene on a handmade crayon scratchboard.
painting by using watercolors and salt to create a textured landscape.
printmaking by using lemons, celery, mushrooms, and other produce to make colorful prints.
paper by creating an expressive self-portrait using pieces of colored tissue paper.
mixed media by making insects from patterned contact paper and watercolor pencils.
Color photos illustrate how different people using the same lesson will yield different results, exemplifying the way the lesson brings out each artist's personal style.
Using Art Lab for Kids in our Co-op
I am using this book as part of our monthly art co-op where I have children from age five all the way up to age seventeen. We all are enjoying the easy instructions that allow for creativity on whatever level we are working at.
Each project is just a beginning point and there are "Go Further" suggestions that have helped the older kids take the project to a higher level.
You can use the same lesson for younger students and older students and have their own personal style shine through. These are not "cookie cutter" projects.
See an example of our Scribble Drawings in the photo below: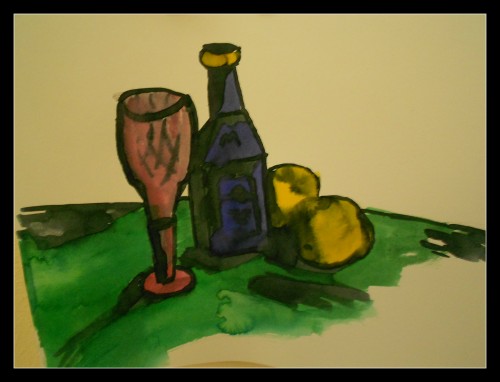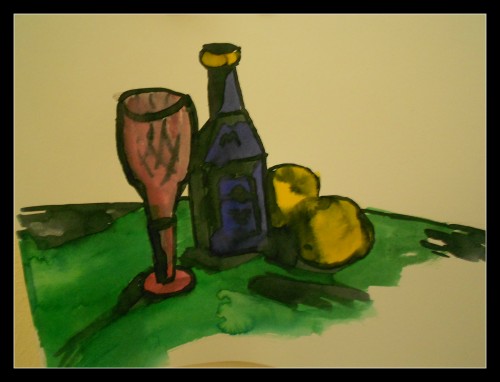 Using Art Lab for Kids in Our Homeschool
In our homeschool, we have been using this book since August, enjoying one project each week. There are 52 projects in the book so we have enough ideas to last the complete school year even if we decide to skip around a bit.
The clear images of the projects, specific instructions, and then follow-up artist information and project suggestions make this the perfect book for parents who are not confident about teaching art.
Art Lab for Kids shows you how to offer fun and interesting projects with little preparation and with excellent results.
I also appreciate that the book uses many materials that we have not worked with before like vellum paper, painting on wood, old maps for collage, and brayers and ink. For my children it is exciting to try new ways of creating artwork and I see a renewed interest in our Friday afternoon art sessions.
As Part of Artist Study
One thing that I am noticing about using this book is that I can easily correlate our current artist study with a few projects in the book. For instance: When we are studying Matisse, I can complete the torn paper project. There are projects for many other artists like Georgia O'Keeffe, Jackson Pollock, and Paul Klee.
It is also used as a resource our sister sites 2nd Grade Homeschool Fine Arts Curriculum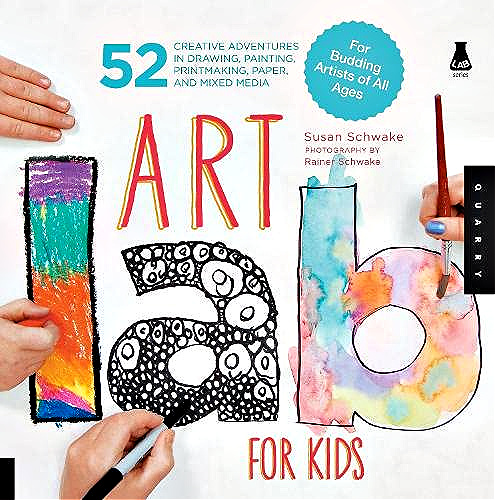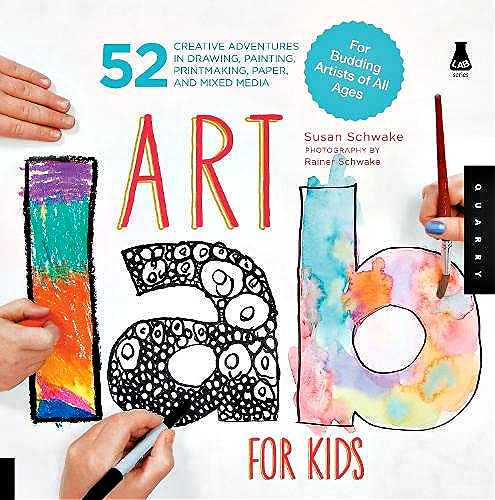 I can't think of a single negative aspect of this book….I love everything about it. Thanks Susan Schwake for creating such a fabulous resource for families and art teachers.
Comes in both Flexibound and Kindle editions on Amazon.com
144 pages with 52 projects.
Easily used over multiple years for even more value.
Master list of supplies is listed in the front of the book.
Suggestions for setting up your work area are outlined in the introductory pages.
Appropriate for children of all ages, suggestions for taking each project further are included.
Easy to understand instructions and common supplies.
Includes artist information and tie-ins to most of the art lessons.
Emphasis is on being creative, having fun, and becoming confident with a variety of art medium.
More Art Resources
Originally posted December 2012, written by Barb-Harmony Art Mom.