You might remember that last year we thoroughly enjoyed Apologia's Swimming Creatures of the Fifth Day. Well, this year it was our first grader's turn to pick the science we would learn. He enthusiastically said, "Land Animals!" So this year we have been learning from Apologia Land Animals of the Sixth Day – another by author Jeannie Fulbright.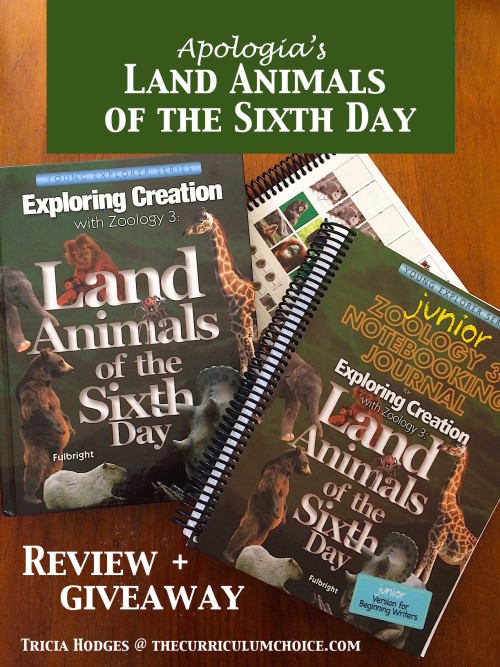 We received these Apologia Young Explorers Land Animals of the Sixth Day resources in exchange for an honest review. Any affiliate links included are for resources we absolutely love. All opinions are our own and we love the benefits and blessings we are continuing to see from this multi-age study. Please see our disclosure policy.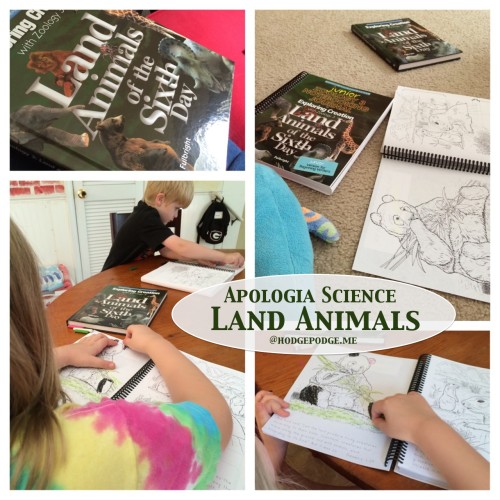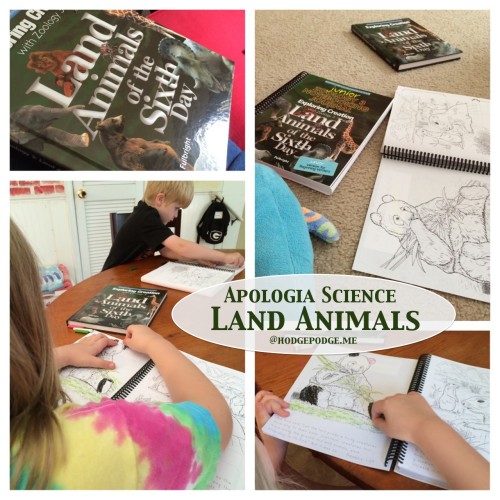 Our Homeschool Studies Include These Apologia Land Animals Resources
We are enjoying these resources for our elementary-aged children together. I'll be sharing a review of the high school level resources in the near future. Today I want you to know about:
Exploring Creation with Zoology 3: Land Animals of the Sixth Day
This text uses an immersion approach. "A child that has focuses on one subject throughout an entire year is being challenged mentally in ways that will develop his ability to think critically and retain complex information."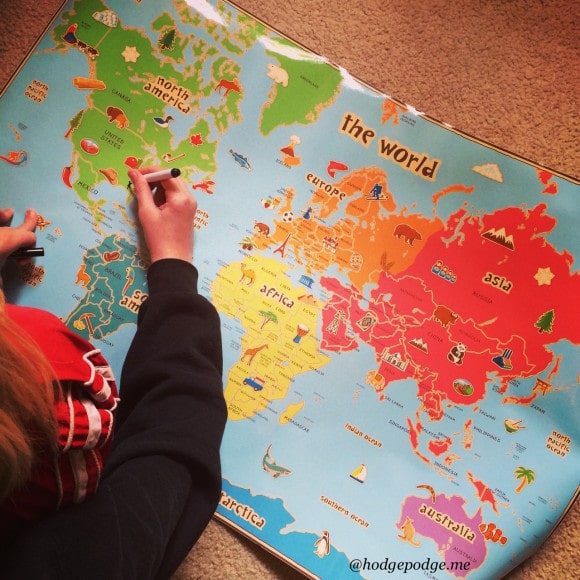 Homeschool Happiness is our new WallPops world map! Dry erase AND sticks to the wall. Wonderful gift from my aunt. And great for that map work for Apologia Exploring Creation with Land Animals. #geography #science The Young Explorers series of Apologia texts, like this Land Animals, have these components:
Lessons
Narration
Notebooks
Projects
Experiments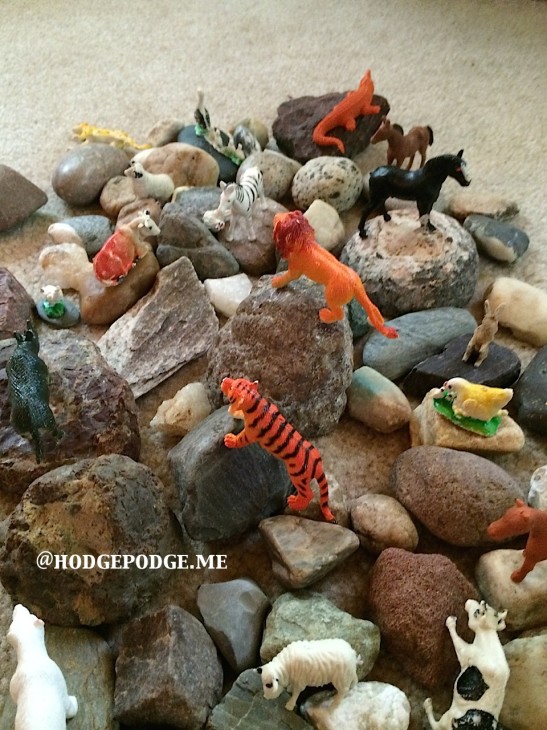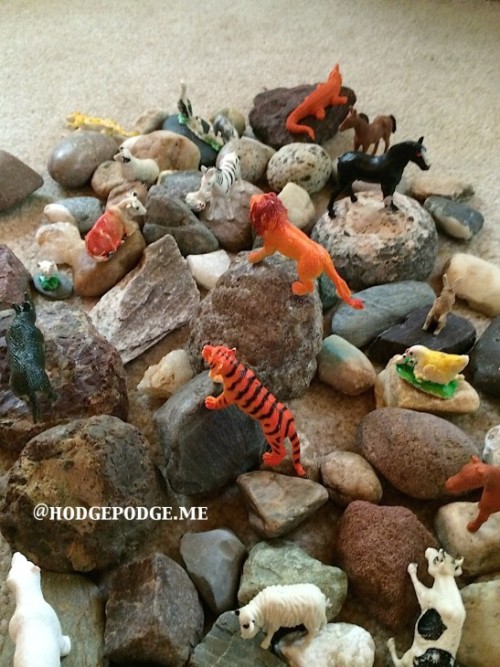 One of my elementary students' favorite notebooking journal activities is creating a zoo! Which also includes:
Instructions for the teacher and a suggested schedule (e.g., a two week schedule for each lesson: reading and notebook assignments during the first week and the experiments and data recording during the second week).
Gorgeous photographs of land animals with interesting facts in the captions
Prompts for the student to complete the accompanying notebook pages
What do you remember? discussion questions
Suggested project or experiment

Apologia afternoon science with our notebooking journals and popcorn. Just finished up the section on primates with my elementary crowd and we sure learned a lot about the variety God made!
Zoology 3 Notebooking Journal
Do you know what is the very best for the teacher? All the pages are in one spot. This is a spiral bound notebooking journal.
My son appreciates the Jr. Notebooking Journal – just enough writing for his first grade level. Not too much!
Take it with you in the car, pull it out at the kitchen table.
The contents follow along the studies of the textbook.
Bible verses on all coloring pages.
Pre-lined notebooking pages.
Vocabulary crossword puzzles.
Directions for land animals projects including lapbooks, mini books.
Scientific speculation sheets.

Placing anteaters, armadillos, sloths and more on their appropriate continents.
What Topics Does Land Animals of the Sixth Day Include?
Lesson 1: Introduction to Animals of the Sixth Day: God Made the Animals, Predators and Prey, Habituation, Animal Careers, Zoologist and more.
Lesson 2: Carnivorous Mammals
Lesson 3: Caniforms Continued
Lesson 4: Feliform Carnivores
Lesson 5: Marsupials
Lesson 6: Primarily Primates
Lesson 7: Rodentia and the Rest
Lesson 8: Ungulates
Lesson 9: Order Artiodactyla
Lesson 10: Orders Squamata and Rhynchocephalia
Lesson 11: The Rest of the Reptiles…And Amphibians
Lesson 12: Dinosaurs
Lesson 13: Arthropods of the Land
Lesson 14: Gastropods and Worms
What Age is the Young Explorer Series For?
We are using Zoology 3: Land Animals of the Sixth Day with our 1st and 3rd graders. "The elementary series is designed for grades K-6." (Although when I start reading aloud, the older three seem to suddenly appear 🙂 )

Land Animals and laundry – a few more things after lunch.
How We Use Apologia's Land Animals of the Sixth Day in our Homeschool
I have found that I can be very flexible with these resources. We use them for: Read Aloud Time – we have a good habit going of spending some time just after lunch when I read aloud the text and the children work on their notebooking journals.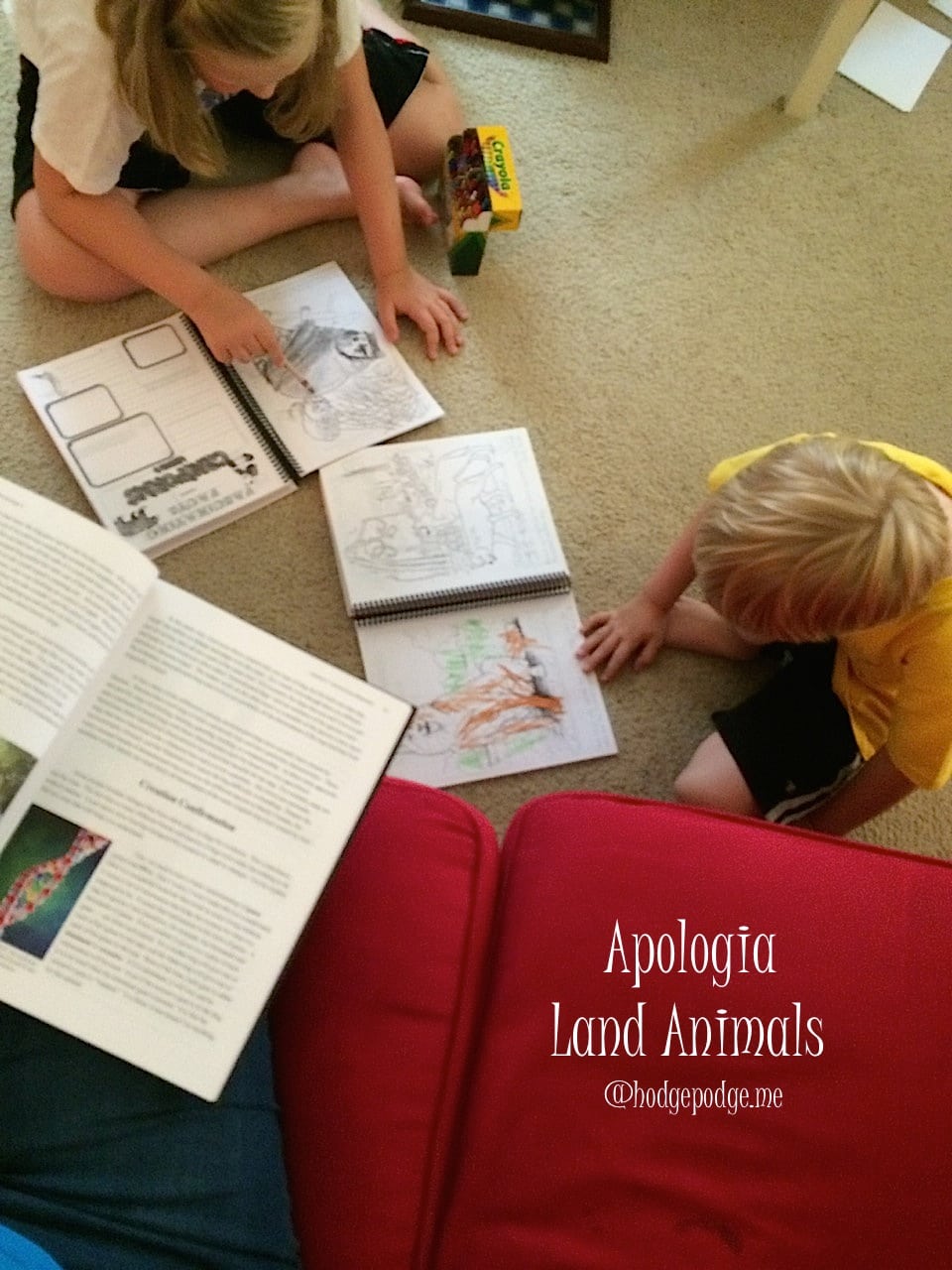 Independent Reading – my third grader can pull the textbook off the shelf and read her lesson – and even sometimes read aloud to her brother while I clean up lunch dishes.
What We Love About Apologia Land Animals Studies
"I love learning about ALL of the animals!" ~ first grader
"When we go to the zoo, now I know SO much more about all the animals we see." ~third grader
God made the wild animals according to their kinds, the livestock according to their kinds, and all the creatures that move along the ground according to their kinds. And God saw that it was good. Genesis 1: 24-25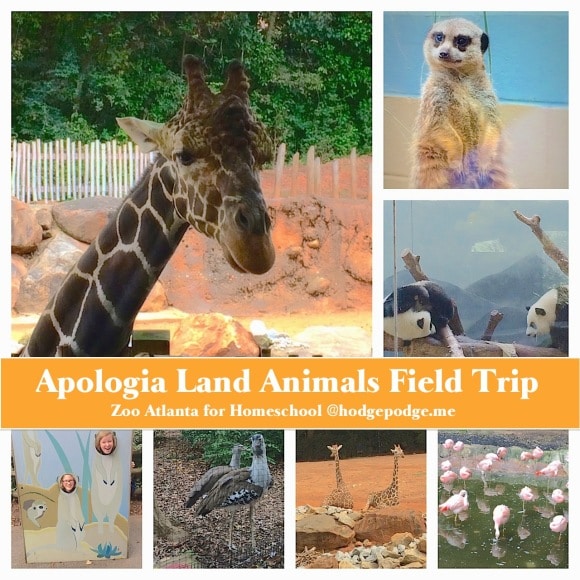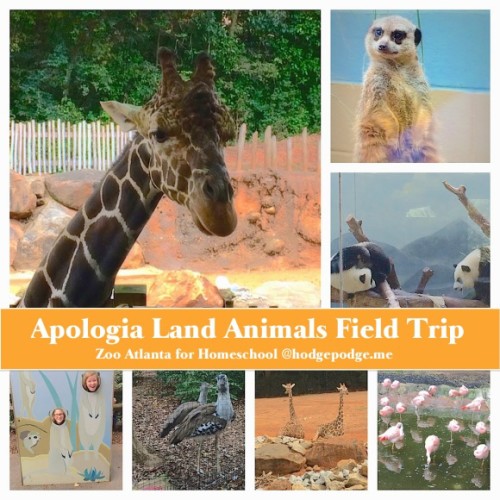 You might also be interested in how we are incorporating field trips to the local zoo – including that Panda Cam at Zoo Atlanta.
More of Our Apologia Studies
This homeschool happiness moment brought to you by Apologia. "I am SO excited!" ~7th grader
Where can you find the Apologia Science Young Explorer series?
Find each of the titles at the Apologia website. There you can view experiment materials, lab list, FAQs, sample notebooking pages and more.
She has seen the fruits of home education with three grads so far! With their You ARE an artist art curriculum she and her family are passionate about growing a love of art. She also shares helpful homeschool habits at Hodgepodge. She and her husband, Steve, are owners of The Curriculum Choice.
-original published April 2015