My high schooler loves Apologia Exploring Creation with Chemistry and is often caught with the book at any time during the day or night. My homeschool mama heart is happy that he is loving science. And I am so pleased that his need for more scientific learning is being met.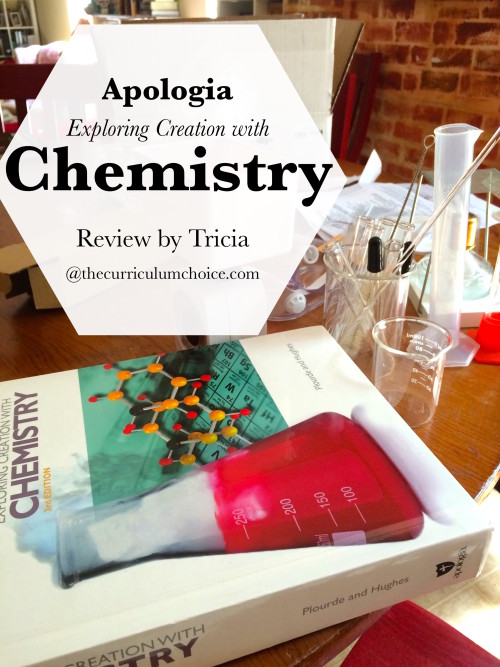 Exploring Creation with Chemistry fits the needs of my science-oriented high schooler and promotes independent learning! Plus, this course is designed for success – with tips for the homeschool teacher and student along the way.
~Don't miss the giveaway at the end! We received this Apologia Chemistry textbook and student notebook in exchange for an honest review. All opinions are our own and we love the benefits and blessings we are continuing to see from this high school level study. Please see our disclosure policy.
Why Apologia High School Chemistry?
A Creation-Based Chemistry Course. This course is Christ centered and God glorifying! Isn't this the ultimate goal of all our studies? An appreciation and deeper knowledge of God!
"What do you see when you look at the periodic table of elements? At first glance, most students see so many scientific symbols that they become intimidated. But the periodic table is the essence of chemistry. The years of discovery and knowledge summarized in it make it unlike any other common science tool. From the galaxies in the universe to the tiniest microscopic cell, you experience the elements wherever you look!" ~Apologia Chemistry text

Everything you need is in the course – each module has the information to study, the questions to complete, experiments to perform and the test to take. This also includes the solutions to module questions and tests. There are even suggestions for how to grade the course – percentages to grade for tests and lab experiments.
Most of what you need for the experiments you can find at home or the grocery store. But there are "specialized materials (such as beakers and test tubes) that make the experiments much easier to perform." There is a suggested laboratory equipment set available.
What Does Apologia Chemistry Include?
Apologia Chemistry 3rd Edition was completely revised and updated in 2014 with improved photos, explanations and enhanced readability. (Translate: even this more language arts minded mama can read and enjoy this textbook!) As I mentioned in my review of Apologia Marine Biology, all of the Apologia high school courses help the student learn to study. The courses promote independent learning.
I love to hear the excitement in my son's voice when he comes to me and tells me all about what he has been learning!
Included in Chemistry Text:
16 modules (each module should take about two weeks to complete with one hour each school day devoted to studying chemistry.)
Own Your Own Questions in each module help reinforce concepts in the student's mind.
Study Guide at the end of each module for review and test preparation
Bold print text for memorization
Quality images throughout (good for my visual learner) **3rd Edition was available in 2014
A special website to accompany the course
Glossary
Appendices
Experiments – designed to be completed as the student is reading the text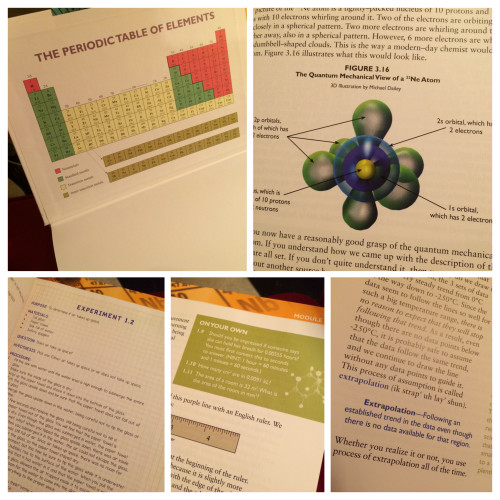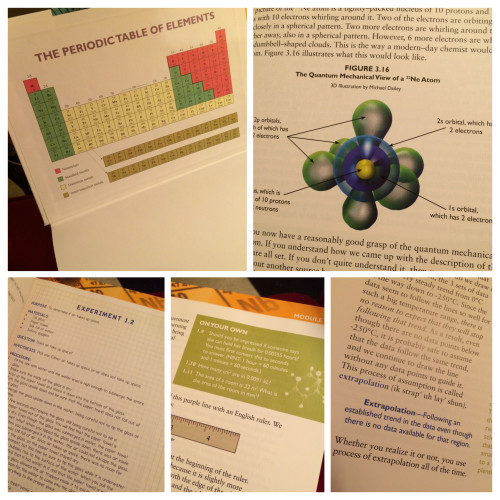 List of Laboratory Equipment Needed
Modules:
Measurement, Units, and the Scientific Method
Atoms and Molecules
Atomic Structure
Molecular Structure
Polyatomic Ions and Molecular Geometry
Changes in Matter and Chemical Reaction
Describing Chemical Reactions
How great are your works, Lord, how profound your thoughts! ~ Psalm 92:5

Stoichiometry
Acid-Base Chemistry
The Chemistry of Solutions
The Gas Phase
Energy, Heat and Temperature
Thermodynamics
Kinetics
Chemical Equilibrium
Reduction-Oxidation Reactions
Also Available – Student Notebook and More
Student Notebook – this is such wonderful tool for note taking, study practice for tests and for keeping record of experiments. In my opinion, this is an important key for success. A dedicated, preprinted notebook, detailing what the student needs to do. A schedule to follow and encouragement for note taking and independent research. I LOVE this thing! Now if we only had a pencil (with an eraser) handy all the time – we would be set!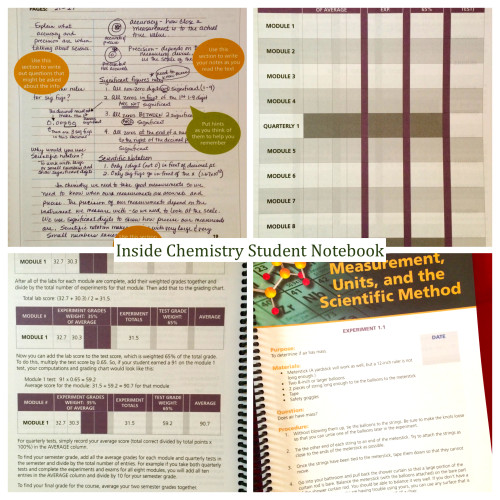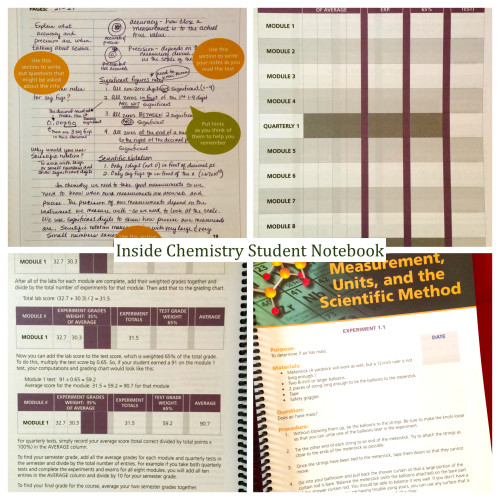 When my son first opened his, he said, "Wow! This has all the 'on your own' and study questions – and a schedule for completing Chemistry in 34 weeks. This is great!"
"You should begin your study of chemistry by becoming familiar with your textbook and this notebook. The daily schedule breaks down each module into approximately two weeks of work. Check off each day as you complete the assigned work as a way of recording just how far you've come in your study of God's creation." ~ Chemistry Student Notebook
Additional Suggested Resources Available:
Chemistry Glassware Set
Optional Secondary Lab Set
What Age is Apologia Chemistry Designed For?
The Exploring Creation with Chemistry course is designed for older high school level students – those that have completed Biology and Algebra I. See the course sequencing on the Apologia website for more details.
What is required?
Text
Laboratory items
Lab journal (suggested)
How We Use Apologia Chemistry in Our Homeschool
My high schooler reads the assignment and does independent research (often on the comfy family room couch, as pictured above). He answers the 'On Your Own' questions as he is reading each module. After completing a module, my high schooler completes the accompanying test. We usually plan these for a Friday afternoon.
"Well, it's time to embark on the fascinating  journey of discovering just how amazing God's creation is. Enjoy!" ~ Chemistry Student Notebook
Where Can You Find Apologia Chemistry?
Find each of the titles at the Apologia website. There you can browse all the titles, experiment materials, lab list, FAQs and more.
Looking for More Apologia Resources?
You might like my reviews of:
Now For the Giveaway!
Apologia is offering one (1) junior OR high school level text of your choice to a Curriculum Choice reader. The prize pack includes the hard cover Student Textbook, solutions manual, and the Student Notebook (if available for the course).
Simply follow the instructions in the rafflecopter widget below…
a Rafflecopter giveaway

Homeschooling for fifteen years now, Tricia faces a daily dose of chaos with five children from elementary to high school. She is author of art curriculum for all ages and helpful homeschool habits at Hodgepodge. She and her husband, Steve, are owners of Curriculum Choice.